Words & photos by Trennon Paynter
The FIS Freestyle World Championships Halfpipe event happens once every two years, and this year it took place in Japan.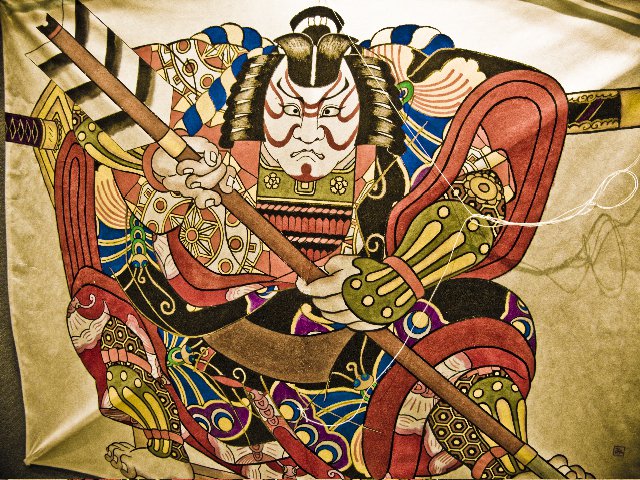 A stacked field of competitors were on hand to stoke out the fans and send some blazing runs down the perfectly shaped pipe. The organizers at this event deserve their own medal for the having most organized and ambitious course crew that we have ever laid eyes on. It was the most meticulous preparation and maintenance that the competitors have ever seen, even the sideslippers were putting on a show that had us all pulling out our cameras.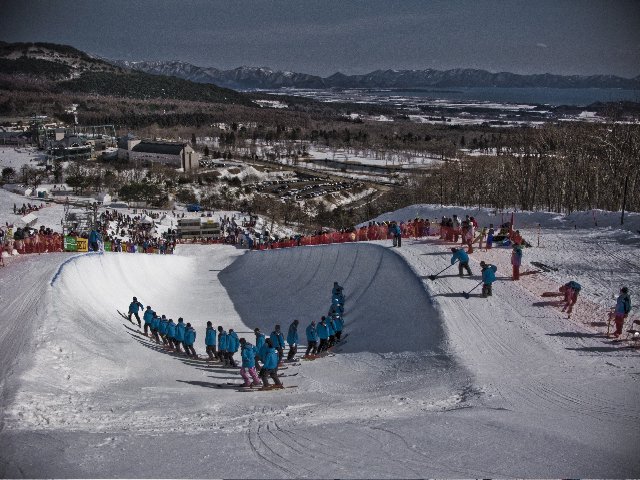 Canada was represented by Rosalind Groenewoud, Megan Gunning, Keltie Hansen, Mike Riddle, Justin Dorey, Matt Margetts and Nathan Wood. Absent from the team was Sarah Burke and Matt Hayward, both of whom are currently recovering from recent injuries.
In training the day before the event, Mike Riddle had a brutal crash attempting a double alley-oop flatspin, and was taken away by ambulance. After being x-rayed and scanned for everything from a suspected broken back to possible internal organ damage, Mike was released from the hospital later that evening, although he was barely able to move. The possibility of him competing looked extremely unlikely. Mike showed up in the morning with the tenacity of a gladiator, and despite being unable to do any tricks in the pipe during training, decided that he wanted to try and compete.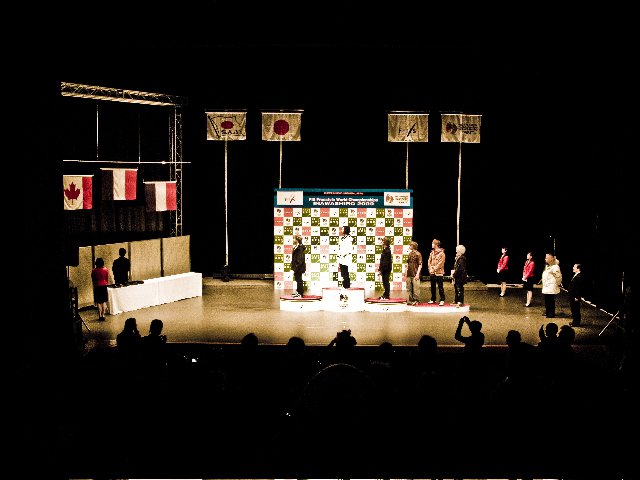 In the semi-finals, there were not too many surprises as great runs were put down by all. Taking the top spots going into the final were Virginie Faivre from Switzerland on the women's side, and David Wise of the US for the men.
The highlight semi-final performance for our team was undoubtedly Mike Riddle who defied all odds and put down a run which was enough to get him into the final. Justin Dorey, predictably, also qualified for the final. Matt Margetts was as close as you can get without qualifying, missing the final cut by one position. In the women's semi-final Rosalind Groenewoud and Megan Gunning both qualified for the final.
Unfortunately in the training for finals Rosalind Groenewoud took a harsh crash and was forced to withdraw from the event.
The womens final saw some great skiing from podium regulars Jen Hudak, Jess Cumming, and Anais Caradeux. But it was Virginie Faivre and Megan Gunning who distanced themselves from the pack, Virginie with her silky smooth style, and Megan with her huge amplitude and a great 900. The scores were close between the two, with Virginie emerging victorious, and Megan earning the silver in her first ever World Championships appearance.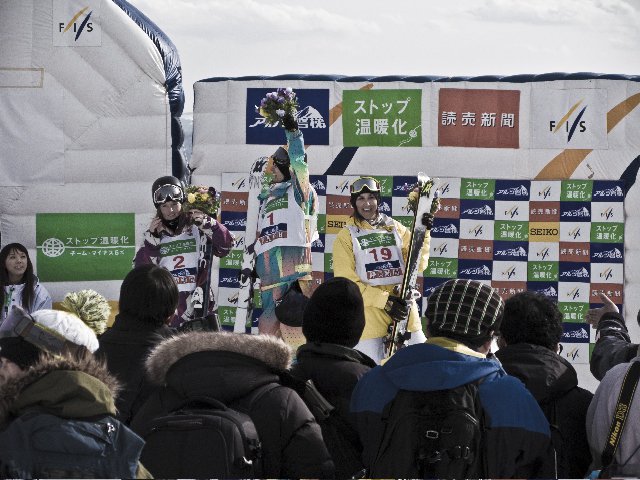 Megan Gunning (2nd), Virginie Faivre (1st), Jen Hudak (3rd)
The men's final was a showdown between France, Canada, and the US, with AJ Kempainnen of Finland, and Jossi Wells from New Zealand thrown into the mix. France's Xavier Bertoni and Kevin Rolland were putting down the type of runs that have made them forces to be reckoned with this season, USA's David Wise, Talyor Seaton, and Walter Wood were all sticking their runs, and it quickly became apparent that it was going to take something exceptional to hit the podium.
Mike Riddle dropped in for his first run and hit all of his tricks perfectly, including, of course, his trademarked alley-oop flatspin "bow and arrow grab" 360, and a flawless switch 900 to finish it off. His score easily put him into first for the time being, but eventually was surpassed by four others, leaving him with a fifth place result, just one tenth of a point away from the podium.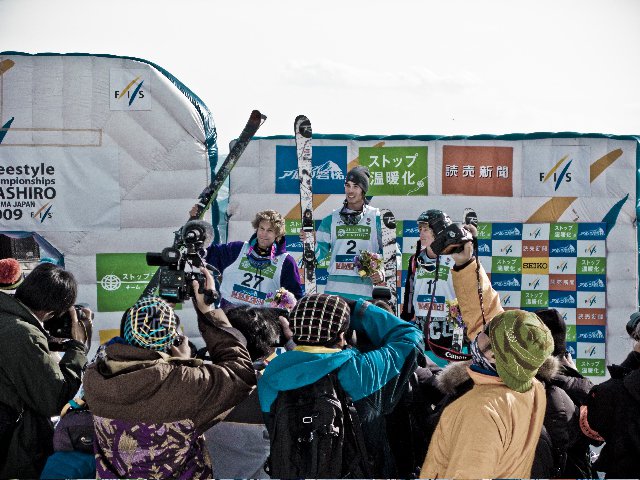 Justin Doret (2nd), Kevin Rolland (1st), Xavier Bertoni (3rd)
Xavier Bertoni of France continued to ski in the manner that earned him an X Games victory earlier this season, and his run consisting of right 540, left 900, right 900, flat 360 to switch 1080, which was enough to secure him the bronze. Justin Dorey put down the run that won him the US Open the week before: huge double, right 900, left 900, flat 360 to switch 1080. His score of 45.3 seemed to be enough to take the gold until Kevin Rolland of France edged him out with a great run of his own: left 540, right 540, left 1260, right 900 to double. Kevin held on to the lead and was rewarded with the gold.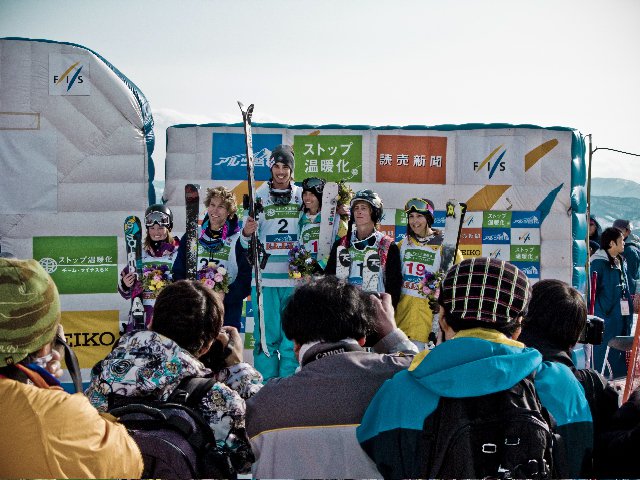 Results
Women
1- Virginie Faivre (SUI)
2 - Megan Gunning (CAN)
3 - Jen Hudak (USA)
4 - Jess Cumming (USA)
5 - Anais Caradeux (FRA)
6 - Sienna Palmacci (USA)
7 - Emi Matsuura (JPN)
8 - Mille Windfelt (NOR)
9 - Stephanie Sirianni (AUS)
10 - Miyuki Hatanaka (JPN)
11 - Mirjam Jager (SUI)
11 - Rosalind Groenewoud (CAN)
Men
1 - Kevin Rolland (FRA)
2 - Justin Dorey (CAN)
3 - Xavier Bertoni (FRA)
4 - David Wise (USA)
5 - Mike Riddle (CAN) *tie
5 - Taylor Seaton (USA) *tie
7 - AJ Kempainnen (FIN)
8 - Jossi Wells (NZL)
9 - Walter Wood (USA)
10 - Loic Collomb-Patton (FRA)
11 - Mathias Wexcsteen (FRA)
12 - Vivien Thiery (FRA)