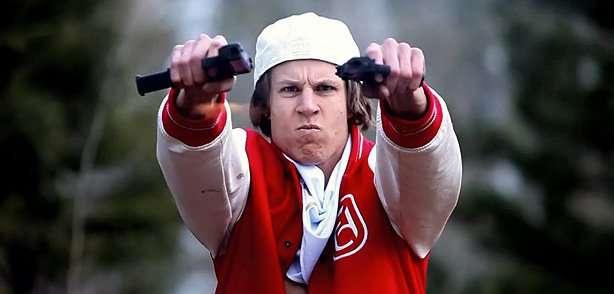 If you haven't heard already then I should inform you that FD Wear's David Lesh was arrested last week for the video 'Last Friday'. Breckenridge authorities confirmed that three weeks of working with Boulder Police to investigate crimes that were recorded on video and uploaded to the internet. When the police attempted to arrest Lesh he fled in his sports car, crashing through some thick trees causing the car to flip. He then attempted to run away but was apprehended by police dogs within the first mile.
Now, as part of his bail conditions he had to post an apology video onto the internet. This is his quote about what went on:
"I would like to apologize for the actions my friends and I took. We acted very irresponsibly, and it's a miracle no one was injured. We vow to only portray ourselves as positive role models in the future. We will be releasing our public apology video in the next week."
So you'd think that his apology video is going to be a sincere one. Just him saying sorry for everything he did, but that's not quite right. Here's his apology video?
It's not the most direct of apologies that I've ever seen but hopefully it helps him get out of the bind that he's in. What do you reckon?
And for those of you that haven't seen the Last Friday video, it's below for you.
No related posts.