Evolve Chile 2012 is about to go down in less than two months. The snow has already started to cover Valle Nevado and its surrounding resorts. For 2012 Evolve will be heading back to its grass roots in Termas de Chillan. Along with our veteran coaches like KC Deane, we have a solid new crew from Armada consisting of Mike Hornbeck, Brady Perron and Ben Moxham. The three of them come with a solid background in summer camps and are ready to tear it up in the Southern Hemisphere. Along with coaching campers from around the globe, the boys will be working on a video project with Armada's Corey Stanton.
What were you guys focusing on this season?
Brady Perron: I focused on surrounding myself with good people. Doing so helps you enjoy life and improves your skiing at the same time. Cha-Ching. As far as skiing, I was loving the jibs at Park City. There wasn't a lot of snow or safe days in the backcountry to enjoy that terrain but I had fun at the resorts and at my friends' cabin in the forest. I filmed a few days to create a project with Hornbeck, too and did some shooting with AJ at 4bi9 Media and the folks at Inspired Media Concepts.  
Ben Moxham: Well last summer I blew my knee so I've been doing a lot of rehabbing this year getting my legs strong. But I started skiing in February and I've mainly been focusing on getting all my tricks back. It's been going really well and my legs are feeling strong!
Mikey Hornbeck: I moved to Salt Lake City this year and the change was awesome. I was hoping to ski a lot of pow, but with the snow pack I ended up hitting rails all season. It was great! I filmed a bunch with level 1 Productions and will have a full segment. I broke some ribs and punctured my lung before the park shoots though, so I didn't get to finish the year how I wanted, but it was still one of the best years yet.  
Corey Stanton: I am looking forward to seeing what Chile has to offer. I have heard nothing but amazing things about the terrain, culture, and people, and am looking forward to capturing that through the lens.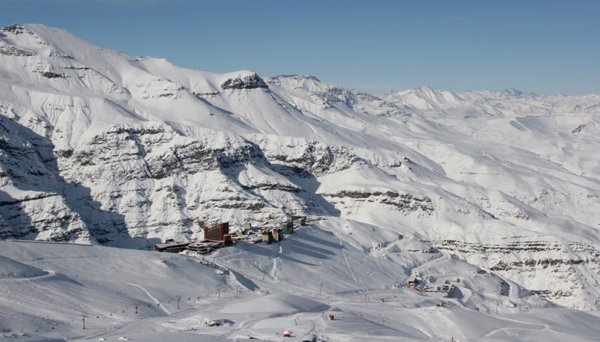 Valle Nevado, Chile
Has Evolve Chile been on your bucket list for a long time?
Brady Perron: I've been interested in coming down for a
while. Chile has always seemed like an ideal destination. A super
versatile place with a thick culture.
Ben Moxham: Yeah! Evolve Chile has been on my bucket list for a
while! I always see videos from there and it looks like an awesome place
to be in the summer.
Mike Hornbeck: Yeah, I have always wanted to go skiing in Chile
since I saw it in a Warren Miller movie way back. Now I have the
opportunity, so I couldn't be more stoked to check out somewhere new.
Summer skiing is awesome; especially when there is pow.
Evolve Chile 2012 Wrap-Up
What are you looking forward to the most this summer in the Southern Hemisphere?
Brady Perron: I am hyped to explore a new place, especially one on opposite seasons. I have friends from Chile and friends who have visited...all who have said nothing but great things about the people, the food, the terrain and the lifestyle. I'm excited to say least.
Ben Moxham: I'm really looking forward to exploring Chile on and off the mountain. I've also never been surfing and I'm stoked to try this summer!
Mike Hornbeck: I was looking at the globe the other day and thinking to myself, holy smokes, that is way down there! I can't wait to check out the land, the trees, the people and the snow. Seeing a new mountain range is always awesome; I can stare at new landscapes for hours.
Mike, The Meltdown was a huge success last summer. Anything planned for this summer?
Mike Hornbeck: The Meltdown was a little video project Brady, Ben and myself spent last summer making. It was the first real project we tried to do. This summer we are hopefully going to make a better one! We have Corey Stanton joining us down in Chile to help film. We only will have two weeks of skiing so it's going to be tight. I expect it to be a lot different just because the culture, snow, and location we will be in.
The Meltdown by Brady Perron, Mike Hornbeck and Ben Moxham
Brady, You and Corey Stanton from Armada are shooting a special feature this summer, can we give fans an idea of what's in store?
Brady Perron: Yes sir. Corey Stanton and I are both equally excited to get down there and start the project. We each have a different eye and creative skill set which will make for an interesting dynamic. I think we are going to bring something new to the table with Hornbeck and Moxham being involved in everything as well. It should be a great package deal. I'm certainly getting hyped to organize/edit the action and culture together.
Corey Stanton: This edit is going to be a creative meeting of minds, combining both Brady's and my own filming style, with the high level of creativity in each of the three guys' skiing; Hornbeck, Brady, and Moxham. Look out for an eclectic mix of music, film style, skiing and cinematography.
Mike, you and Ben have coached at other great camps like Windells, why Evolve Chile this summer?
Mike Hornbeck: We are all coaching at Windells at the beginning of this summer; it's always great there. I personally just want to travel somewhere new. It is refreshing to check out new places, meet new people, and the biggest draw…pow.
Ben Moxham: I've been out at Windells for the past couple years and that's been a fun experience, Evolve Chile looked like an awesome new experience and when I was given the opportunity to go down there, I couldn't pass it up!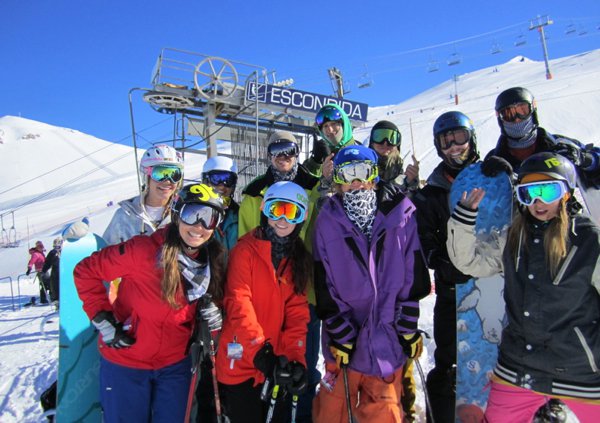 Happy Campers at Evolve Chile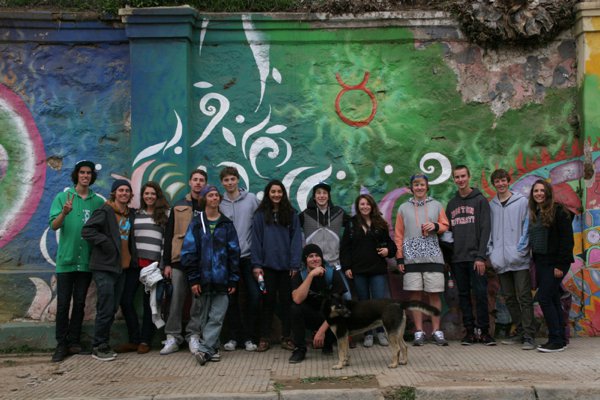 Corey, you were just out in Europe shooting for Armada, how did that go and who were you shooting with?
Corey Stanton: I was out shooting with a handful of riders who are on our European team. Some of these guys have been on our team for many years now, but have never gotten exposure through the Armada ARcasts. It was cool to see these guys in their element in Austria, Italy, and Switzerland. Couldn't be more excited to venture to South America to see how different the culture is and what skiing is all about down there. Looking forward to meeting all of the campers and everyone associated with Evolve Chile. Cheers!
Mike, if there are kids out there who are still looking to choose a camp, why should they come shred at Evolve Chile with you this summer?
You should come to Chile if you want to experience something huge in your life. Traveling that far away from home is always humbling. I promise when you are old you will remember the summer you went skiing in Chile.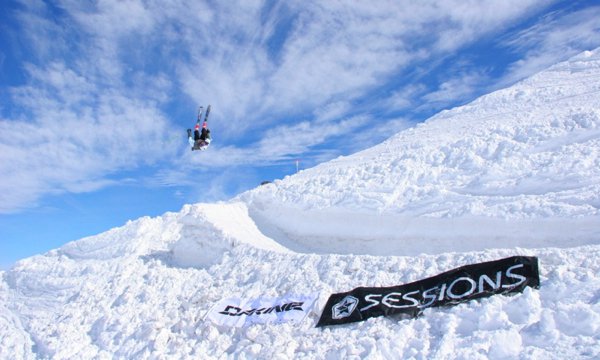 Catching air and shreeding pow at Evolve Chile...
Any big plans for 2013?
 
Brady Perron: My plan is to move back to Salt Lake or Park City, as of now. I have a good group of friends, a big network, and the mountains are so close by to the city. Perfect for filming. I'm also planning to travel more, ski more and enjoy Utah with folks while co-creating and being featured in a few different movies/projects. I have plans to host my multimedia skills and ski material on my own website someday as well.
 
Ben Moxham: I plan to film with Inspired Media on a couple different projects, and also start doing competitions again next year.
Corey Stanton: Next winter I plan on doing a mini documentary series visiting all of Armada's Pro/Am team in the areas where they come from, to give the skiing community a better idea about who the athlete's are and what makes them who they are today.
Mike Hornbeck: I plan on skiing as much as possible. I want to do some projects around the Midwest, film a segment with Level 1, and keep messing around with my camera and friends. 
Push To Shove by Brady Perron & Mike Hornbeck
Any last words?
Brady Perron: I'm eager to get to Chile and get the ball rolling! I hope folks will enjoy our piece.
Ben Moxham: Stoked to come shred Evolve Chile this summer with everyone! Can't wait to be shredding powder in the summer! Whew!
Mike Hornbeck: Thanks for reading! I can't wait to get back on my skis. Hopefully I will see you at Evolve Chile!
Corey Stanton: See you in the South!
Win A Trip To Evolve Chile!