Interview by Jeff Schmuck
So how's the editing process going gentlemen?
Johnny: Well from an outsiders perspective I'd say it's going pretty good. With Tyler, Jeff and Cody at the helm I think things are coming together really well. That's just my outside looking in opinion, or looking over everyone shoulders that is (laughs).
Cody: It's really nice to have Jeff on board this year. He's been a hugely instrumental help in putting the whole the movie together. It's been really cool to merge the two companies this year, and I really think the product is going to show that because his and Tyler's editing styles go really well together.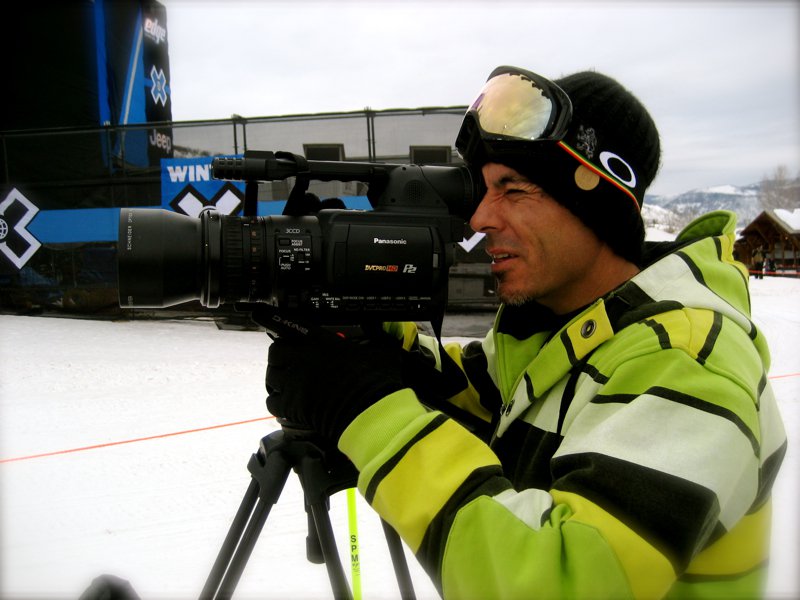 Johnny Decesare
Yeah how's it been for you Jeff? Because it was obviously a big decision for you to close up shop on Theory-3 and join the Poor Boyz fold.
Jeff: It's been going great. I've been having a lot of fun editing here and I got to film a lot this year and it was a great season with lots of sun, so I had a great time and I'm looking forward to the years to come.
Tyler how's it been for you having Jeff as another main editor working alongside you?
Tyler: It's awesome. I've never seen someone edit so fast, so it kind of put me in check a little bit. So it's been great, because I've been working on a lot of other things as well so it's great to have Jeff around to help co-direct this thing and make sure all the segments are as good as they can be. He's really good at outlining stuff, which has been super awesome, because last year what we did was watch all the raw footage and try to depict how the movie was going to get laid out, where as this year we basically just started editing everything, and now that we have most of the segments laid out we're going back and kind of re-tweaking and adding elements that are going to make it that much better.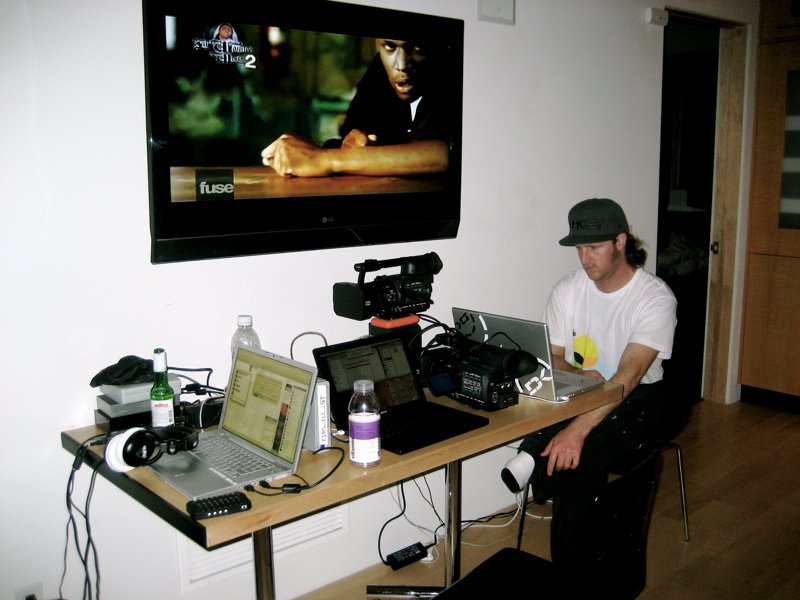 Tyler Hamlet
On the heels of that, Cody you were telling me the other day that you guys are pretty much on schedule or even ahead of schedule this year right?
Cody: Yeah we're right there you know. We're making our due dates that we set for ourselves which is a huge personal accomplishment for us. So far so good.
Johnny you were telling me at Jib Academy Finals that this is the first year since War that you've almost had too much footage to deal with right?
Johnny: Yeah full on. We haven't had this problem since War, but it's good problem to have because it's all good footage, so that's the best part. So we have our worst problem ever which is our best problem ever.
Does that almost make it more challenging than having not enough footage though? Because now you're looking at all of these banging shots and you might have to cut some of them out for the sake of the movie not being too long?
Jeff: Well it's entertaining (laughs). We're trying to make a comparatively shorter movie and hopefully no one hates me after (laughs).
Cody: The standard process of making a ski movie is that you make it long and them trim the fat. You form your own opinion on what should be cut and what should stay, and then you get everyone else's feedback. And it's really important to get a chance to watch it over and over and not just make the segment once, because sometimes they end up getting made two or three or four times. So it can be difficult because sometimes you get super attached to something but you really need to be able to take a step back, and then show it to other editors and the athletes who come down to help out, which is really valuable, because in the end it makes the movie that much stronger.
Johnny: I feel like it's not so much about cutting shots as it is picking the right ones that go with the situation. So we're not cutting one person's shots out for the sake of leaving others in, it's more about putting the movie together according to what fits and what works best with the flow of the film. So what we're ending up with is a lot of great shots that are equally as good as the ones that are in the movie at the moment, but we end up using them for a different source. There is no more cutting room floor in the world of skiing and Poor Boyz because there's some excellent footage that might not necessarily be in the movie that we're going to saving to use for TV shows, or the web, which is equally important as what goes in the DVD.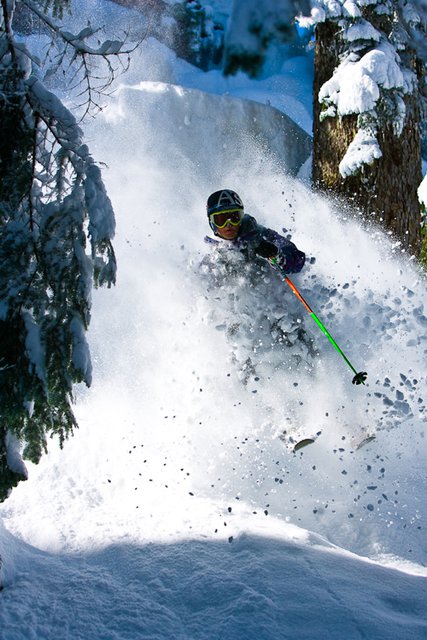 Alexis Godbout . photo: Grant Gunderson/Canon (http://www.grantgunderson.com)
I had the chance to spend a lot of time with all four of you this winter and one of the things you all seemed equally excited about was the fact that you've brought a lot of new athletes into the Poor Boyz family this year.
Johnny: Yeah we definitely brought a lot of new characters into the mix this year and Jeff has been a huge part of that for sure. That's one of the great things about us getting tighter together, because Jeff had Theory-3 but he's been a part of Poor Boyz for a long time now. This didn't start just three days ago, it started a long time ago when I first met Jeff at High North Ski Camp through Shane Szocs. And he's been making movies ever since and doing all kinds of rad stuff and has a lot of great skiers that are loyal to him, so it was great to have them be stoked to come on board and have fun with us. So as a result we grabbed a few insane guys who as a crew are as tight as they could be. You name em Jeff...
Jeff: Yeah it's been great continuing to work with the guys I've always worked and being able to add guys like Anthony and Tim and have them mesh really well with the tight crew that is Charley, Sherpa, Dane and Riley. And then it was cool to meet and shoot guys like Matt Walker and Nick Martini, who are always stepping it up and want to make the best movie as badly as we do.
Johnny: Yeah for sure. Martini and Walker are the other guys that came in this year. They're all kind of young, but they came in with all the passion and desire that I saw from our others guys years ago. And that's not to say that those guys lost it, but they're seasoned now, so it's different. These guys came in with fire. Fire, spunk, and a good attitude that said, let's get shit done whether it's rain, sleet or whatever, whether it's one in the morning or one in the afternoon. These guys are having fun working, and that's what going to make this movie really fresh, and you'll see it right out of the gate.
Tyler: It was a blast to work with Tanner this year as well. When I first started with Poor Boyz he was kind of doing his own thing, so although I know him pretty well I never really had the chance to work with him, so it was really awesome to be able to do that this year. He's always stoked and motivated and to see a guy that's in his position still charging every day got me really motivated.
Johnny: Yeah I ended up doing some urban shoots with him, which is something I haven't done in a while. He had enough motivation to get me motivated to go do urban and get busted by police and have to jump into bushes to hide from them, which is something that I personally haven't done for a very long time. So it was quite entertaining, and probably the best part of my whole season to be honest.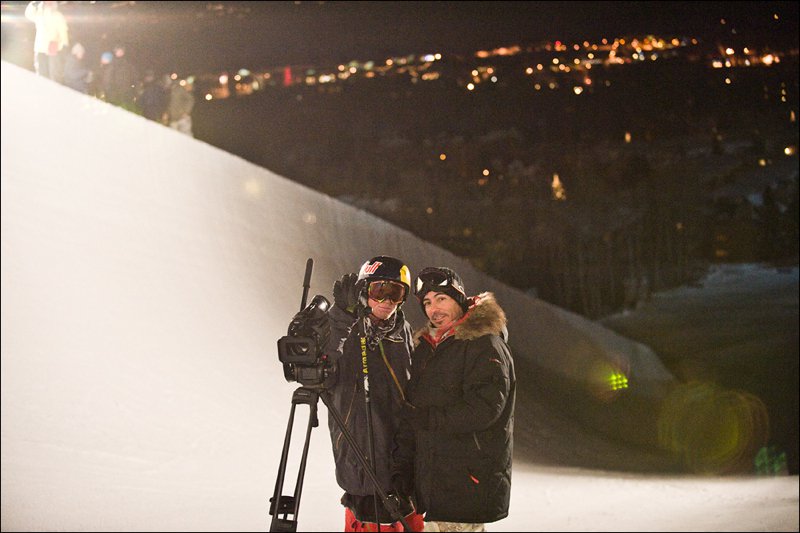 Tanner & Johnny. photo: Erik Seo (http://www.erikseo.com)
Yeah I was just going to ask, what were the highlights of all your guys' season?
Jeff: Basically the whole season actually. I was in Whistler for the first half of it and everyone thought it sucked there for some reason and that there wasn't enough snow, but there was actually tons of it and it was sunny all the time, so that made things a lot easier for us to get things done. It also helped re-motivate everyone from the veterans like Tony to the younger guys like Sherpa, and everyone was sending it every day. And then I did a couple of quick trips down to Baker and over to Revelstoke that were pretty damn good.
Tyler: I feel the same way as Jeff. Really the highlight for me was the whole year. We all came together in the fall and set out to make a fun, candid movie and all the trips that I went on just kind of depicted that vibe. Some of the great trips I went on personally though were Retallack with Tanner, CR and Spriggs. So that was all time. It was a great group dynamic, and a lot of fun. We got some good storm cycles and everything just sort of came together, so it was all business, all play.
Cody: Well I probably should say Poland with you (laughs), but for me I think it was the east coast rail trip with Alexis, Martini and Walker. I think we did like eight or nine features in seven or eight days so it was great to be able to pull that off because the snow was right and it was with a group of kids that were super motivated. They wanted to take all their tricks that are easy on park rails and do them on urban, and they wouldn't stop. They would get tons of good shots and ask me, 'do we have to go?' And I'd say, ' not if you don't want to, we haven't been kicked out yet,' and they would just keep going and get more and more technical tricks.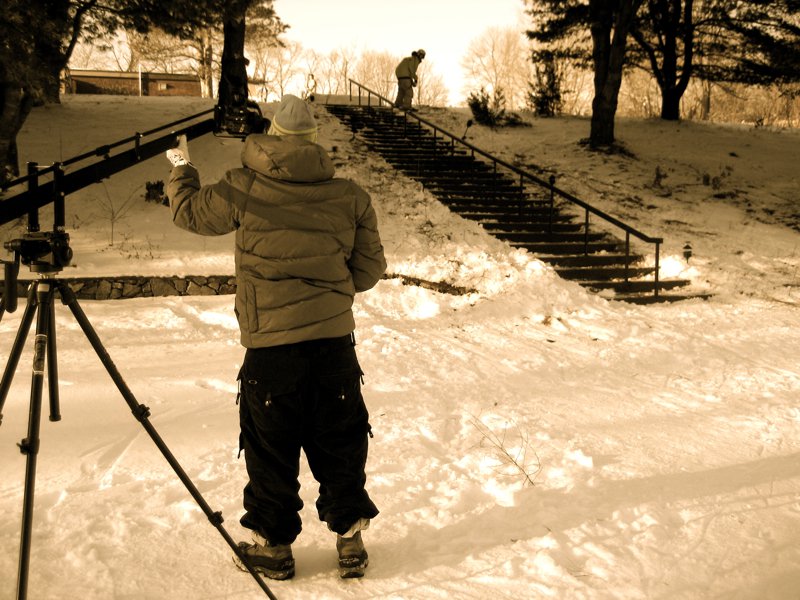 Cody Carter filming on the East Coast rail trip
What are your plans for this year's movie as it pertains to trying to stay fresh and unique, which really seems to be the name of the game amongst all the film companies this year. You guys obviously took a big gamble last year when you strayed from your usual formula to make Reasons, and I think everyone can agree that you hit a home run, and of course won numerous movie of the year awards for your efforts. So is it going to be challenging for you guys to follow that up?
Johnny: Well I think that everybody made it really easy for us this year because almost every trailer that's come out has this sort of weird, Reasons'ish kind of feel, and we kind of chuckled about it but it was a really flattering thing to see. It's cool to see more stories and feel in people's trailers. So we were super flattered and it kind of made it easier for us because we've got a refined formula that we're trying this year, and I think it's going to really show and people are going to realize that Poor Boyz is pretty on point.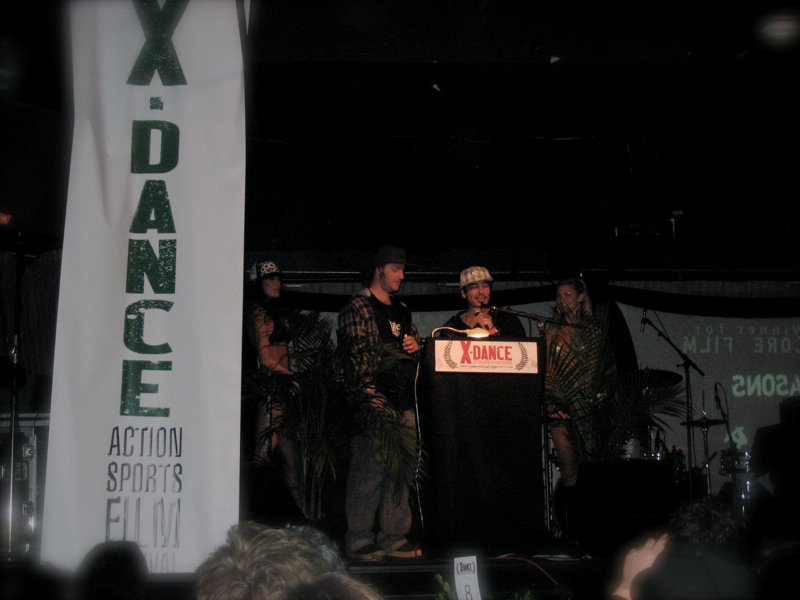 Tyler & Johnny accepting the award for Best Core Film at X-Dance for Reasons...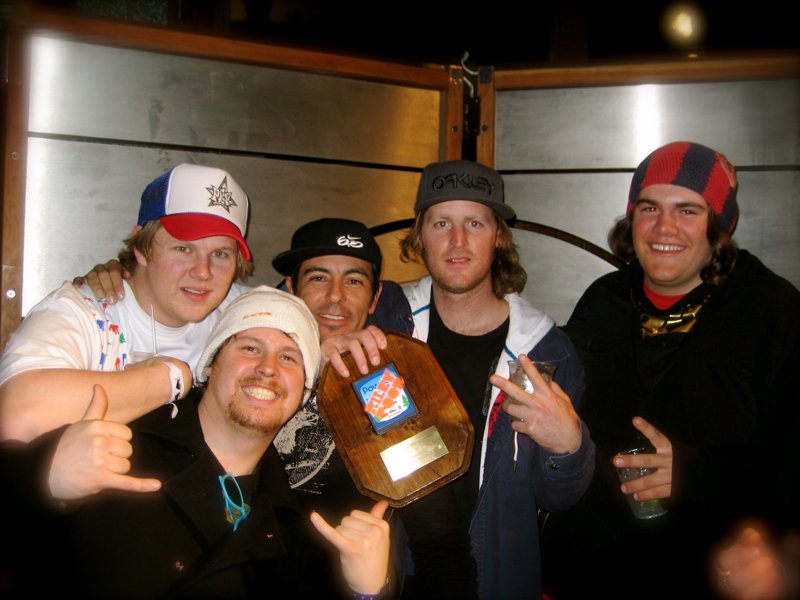 ...and movie of the year at Powder Awards.
You guys have the cream of the crop of the athletes in your film this year...are there any names you want to throw out there who's segments you think are going to really blow people away?
Johnny: Oh man. I'd say Tim Durtschi, Charley Ager, Dane Tudor, Nick Martini, Tanner, and pretty much the whole cast actually. The boys had a crazy year.
Jeff: Yeah everyone killed it. There's definitely a few guys that I think will stand out, like Tim, Nick, Charley, etc, but I think every single guy brought something different to the table that either you've seem them do in the past and you're stoked to see them do again, or stuff that you didn't even know they could do that will blow your mind.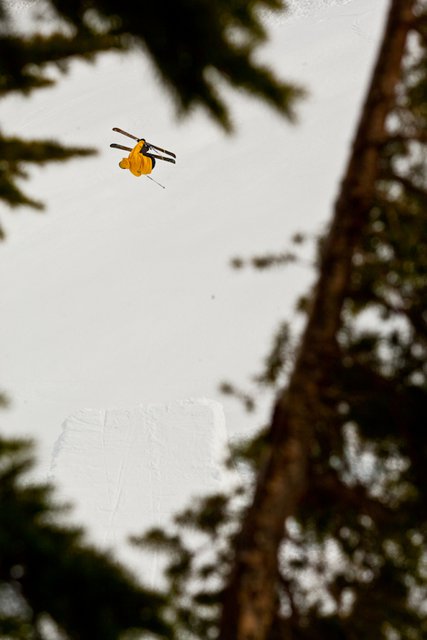 John Spriggs. photo: Grant Gunderson/Canon (http://www.grantgunderson.com)
What can people expect to see in the new trailer at the bottom of this article?
Jeff: Well just like what we were talking about earlier with us having too much footage...there's a lot of footage in this trailer but there's waaay more banging footage that isn't. It's just the tip of the iceberg. There's so much more we didn't put in. There's more urban, more doubles, more park and more backcountry than I've ever seen in any ski movie to date. It's pretty intense.
What's your role this year Johnny? I know when Jeff came on board you were planning on taking a bit of step back and giving him and Tyler the reigns. Is that how it worked out or are you still super involved?
Johnny: Well I think my job was pretty clear-cut in the beginning and that's to make sure I have the right people in the right places. And I feel like between Tyler, Jeff and Cody and the rest of our crew that I hit a home run. I think we have just the right guys in just the right places to make our company move forward and grow. So at this point that's what I do. I mean I can chase athletes around all season long, but the reality is that these guys are better at it than me. So I do what I do which is manage everything and make sure everything goes right, and I think that's going to show this year in a big way, and I think everybody is going to be stoked.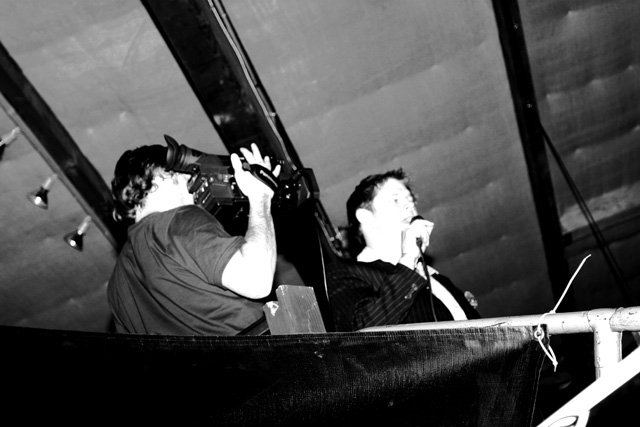 Cody at last year's Triple Threat in Seattle
You guys are doing some cool stuff with Nimbus this year and I just did a huge interview with all of them as well that I'll be dropping right after this one along with their trailer for Contrast, and they're pretty jazzed up about this huge premiere tour that you're doing together this fall. Tell us about that.
Cody: It's the biggest premiere tour Poor Boyz has ever had, by far. We're pretty excited too. Actually we're really fucking excited. It kicks off with our world premiere one week before everyone else, and the decision was made by all of us to have it in Seattle based off what started the whole growth of this tour, which is the Triple Threat show. This is year five of that, and it's kind of fed into the whole concept behind this tour, because it's going to be called the Triple Threat Tour. Sometimes we'll show three movies with Every Day is a Saturday, Nimbus' Contrast and the Simon Dumont two-year project Transitions, and sometimes we'll only show two, but the Triple Threat Tour is going to be more about whether we play three movies or two at any given stop. It's about art galleries, parties, athletes, and most importantly the people. Because there's one thing that you can never take away from anyone, and that's the tour experience. Whether it's being in the front row, back of the theatre or in the middle of a mosh pit. I've been putting on the Triple Threat show in Seattle since it began, and the one main thing I've learned from it is that the tour experience is the best environment to watch a ski movie in, and you can never forget it.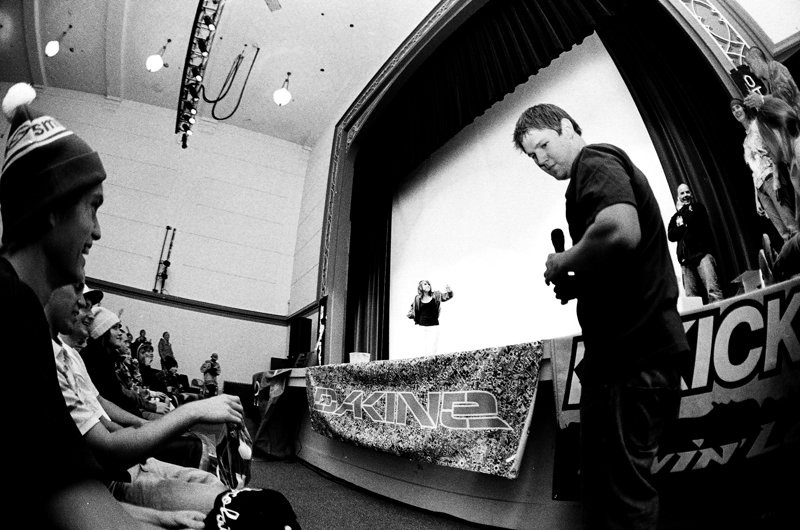 Johnny: Yeah basically to sum it up, it's going to be massive. There's going to be about 50 stops, which is the biggest tour we've ever had by a long shot. It's organized better than we've ever had it and it's going to be insane. There's going to be tons of athletes at every single stop including our world premiere and it's a major, major, major part of Poor Boyz' season to put out our best tour to date, and we're going for it. Everyone is on board and all hands are on deck.
For a lot of the kids and the up-and-coming film companies out there and even some of the ones that are getting bigger and bigger each and every year you guys are somewhat of a measuring stick for what ski movies are all about. So in closing, what would like to say to everyone out there about what you're going to be offering to the masses this fall?
Johnny: Well I think one of the things I would say is that I feel we've always put out a consistent and fun product that people have followed forever. And what I want to tell all the kids on Newschoolers is that we have more passion, more fire and more desire to make great movies now than we ever have. So I think they can expect something great, because we're not going to let it be anything less. We just have the fire and desire right now to further Poor Boyz and show that we have a lot to offer.
Tyler: One thing I'd like to add as well is that as filmmakers we're obviously always fired up to make something awesome, but one of the things I've noticed over the last few years when we've done a lot of the whole rider-based segment formula is that a lot of our riders are super keen on making the entire movie good as opposed to just focusing on their own part. So it's really turning into a big family gathering because rider involvement is such an important part because they're such a huge part of the filmmaking process.
Johnny: I think Tyler hit the nail on the head. Our riders want the whole movie to be as good as the filmmakers do and they're willing to make sacrifices to do it. They're not all about themselves, they're about everything. They're about the company, the movie and everything that we all have going on. So I think that's contributed a lot to Tyler, Jeff and everyone at Poor Boyz's hard work, and it's going to make our movie that much better this year.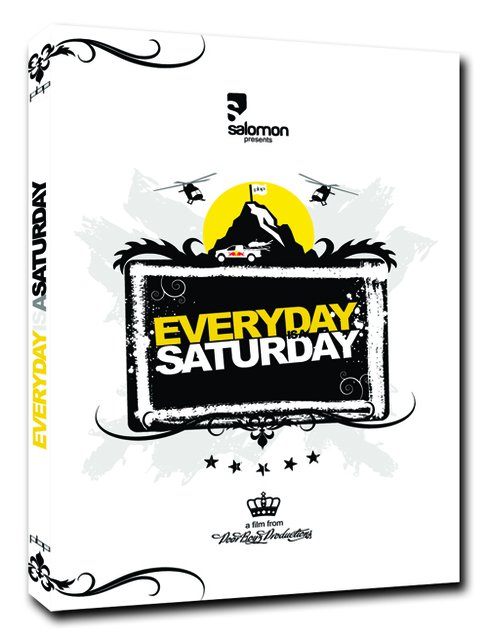 To pre-order a copy of Every Day is a Saturday, go to http://www.poorboyz.com