*Press Release*
STOWE, VERMONT
Even though Stowe Mountain Resort has always been one giant natural terrain
park, we build the stuff that hard-core huckers and jibbers love too. Along
with special events, industry partners, and local talent, Stowe has long been
a breeding ground for great freestyle skiers and riders.
Personalities
Some of today's top pro skiers and snowboarders such as Tanner Rainville, Andy
Woods, Jake Blauvelt, Kyle Clancy and Zach Leach started out in Stowe. In addition,
up and comers like Tommy Emanuelson, Hans Mindich, MC Wyras, Duncan Adams, and
Ricky Hess are Stowe locals. Starting in 2004, Stowe initiated a mountain company
sponsored 'Youth Team,' by providing ten of the areas top young freestyle athletes
with season passes and competition support.
Places
Stowe's freestyle terrain features a Super Pipe and three different Terrain
Parks. The largest of Stowe's terrain parks is located on Mt. Mansfield, it
has it's own designated area with big tabletop jumps, hip hits, boxes and rails.
Intermediate and beginner terrain parks are also located throughout the resort.
Just for jibbers, Stowe set's up a separate rail park that specifically caters
to the needs of early and late season freestylers.
Happenings
The Stowe Slopestyle Series has become the areas signature freestyle event.
For the past five years this event series has featured multiple contests every
season. Through its core industry sponsors, these amateur events have delivered
thousands of dollars in prizes to competitors. Additionally, the Stowe 'Jam'
events start as early as Thanksgiving weekend, and conclude with summertime
Rail Jam on Memorial Day Weekend.
History
Stowe has been the home mountain to Burton Snowboards for over a decade. Other
local ski & snowboard manufacturing companies such as Dynastar and Rossignol
also utilize Stowe for youth team and product development.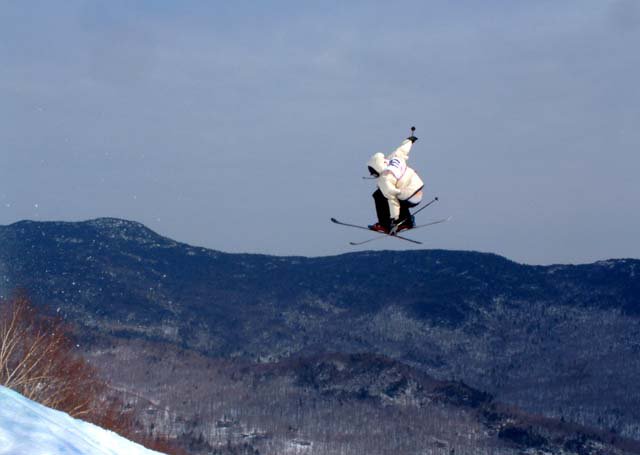 I can't help myself but use the age old "grabbing a little tail"
caption.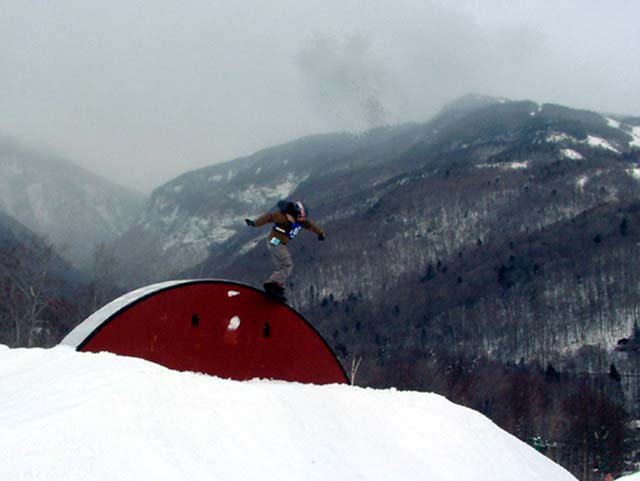 Fun little rainbow box.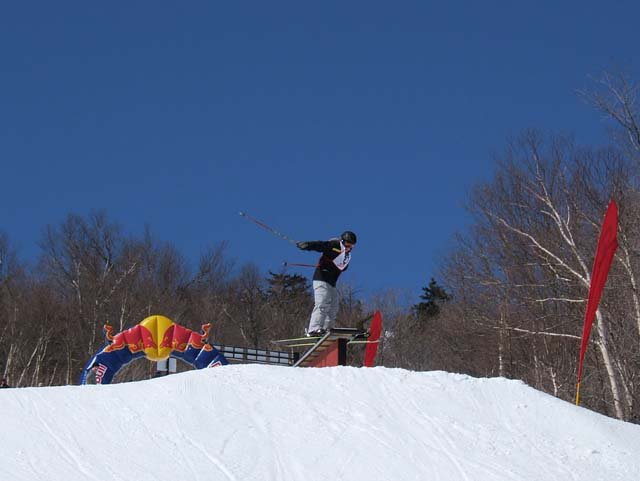 Haven't you always wanted to ski through a redbull arch?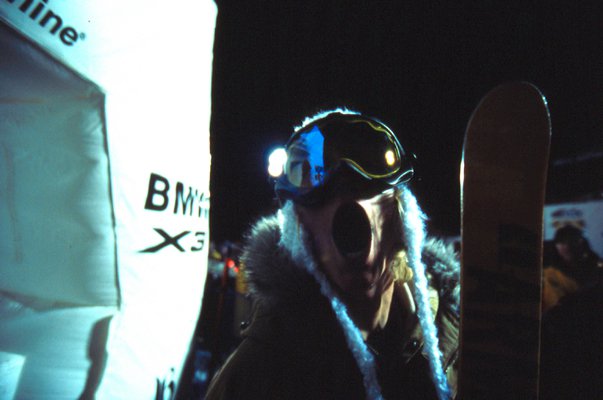 That's a nice looking jump. T-Rainville doing a trick for the TGR heli when
they filmed at Stowe for "Soul Purpose".
Since you guys spend so much time uploading videos, Here's two videos of some
rails from Stowe!
Rail Jam
Rails
Thanks to ski8990
for the first video, and noj1080
for the second!
Click here to visit the Stowe website.