Words & photos by Jeff Schmuck
The sixth annual European Open concluded yesterday in Laax, Switzerland with men's and women's superpipe finals on the fourth day of the incredible event.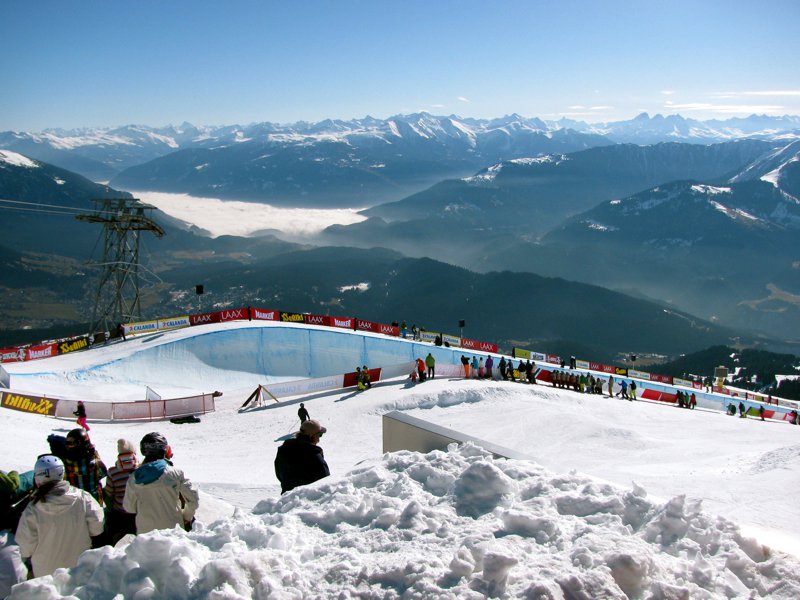 After three days of generosity from Mother Nature, the final day of competition was the best yet in the weather department, with not a cloud to be seen and warm temperatures, prompting both the competitors and spectators to take advantage of the spring skiing vibe, particularly at the infamous Banana Bar, which is an annual and much loved tradition at European Open...until you have to try to ski down at the end of the day.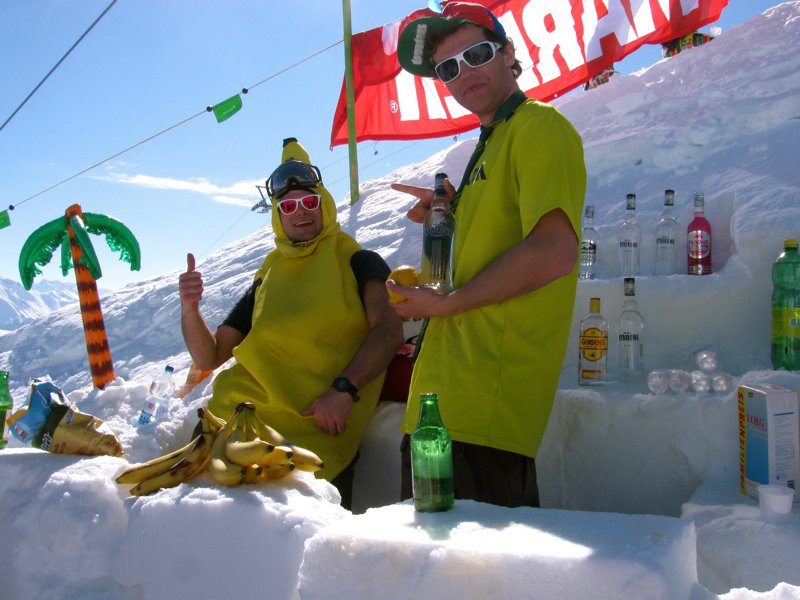 The Banana Bar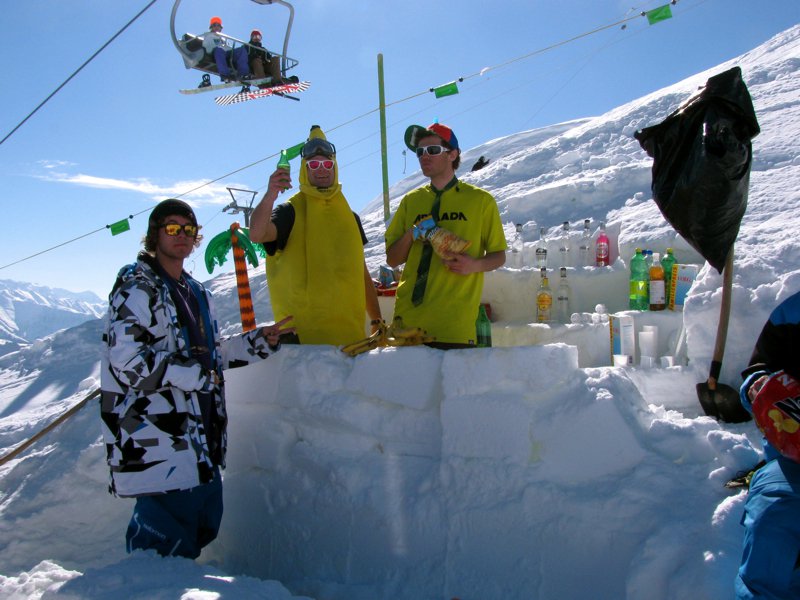 Up first yesterday was men's superpipe semi-finals followed by women's, where the 36 top men from Thursday's qualifiers and eight nearly all European ladies did the dance for one of the 12 and six respective spots in finals, which took place a little later on in the afternoon.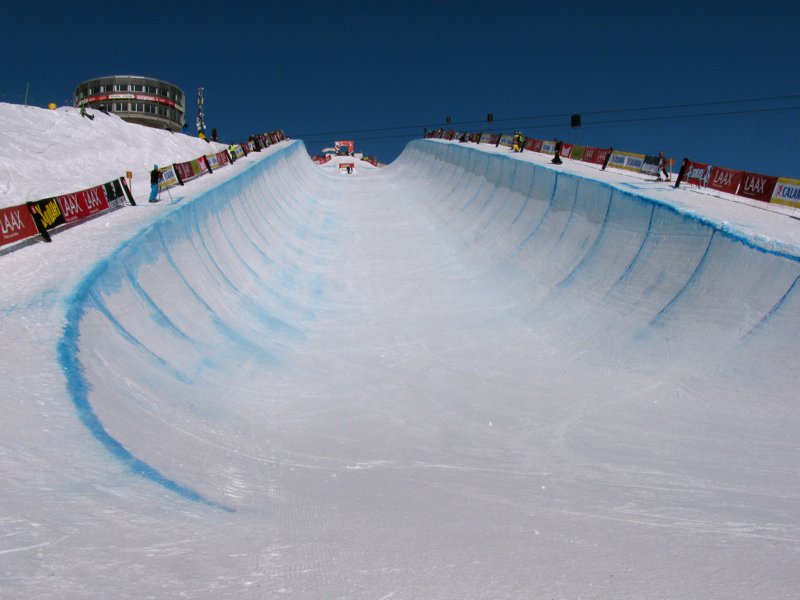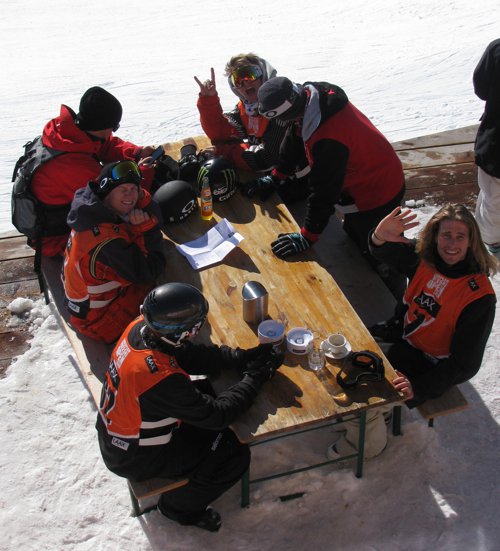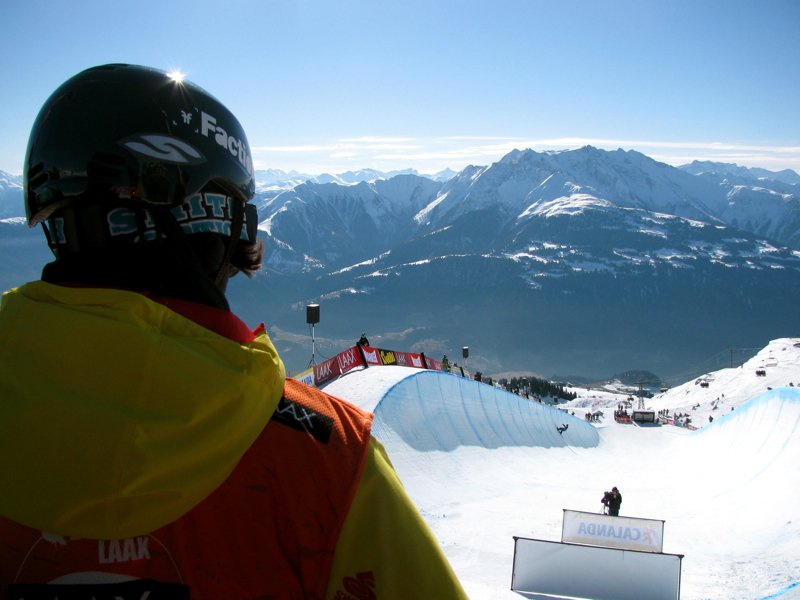 Moving onto the grand finale for the men were Nils Lauper, Yannic Lerjen, Jossi Wells, Kai Mahler, Christian Allen, Joffrey Pollet-Villard, David Wise, Benoit Valentin, Thomas Krief, Byron Wells, Taylor Seaton (who would unfortunately have to opt out of finals after sustaining what we're all hoping is a minor knee injury), and top dog in the semis, Matt Margetts.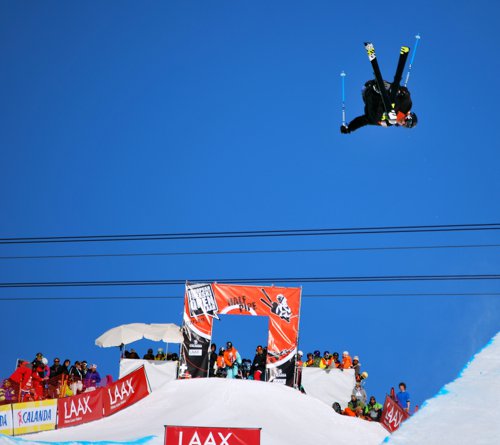 Noah Bowman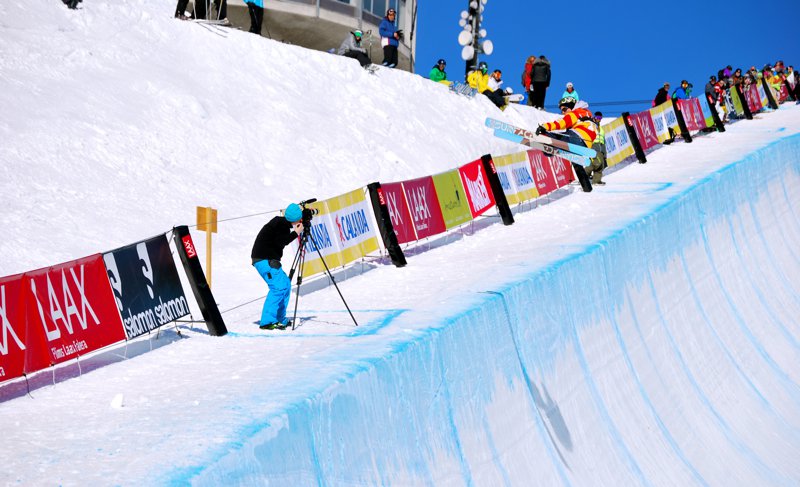 Rob Heule
On the ladies side of things, Emma Hogland, Katie Summerhayes, Em Lonsdale, Katrien Aerts, Virginie Faivre and Anais Caredeux moved on, and after a short break and the official opening of the Banana Bar, those six took center stage, where Hogland took sixth, Summerhayes took fifth and Lonsdale took fourth after throwing down some nice regular and alley-oop 5's. Scoring the last spot on the podium in third along with a little bit of redemption after just missing the cut in the previous day's slopestyle semi-finals was 34-year-old Katrien Aerts, who laid down some smooth airs and a couple of alley-oop 5's to grab third place.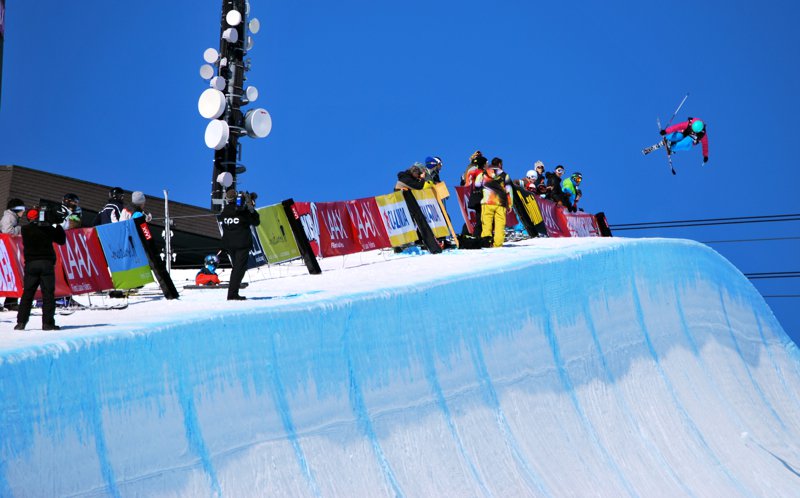 Katrien Aerts
In second was Anais Caradeux, who will now head to Tignes for European X Games with a quiver of confidence in her purse after stomping some of the biggest airs of the days that included a first hit 9 followed by a 5 and 7.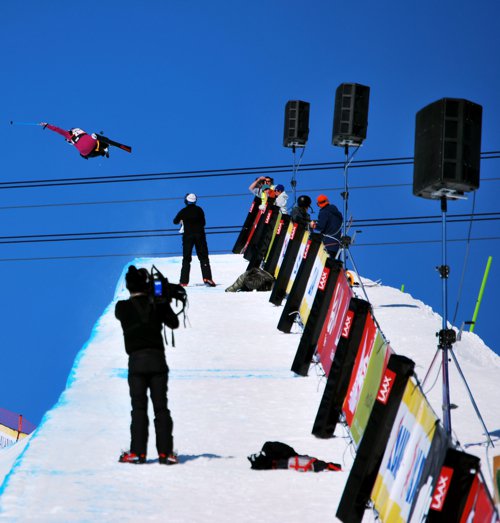 Anais Caradeux
And taking the first place spot was a woman no stranger to the center of the podium at European Open, Virginie Faivre, who without a doubt had the most stylish run of the day with multiple regular and switch 5's.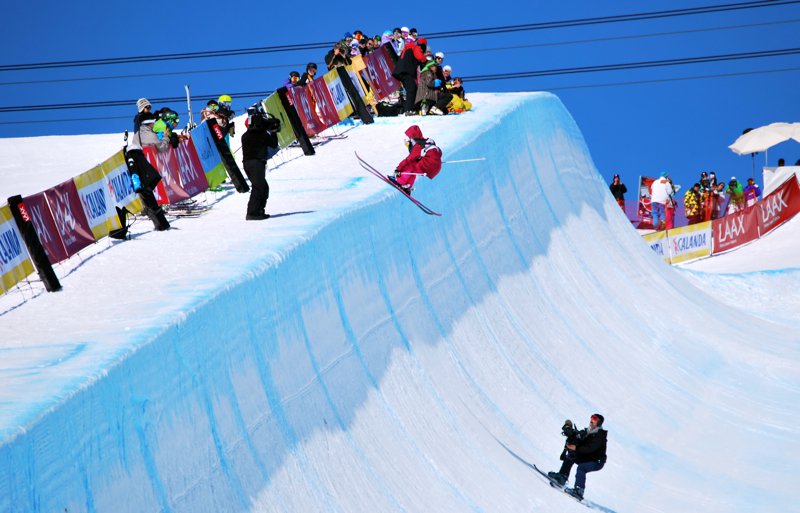 Virginie Faivre
On the men's side of things, Yannic Lerjen took 11th after a bit of wobble on both of his runs, followed by Benoit Valentin in 10th, who unfortunately couldn't find the same magic that helped land on the podium at the last stop of the Winter Dew Tour, but will surely be a serious threat next week in Tignes.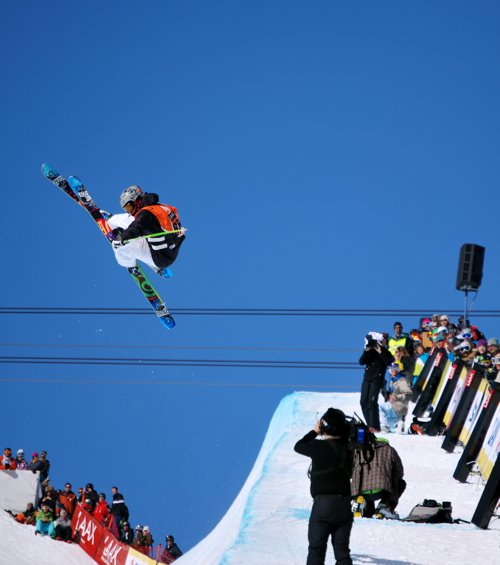 Yannic Lerjen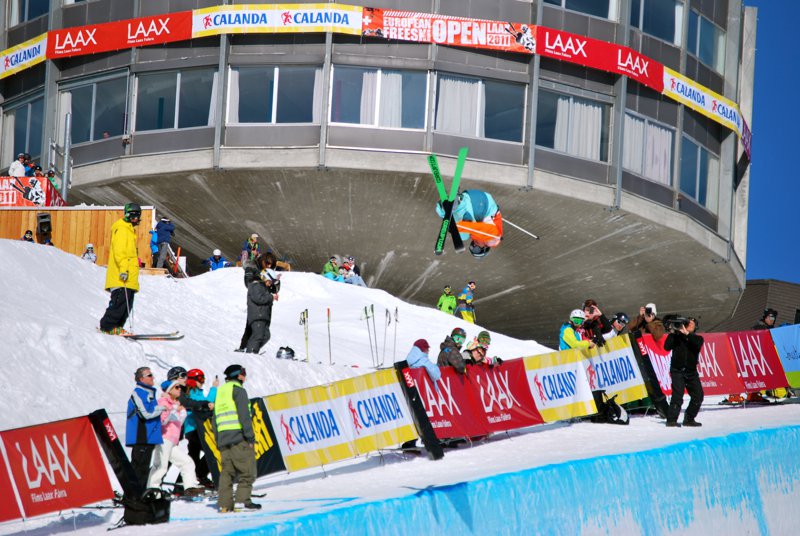 Benoit Valentin
Taking ninth was Jossi Wells, who crashed on the first hit of his first run and then went balls out for his second, unleashing the elusive and yet to be stomped in competition switch double 10, which he landed but unfortunately dragged his hand on, causing him to be docked the points he needed to get back on the podium at long last.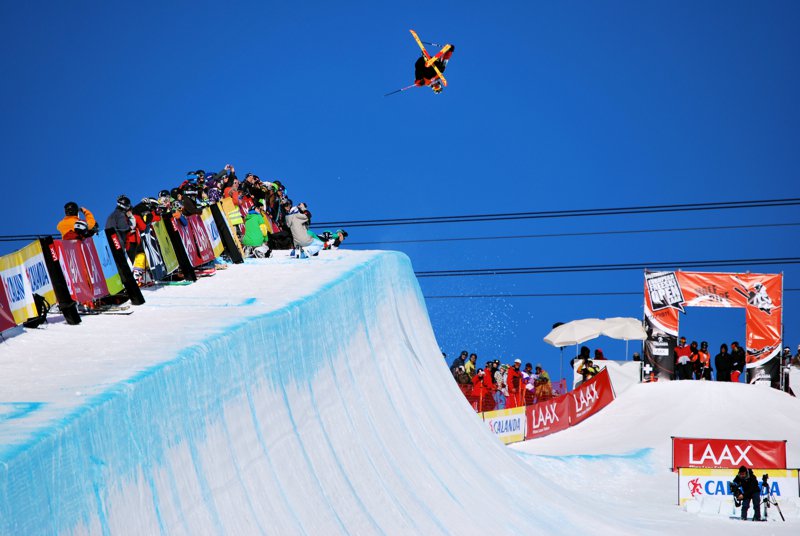 Jossi Wells
In eighth was the underrated Christian Allen, who is quietly and effectively swimming his way back into the forefront of the competition scene with a splash after a knee injury kept him off skis all last winter, while the always high flying and crowd pleasing Nils Lauper took seventh was a double flair up top and his patented screamin' seamen 720...which absolutely rules.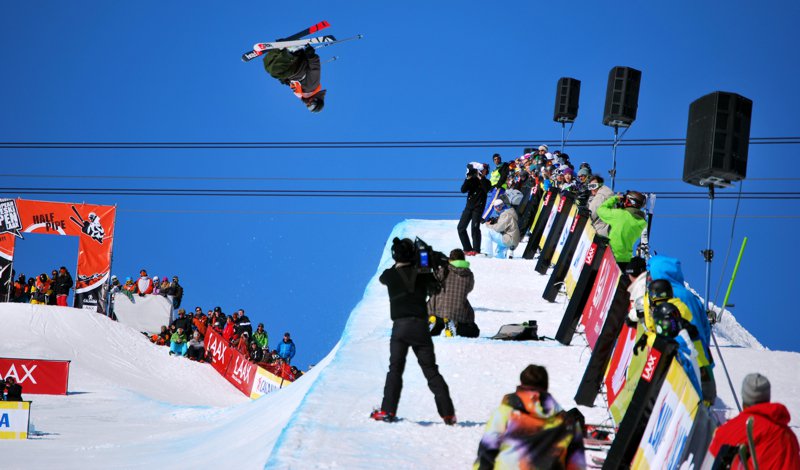 Christian Allen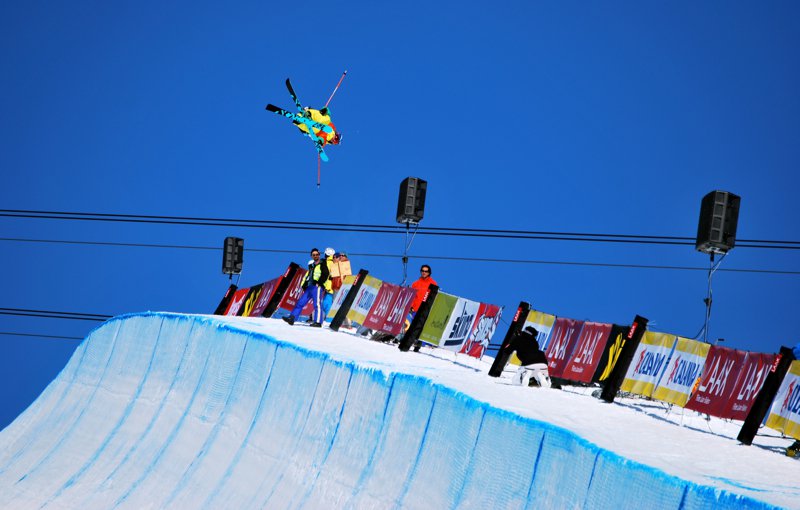 Nils Lauper
Sixth place went to Thomas 'Toto' Krief, who put down a sweet run that included a flat 5, back-to-back 9's, a dub 12 and a flat 3, but failed to get a rock solid grab on his dub, while two relatively unknown Europeans, Joffrey Pollet-Villard and Kai Mahler, just missed the podium but nearly stole the show in the process with creatively grabbed 5's and switch 9's and 10's from Pollet-Villard, and a first hit and first time landed for him dub 12 from Mahler, along with what head judge Rafael Regazzoni called his favorite trick of the day, a flatspin 5 blunt.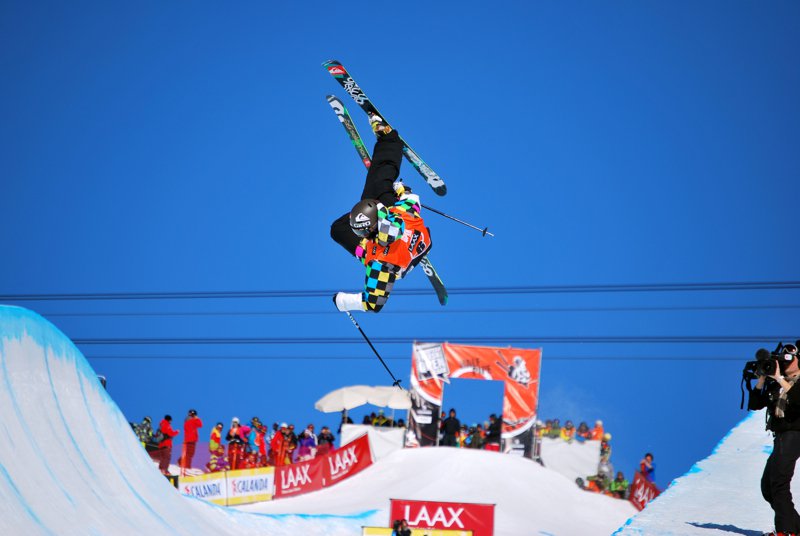 Thomas Krief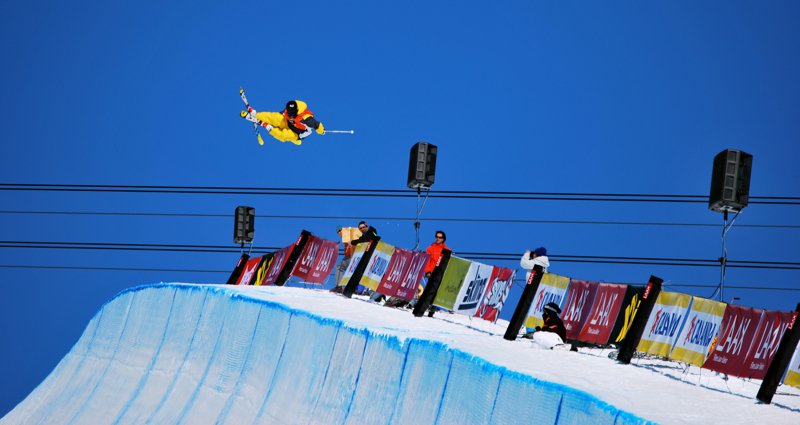 Joffrey Pollet-Villard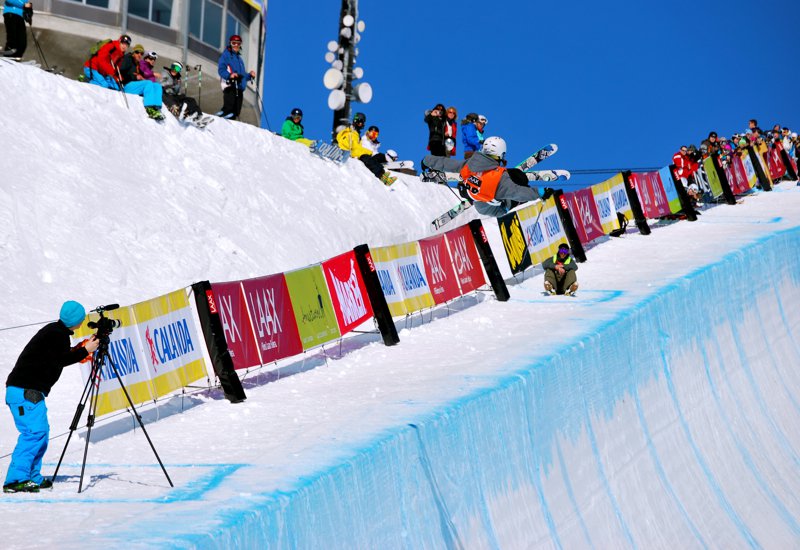 Kai Mahler
Taking the third place spot on the podium for his second time in a month was Byron Wells. After a more than respectable showing in slopestyle finals, the lobster face himself sent it with some of the biggest airs of the day in the pipe with a stellar run that included a first hit switch 10, flat 5 and left and right 9's.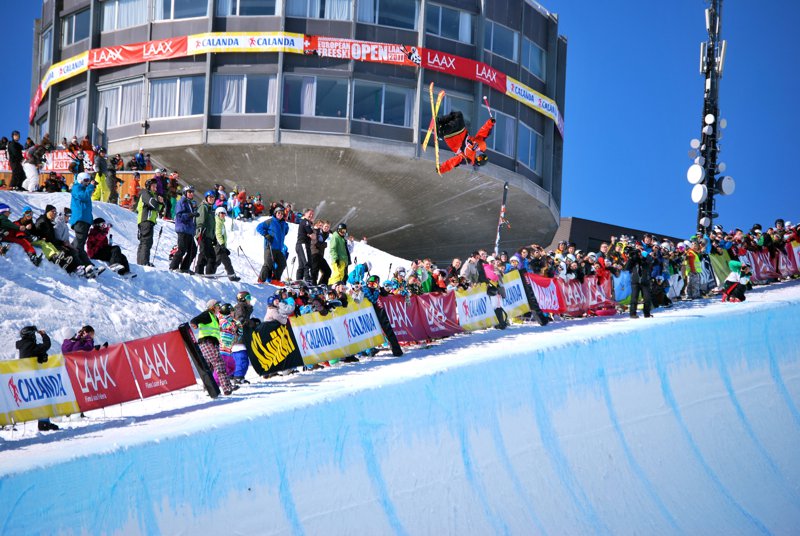 Byron Wells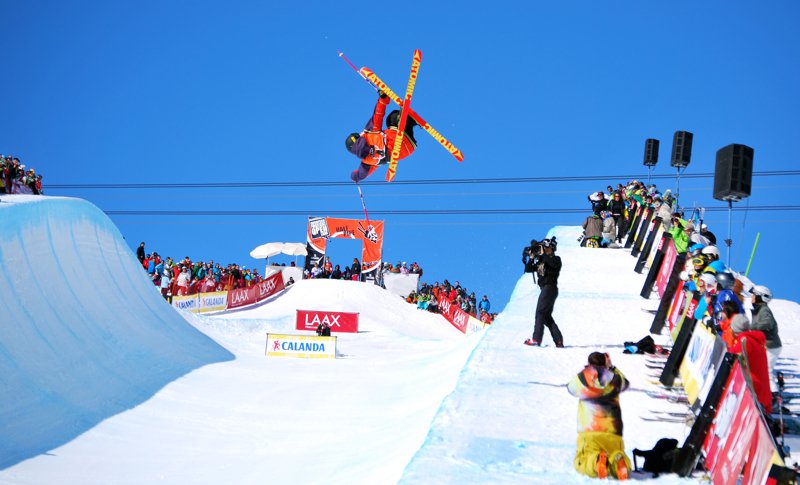 In second, finally climbing the steps on a major podium for his very first time was Matt Margetts. Marg was skiing on point all day long, with some significantly increased amplitude in his highly technical run that began with a flat 5 to left 9 to right 10 to switch 7 to alley-oop double flatspin 7.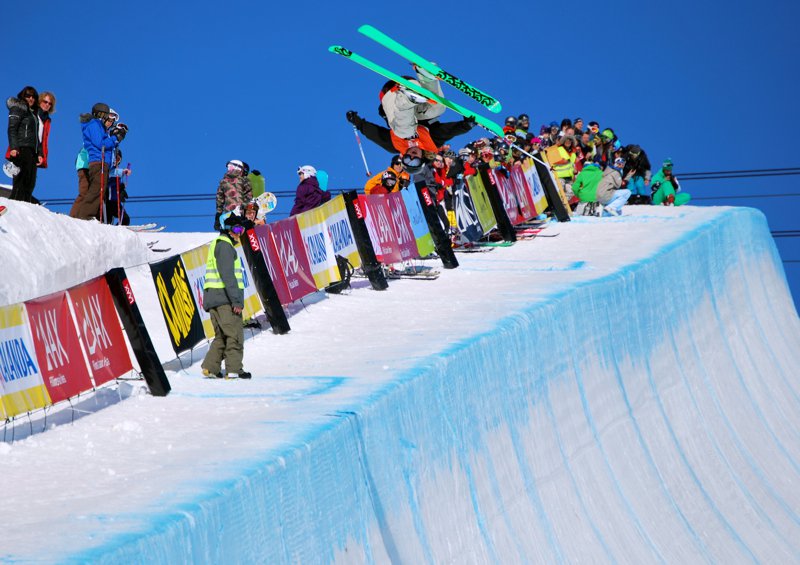 Matt Margetts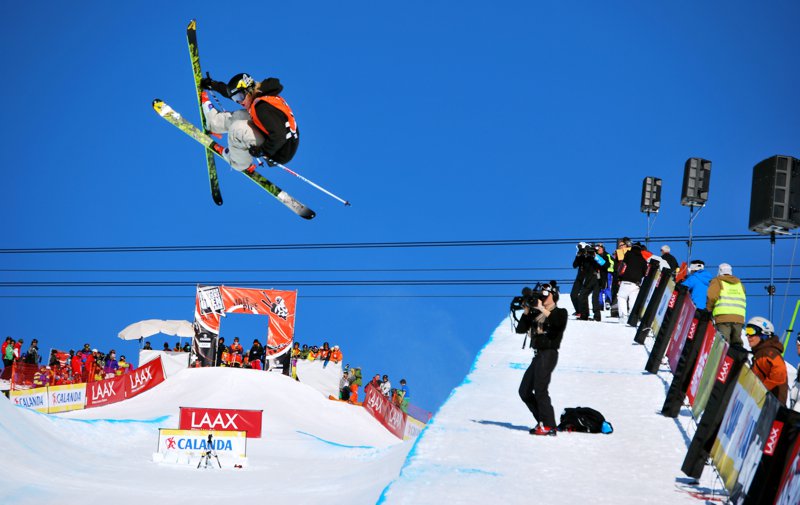 And although it was close, in the end the European Open superpipe belonged to David Wise. After skiing like clockwork (or more fittingly, a Swiss watch) all day long, Wise unfortunately crashed on the bottom hit of his first run, but came roaring back on his second with a stylish 9, flat 3 high mute, switch 7, right 9 and dub 12 mute to pick up the biggest win of his young and already exceptional career, with an exceptional celebration that followed.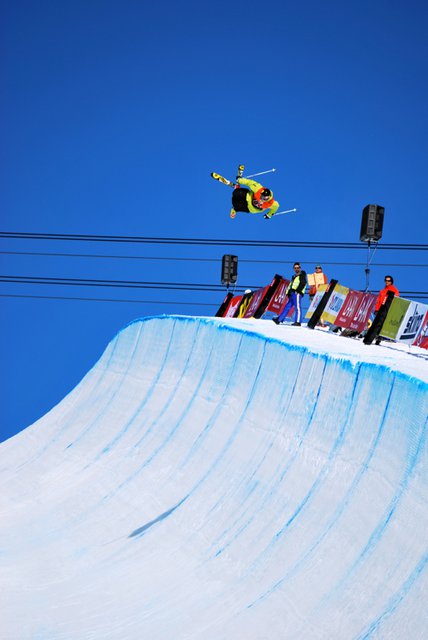 David Wise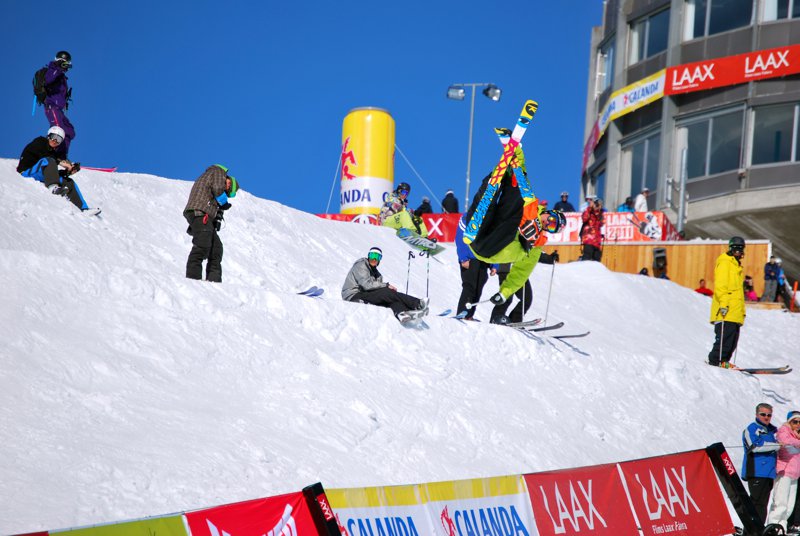 This concludes our coverage of the sixth annual European Open. Congratulations to Wise and Faivre, and special thanks to the hard working and incredibly hospitable event staff in Laax. We'll see you next year.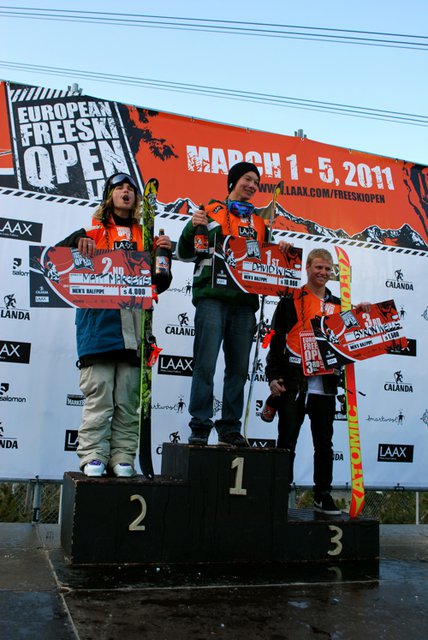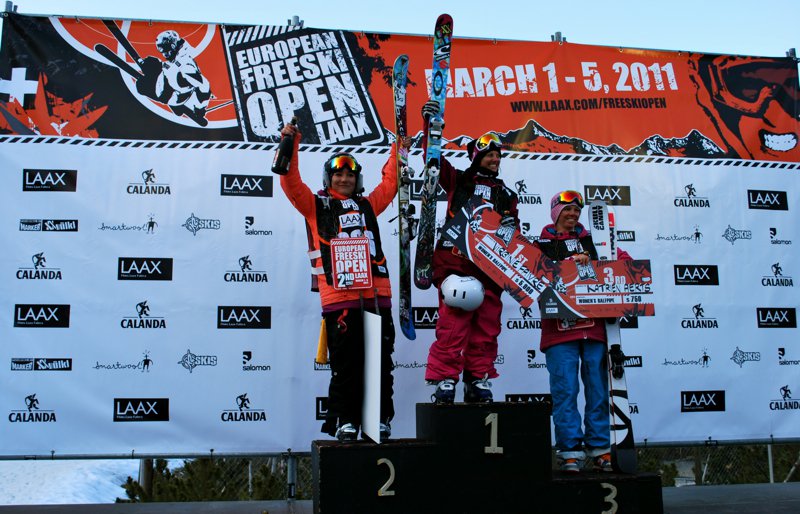 Results
Women
1) Virginie Faivre - 90.17
2) Anais Caradeux - 87.67
3) Katrien Aerts - 73.33
4) Em Lonsdale - 66.67
5) Emma Hogland - 62.33
6) Katie Summerhayes - 54.17
cut-off from semi-finals to finals
7) Mégane Collomb - 49.50
8) Denise Steiner - 34.83
Men
1) David Wise - 88.00
2) Matt
Margetts - 86.67
3) Byron Wells - 85.67
4) Kai Mahler - 85.17
5) Joffrey Pollet-Villard - 81.00
6) Thomas Krief - 80.67
7) Nils Lauper - 80.00
8) Christian Allen - 75.33
9) Jossi Wells - 75.00
10) Benoit Valentin - 74.83
11) Yannic Lerjen - 66.17
12) Taylor Seaton - DNS
cut-off from semi-finals to finals
13) Joss Christensen - 74.17
14) Rob Heule - 73.83
15) Nicolas Bijasson - 72.33
16)
César Fabre - 69.50
17)
Sämi Ortlieb - 67.83
18) Cyrill Hunziker- 67.50
19) Murray Buchan - 67.17
20)
Joel Gisler - 65.67
21) Lauri Kivari - 63.33
22) Kalle Hilden Kalle - 62.33
23) Frederick Iliano - 61.00
24) David Ortlieb - 60.50
25) Thomas Zubiria - 59.00
26) Rob Machon - 56.67
27) Antoine Blanchi - 55.00
28) Gian Ragettli - 53.67
29) Lucas Mangold - 53.17
30) Peter
Speight - 51.83
31) Teo Cattaneo - 47.67
32) Jeremy Morris - 47.00
33) Tom
Damiani - 44.00
34)
Paul-Eric Faure - 43.67
35) Victor Prieux - 42.83
36) Noah Bowman - 24.50
37) Charlie Richards - 19.35
38) Jonas Hunziker - DNS