words by Jeff Schmuck
photos by Felix Rioux & CKO
Day three of the Orage European Open is in the books, and what a day it was. The bad weather that hampered the first half of the event was replaced today with sunny skies and good times with the Alps in full view. It was a welcomed surprise after the forecast called for more snow and fog, which forced the event organizers to swap today and tomorrow's schedules, pushing the slopestyle finals to tomorrow and holding the halfpipe finals today.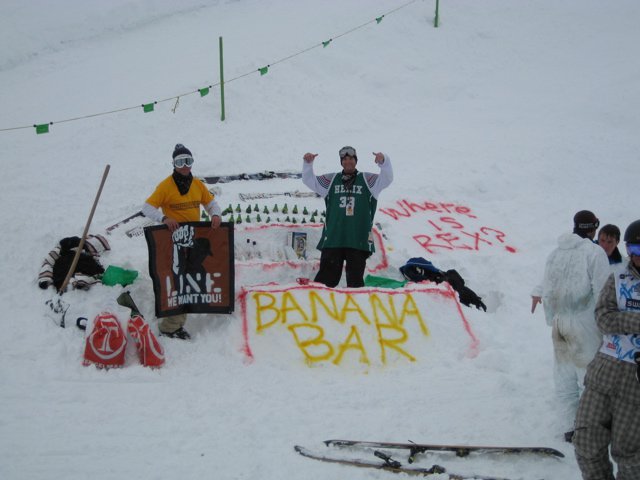 After an hour or two of practice from the competitors all was set and ready to go for semi-finals. Skye from Line Europe helped the process along by setting up the return of the infamous Banana Bar, a slope-side bar at the bottom of the pipe that dine a fine job of serving up alcoholic beverages off all kinds to the masses. The bar itself was a tad bittersweet for Skye though, as his co-founder and co-bartender Rex Thomas was not in attendance this year, prompting many a cheers in his name.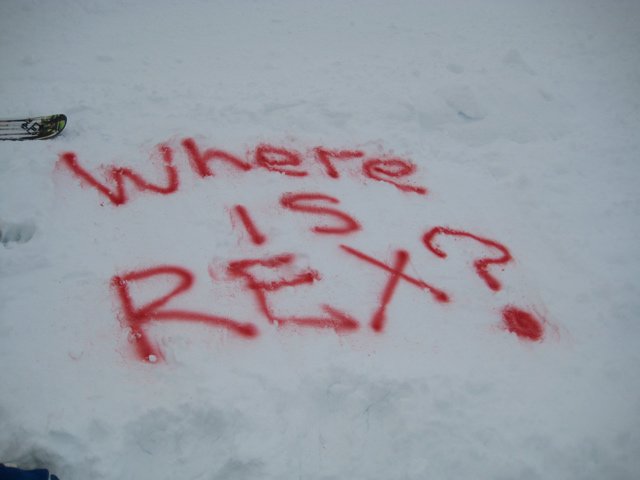 After a few drinks were consumed and the sun began to shine brighter the semi-finals began, and the event showed its gentlemanly qualities by making it ladies first.
The six qualifiers from yesterday squared off against the six pre-qualified athletes to narrow the field in half for the finals later in the day. Needless to say, the field was stacked and stellar performances were had from Roz Groenewoud, Sarah Burke, Jen Hudak, Kristi Leskinen, Virgine Favre and Anais Caradeux, who all advanced. On the bubble with a nice run of her own was Davina Williams, who just missed the cut.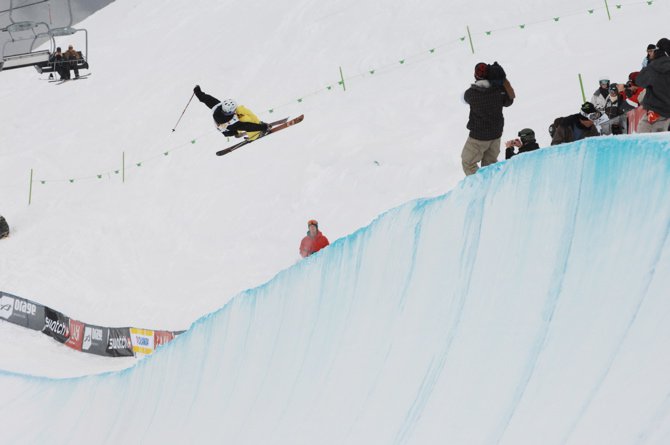 Davina Williams
Up next was the men's semis with a long list of talent vying for the 12 spots in the finals. The massive field of skiers from all across the globe took up the better part of the day and pleased the crowd and judges from start to finish. Teeing off and landing themselves a spot in the big show were familiar faces Lyndon Sheehan, Justin Dorey, Mike Riddle, AJ Kemppainen, Kalle Leinonen, Xavier Bertoni, JF Houle and Matt Margetts, along with relative unknowns Vivien Theiry, Oscar Harlaut, Sbrava Guillaume and Reto Comincioli, who were all holding it down for the Euros.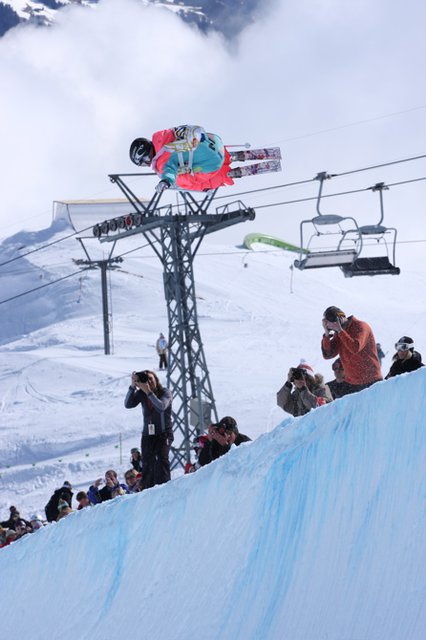 Virginie Favre
After a break for some lunch and practice the finals began with the ladies taking center stage again. Anais and Virginie, the lone Europeans in the finals, started things off with some nice technical runs including some clean and concise switch hits from Virginie, which helped land her in fifth with Anais in fourth.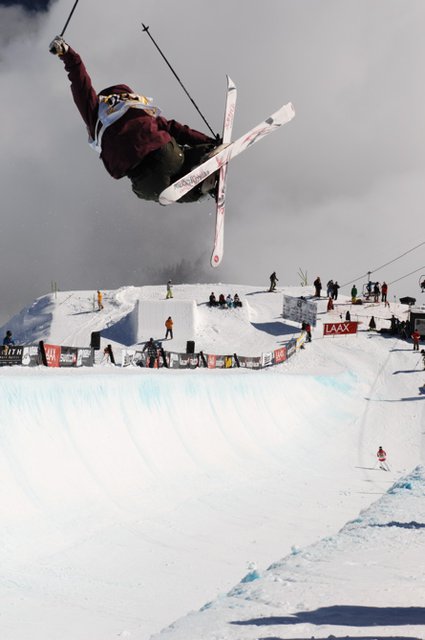 Kristi Leskinen
Following them was Kristi Leskinen, who had been skiing extremely well all week but had a bit of trouble during her runs in finals which bumped her down to sixth place, leaving the door open for the podium-frequenting trio of Sarah Burke, Jen Hudak and Roz Groenewoud to take home some more hardware.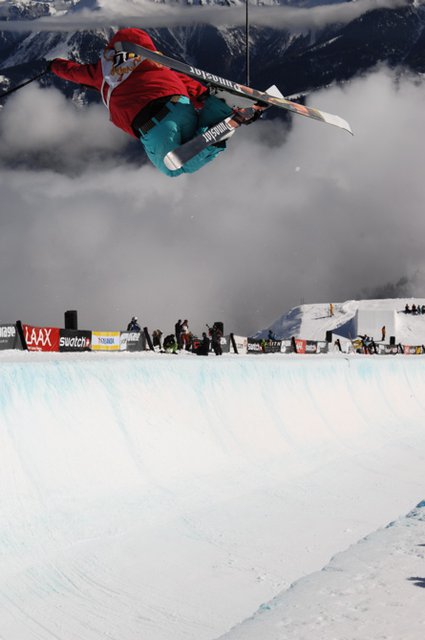 Jen Hudak
Jen continued to throw down the good looking run she had been doing all day, which consisted of a huge straight air and alley-oop to a nice cork 5 and 7, putting her in third.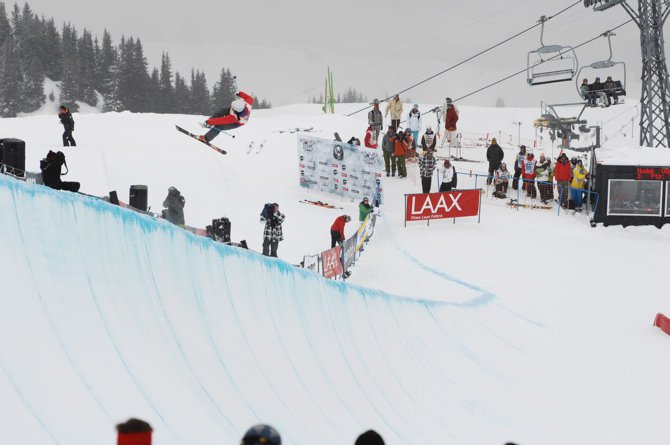 Roz Groenewoud
Roz, who was in first place after semis, was spinning like a top all day with a big 9 off the top, followed by two 5's and a 7 to end her run, helping her bring home the silver.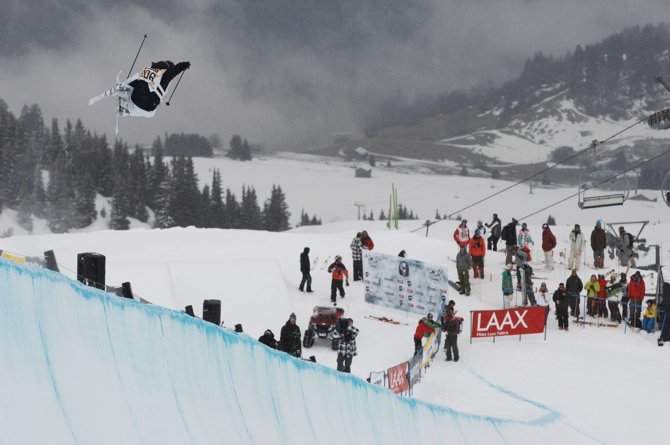 Sarah Burke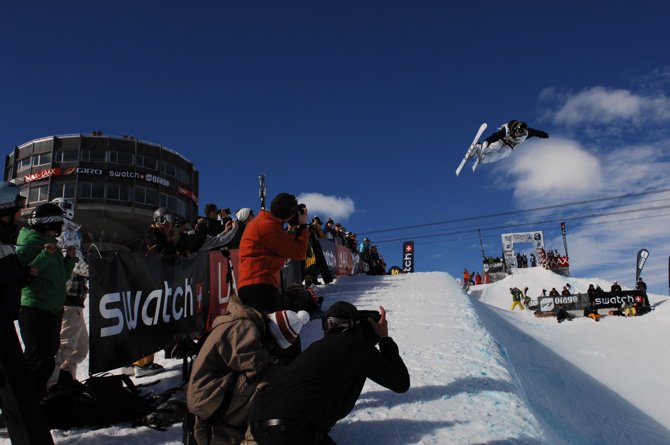 But much like nearly every halfpipe event in recent memory, Sarah was going both the biggest and cleanest, with a flawless straight air and alley-oop herself, which led into a gorgeous 9 and 7, scoring her another win in her near-perfect season.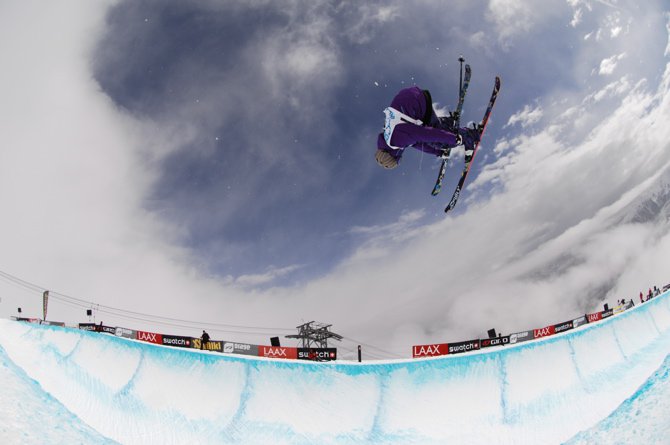 AJ Kemppainen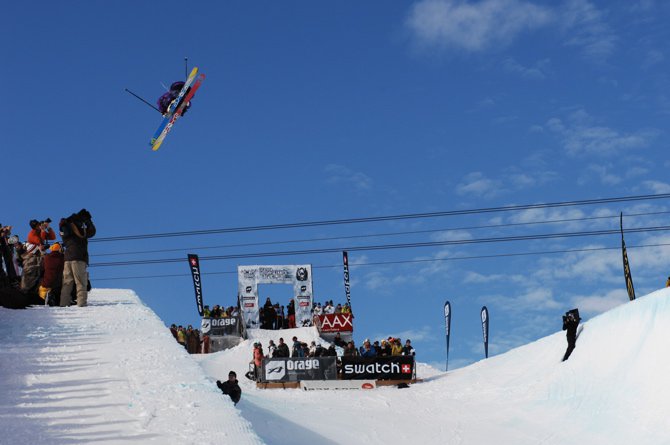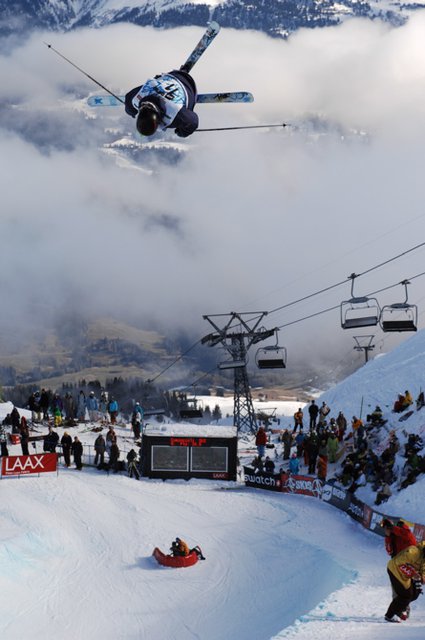 Lyndon Sheehan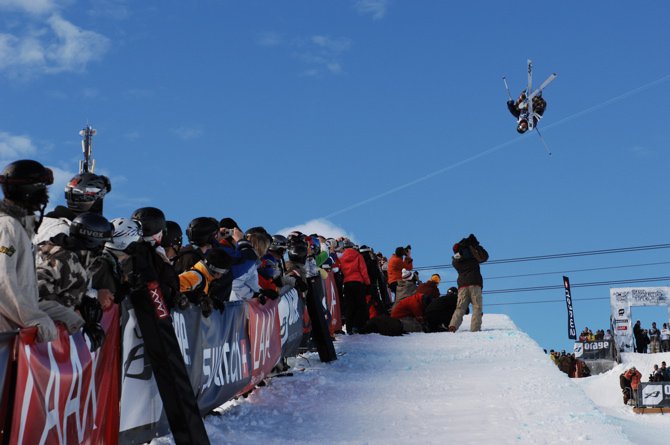 Next up was the men's finals. JF Houle kicked things off with some huge switch hits put unfortunately couldn't hold it together. Lyndon Sheehan and AJ Kemppainen stepped up to the plate shortly thereafter, with Lyndon going bigger than anyone else and AJ bringing the technical wizardry we've come to expect of him, but unfortunately both had a spot of trouble on their runs as well.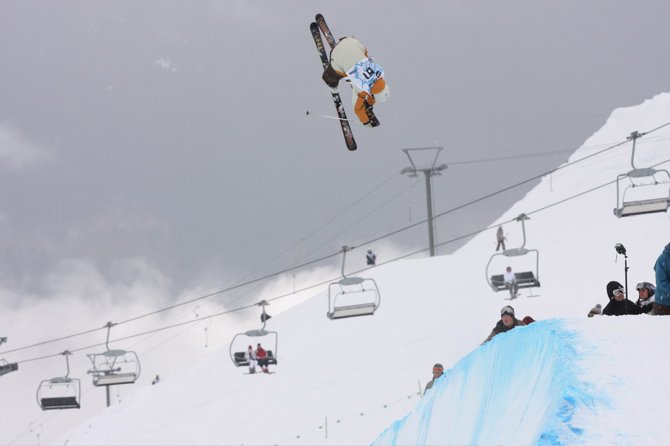 Matt Margetts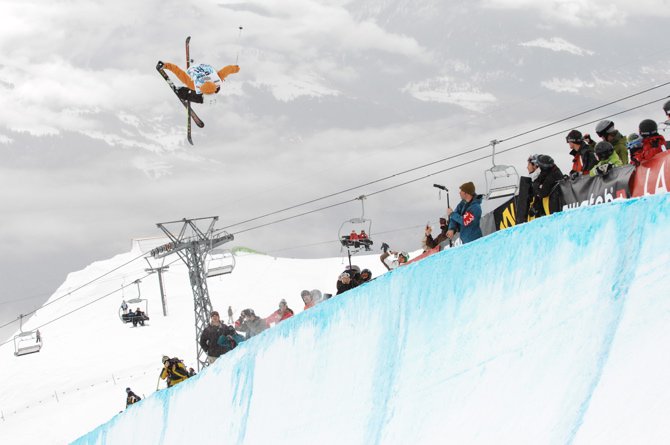 Matt Margetts continued the hot streak he's been on all week, putting down a super tech run that he's been perfecting since US Open and was rewarded with his best result of the season (fifth) for his efforts.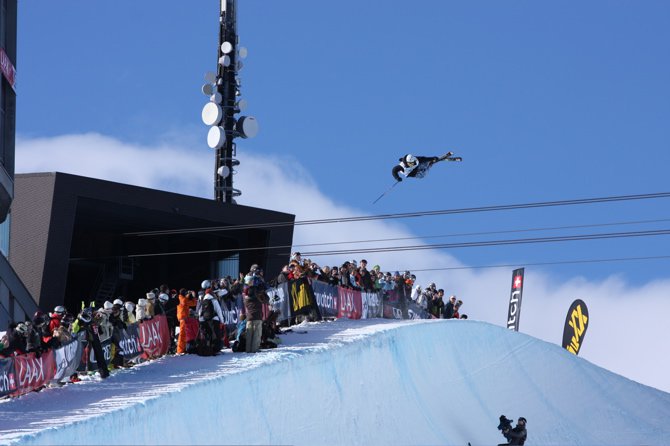 Justin Dorey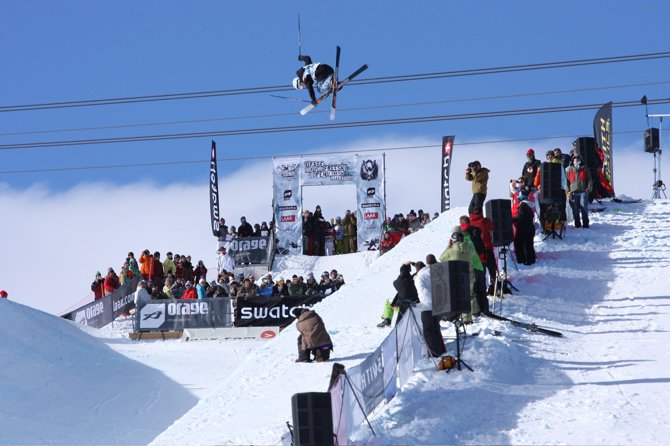 Justin Dorey then dropped in, and proceeded to throw down one of the most amazing pipe runs most had ever seen, with a huge alley-oop rightside flatspin 5, to massive 3, to switch 1080 to right 9, to left 10. With his run Dorey unquestionably took the top spot, but only for a short period of time.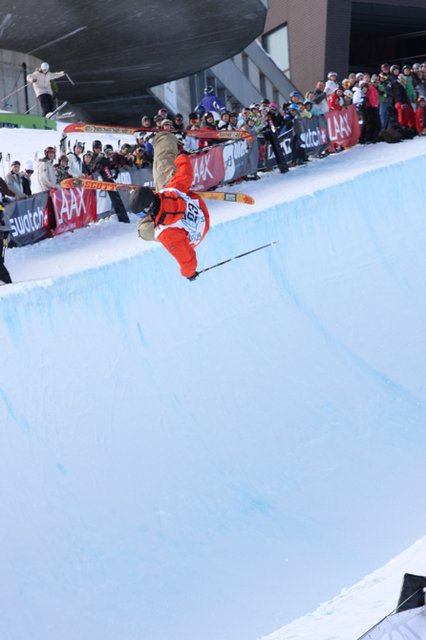 Kalle Leinonen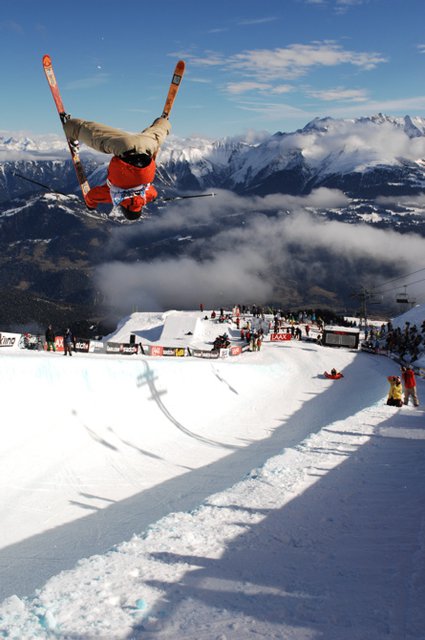 Kalle Leinonen went next, and continued the consistent and amazing skiing he's been performing all season with huge left and right spins and a gigantic flatspin 3 at the bottom, eventually gaining a respectable fourth place spot.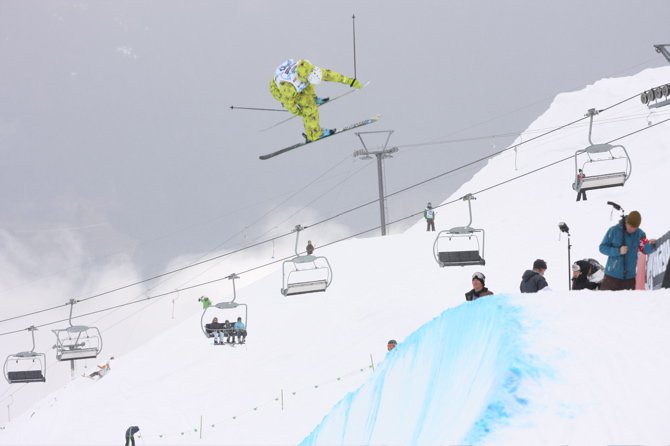 Mike Riddle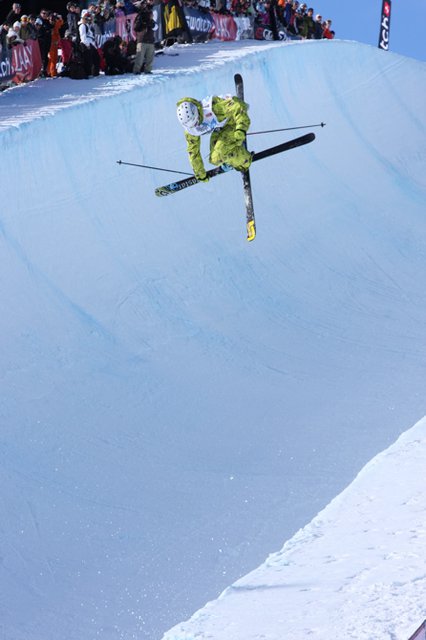 Dorey's friend and teammate Mike Riddle then dropped, and amidst some mild debate that took place once all was said and done, knocked Dorey off the top spot with a huge 5 double-japan, to right 5 safety to 10 to switch cork 9 to win the halfpipe portion of the European Open.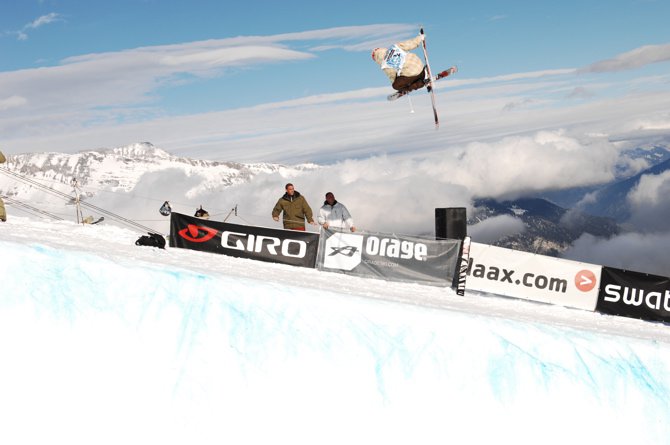 Xavier Bertoni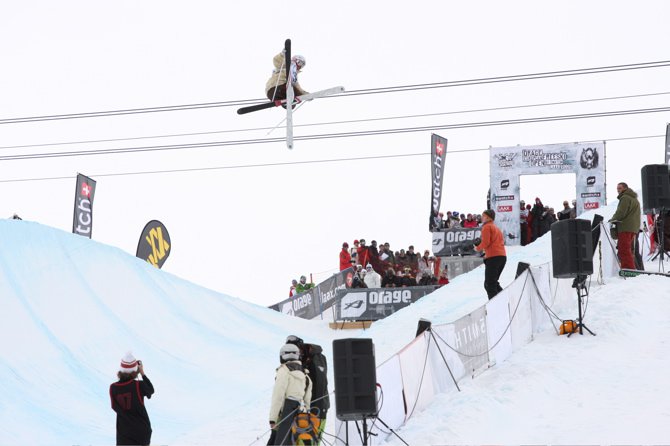 Finishing things off was Xavier Bertoni, who also knocked Dorey down a spot with his alternating left to right spins with picture perfect style, earning him second place.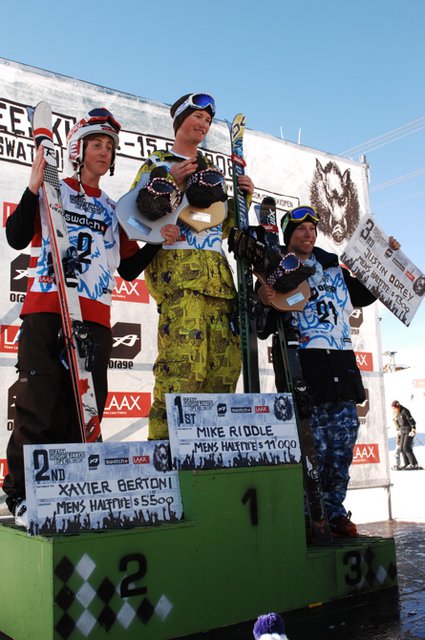 Xavier Bertoni (2nd), Mike Riddle (1st), Justin Dorey (3rd)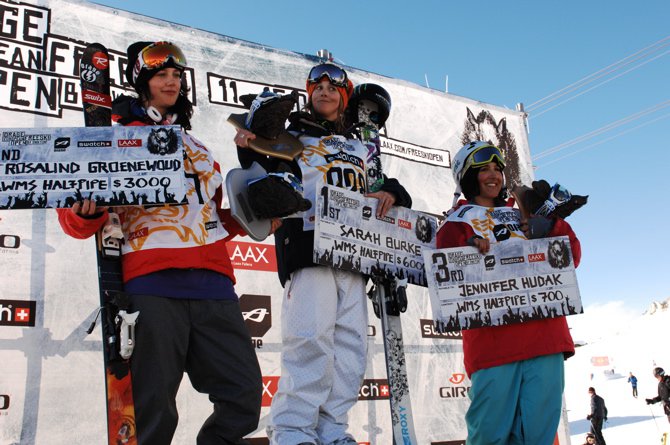 Roz Groenewoud (2nd), Sarah Burke (1st), Jen Hudak (3rd)
The halfpipe comp is all said and done. Stay tuned as we're working like busy little bees to get the broadcast of the event online within the next few days for your viewing pleasure, and be sure to check back tomorrow for full coverage on the men's and women's slopestyle finals.
Results
Men's
1) Mike Riddle
2) Xavier Bertoni
3) Justin Dorey
4) Kalle Leinonen
5) Matt Margetts
6) Vivien Theiry
7) Oscar Harlaut
8) AJ Kemppainen
9) Lyndon Sheehan
10) Sbrava Guillaume
11) Reto Comincioli
12) JF Houle
Women's
1) Sarah Burke
2) Rosalind Groenewoud
3) Jen Hudak
4) Anais Carradeux
5) Virginie Faivre
6) Kristi Leskinen