Words & photos by Ananda van Welij
The third and final day of European X Games in Tignes, France, kicked off with more bluebird skies, the perfect setting to enjoy some sun, a cruise around the mountain or to check out the snowboarders throwing down before it was time for the ladies to rip up the pipe at 6:15 p.m.
Before the competition really kicked off, Sarah Burke's winning run from last year was replayed, followed by a minute of silence to remember the great person and skier she was.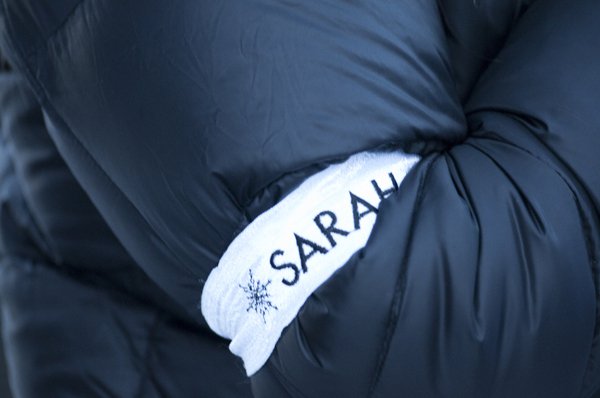 We'll never forget you Sarah.
Ten ladies from seven different countries lined up at top of the pipe for their chance at glory, including Ayana Onozuka, who was the first female Japanese freeskier to compete in a X Games superpipe event.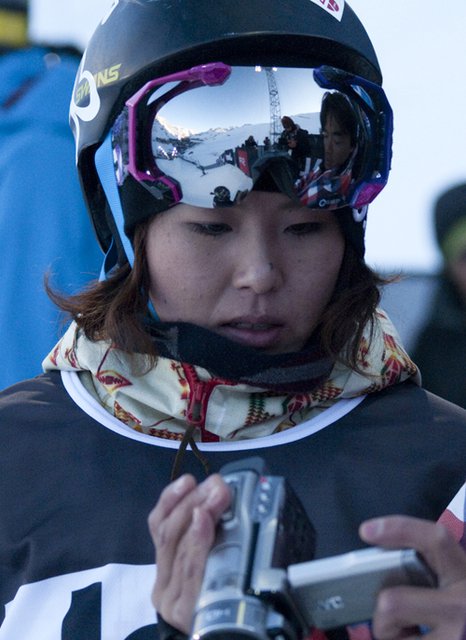 Ayana Onozuka getting some last minute feedback from her coach…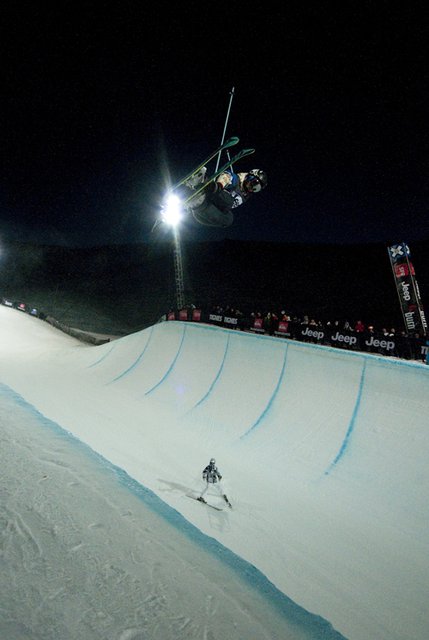 …and putting it to good use by boosting on her first hit.
Competing in her home country, and clearly the crowd favorite as a result, was Anais Caradeux. With the memory of her silver medal from last year in mind, the crowd was hyped up by the announcers to cheer her on.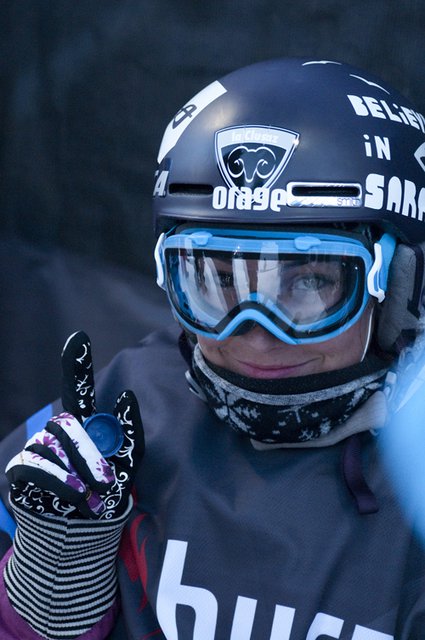 Anais Caradeux ready to show her home country what she's got.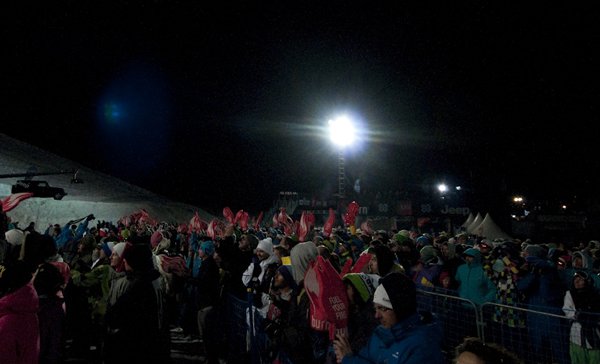 The massive crowd cheering her on.
Unlike in last night's Men's Ski Superpipe Elimination, where the highest score was thrown down during the first run, it was the third and final run for the ladies that decided who took home the gold. Virginie Faivre, who is ready to storm the castle with her Nine Queens next week, just missed the podium tonight in fourth after scoring an 81.66 on her last run.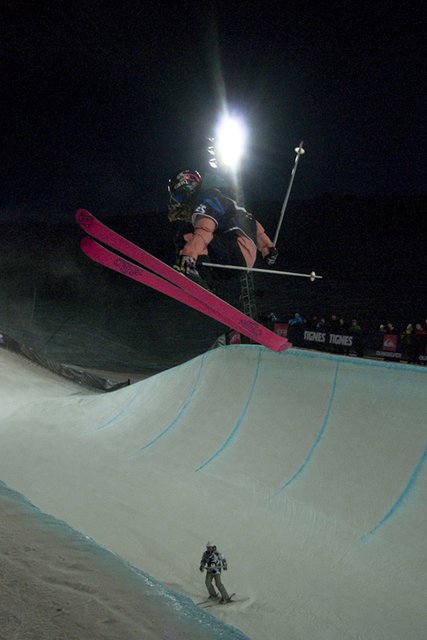 Virginie Faivre showing that she can throw down just as easy as organizing an event.
After Anais Caradeux didn't manage to fully complete her first two runs, when she landed her third with a 5 tail, 9 and alley-oop 7, her fellow Frenchmen were happily jumping up and down just as hard as she was.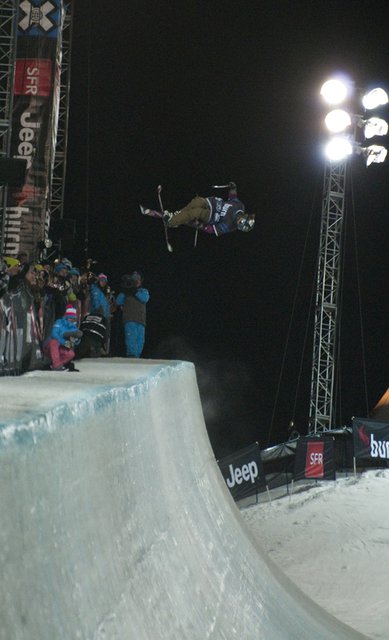 Anais Caradeux mid-air on her alley-oop 7.
Three more ladies still had to drop though, beginning with Maddie Bowman, who wasn't able to put down a solid enough run to knock Anais off the podium. Devin Logan on the other hand did improve on her second run, and was sitting pretty in first after boosting a huge straight air, to 5 tail, flair, another straight air, alley-oop, 7 mute and a switch 5.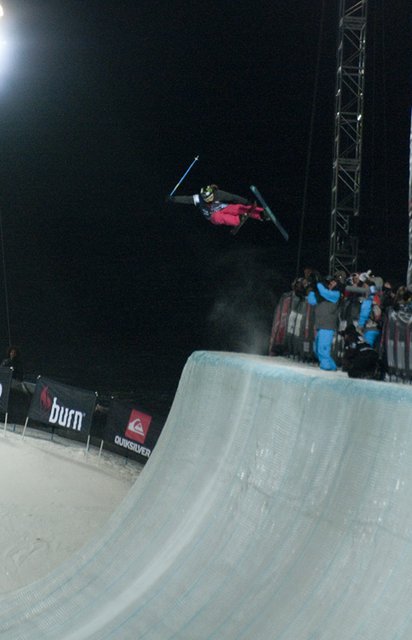 Devin Logan flying high on her first hit.
But there was still one lady to drop: Roz Groenewoud. Everyone who has seen her ride knows that she's always a contender for the podium and should never be overlooked. And she made sure she wasn't. As Roz said after her final run, where she scored a 89.33, it was the last run that did it for her, boosting her level of nervousness but also determination to put it down. Kicking things off with a huge straight air, to cork 9, left side 5, followed by another 5 to 7 to switch 5, Roz sealed the deal on her second X Games gold medal of the season.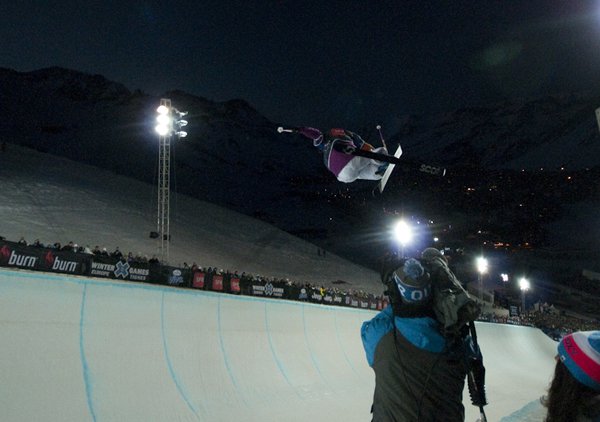 Roz Groenewoud giving it everything she's got.
Results
1) Roz Groenewoud - 89.33
2) Devin Logan - 87.33
3) Anais Caradeux - 85.00
4) Virginie Faivre - 81.66
5) Megan Gunning - 77.00
6) Maddie Bowman - 75.33
7) Ayana Onozuka - 73.00
8) Katrien Aerts - 65.66
9) Mirjam Jaeger - 63.33
10) Keltie Hansen - 43.33
To see how this event affects the AFP World Rankings, go to afpworldtour.com.
Stay tuned for our final piece of coverage on European X Games, Men's Ski Superpipe Finals.