Words & photos by Ananda van Welij
Just like the last couple of days, we woke up today to another bluebird day here in Tignes, France. Over the last few days the riders have had the chance to get used to the course under the same conditions as today, allowing the stage to be beautifully set for the first event of the week at the third annual European X Games: Men's Ski Slopestyle Elimination.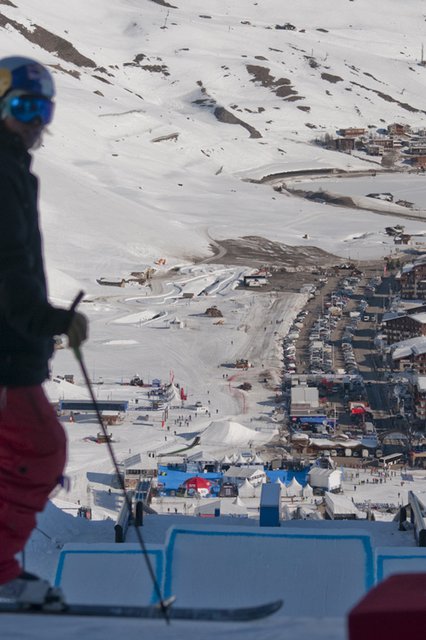 The three-day long proceedings began on a course that had the riders stoked from the very first practice session, prompting last year's bronze medalist James 'Woodsy' Woods to say, "This year we don't need to worry about the speed, making it over the knuckle or not. You can just do a little speed check and focus on your tricks. It's so much fun!"

James 'Woodsy' Woods
A total of 18 riders lined up in the start gate at 10am, where they were given two runs to determine who would go on to tomorrow's finals. A mix of superstars including Winter X Games gold medalist Tom Wallisch and veteran Andreas Håtveit slayed the course alongside rookies like Alex Bellemare, who ended up qualifying sixth.
Tom Wallisch showing why he won in Aspen.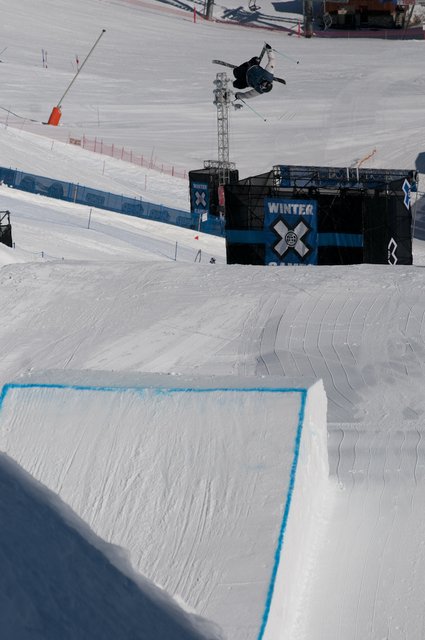 Andreas Håtveit, fresh off his victory at the Austrian Open.
A strong field of competitors meant a good show for the crowd, who turned up in big numbers, as is always the case at this event. Who wouldn't to kick back, relax and watch some action while enjoying the sunshine?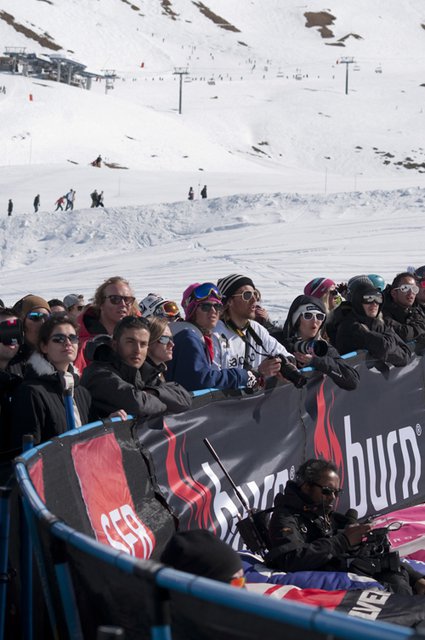 Strong runs were put down during the athletes' first go at it, with Bobby Brown taking the lead with a 92.66. On the second attempt, some of the riders got unlucky and weren't able to complete their runs, which made things interesting until the very end since the scores were so close. Taking third place was Joss Christensen, who mixed things up a bit and scored a 94.33 with a run that included a switch 5 on to the roller of the second rail feature to a 270 on, 270 out of the down rail and a switch right side 12 tail on one of the jumps, while the always consistent Russ Henshaw landed .33 points ahead of him to take second.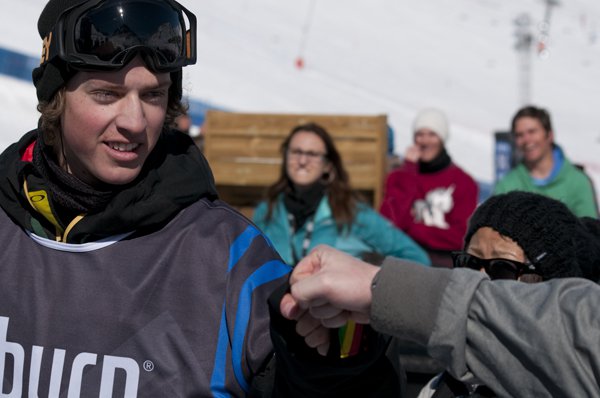 Joss Christensen after scoring a 94.33 to take third place.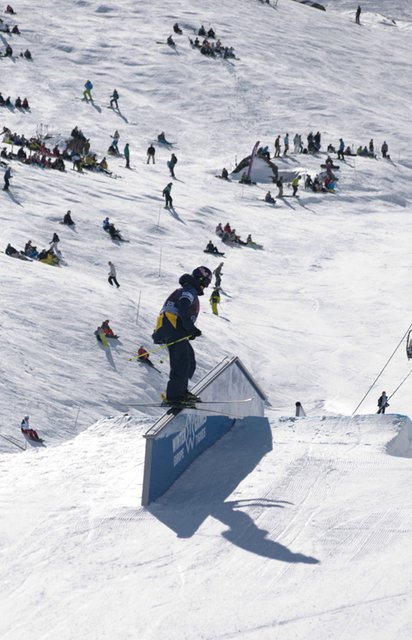 Russ Henshaw tricking his way to second place.
To no one's surprise, the unstoppable Tom Wallisch ended up taking the top spot today, but he was sitting below the bubble until his last run. With a k-fed, 270 out on the first rail, to switch in, pretzel 270 out on the second down rail, to a left double cork 12 mute followed by his patented switch right double cork 10 japan to switch left double cork 10 japan combo on the last two jumps and a switch 270 on pretzel 270 out on the last rail feature, Tom managed to authoritatively score himself a spot in finals while knocking Gus Kenworthy off the bubble.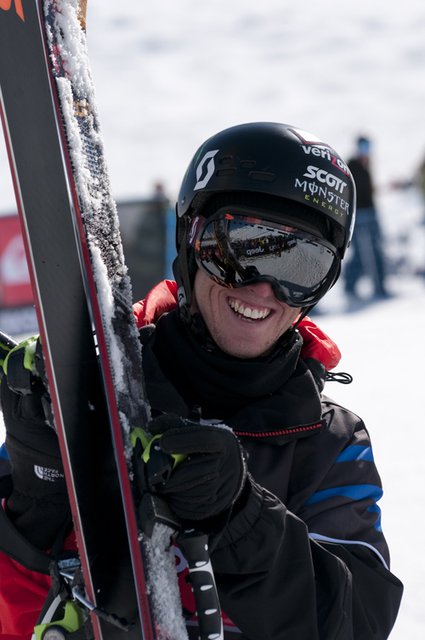 Tom Wallisch stoked with this score and making it to finals!
Results
1) Tom Wallisch - 95.66
2) Russ Henshaw - 94.66
3) Joss Christensen - 94.33
4) Bobby Brown - 92.66
5) James Woods - 91.00
6) Alex Bellemare - 90.00
7) Nick Goepper - 88.66
8) Andreas Håtveit - 87.66
cut-off
9) Gus Kenworthy - 85.00
10) Antti Ollila - 82.00
11) Jules Bonnaire - 80.66
12) Phil Casabon - 78.00
13) Kai Mahler - 75.33
14) PK Hunder - 63.33
15) Elias Ambühl - 60.00
16) Jossi Wells - 56.00
17) Alexis Godbout - 40.00
18) Alex Schlopy - 19.66
Stay tuned for more coverage on European X Games, including additional videos, and a look at what went down in the event that immediately followed Men's Ski Slopestyle Elimination, Women's Ski Slopestyle Finals. Click here for a look at the competition schedule, and click here to see when and where you can watch European X Games on TV.