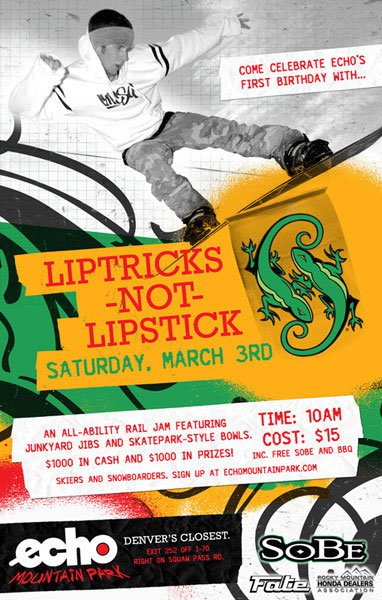 Echo is one!
Come and help us celebrate our first birthday with the best rail jam
and party of the season, Liptricks Not Lipstick, on Saturday, March
3rd.
Prize purse of $1k in cash and $1k in swag. Free SoBe and BBQ for all riders.
The course is going to be unlike anything else you'll ride all
year: a slew of junkyard jibs set into two berms, leading into 50-foot
skatepark style bowls. All abilities welcome, skiers and snowboarders.
There will be divisions for Quite Good and Really Quite Good riders, as
well as a Girls Only division.
SIGN UP HERE:
limited spaces due to the compact nature of the course (registration on
the day not guaranteed). Entry $15. The fun begins at 10am.
After party at "Defrost," in association with Thrifty Stick Board Shop. The Shelter, 1037 Broadway, Denver.
See you there!
Love,
Echo