Durtschi Diaries 10 brings you some shots from November and December. This is all filmed with my Contour HD, the realtime shots can be seen in The Saga Volume 2 and 3 (kind of a sneak peak), and the Bachelor Opening Video 2010. Hope you enjoy, Thanks for watching.
This is an interview I did earlier this year for a Czech Magazine, so I wanted to post it here in english for everyone to read!
Hi Tim, after one year we are doing another interview, what changed at you during this year?
Alot has changed, this year went by fast but it was a great season. I changed goggle sponsors to Smith, that was a big thing. I won 2 powder awards which was really suprising. Last year we did this interview during summer, and I have got to say I am enjoying this summer just like the last. Hot weather and lots of lazy days by the lake.
How you appraise season 2009/2010, what you got and what you lost?
I had a really good season in Whistler, France, Utah and Haines AK. The most fun I had this season was heli skiing with Pep and Julien in AK, building jumps in France with Bene and JP, and hitting Chad's gap with Mike Wilson. Unfortunately I had some crappy injurys like the tree I crashed into in the January Revolver Trailer. Then I sprained my ankle in Whistler, a frostbitten toe in France and got a concussion on Chad's Gap. I feel really lucky that I could still put together a solid segment for PBP even with these injuries.
Last time you said, that you want make movie like 44 days, which you made with Kris Osness. Did you start work at this film or is it just in your head?
Well I did not start a project which is ok because things are going really well and I am really busy with PBP. I did start a Webisode series called Durtschi Diaires. It has kept me even more busy and gives a behind the scenes look into what goes into making a film segment and how much skiing I actually do during the season, It's alot. I am spending some time with Saga this year filming for the Volumes. I've been exploring Utah some more, I love skiing Utah it never gets old.
And do you plan make another film with Kris Ostness?
I do not have any plans but we stay in touch. He has been really busy filming the Windsurfing movie 2 which was just released. It is a PBP film and was directed by Jonny Decesare himself. I don't think Kris has any immediate plans to film skiing anytime soon, but he is still filming, which is his passion so that is great for him.
Right now about film which you made with PBP ? Revolver. Can you tell us few words about this new film?
I got the cover of the DVD which I am really excited about. The movie is going to have alot of AK, with Dane, Myself, Pep, JP and Julien. Bene Mahr has an amazing backcountry segment, I plan on skiing with him alot this next season.
Do you think, that Revolver bring new ideas to ski movies? (If you can tell any examples)
It is for sure going to set a bar that hasn't been set. From the park to the BC, to the Big lines and urban, I think this years movie is going to have alot that other movies do not have. I think that the story line will be really good too. Some really good insight from JP Auclair, Martini myself and the other riders. I liked the Intro, the ski factory is something that is really classic but I have never seen before in a ski movie.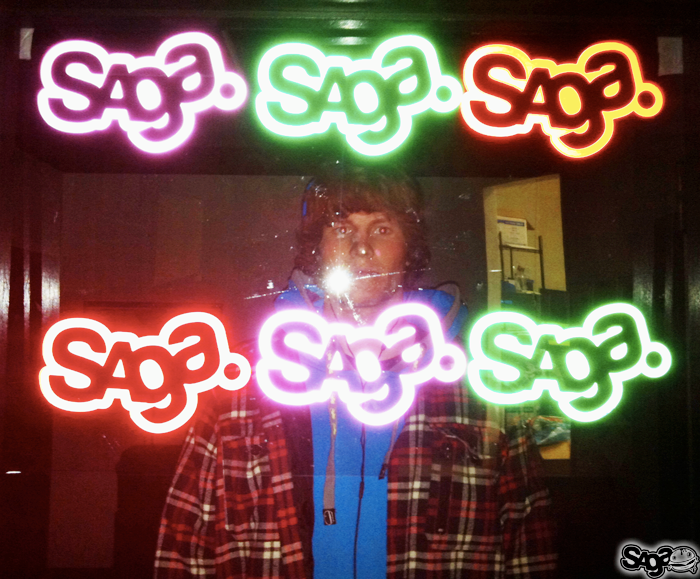 You spent lot of time in back country? Park isn´t already so much fun for you? (why?)
I like park, it is good for fun and a good time with friends. When I am filming I love backcountry because I feel more creative there. I love the freedom and the individuality that it allows. I feel like there is no limit when I am hitting backcountry jumps. When I am in the park, I kind of go in knowing I probably won't spin over a 9 that day and thats fine with me, the backcountry is a totally different mindset.
What you say at "triple" flips, which did Sammy Carlson and Bobby Brown? Don´t you think that this is more arial skiing, than freeskiing?
I think that their triples actually looked really good. I think that the only downside to doubles and triples is that when they are thrown in a contest it is harder to give them your own style. Either way I think it is good for our sport of freestyle to experiment with these things that have not been done, skiing will figure its way out and if skiing wasn't being pushed this way than it wouldn't be growing like it has been.
And which way is good for freeskiing according to you?
I think new tricks like triples can be good. The 1080 was great for our sport and that was 3 spins, why should 3 flips be any different? A triple cork should not be bad either, I think that it is awesome that people are doing these tricks with style. If they are done outside of a contest I think there is alot more creativity that can make them individual.
Do you think about freeskiing as being too dangerous and risky?
I feel that way alot, I always think about it more after an injury. I always wear a back protector and Asterisk Knee Braces. I always take precaution skiing in Alaska because of Avalanche danger but this year I was a little more cautious. I am really happy that we have good Guides at Alaska Heliskiing and all the other athletes are super great there. I know that skiing is dangerous but all you can do is take precautions like wearing your helmet and beacon.
Do you want try ski base jumping/sky diving or it is too dangerous for you?
I will be sticking to the snow in the future, you can count on that. One thing that I think would be fun is Kite-Skiing. Maybe I will try that next season.
Do you have any plan on next season?
I am going to heli ski alot, and try to find some new big gap jumps since I am done with Pyramid and Chad's (phew). I also am excited to film with Jonny Decesare, he has been busy filming the windsurf movies but he will be filming heli skiing next year. I also plan on competing in the Linecatcher event in France next year as well as the Cold Rush. I hope Freeride comps like these continue to grow.
Do you want say something at the end of this interview?
Thank you to my Sponsors, Saga, Atomic, Smith, Level Gloves, Pull-in Mt. Bachelor, and all my friends and Family, my girlfriend who supports my skiing every minute of every day, and Poor Boyz Productions for always being there. I also want to shout out to my Cousin Max Durtschi who is only 14 and learning so many tricks, he is amazing, I got to ski with him alot this summer at camp. He got 2nd in a big mountain comp and learned alot of tricks in the Park and Backcountry, he is my young apprentice!
Thank you for your time.
No related posts.