Practice, Qualifiers,and Finals LOL. Here at Sugarbush Parks we pride ourselves in doing things a bit differently. NO Practice, NO Qualifiers, NO Finals, NO Pressure! Come hang out with Tall T Dan, session a one of a kind set up loaded with down rails and double kinks all while linking up with like minded freeskiers. In classic Down Rails and Double Kinks fashion we will have a FREE WINDELLS SESSION up for grabs along with over $5000 in give away gear that is actually fly!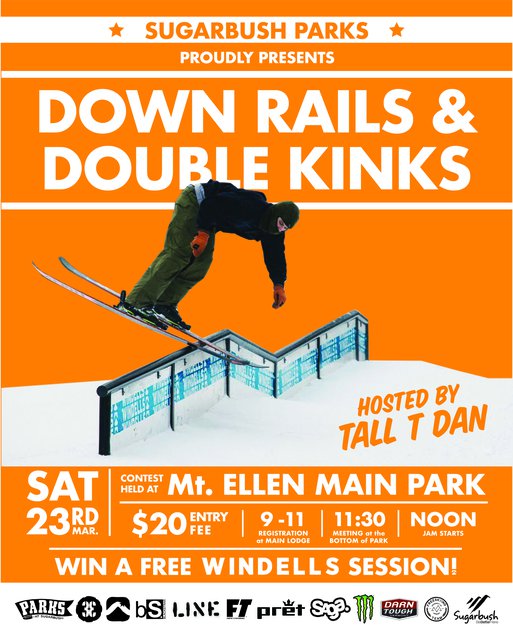 Tall T and local celebs UVMFST have curated an all new Trick Elimination Board! Land a trick on the board, take a piece of fly gear. What tricks are on the board? You're going to have to wait until our riders meeting to find that out. Keep mind the board sure to test everyone's swerve and send abilities while paying ode to timeless rail tricks. Stay tuned to @SugarbushParks Instagram for Trick Elimination Board and giveaway gear leaks!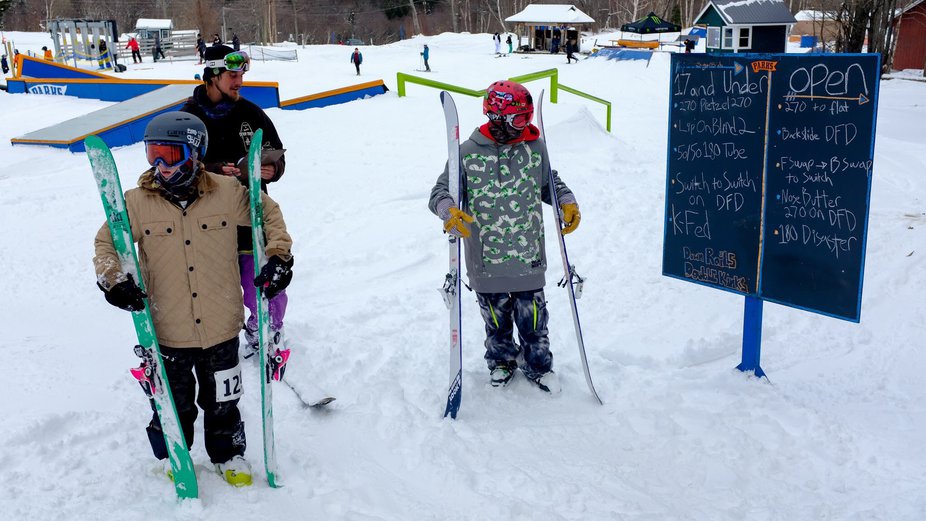 Prizing:
Young Gun: 17 & Under
1st: Windells Session + Prize Pack
2nd: Skis + Stacked Prize Pack
3rd: Stacked Prize Pack
Open:
1st: Skis + Stacked Prize Pack
2nd: Skis + Stacked Prize Pack
3rd: Stacked Prize Pack
Last year Bennie Osnow earned himself a FREE WINDELLS Session, but this years is in the Open class. Who is getting that free session at Windells, it could be you!
Registration: 9:00am-11:00am at Mt. Ellen Lodge Guest Services Desk
Google Maps Address: https://goo.gl/maps/FtVaBHwX5BU2 // 626 Mt Ellen Rd, Waitsfield, VT 05673
Cost: $20 Entry Fee (entry fees will go directly into the Open Class first place prize purse)
$25 Sunny Quad Tickets, valid lift ticket or season pass required!