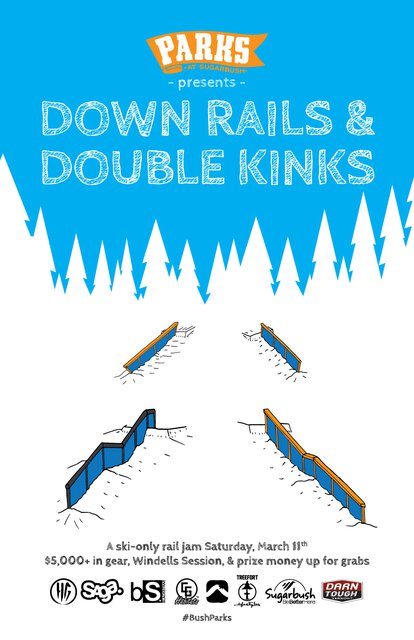 Practice, Qualifiers,and Finals LOL. Here at Sugarbush Parks we pride ourselves in doing things a bit differently. NO Practice, NO Qualifiers, NO Finals, NO Pressure! There will be three challenge categories where contestants can win gear; peep our proprietary New World Format below.
Best Of Challenge: Paying ode to freeskiings most iconic rail tricks. This challenge will be open all day to both Young Gun and Open Class.
KFED w/ afterbang
Brittany w/ afterbang
270 pretzel 270 w/ afterbang
One footed grind (Nugget/Ski Slide, Front Foot, Back Foot)
Elimination Challenge: Tricks will be listed on a board, first person to land the trick gets to pick an item of their choice. Youth and Open Class will have different tricks for their challenges. Check out our Instagram (sugarbushparks) and Snapchat (sugarbush_parks) stories for leaks of these tricks.
Prizes:
Tricks 4 Gear: Judges will be giving away gear for tricks that tickle their fancy.
1st Place Open: 1 Pair of Stingers from HG Skis + Prize pack + Entry fee payout
1st Place Young Gun: Prize pack
Wait, how do I get the FREE Windells session?! Don't worry we didn't forget about that, show up and be the MVP! The winner will be announced during awards.
Devisions:
Young Gun - 13 & Under, 14-17
Open Class - 18+ (Young Guns are able to register in Open Class)
Registration: 9:00am-11:30am at Mt. Ellen Lodge Guest Services Desk
Google Maps Address: https://goo.gl/maps/bs3hUTysoy52 // 626 Mt Ellen Rd, Waitsfield, VT 05673
Cost: $20 Entry Fee (entry fees will go directly into the Open Class first place prize purse)
$25 SunnyD Tickets, valid lift ticket or season pass required!