Diamond Annies is here to change the game. With the premiere of their short film "The Last Park Movie" at IF3 next week, a new type of ski crew will be introduced to the world. Made up of eight women from three different countries, Diamond Annies is dedicated to raising the bar for women in park skiing, and "The Last Park Movie" is just one small hint of much bigger things to come.
"The Last Park Movie", described by member Katrina Siegfried as "an afterthought of this past winter season," is a compilation of each skier's best footage from last season stitched together into one movie. The idea for an all women park movie emerged when the 2014-15 season was already in full swing. The time constraint that this created, as well as the fact that many of the riders are spread out across the world, left little time to coordinate a group to film and create a movie together. So rather than letting the idea die or pushing it off until next season, these circumstances became the perfect test of how the Diamond Annies crew would be able to work together, and if they could do so successfully.
"We realize the importance of producing content and working together before taking on a major project as we intend to this [upcoming] season," says Katrina, "'The Last Park Movie' has shown that not only can we work together, but together we are greater than the sum of our parts."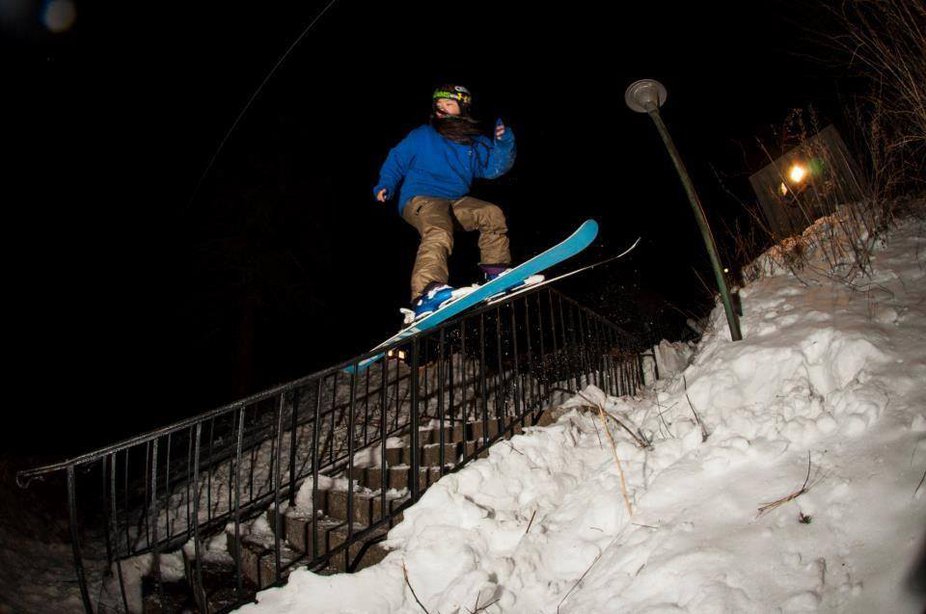 Jackie Mee Hyun Kling. Photo: Diamond Annies Facebook page.
The result is a short movie, filmed mostly in terrain parks, that features eight women who absolutely throw down. Some of them are names that the average Newschoolers member are likely to recognize, others maybe not: Katrina Nicole Siegfried, Brooklyn Poirot, Jackie Mee Hyun Kling, Taylor Lundquist, Danylle Hammett, Brooke Potter, Steffi Relssom, and Erica Durtschi. Each skier has a style and trick bag that is unique, resulting in a film that presents a diversity of skill amongst women freestyle skiers. In an industry dominated by men, Diamond Annie's "The Last Park Movie" demands more attention to the very talented- and more numerous than you may realize- women riders who are often overlooked.
Past, Present, And Future
Diamond Annies' name is a reflection of the bad-assery captured in the film. Inspired by the 40 Elephants Gang, "an all-women's crime syndicate in the 1850's to 1950's who funded their lavish lifestyle by shoplifting from high-end shops and boutiques". The leader of this gang was a woman called Annie Diamond, who wore and used her diamond rings like brass knuckles. Inspired by this story, Erica Durtschi came up with the name Diamond Annies and created a logo and typeface to match. It is an appropriate point of inspiration for a group of women who are breaking the mold in their sport.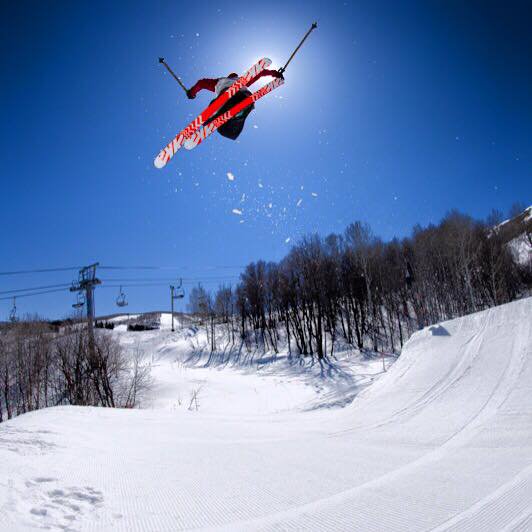 Taylor Lundquist. Photo: Diamond Annies Facebook page.
There are many challenges to overcome when collaborating with a large group of people to create one cohesive project. "I think the biggest struggle was not getting input soon enough, and also being on different time zones and schedules," said Danylle Hammett. Diamond Annies faces geographical challenges, as riders are spread from the west coast of the U.S. all the way to South Korea and Austria. Katrina pointed out another challenge the crew faced, one that anyone who has made a season edit can relate to: collecting footage. "Have you ever tried collecting footage from seven different people who also have to collect their footage from multiple other people? It's a nightmare." Once the footage was collected, Katrina and Danylle worked together on the editing. Social media also played an important role in giving everyone in the crew the ability to give their input and stay informed on where the project was heading.
Diamond Annies plans on dropping videos and content throughout the upcoming season, and there are hints that the crew is working towards a larger, end of season plan. "We don't want to commit to anything, we want to keep our options open," says Katrina, "But I can tell you one thing, we won't be making another park movie."
"The Last Park Movie" will show on September 26 at the IF3 festival in Montreal, in the Past, Present, and Future screening.
Find Diamond Annies on Facebook and Instagram to keep up with the crew.