Dew Tour ? Portland Event – Wendy?s Invitational
Location: Rose Quarter ? Portland, OR
Dates: Thursday, August 12 ? Sunday, August 15
Event Schedule:
Thursday 8/12 – Gates open at 2pm - Practices and Prelims
Friday 8/13 - Gates open at 3pm - BMX Vert Prelims - BMX Dirt Finals - Neon Trees & Paper Tongues Concert (9pm)
Saturday 8/14 - Gates open at 12pm - Skate Park Finals - BMX Park Prelims - BMX Vert Finals
Sunday 8/15 – Gates open at 12pm - Skate Vert Finals (ft 2x Olympic Gold Medalist, Shaun White) - BMX Park Finals
Featured Athletes:
Skate park Ryan Sheckler, Greg Lutzka, Paul Rodriguez
Skate vert Shaun White, Bucky Lasek, PLG, Bob Burnquist
BMX park Dave Mirra, Mike Spinner, Garrett Reynolds
BMX vert Jamie Bestwick, Chad Kagy, Steven McCann
BMX dirt Brett Banasiewicz, Ryan Nyquist, Brandon Dosch
Tickets:
Tickets ON SALE NOW at COMCASTTIX.com or onsite at Rose Quarter Box Office
Action Zone $100 - Best seat in the house for all final competitions with benefits also including a behind-the-scenes tour, athlete autographs, FREE Dew Tour gear, Alli Shop discount, Mt Dew & more!
Reserved – $35 - Reserved seat in final competition venues for purchased day, Festival Village Access
Grounds Pass – $15 Adult/Child - NO GUARANTEED SEAT at final competition for purchased day. Festival Village Access
Family 4-Pack
- $50 for 4 Grounds Pass Tickets
- $120 for 4 Reserved Tickets
- First 100 Family 4-Pack purchasers receive a Ball Park product coupon worth $4.99
*3-Day Packages also available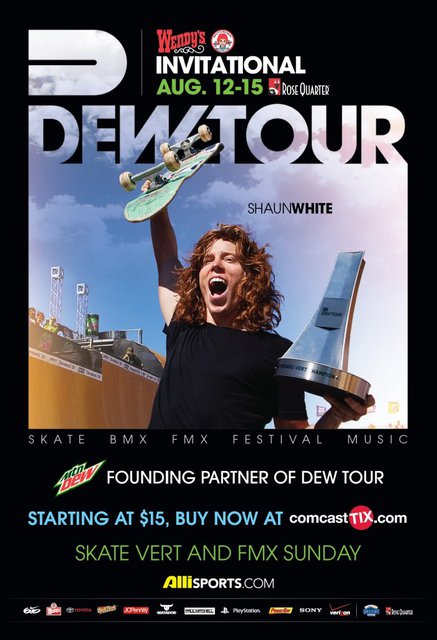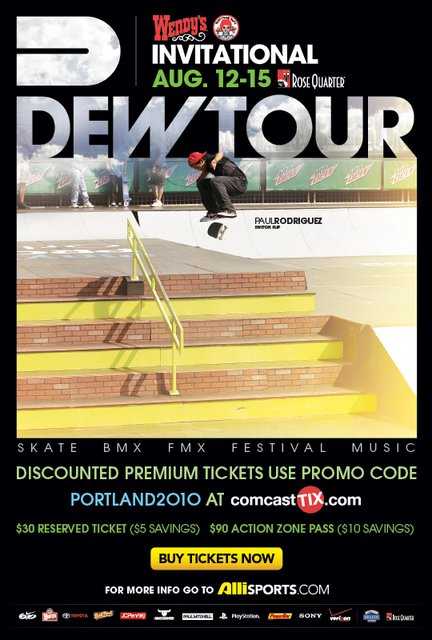 Related posts:Windells camper Alex Midler wins a spot in Salt Lake Dew Tour stop
Gatorade Free Flow Tour @ Windells Tomorrow.
Beauty and the Beast Tour