Words by Rocky Maloney
Photos by Rocky Maloney & Trevor Woods
The final competition of the ski superpipe side of things at the Winter Dew Tour Toyota Championships went down this afternoon in a big, big way at Snowbasin, Utah. After an amazing show under the lights last night in prelims the top qualified athletes were pumped for today's sunshine and big crowd. Up first were the top six ladies from yesterday, who were all more than ready to strut their stuff for a shot at the podium.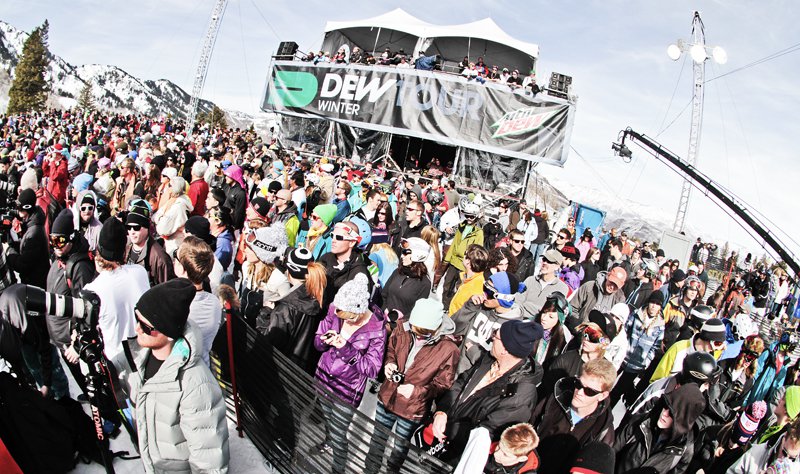 Rosalind Groenewoud was looking as solid as usual throughout this morning's practice, but on her second hit right 900 she couldn't hold the transition and fell to her side. She had to be carted down as a result of what looked to be a shoulder or collarbone injury. We wish you a quick recovery Roz!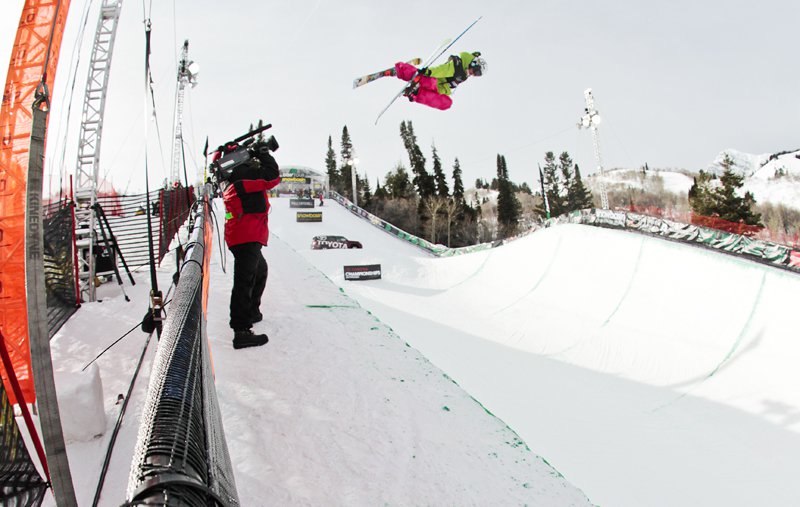 Rosalind Groenewoud
As for the rest of the ladies, there was no disappointment to be found, as the top five all had scores of 80 and above. Canadian Keltie Hansen was super excited after landing her second run, during which she linked together a first hit right 540 into a left 540, followed by a big right 900 midway through her run and finished it all off with a left 720, scoring an 80.50 and fifth place.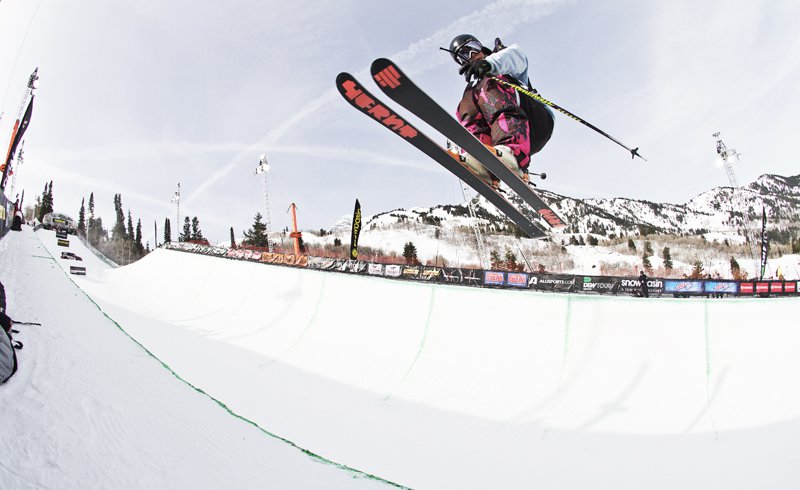 Keltie Hansen
Young gun Maddie Bowman also put on a fine show today, starting her run with a left 540 along with a left 900, right 540 and capped it off with a 720. Expect big things from this young lady in the near future.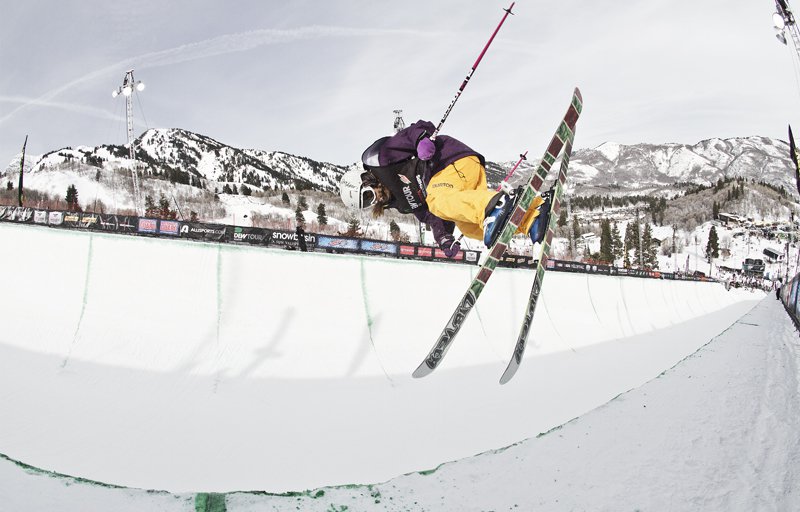 Maddie Bowman
Salt Lake City Native Jen Hudak put together a clean second run that began with her big first hit 900, along with an alley-oop 540 into a left 540 and like Hansen and Bowman finished with a left 720. Jen was very happy with her run, but it couldn't edge out the following two ladies, as she eventually ended up in third with a more than respectable score of 90.00.
Jen Hudak
The always consistent, always stylish Devin Logan continued to show just what she's made of this afternoon. Devin evidently waxed up her Armada's really well last night, as speed was certainly no issue for her. After throwing down a left 540 into a flair and another left 540, Logan finished off her run with a stylish 720 mute and found herself in second place at the day's end.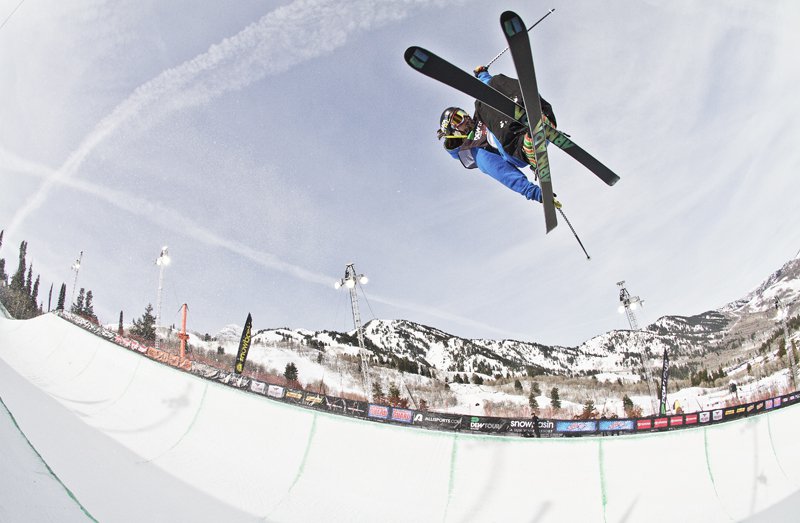 Devin Logan
And picking up the first major win of her young and already impressive career was the hard working and consistent Brita Sigourney. Putting together a very impressive first run that began with a left 540 and a massive third hit left 900, Sigourney put the exclamation point on her victory with a stylish 720 at the bottom, earning her a first run score of 92.00. She then tried to up the ante a bit on her second run by going for a 1080 on her last hit, but unfortunately failed to make it all the way around, crashing hard and tweaking her leg a bit in the process. But it didn't matter, as her first run was more than enough to score her the win, and after having to be carted off following her crash, she climbed to the top of the podium for her first time, crutches and all. Congrats to all the of the top ladies from today for an amazing showcase of women's pipe skiing!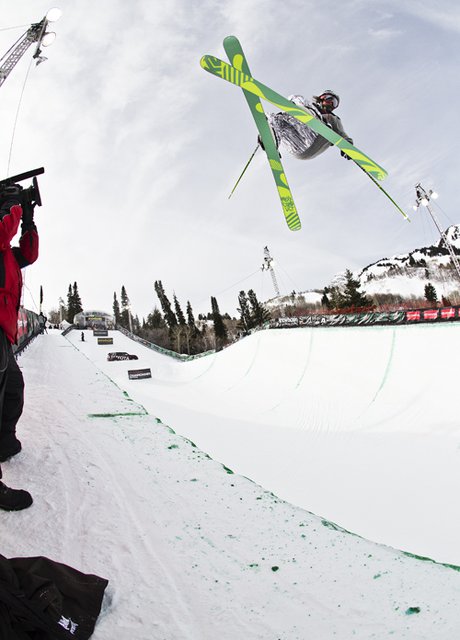 Brita Sigourney
After the ladies competition was all said and done, it was time for the top 12 men to put on another fantastic show. With a heated battle on deck between Kevin Rolland and Simon Dumont, who were both tied for first place in the race for the Dew Cup, it all came down to today's competition.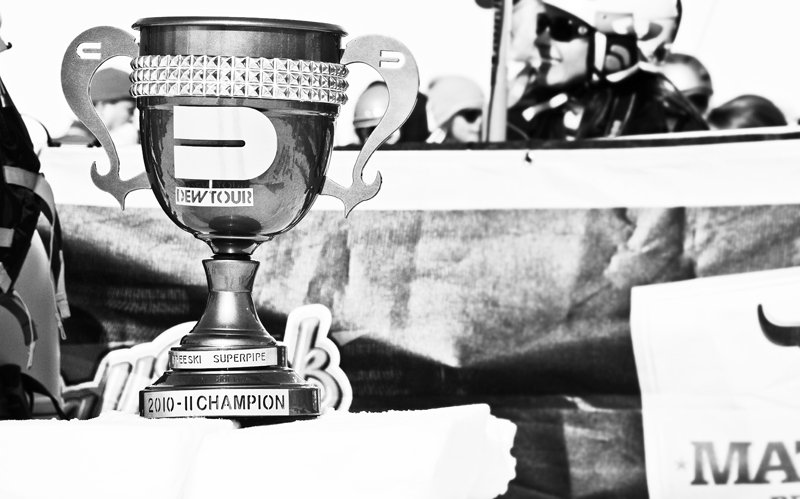 After killing it in last night's prelims, Justin Dorey unfortunately couldn't lay down his alley-oop dub and washed out on it on each of his runs. Needless to say though, Dorey is always an absolutely pleasure to watch in the pipe, and we look forward to seeing what he has up his sleeve for next time.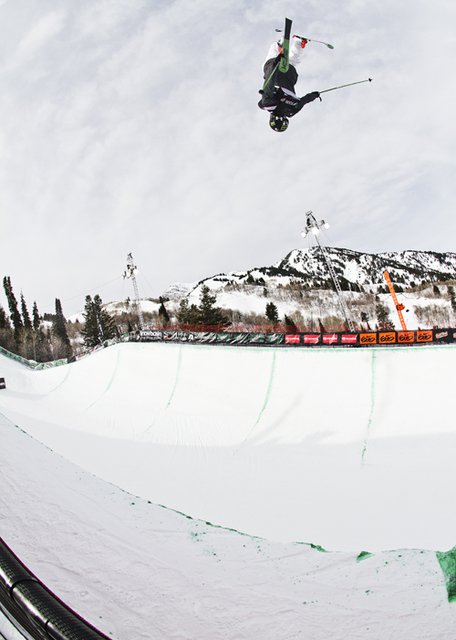 Justin Dorey
Also having a bit of trouble today was Mike Riddle, who fresh off of his FIS World Championships victory last weekend was looking to step up his game. He began with a big first hit dub cork 1260 and continued to stay consistent the whole way down the pipe with an alley-oop flat 360 as his set up trick into the elusive switch dub cork 1080, but unfortunately crashed on both of his attempts.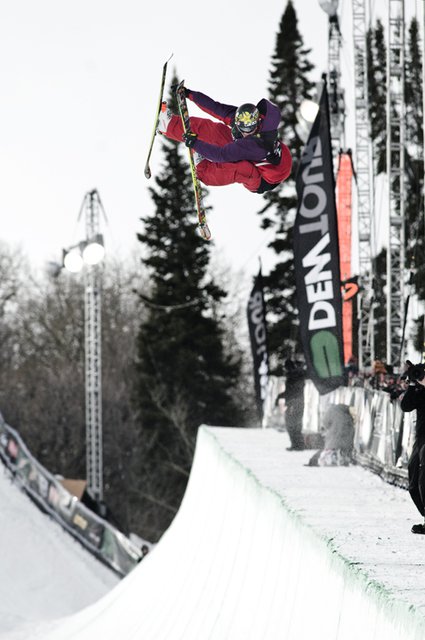 Mike Riddle. Photo: Trevor Woods
Tucker Perkins also struggled down the pipe on his first run, barely putting it to his feet on his last hit, and then after trying to up the amplitude a bit on his second he sadly once again couldn't hold it together, eventually finishing off the day in 10th place just behind Duncan Adams.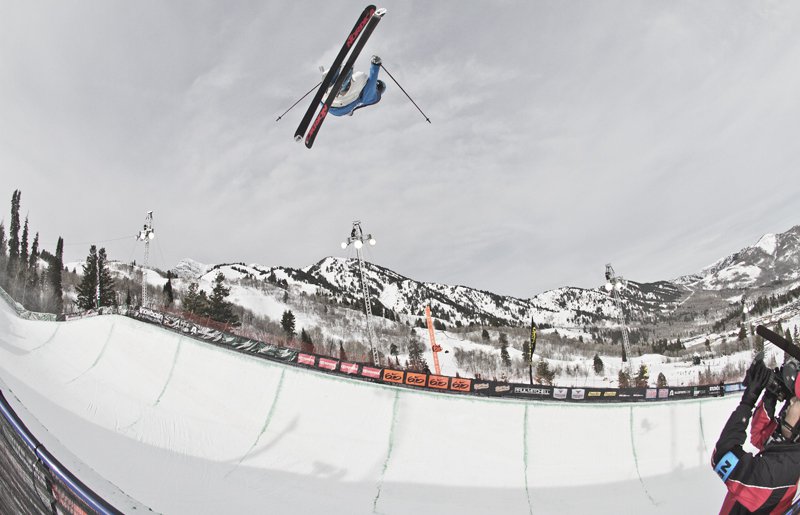 Tucker Perkins
Duncan Adams continued to keep up his technical offerings from the previous night's prelims, and after falling on his first run served up a second run with a buffet of switch hits. Starting with a first hit 720 into a a big switch 720, Duncan eventually finished off his run with a super stylish alley-oop 360 on his way to ninth place.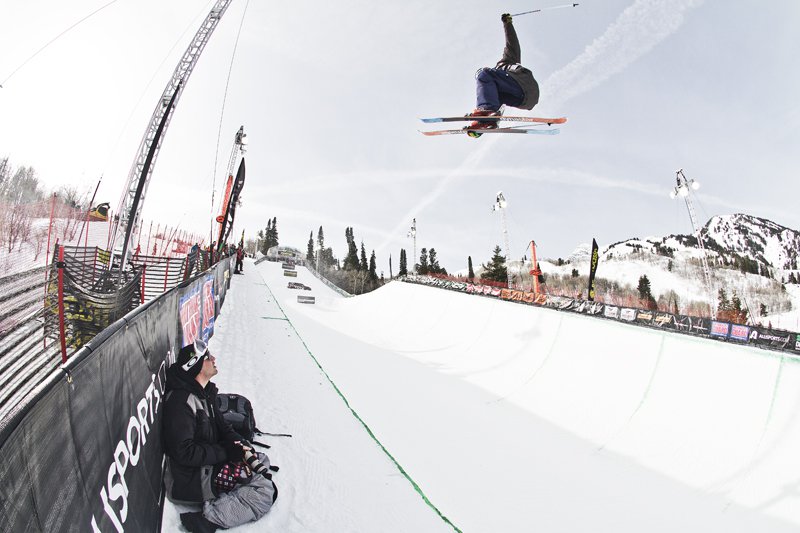 Duncan Adams
Matt Margetts dealt with a bit of frustration on his first run after catching an edge on the landing of his first hit double, which caused him amplitude issues throughout the remainder of his run. He then proceeded to come out swinging on his second though, and was firing on all cylinders with a first hit dub flair 900 followed by a left 900, into a right 1080, into a switch 720 and finished it off with the only alley-oop dub 720 in the competition. Marg was super happy after his run, but to the surprise of many, the judges felt it wasn't enough, and scored him a 76.75 which saw him end up in eighth place.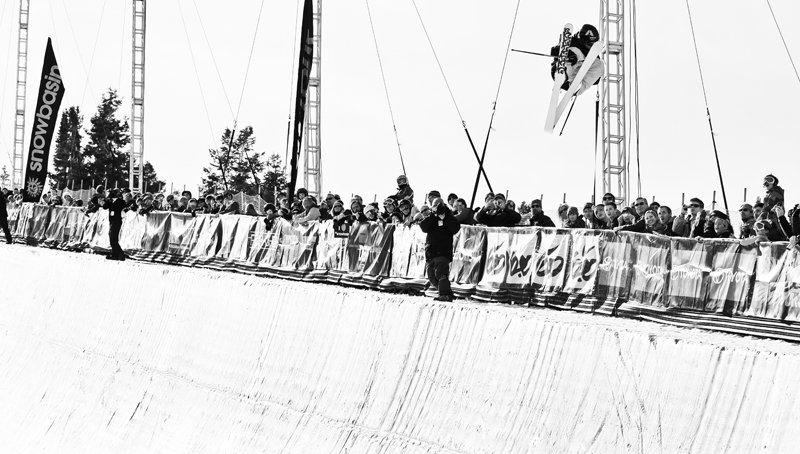 Matt Margetts
Thomas 'Toto' Krief of France was one of three athletes to be pre-qualified all the way to this afternoon's finals, and showed why by laying down two stellar runs with the first getting the higher score. Kicking things off with a big dub flair 900 Toto then busted out a silky smooth alley-oop 360, to switch 720, to right 900 and finished with a massive left dub cork 1260, which was enough for the seventh place spot just behind Simon Dumont.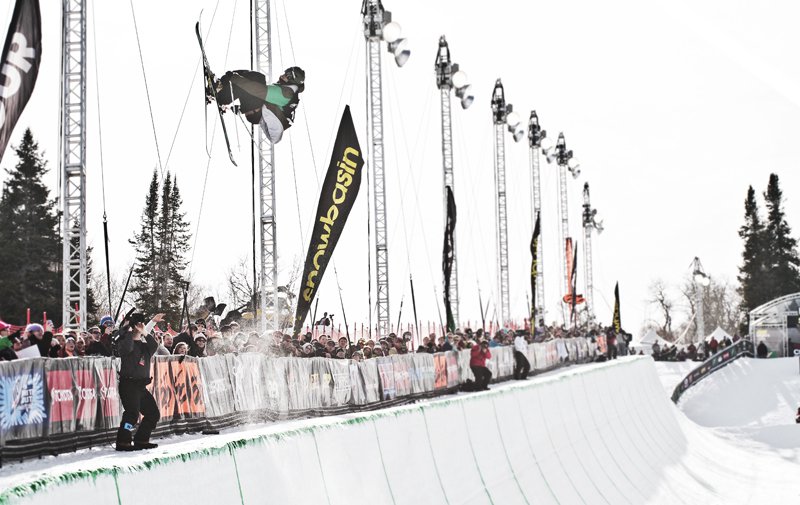 Thomas Krief
Simon Dumont did not have the day he envisioned the night before. After crashing on his first hit double cork 1260 on his first run, the pressure was on. Like always, The Dumont came roaring back on his second, stomping a huge first hit dub 1260, but couldn't keep the speed he needed for the bottom of the pipe, landing a bit sideways on his last hit and eventually finishing in sixth place with an 81.00.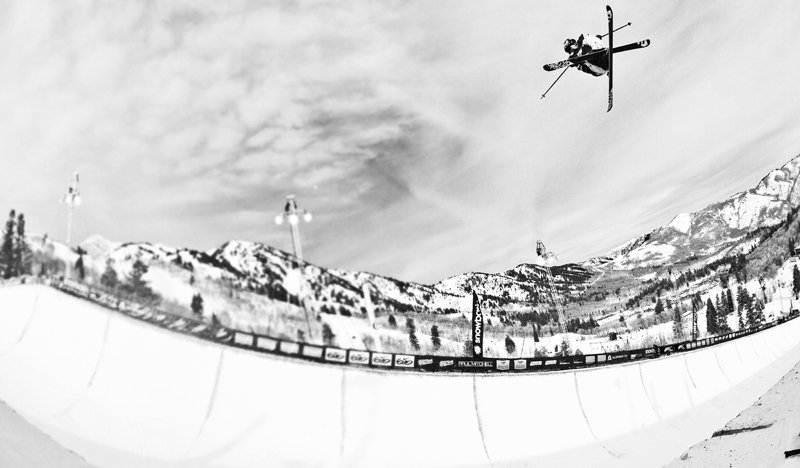 Simon Dumont
After claiming "I'm back" following last night's prelims, Jossi was on the hunt for the podium today, and took it to the 22-foot superpipe with one of the most stylish runs of the day. Starting with a big left 900 into a right 900 along with a dub flair 900 and a gigantic switch 720 shifty at the bottom, Jossi earned a 82.00 and the fifth place spot, and always the consummate professional, proclaimed to the NBC cameras that he was stoked to be skiing again.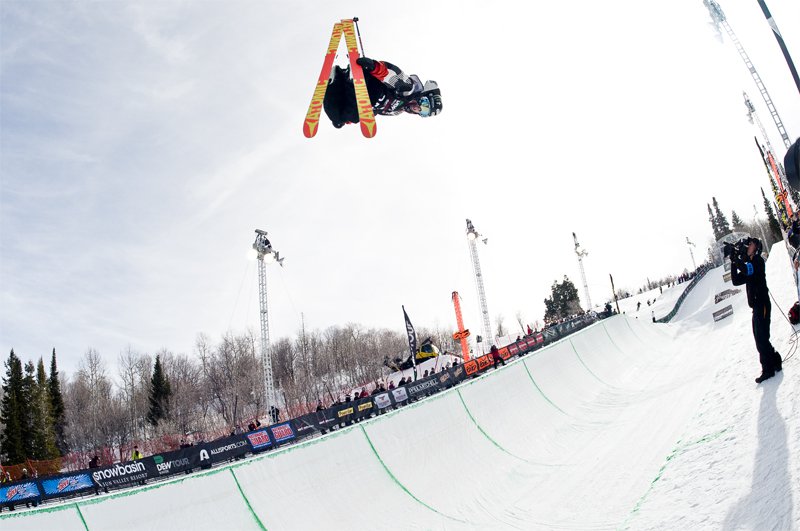 Jossi Wells. Photo: Trevor Woods
In fourth was the man who put down what some thought was the run of the day, David Wise. The young man from Reno owns some the more stylish airs in the pipe these days and he showed just that and more today, with a massive first hit left 900 high mute into a slow and flawless alley-oop 360. He then followed things up with a switch 720 into a right 900...and then the madness began. Wise put down a left dub cork 1260 on what virtually everyone thought would be his last hit, but then for the first time in history, he unleashed a right dub cork 1260 immediately afterwards in what many hailed as one of the most impressive and progressive things to be done in a pipe in recent memory. The judges responded by scoring him with a low 83.00, likely due to the lack of grabs on his back-to-back dub 12's, and Wise, his fellow competitors and the crowd were all in disagreement. Eventually ending up just shy of the podium in fourth, Wise was inarguably #1 on the progression meter today, and we can't wait to see more.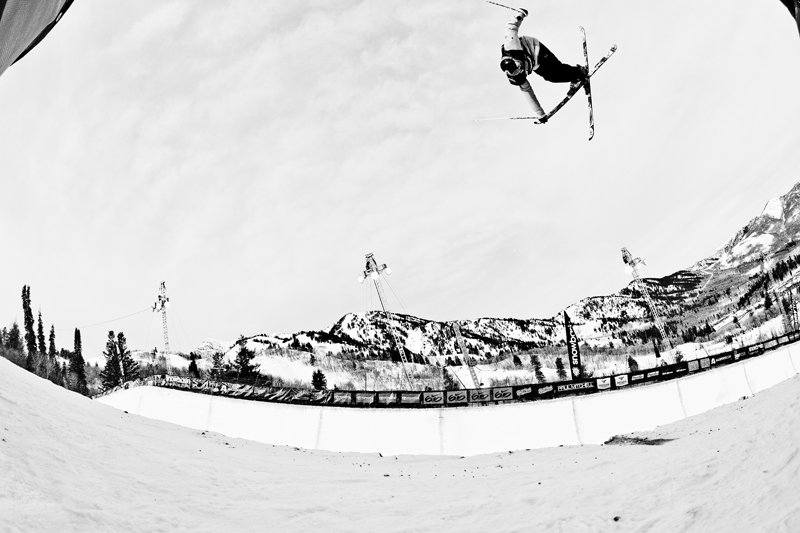 David Wise
Byron Wells set the bar high right off the bat during the first run of the competition, and impressed everyone in attendance, especially the judges, who bestowed him the third place spot on the podium. Starting off with a switch 720 into an alley-oop 540 and then linking together a left 900 and right 900, Wells, who is one of a few competitors who seems to go bigger and bigger on each hit, capped off his amazing showing with a gargantuan left 1080. While standing on the podium Byron commented that he could get use to this, and there is no doubt that he may be getting even more and more use to it as time goes on.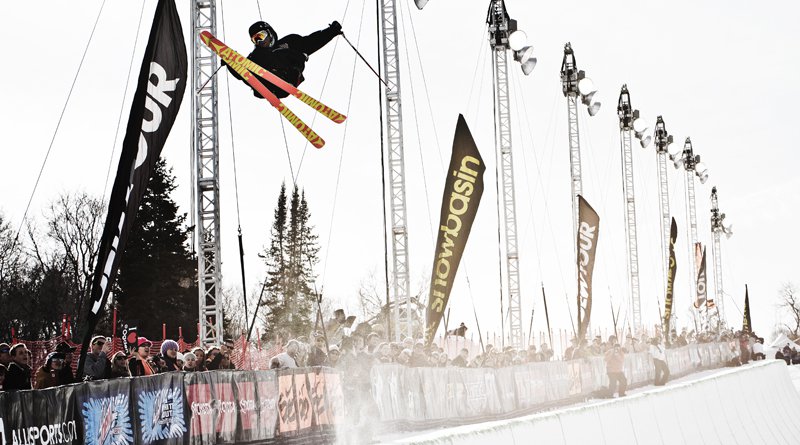 Byron Wells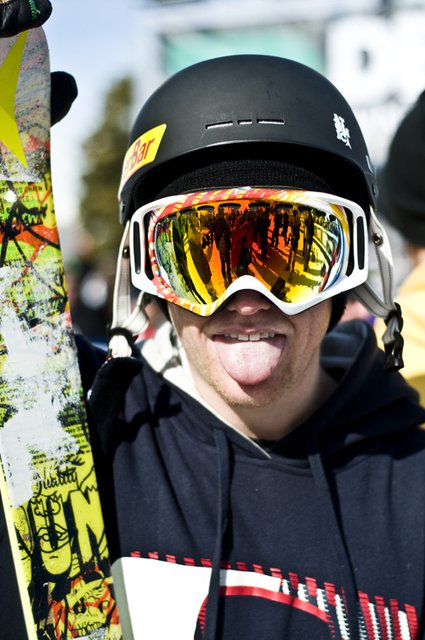 Byron Wells...stoked on his 3rd place finish. Photo: Trevor Woods
Aside from the Kiwi presence on the podium, one could say that it was a French takeover in superpipe finals today. Benoit Valentin solidified his amazing weekend today with two very impressive runs after winning the Last Chance Qualifier and squeaking into finals in last night's prelims. Benoit absolutely sent it right out of the gate with a big dub flair 900 into a perfect alley-oop flat 360 that all French skiers seem like they could do in their sleep. He continued down the pipe with a switch 720, to right 900, and rounded out his run nicely with a left dub 1260, which scored him a 90.25 and the second place spot on his first major podium.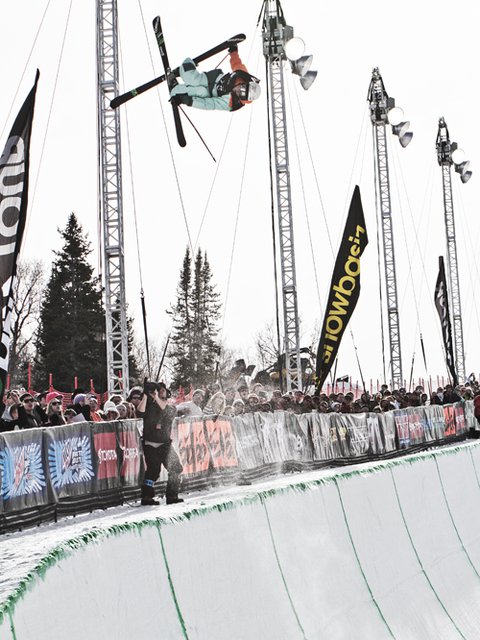 Benoit Valentin
Ladies and gentlemen, Kevin Rolland is your Winter Dew Tour Toyota Championships Superpipe winner, and the 2011 Dew Cup Superpipe Champion. Kevin has already had an amazing year so far, and with European X Games on the horizon, today's win helped prepare him to put the potential cherry on top. One the most consistent pipe skiers in the world, Rolland showed just how much of the boss he is once again today with a dub flair 900, into an alley-oop flat 360, to switch left 900, to switch right 720, and claimed his victory with authority via a massive left dub cork 1260. The judges responded with a score of 96.50, the highest score in a Dew Tour superpipe contest and perhaps in the history of the sport. Congratulations are very much in order to Kevin Rolland, who is always a terrific and positive ambassador for our sport.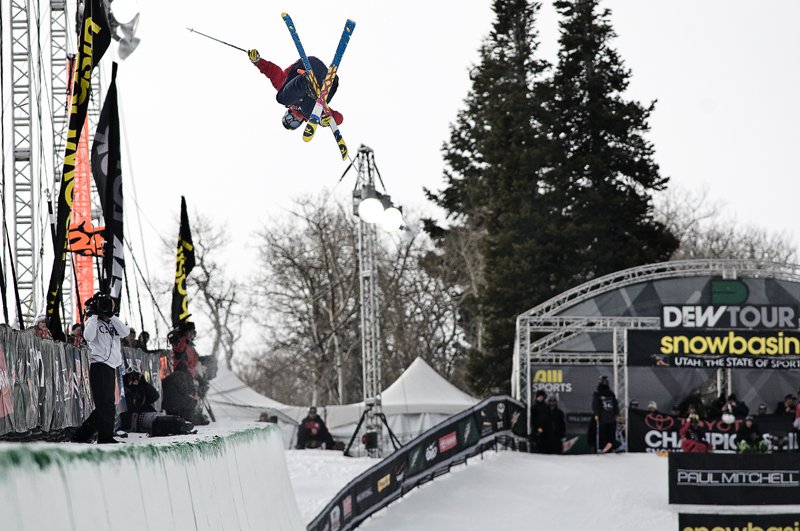 Kevin Rolland. Photos: Trevor Woods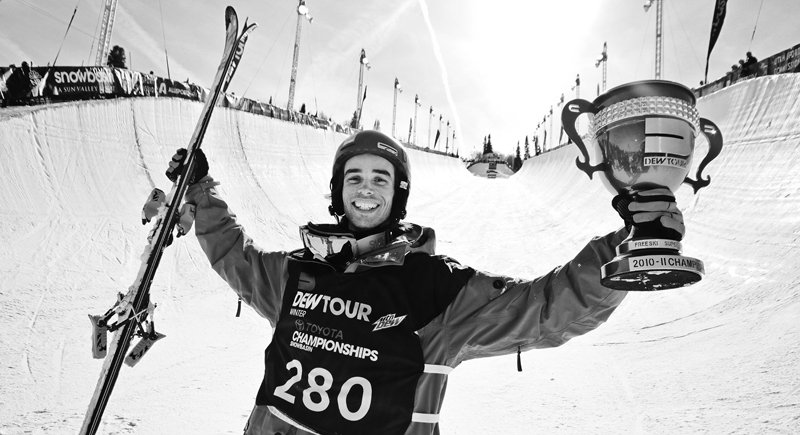 Kevin Rolland, 2011 Dew Cup Superpipe Champion.
Stay tuned for our last bit of coverage on the final stop of the Winter Dew Tour, which culminates tomorrow with Women's and Men's Ski Superpipe Finals.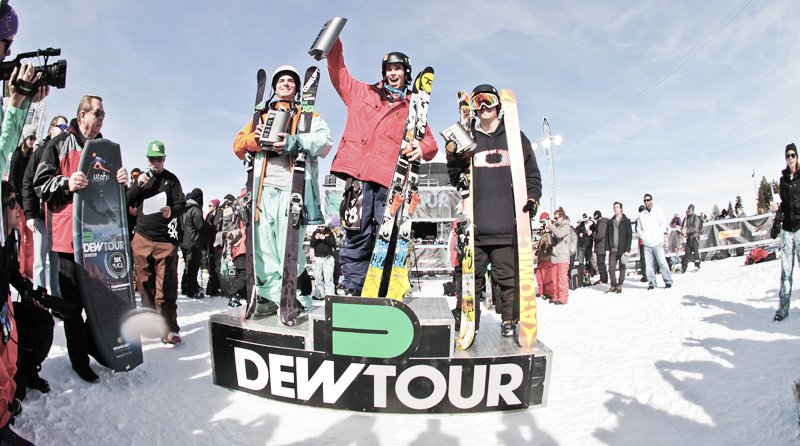 Benoit Valentin (2nd), Kevin Rolland (1st), Byron Wells (3rd)
Results
Men
1) Kevin Rolland 96.50
2) Benoit Valentin 90.25
3) Byron Wells 84.25
4) David Wise 83.00
5) Jossi Wells 82.00
6) Simon Dumont 81.00
7) Thomas Kreif 80.00
8) Matt Margetts 76.75
9) Duncan Adams 76.00
10) Tucker Perkins 75.25
11) Mike Riddle 44.25
12) Justin Dorey 38.25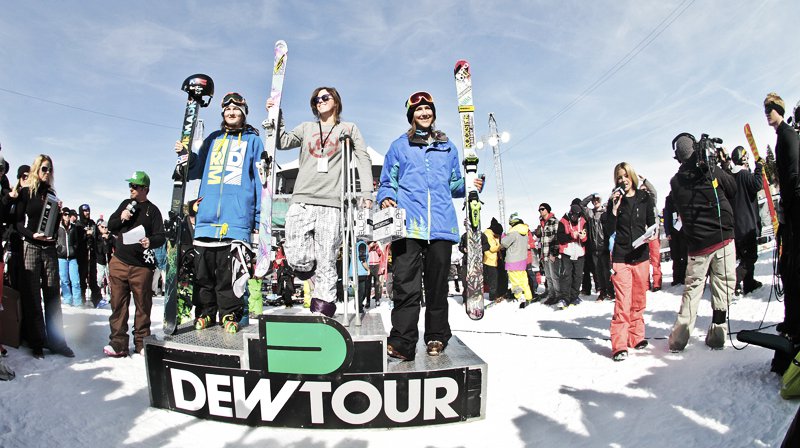 Devin Logan (2nd), Brita Sigourney (1st), Jen Hudak (3rd)
Women
1) Brita Sigourney 92.00
2) Devin Logan 91.00
3) Jen Hudak 90.00
4) Maddie Bowman 85.75
5) Keltie Hansen 80.50
6) Rosalind Groenewoud 15.25