The first event of the 'reimagined and then castrated by early season conditions' Dew Tour just finished up. It comprised a four run Big Air contest forming the jumps section of the slopestyle. It seemed pretty unlikely a big air jump was going to be a hotbed of innovation to a degree so it proved. One thing to note is different grabs and combos were highly rewarded, more so than triples. Whether you agree with that or not is your prerogative but it definitely did change up the way riders were riding and the final results. I imagine Andri Ragettli is feeling less than stoked right now.
Jump1:
Andri Ragettli stomped the early benchmark, dropping the now somehow stock triple 14 mute for a 41.0. Like it or lump that is the standard in what is essentially a big air event these days. Joss Christensen started slow and smooth with a beautiful switch dub 10 blunt, not a great score (36.6) but nice to see. In general we are talking a smattering of switch dub 10s, 14s and switch dub misty 12s as the standard tricks. Henrik did a ridiculous switch dub 10 overshifty to safety and didn't quite go first but scored well and wins the style points. Vini Cash started things off mellow with a switch 10 venom grab and did not earn them points. Gus rounded out the order with a forward dub 14 blunt held all through the spin.
Jump2:
A nice side note about this big air section, you only have ad breaks at the end of each round and no missed runs. Round two gets off to a more interesting start with Evan Mc and ABM bringing new grab variations to dub 12 and dub 9 respectively. Andri Raggetli throws the triple in the other direction but it's sketchy and he gets marked down accordingly. Goepper and Bobby Brown are the next to land the triple 14s but dodgy grabs limit them to low 30s. Henrik is again the highlight with the dub bio 12 for a 38.33 taking the lead.. Woodsy also dropped the triple and got a 35.5, you can only assume safety grab is being punished hard. Oystein stomped a beautiful switch dub 14 and held the grab all day long. Fabian Boesch took his triple to 16 but a little sketch kept his score in the 30s. Jossi dropped a beautiful switch dub underflip, choosing style over points.
https://www.facebook.com/ns.newschoolers/videos/10154135703789103/
Jump3:
ABM stomped a ridiculous dub 7 something? grab. I'd like to call it but I just don't know what to call it. Didn't get a great score but definitely a highlight. Looks like the speed had gone off a little bit for this round, definitely a few more crashes happening. Henrik switched his first trick to shifty to blunt but kind of whiffed the blunt. Woodsy got a 38 for a sick dub 12 blunt to truck and bumped right up to third. Vini finally brought the dub bio 12 screaming to round three but the lightest of hand touches killed his score. Boesch and Gus both sent big tricks (switch triple 14 and switch dub 14 respectively) and crashed, both seemingly due to speed.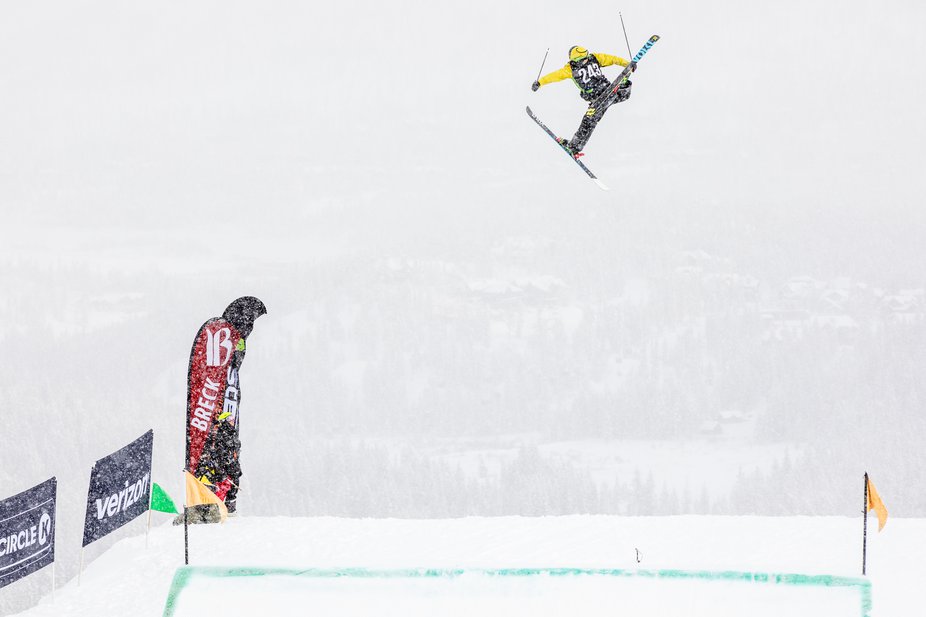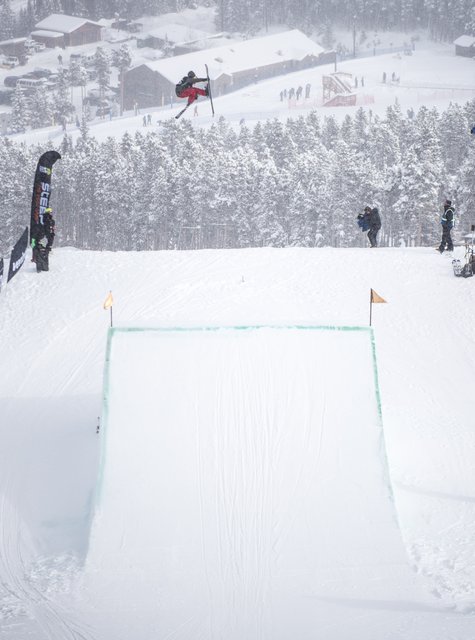 Jump4:
Evan jumped up to second with Switch Dub 12 stomped squeaky clean. ABM landed the Triple Cork 10 but kind of sketched it and got destroyed on the score. Andri Ragettli stomped the right triple 14 mute and on a single viewing, I don't know why he didn't do better than a 34, maybe a short grab. Mcrae did a dub 12 with a super nice stalefish and scored well enough to go fourth. Henrik rounded off his day with a mad dub bio 12 blunt, you could fault the blunt not being capped but he still gets a 41.66. Woodsy tweaked his switch dub 10 octo so far his legs were backwards for a 39.33 and bumps up to second place. Oystein did a triple 14 safety which bumped him up in to fifth and contention for the overall win tomorrow. Fabian Boesch stomps the switch triple 14 japan gets a 36.33 pushing him in to 7th. Final thought: Jossi Wells deserves a shoutout for making skiing look beautiful and giving zero fucks.