A beautiful morning here at Copper would set the stage for an electric Women's superpipe final. No doubt these ladies were going to lay it all out in the hunt for the win today, and boy were we given a show.
_
Run 1:
Hanna Faulhaber decided to send it to the moon right off the bat. Boosting 15' out of the pipe, close to 40 feet off the ground, that along with a couple of clean flairs would secure her a score of 90.00, having her sitting comfortably in 3rd place at the end of the 1st round.
What Kelly lacked in amplitude, she more than made up for in technicality. Back to back 9s up top, and switch 5s both left and right, this run was able to knock the then leader Hanna out of 1st place with a score of 92.00.
Back-to-back 9s, one with a Buick grab, followed by back-to-back Alley-oops both directions, Gu laid down a run that was obviously going to challenge Kelly for the top slot. Another lead change would follow this run as Eileen secures that top slot with a 94.50, bumping Kelly down to 2nd, and Hanna down once more into that 3rd slot
_
Run 2:
With a broken hand mind you, Kelly was able to cleanly connect with her grabs on her second run and zip it up tight with a huge Switch 9 to bump her score up to a 93.00. This wouldn't be enough to make any changes on the board, but this run goes a long way to secure this 2nd place spot for her at this point.
"That could be one of the most technically difficult women's superpipe runs I've ever seen." - Tom Wall
With a score of 96.00 as a result of this second run, Eileen Gu laced up such a clean series of technical tricks including a switch cork 7, followed up with Alley-oop rodeos in both directions.
_
Run 3:
Hanna still going absolutely huge on the amplitude and technical tricks, throwing down a fantastic run that featured a massive 7, flairs both directions, and a slick 9 to top it off. She would bump her score up by 3/4s of a point, and
Even on her Victory lap, Eileen Gu was still clearly looking to improve her score and honestly looking to progress the sport. With her 3rd win in a row this month, she says she knows she got more in the tank and is having a great time pushing herself. If she is able to land the 10 she attempted on this final run, we have a new paradigm in women's super pipe skiing.
_
Results: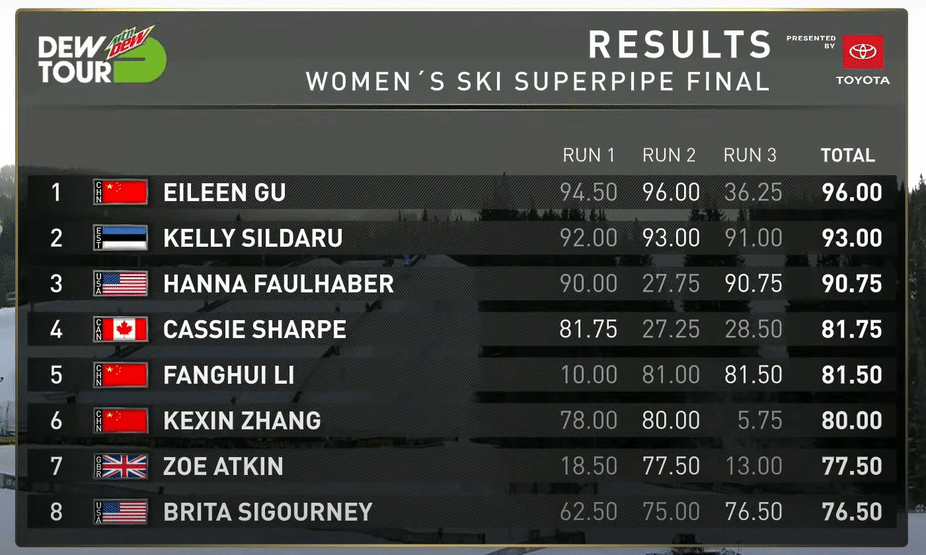 Top run replays will be coming soon, so stay tuned for that to be posted below!
Highlights:
https://www.newschoolers.com/videos/watch/1022937/Top-Three-Winning-runs-from-Women-s-Ski-Superpipe-Presented-by-Toyota--Dew-Tour-Copper-2021