Dew Tour Streetstyle Final took place in Red Gerards hike park at Copper Mountain. A free rail park designed to make skiing and snowboarding more accessible at Copper. It was fitting that a rail jam hike session capped off Dew Tour this weekend. Overall impression
The rider list for the ladies was stacked; Kelly Sildaru, Eileen Gu, McKenna Brown, Skye Clark, Taylor Lundquist, Johanne Killi and Mathilde Gremaud were on the start list. The park was awesome with some transfers, a flat down and a burly DFD.
The 25 minute jam format meant the session was snappy, the girls got fired up quick and it wasn't long before we started to see some real heat. Eileen Gu looked on predictably awesome form after a weekend of podiums, dealing with the transfer easily, and getting a switch lip 2 pretz 2 on the down rail which she won best trick for. She looked to be after the 4 on but couldn't hold it.
Taylor Lunquist kept things stylee with backslides and backswaps, she brought a front swap front 2 to the dfd but couldn't stick the 2p2 on the down rail. Skye Clarke and McKenna Brown were also on fire. It's great to see a good old fashioned rail jam going down at Dew Tour this year!
Results:

Best Trick:
Eileen Gu - Switch Lip 270 Pretzel 270
https://www.newschoolers.com/videos/watch/1023089/Eileen-sw2p2-m4v
Replay:
https://www.newschoolers.com/videos/watch/1023090/LIVE--2021-Dew-Tour-Copper-Women-s-Ski-Streetstyle-Final---Day-4
_
The men's lineup was also insane, arguably one of the best contest line ups ever, and the course perfect. Lots of transfers and kinks to play with. The 35 minute jam format gave the riders plenty of time to get loose. They did waste any getting to it. It's safe to say this streetstyle contest is an instant classic.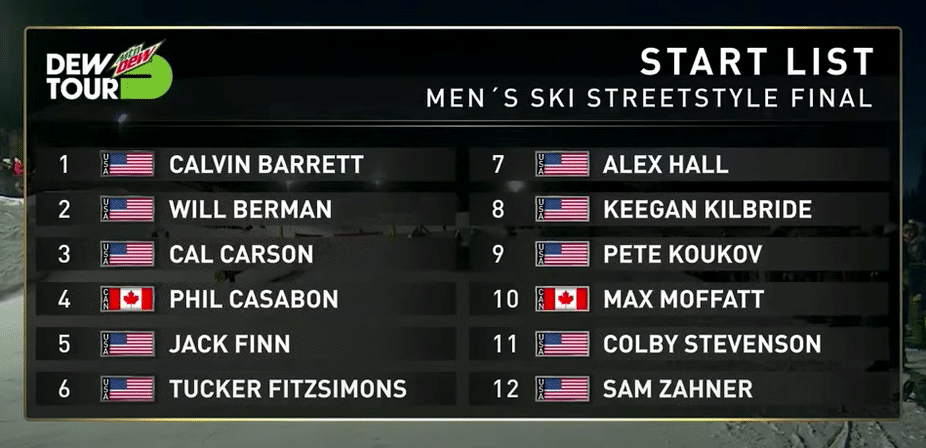 Insane roseter for this one
_
The first 10 minutes of the jam were relentless whilst everyone brimmed with energy, the crowd was electric and the skiing frankly insane. Alex Hall skied like a man possessed and looked unstoppable; dropping a backslide, backswap pretz two on the pole jam to dfd early, which Colby Stevenson promptly backed up. A Hall then continued to murder the rest of the course for the remainder of the event and took a deserving win, his consistency is just wild.
Pete Koukov was out doing creative things all over the course; creepers and bodyslides aplenty, with fellow Strictly member's Sam Zahner and Calvin Barrett getting loose - Sam doing both way backside 3, one on the transfer rail backed up on the flat down, Calvin Barrett brought out the broken slide on the down rail. Will Berman held it down lacing a switch to switch on the DFD.
Tucker Fitzsimmons showed off his tech and went wild with a back 3 swap combos on the DFD, he also utilised more of the park than anyone else. Him and Max Moffatt were deserving winners of second and third place respectively. Max won best trick also with a psycho blind swap gap off the pole jam to DFD, starting with the blind 3 swap and then lacing it as a back 5. This was the last trick to go down to cap off an insane Dew Tour. A replay to get watched instantly if you missed it!
Best Trick:
Max Moffatt Back 5 Swap
https://www.newschoolers.com/videos/watch/1023099/Moffatt-Best-Trick-m4v
Results: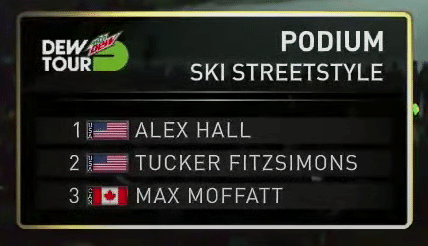 Replay:
https://www.newschoolers.com/videos/watch/1023100/LIVE--2021-Dew-Tour-Copper-Men-s-Ski-Streetstyle-Final---Day-4