What a stacked field of competitors, seriously, and having to cut 16 out of the 26 guys for the finals means everyone came out to throw it down. With the women's event getting pushed back to Friday, be sure to check back for the update on that.
_
MEN:
Run 1:
After some solid runs from the first few competitors before him, Geoffroy Gagnon is the first to bring the scores up to into the 80s. His Dub flat kangaroo spin and clean switch dub misty 12 were no doubt what pulled him to the front of the pack. I also would give credit to his ability to switch up his rotations and a gorilla grip in the rail section for his 1st run score of 84.25.
What a monstrous first-run from Colby Stevenson. Huge switch 4 disaster on the DFD, then absolute knock out punches with a nose butter 10, dub 12 mute, and a switch dub 14 through the jump section... For sure a full buy round here, and he laced it all up tight. With a score of 89.25, this run would be enough to edge out Gagnon for the top slot and has him sitting in a fantastic spot heading into the second round.
Fabian Boesch let it sing on his first run, a Cork 4 off the wallride, 2 pretz 2 through the rail section followed up by dub 10 mute, dub 12 tail, and a super clean dub misty 12. With a healthy amount of variety in both rail and jump sections, and no problem switching up spin direction and grabs, this was going obviously going to be another high-scoring run. An 86.75 would be more than enough to put him in a comfortable position up top, and would also be enough to squeeze him into the 2nd place slot.
_
Run 2:
The only change up in the top three slots this round comes from Oliwer Magnusson. Super clean 2 on pretz 4 out, BS 3 switch up, and switch 4 on through the rail section, then marching on with a dub 10 safety, dub 12, and switch dub 12 in the jump line. Big move up the boards here from 8th place to 2nd 88.25.
But the biggest comeback of the day would be laid out by Nick Goepper. Coming into run 2 at the bottom of the board, Geopper opened up both barrels through the rail and jump sections, finishing it off with a shout out to Old Man Stunt. His run, worthy of an 85.25 from the judges, would catapult him from 26th to 4th place. Truly a run you just have got to watch for yourself.
_
Results: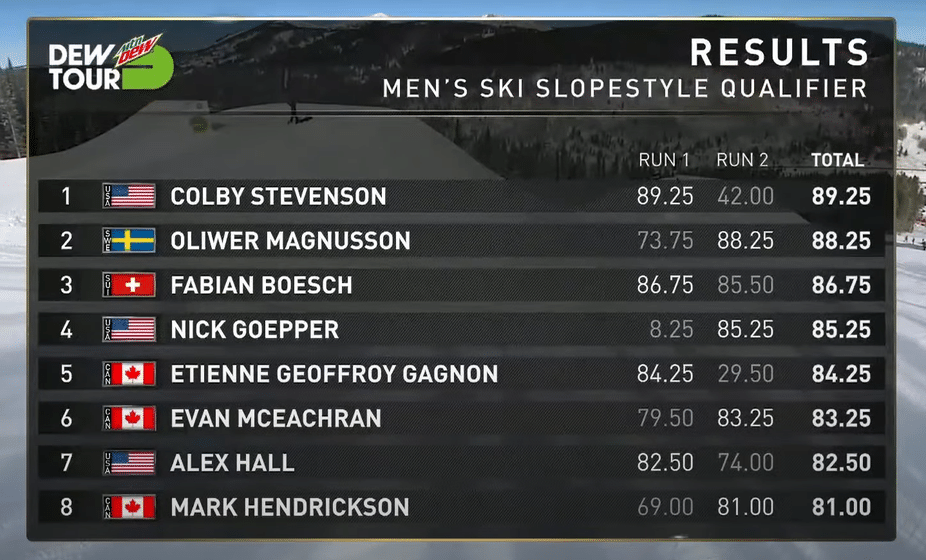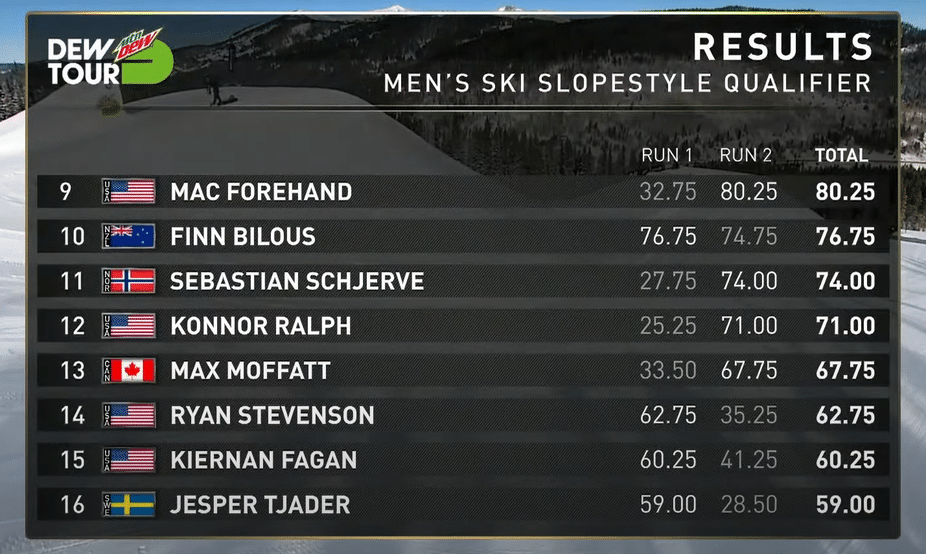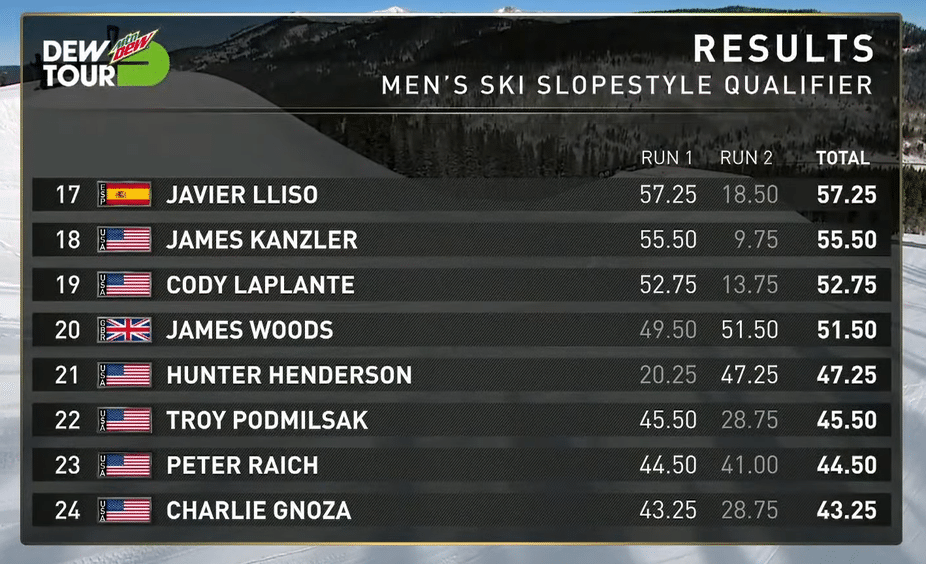 Men's Replay:
https://www.newschoolers.com/videos/watch/1022830/Top-Three-Qualifying-Runs-from-Men-s-Ski-Slopestyle---Dew-Tour-Copper-2021