Dew Tour at Copper Mountain Resort kicked things off in the stunt ditch with men's qualifications followed by the women's, a nice change. The only shortcoming of this year's Dew Tour halfpipe contest was that, being an Olympic Qualification event we had a standard 22-foot superpipe rather than the modified pipe competitions we've seen go down in previous winters. That aside, the gnarliest discipline in freestyle skiing was set this year's Dew Tour off with a bang. Everyone got sendy and we're locked in for another great week of events. Without further ado let's get on to what went down at Copper this morning.
_
Women:
Run 1:
The ladies didn't have the best weather in the pipe although it had cleared up a little from the mens beforehand. With a two run, best run counts format. Brita Sigourny kicked things off putting an alleyoop 180 mute, left 900, left 5, right cork 7 into a super clean run, setting the bar at a modest 80.25.
Kelly Sildaru skiing with a broken thumb and no poles. Opted to get loads of hits in the ditch; Right 9 mute, left 5 tail lead, alleyoop 5, to right alleyoop 5, right 7 tail then back to back switch 3s. That's a lot of hits… although I wonder if it has something to do with injury. Either way very techy but with less amplitude than Brita, rewarded by the judges though; 88.75.
Cassie Sharpe's run contained a lovely flair and both way 9s. Earning 81.75 and t left 9 tail, right 9 scoring 81.75 for a provisional 2nd. Hanna Faulhaber went huge with bouncing Cassie into 4th with; left 7, back to back flairs and a left 9 safety with the grabbed locked up in her run. Her amplitude was rewarded with a 84.75
Eileen Gu laced an awesome run, stomping a right 900 Buick, taking inspiration from Faction teammate Alex Hall, this was sick to see. Earning a 93.50 she looks to be tough to beat right now. The rest of the run had a left 9 Japan, right 7 tail, a switch left 3 and an alleyoop flat 5 and a left 5. She decided to omit her second run. Taking the number 1 spot and holding it fo the remainder of qualification. Devine Logan got a spot in the bubble but was knocked out by Izzy Aitken, her left 5 mute had full extension and she followed it up with back to back 7s. Scoring 87 and taking third.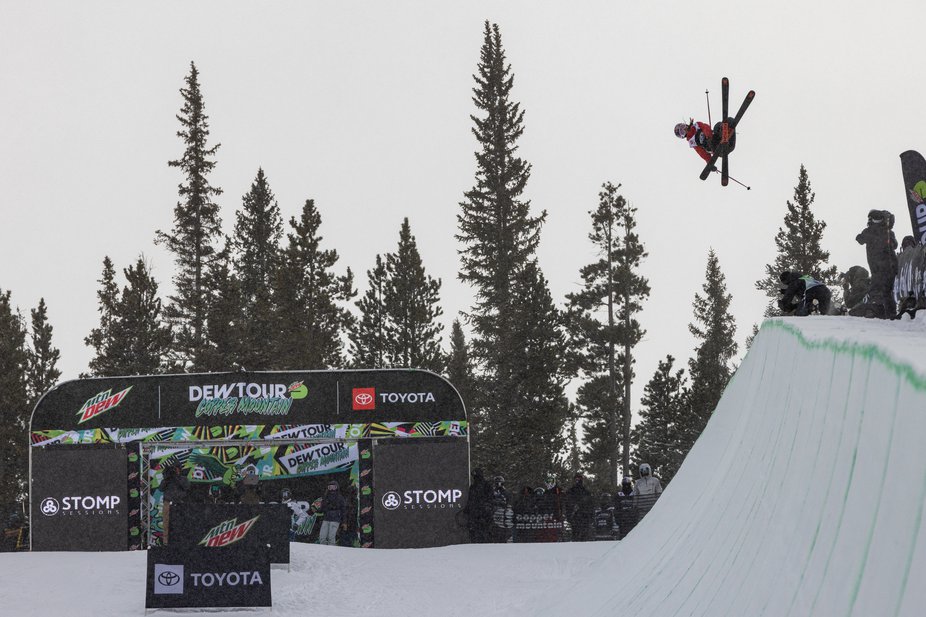 _
Run 2:
The top 3 remained unchanged during run 2, none improving their socres. Eileen Gu chose not to ride and Hannah Faulhaber, also happy with her efforts, just cruised the pipe.
Fanghui Li put down an awesome switch right 5 , switch left 3, right 9, left 5 to right 7 in a run with awesome amplitude, her 85.75 earned her the 5th place spot. Kexin Zhang put down a switch left 9 and left 7 to bolster her first run score to 77.50 staying in on the bubble but making qualifiers, not being bumped by anyone for the remainder of the runs.
_
Results: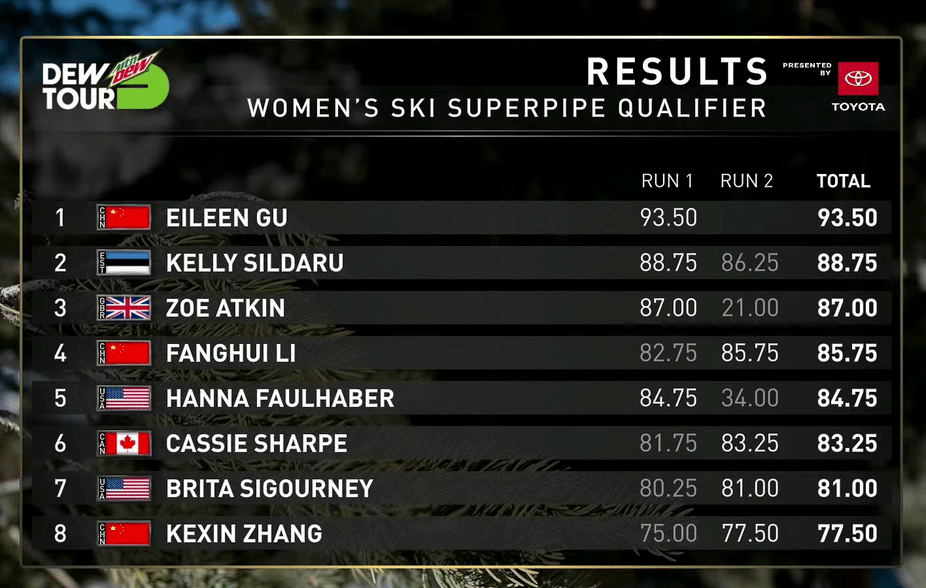 _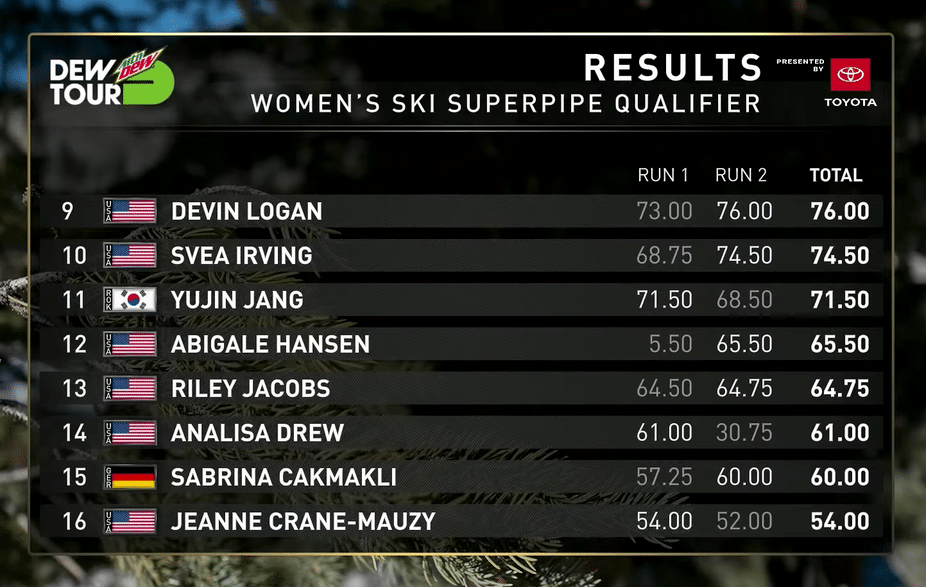 Replay:
https://www.newschoolers.com/videos/watch/1022558/2021-Dew-Tour-Copper-Women---s-Ski-Superpipe-Qualifier-Presented-by-Toyota---Day-1
_
Men:
The men had some pretty hectic weather to contend with - December in the rockies on - pushing back proceedings but it stayed pretty rough snowing with winds gusting to 36mph during men's practice; visibility being an issue but many riders powering though and landing runs dope runs. With a 2 run, best run counts format and 10 spots to fight for out of 23 riders. The stage was set.
Run 1:
Most riders took the strategy of getting points on the board in the first run of the qualifications. The weather was pretty on and off and there were hints of it clearing up. Some riders managed to squeak into nice windows while others got gusted around above the coping. Birk Irving and Kevin Rolland failed to post competitive scores while David Wise, Noah Bowman and Nico Porteous took the top three spots at the end of Run 1.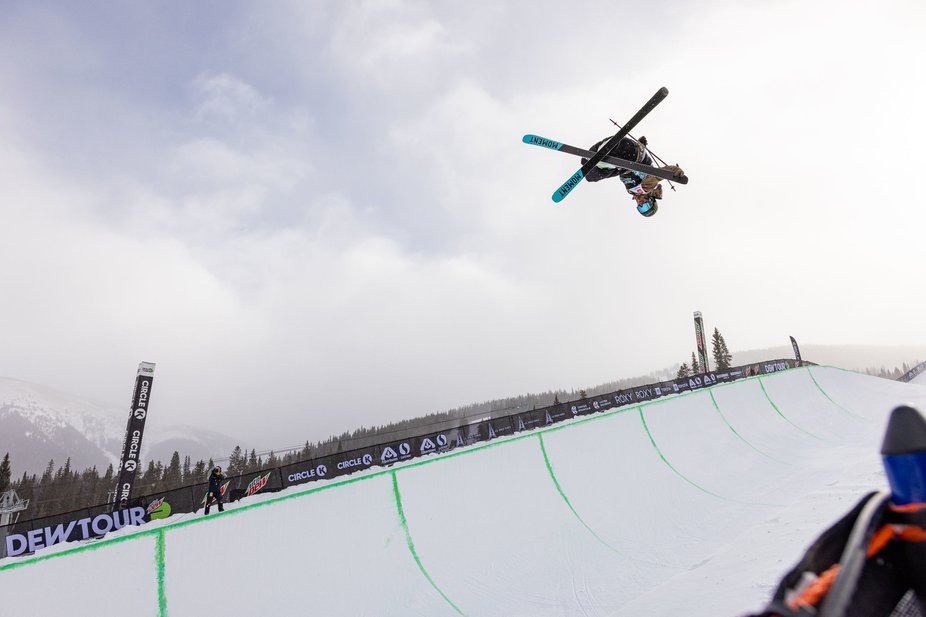 Noah Bowman set the bar early on; lacing a dope run with a right dub 12, switch Bone Air, switch alleyoop dub flat. Bagging top spot with 91.50 which he wouldn't improve on. David Wise gunning for his third Olympics bumped this shortly after, posting a predictably clean run, with two dubs, switch left 10 and left dub 12 with a super ill left 9 shifty to grab a 93.50. Nico Porteous back to back dub 12s, which were so clean, capping off the run with a steezy alleyoop flat 5 japan to shifty earning an 89.75 to get into 3rd. Birk Irving failed to post a competitive score with veterans Aaron Blunck and Alex Ferreira getting the job done,.
_
Run 2:
Hunter Hess fell, leaving him with his first run score and a tight spot in 8th to watch for the remainder. Kevin Rolland who failed to put down a clean run in run 1 also fell, failing to qualify. Brendan Mackay, came out of nowhere, lacing a switch alleyoop 5 critical to back to back double 12s. An awesome run to earn 90.75 and take the third place spot. Birk Irving managed to bump Ben Harrington out of the 10th spot; run including left dub 12, right 9 tail and left 10 seatbelt japan, scoring 79.00 to squeeze. Lyman Currier, the only rider to land a 14 in qualies back-to-back with a dub 12 fortified his qualifying score from round 1. Nico Porteous posted up a typically insane run; switch left dub 10, right dub 12, to left dub 12; moving from 4th to 3rd but not changing the bubble spot habited by Birk Irving ,one hell of a run, giving us an insight into what we might see in finals. Alex Ferreira played it safe having already qualified for the finals.
_
Results: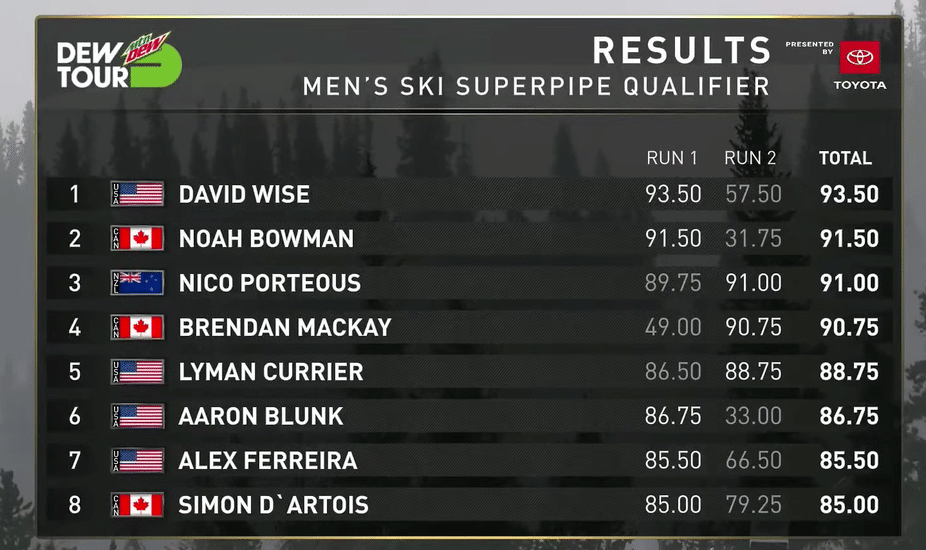 _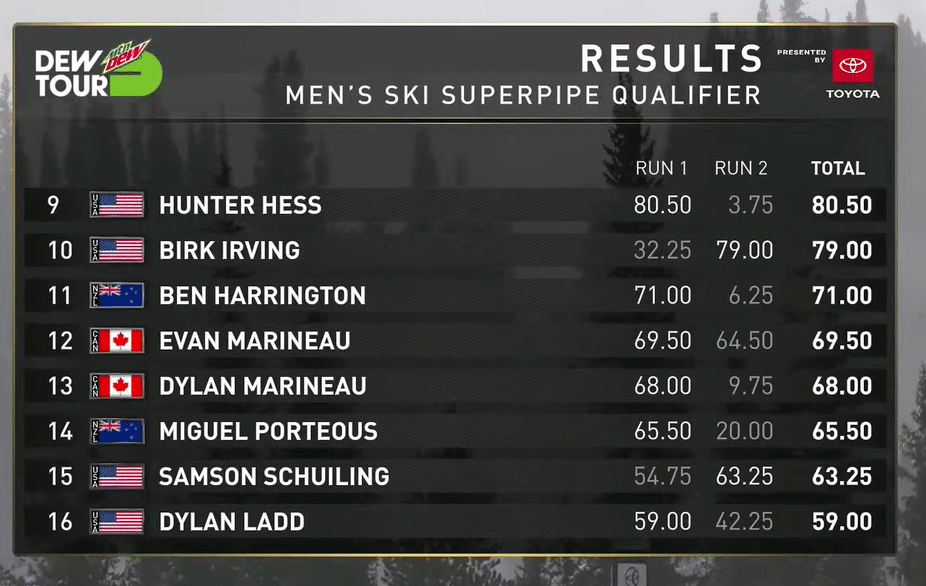 _
Top 3 runs:
https://www.newschoolers.com/videos/watch/1022565/Top-Three-Qualifying-Runs-from-Men---s-Ski-Superpipe-Presented-by-Toyota---Dew-Tour-Copper-2021
_
Mens Full Replay:
https://www.newschoolers.com/videos/watch/1022530/2021-Dew-Tour-Copper-Men-s-Ski-Superpipe-Qualifier-Presented-by-Toyota---Day-1