Words by Mike Rogge
Photos by Dan Brown (http://www.kapitolphotography.com)
 
"Wow," is probably the only word capable of describing today's men's slopestyle final here at the second stop of the Winter Dew Tour. Mother Nature was a lovely lady this morning providing blue skies and sunshine and the slopestyle course was in pristine condition and the best skiers in the world effectively turned it into their personal bitch. I'm not joking. Wow.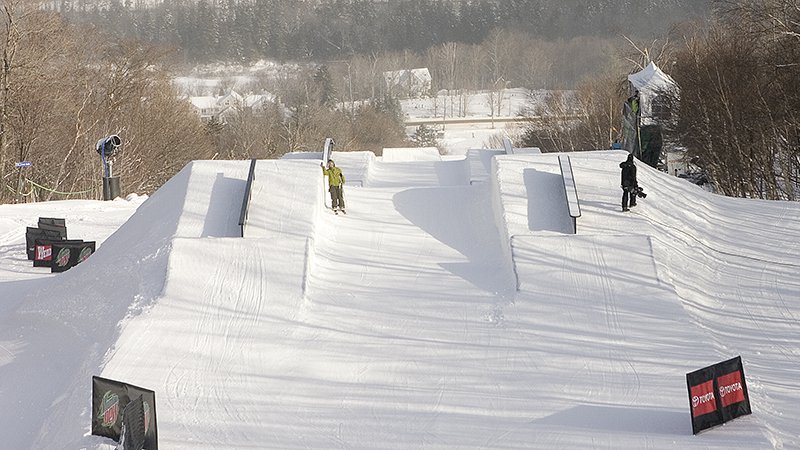 The course set up was two rail options, two more rail options, jump, a canon box, down rail, jump, jump. One of the better slopestyle courses seen in recent time, most of the athletes were commenting on how much fun the course was to ski.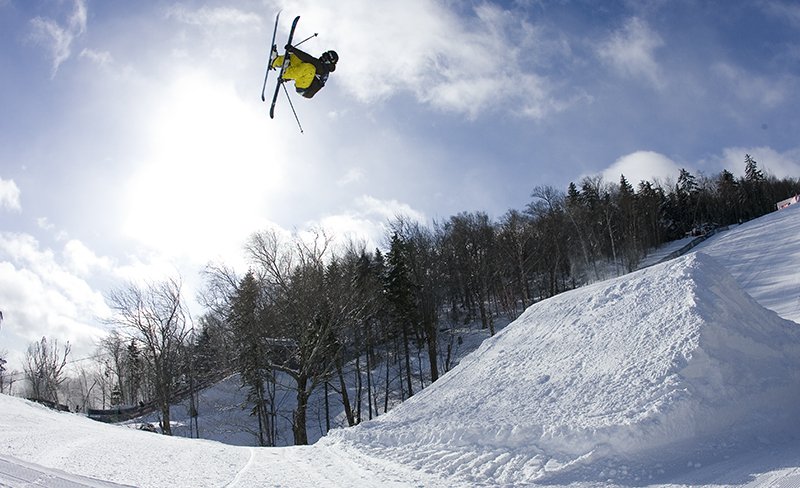 AJ Kemppainen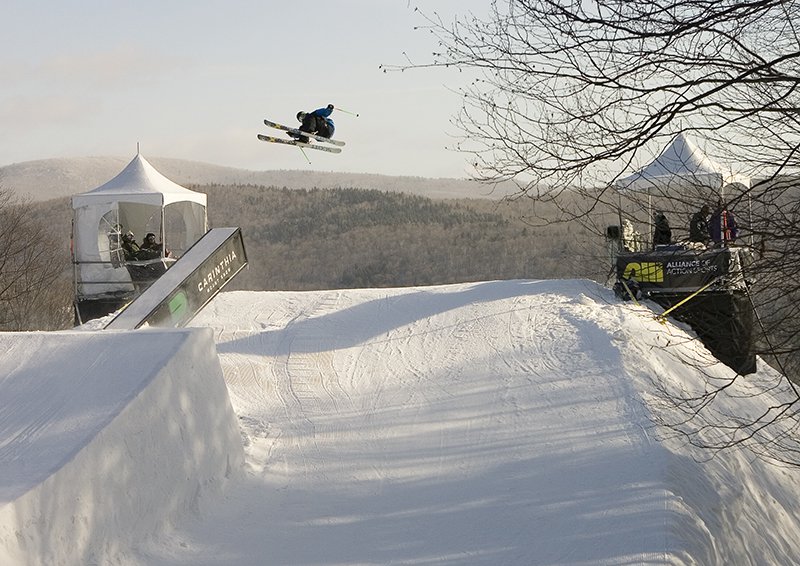 Karl Fostvedt
Men's Slopestyle Prelims began at 9:30 today and boy oh boy, did it go down with every competitor bringing their absolute best! Skiers attacked the course with double flips/corks, impressive rails skills, and right and left side spins. Jon Olsson stomped his double cork 12 and Nick Martini landed a switch 10 that can only be described as b-e-a-utiful. Quite literally every skier had an incredible run and a few competitors missed the final after stomping runs that two years ago would've put them on top of any and every podium. Missing the finals were slope regulars like Peter Olenick, TJ Schiller, Simon Dumont, and Colby West though all three threw down impressive runs with Dumont stomping a right 9 and Colby just missing his switch double flip. After the nice skiers were chosen, it was onto the finals.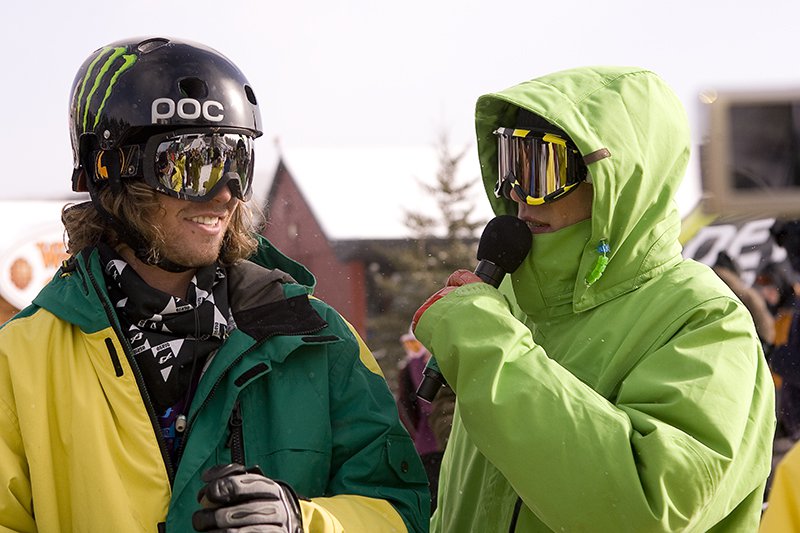 TJ Schiller & John Symms
Jon Olsson's run featured a beautiful switch 10 into his patented dub cork. Pipe specialist Mike Riddle proved he also skis park, spinning on and off of the rails and tweaking his mute in his switch 10 in an almost inhumane way.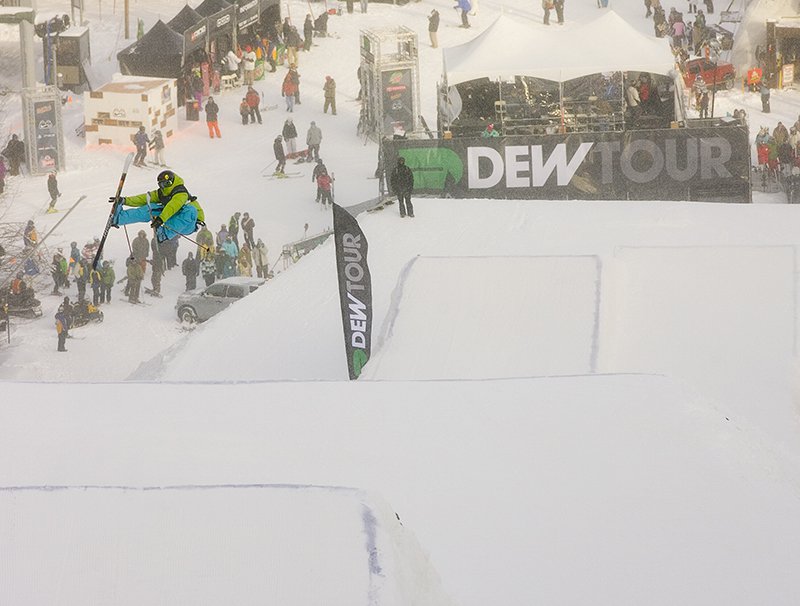 Mike Riddle
Henrik Harlaut, the third place finished at the Breckenridge stop, proved once again he is a force to be reckoned with on rails and jumps but had speed trouble on the last two hits. Second and first place finishers at the Breck stop, Jossi Wells and Bobby Brown fell on their first runs. Yet Bobby came back and stomped his run and grabbed the absolute shit out of his kangaroo flip on the bottom jump.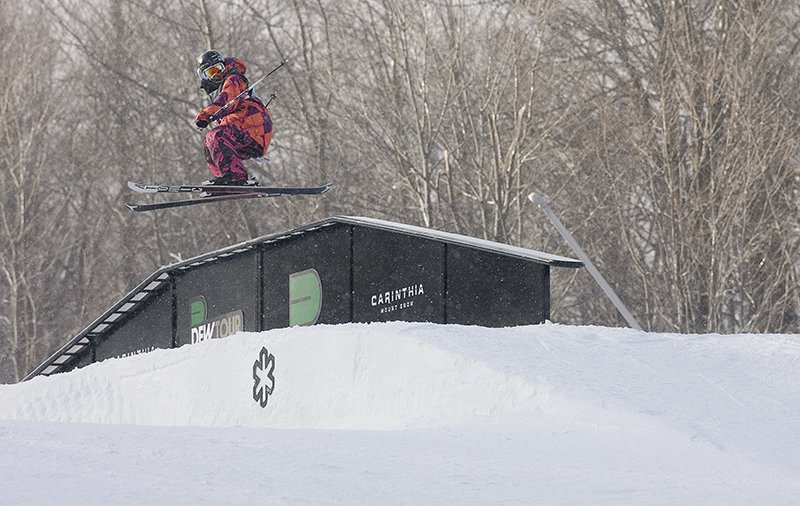 Jossi Wells
Sammy Carlson had a scary end to his first run when he slammed through one of the Mountain Dew banners yet bounced back with arguably one of the best runs of the day, stomping left and right switch 10's with style. Disappointingly, the judges scored Sammy lower than most felt he deserved which was met with boos from the Mount Snow crowd. Coming in third place today was Canadian Alexis Godbout, spinning 270 on and 630 off of the beginning rail feature and poking out a switch 9 mute that the onlooking Tanner Hall described as, "delicious." PK Hunder, a man that has been glued to the podiums this season, came in second with a consistent and smooth run. He finished out his run with a nasty 1080.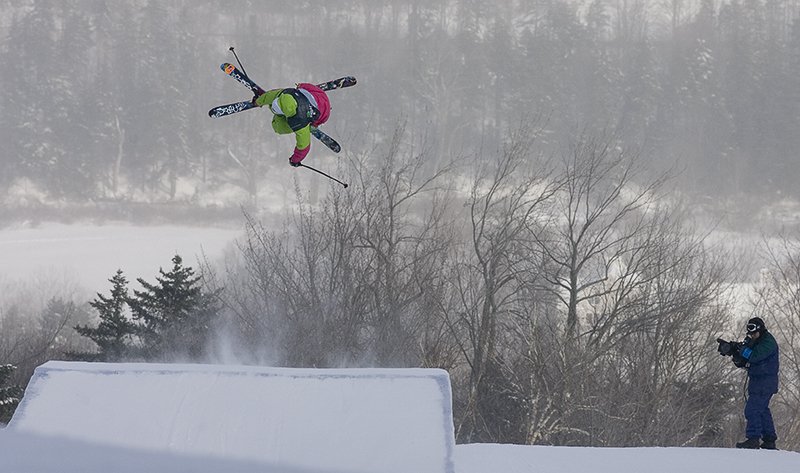 JF Houle
First place went to monsieur JF Houle. The Quebecois showcased his rail skills with a 450 on 270 out on the top box, butter 270'ing onto the down rail (this trick was ridiculous and its worth tuning into USA Network tonight just to see JF's style on display). On the jumps the Canadian was equally impressive, spinning both ways with his 9's and holding his grab seemingly forever. With the win, JF moves into first place in the overall ski slopestyle standings.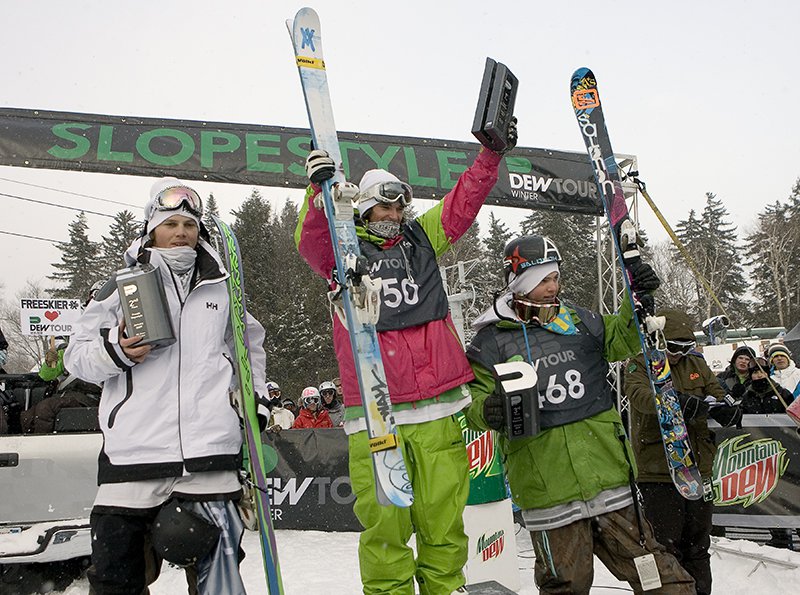 Stay tuned to Newschoolers.com for up the minute coverage of the second stop of the Winter Dew Tour here at Mount Snow, and check out episode 2 of NSTV...
 
Results
1) JF Houle - 92.00
2) PK Hunder - 86.67
3) Alexis Godbout - 85.00
4) Sammy Carlson - 82.50
5) Henrik Harlaut - 78.17
6) Nick Martini - 75.67
7) Bobby Brown - 73.33
8) Mike Riddle - 70.83
9) Jon Olsson - 69.50
10) Charles Gagnier - 69.50