-Sponsored content-
An engineer with a background in fiber optic temperature sensing, and a production manager hired away from making stick-on women's fingernails may not seem like the most likely crew to be running a small semi-custom ski manufacturer. This duo, however, headed by owner Matt Hilbert, the engineer, run the ship at Deviation skis in Portland, Oregon. That fingernail making production manager, Jeromy Pazzaneze, has years of experience making skis and snowboards. Together, they produce skis that are tailored specifically to each and every customer, courtesy of a choice of model, graphics and flex.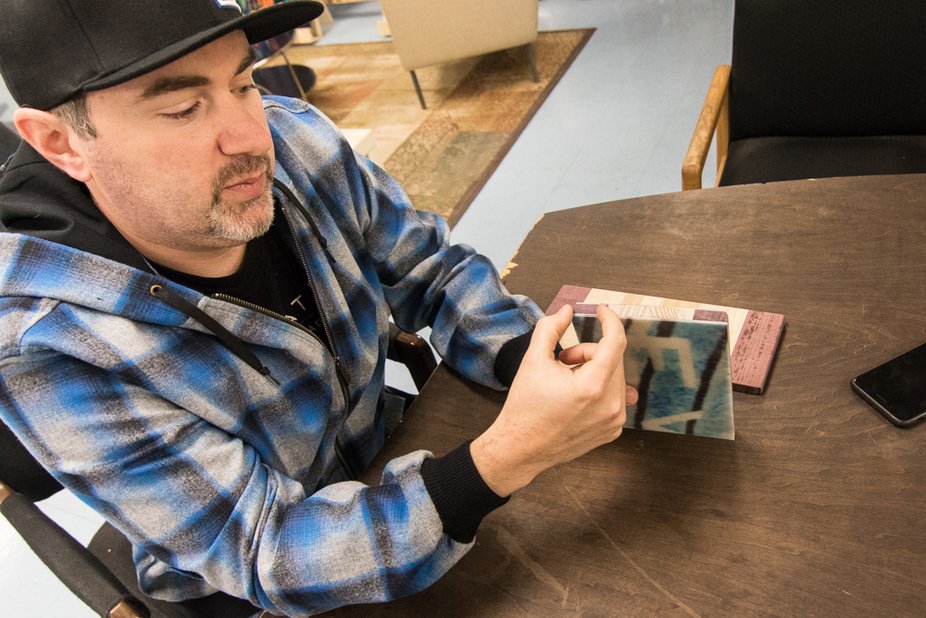 Owner Matt Hilbert
I headed down to Portland to check out the factory, meet the crew, and learn more about the company. Deviation has been around since 2012, relaunching into it's current state after a reorganization of ownership in 2014. Here's what Hilbert had to say about the early days and the reorganization, "I think like a lot of boutique companies, you start with this fictitious idea that you're going to be a ski bum that makes skis and it won't be real work. When it becomes real work you figure out who's in and who's out. There needs to be structure to the company, things like accounting need to be done [laughs]. In earnest, we really started in 2014."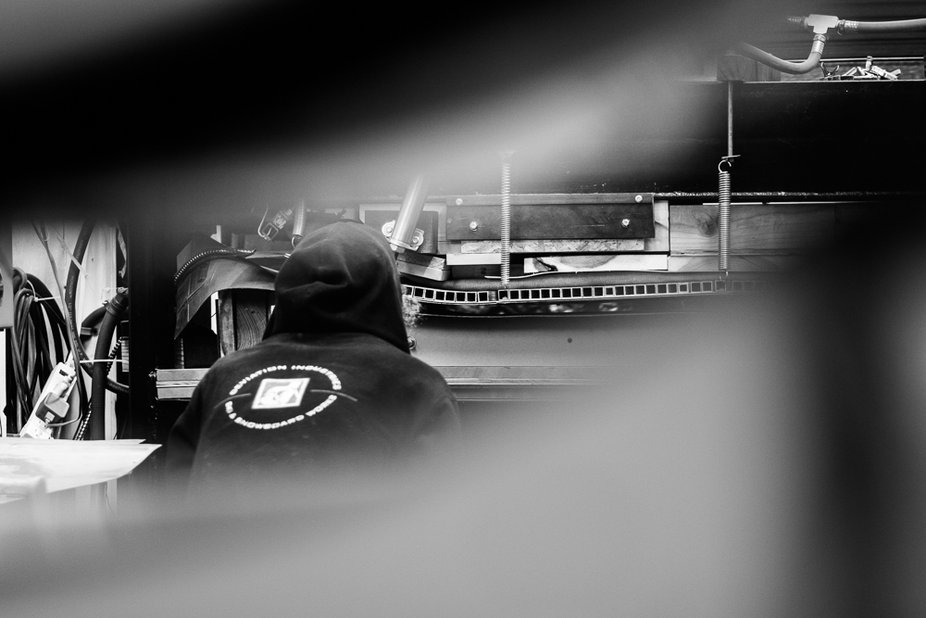 Hilbert continues to work a day job as an engineer while he works to transform this passion project into a full time venture for himself, there are currently 6 other employees. Speaking to Hilbert, he's definitely an engineer, straight shooting and always diving into the details of what makes things what they are. His background is in composites, where he spent many years working on helicopter blades for Bell Helicopters. This experience transfers over to skiing surprisingly well as he explained, "A helicopter blade has a lot of the same things you're looking for in a ski, you don't want it to delaminate, and you're trying to make something light and flexible, but strong in certain planes."
The Skis:
Deviation prides itself on its made in Portland skis, their unique construction, and a focus on the local community. Given Hilbert's background in composites, you would presume that Deviation's skis would be jammed full of buzzword riddled technologies. The reality is quite the opposite, however. The ski cores, which are made in house, are made of just three woods, purple heart, ash, and poplar. The purple heart wood is something totally unique to this small company. It makes up the outermost portion of the cores as well as the sidewalls. This wood is very dense, with strong dampening properties. As the skis gets thinner in the waist, the proportion of purple heart decreases, leading to a ski with damp tips and tails, and energetic rebound underfood, from the ash and poplar. Matt explained this dampening, "Other companies certainly achieve a variable amount of flex by tapering the core (just as we do). However, we also vary the DENSITY and dampening of the core by manipulating the proportion of woods we use as you move towards the nose and tail."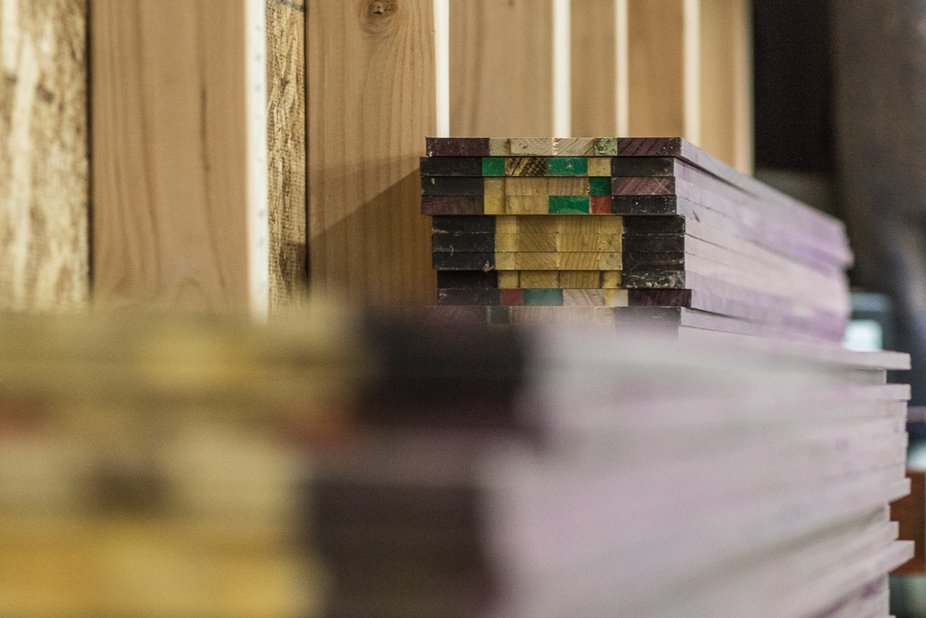 It's impossible to talk about the skis without talking about Deviation's production manager, Jeromy Pazzaneze, or as he's know to everyone other than his mom, Paz. Paz started making snowboards at Burton back before they moved their production from Vermont. After than move he landed in Utah where he helped build Bluehouse skis domestic production facilities, bringing the small brand back to the US. When Bluehouse's side business of making stick on fingernails became wildly more popular and profitable, the owners of the company wound down ski production, and moved Paz over to optimize fingernail products. A skier and snowboarder at heart, this move couldn't last long. In 2014 Paz moved to Portland to captain the ship at Deviation.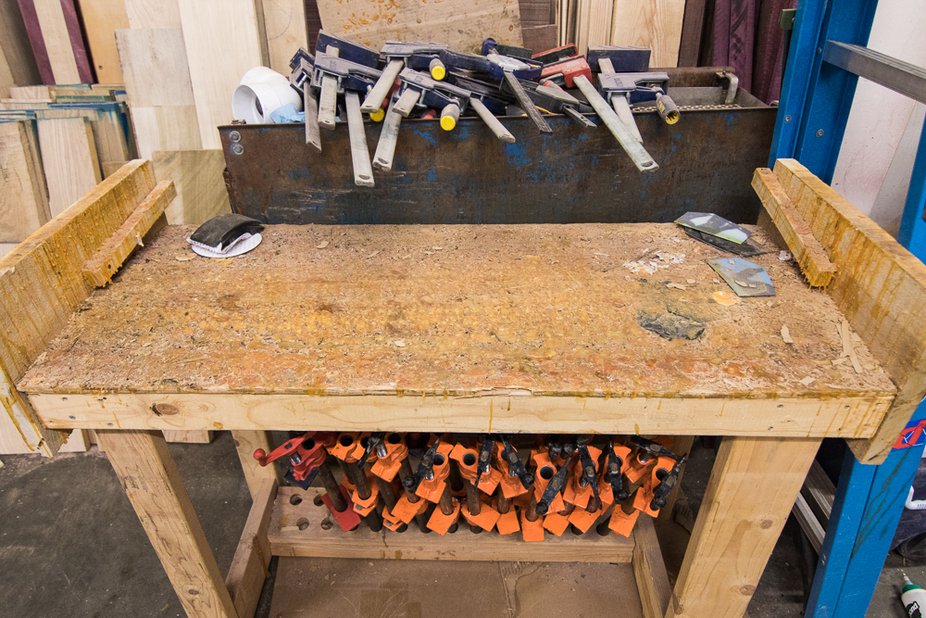 This where the cores are glued up.
Paz's years of ski and snowboard experience are evident in the high quality fit and finish of the skis and boards that Deviation produces. The sidecut of the skis is cut into them after they are pressed eliminating any gaps in the edges, and running core material all the across the ski, from purple heart sidewall to purple heart sidewall. According to Hilbert, the wood is 10 times as strong as plastic sidewalls, and naturally hydrophobic. Some indy skis can be chunky and heavy, but Deviation's skis are sleek, and look like they'll be able to hold up to some serious punishment.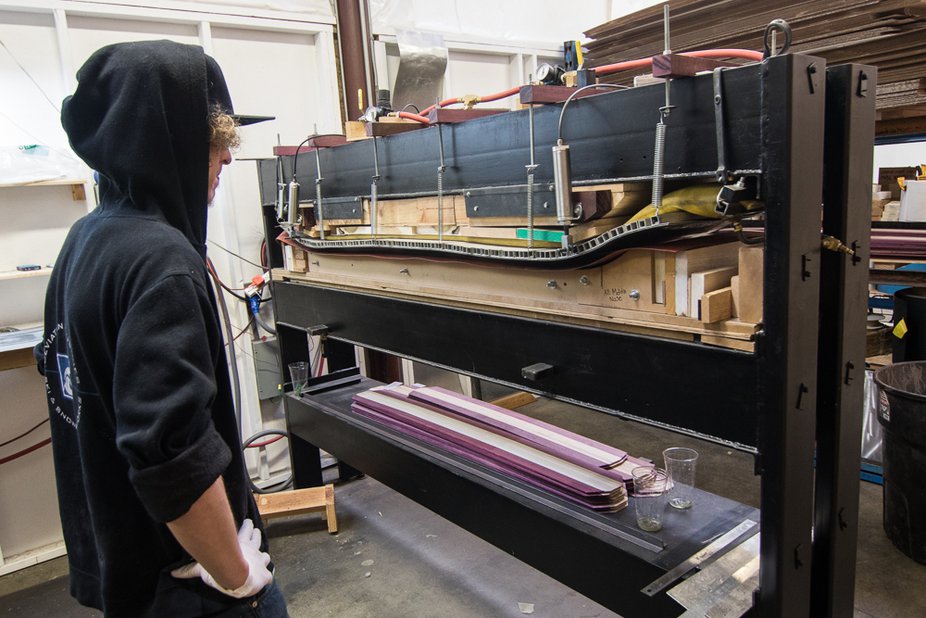 Deviation recently launched their first jib-oriented ski in the Ballistic. Marketed as an all-mountain jib ski, the Ballistic comes in at 99mm under the foot, with a rocker-camber-rocker profile, and a small amount of early taper on the tips. It looks like it would be a great two ski quiver paired with a bigger powder ski like Deviation's Limit or Mode models.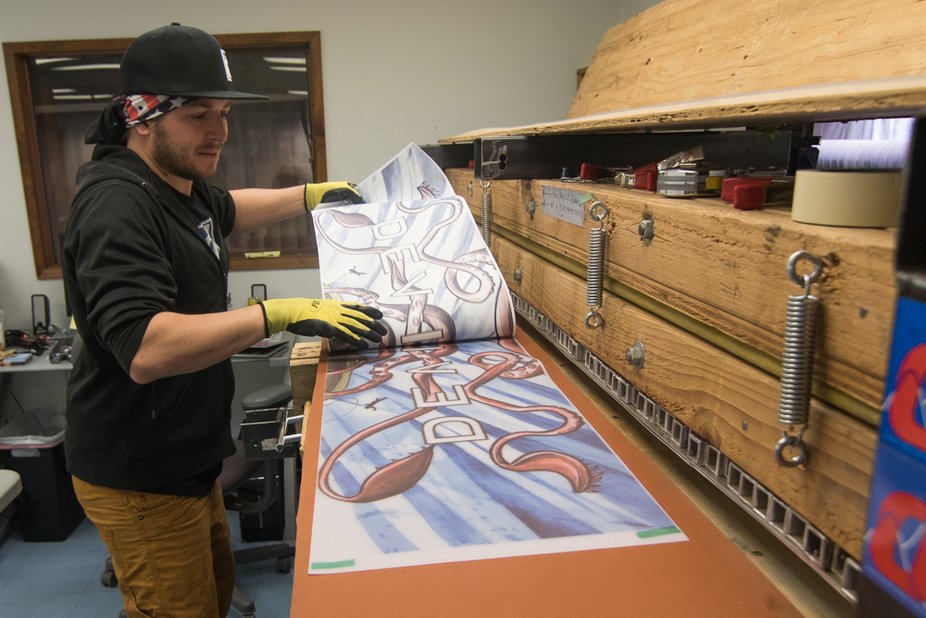 Printing Bases
Customers have a choice of flex and graphics with their skis, with base graphics sublimated into clear base material. While this is far from a full custom process, so is the price tag. This is something Hilbert stressed throughout our conversation. He acknowledged that made in the USA can only take a brand so far, so Deviation seeks to give skiers the added value of choice.
At the end of the day, it's hard to describe Deviation as anything but a small group of genuine skiers trying to provide a unique ski for every skier. For those who appreciate a local, made in the USA product, the skis and their house-made cores, make a compelling case. Skiers who may not care where their skis are produced, can still appreciate the choices afforded by the semi-custom construction, all at a regular boutique ski price.