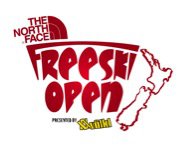 Deadline Draws Near for The North Face Freeski Open of New Zealand,
Slopestyle and Halfpipe Registration
Registration closes 1 August 2011
Lake Wanaka, NZ (19 July 2011) - The countdown is on for those wishing to register for The North Face Freeski Open of New Zealand, Slopestyle and Halfpipe. The deadline for registration is 1 August, leaving athletes less than two weeks to make sure that they secure a spot. Registration is first come, first served so there is no guarantee for those who wait. 
Registration is $100 for one discipline, $180 for two or $250 for all three (including Big Mountain).  To register, click here.
Note: After registering all competitors will have a "wait list" status before receiving their confirmation via email. Registrant's cards will not be charged until they are confirmed for the competition although a billing reference will be made on your credit card.
This year the slopestyle and halfpipe events will be held at Snow Park.
Establishing itself as the biggest event of its kind in the southern hemisphere and attracting athletes from across the globe, The North Face Freeski Open of New Zealand, presented by Volkl, is recognised on the international freeski World Tour alongside the world's biggest freeski events.
This year's event features a strong international field as well as some of NZ's top freeskiers, including Jossi and Byron Wells, both ranked in the top five in the world.
A handful of International pre-qualified riders will set the benchmark giving the 140 amateur and professional athletes the chance to prove their worth on the world stage. Entrants will battle through qualifiers for a spot in the finals and their share of the $18,000 purse.
The North Face Freeski Open, Slopestyle and Halfpipe schedule:
1 September – Slopestyle
2 September – Slopestyle
3 September – Halfpipe
Those seeking more information about the event can log on to The North Face Freeski Open official website or can find the event on Facebook.