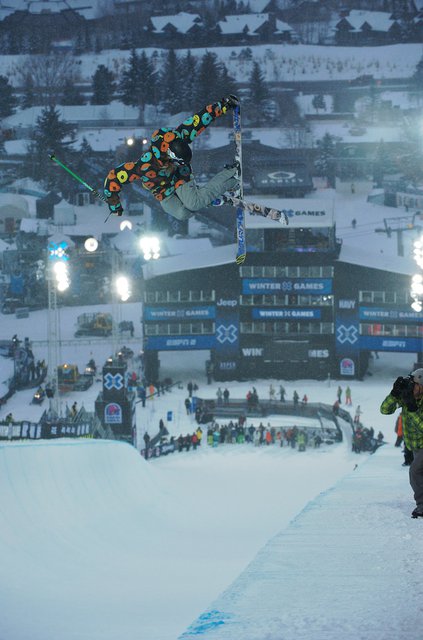 Tomorrow, January 28th, Winter X Games 14 kicks off for the 9th straight year in Aspen, Colorado. If tomorrow is only the first day of X, then what where the past three days in Aspen?  So far we've seen huge airs, new doubles, massive carnage, womens superpipe prelims, and rumors of a remote throttle and complete no-hander backflip on a snowmobile... and it hasn't even started yet!  Here's some behind the scenes action from the first three "unofficial" days of Winter X Games 14.MONDAY: DAY -2As I closed my tray table and returned my seat back to it's full upright position I could already see the olympic sized halfpipe lit up from the airplane window.  Looking up at it from the base of Buttermilk was even better, although temps close to -23°C made it feel a lot more like a typical day in Montreal, not Aspen.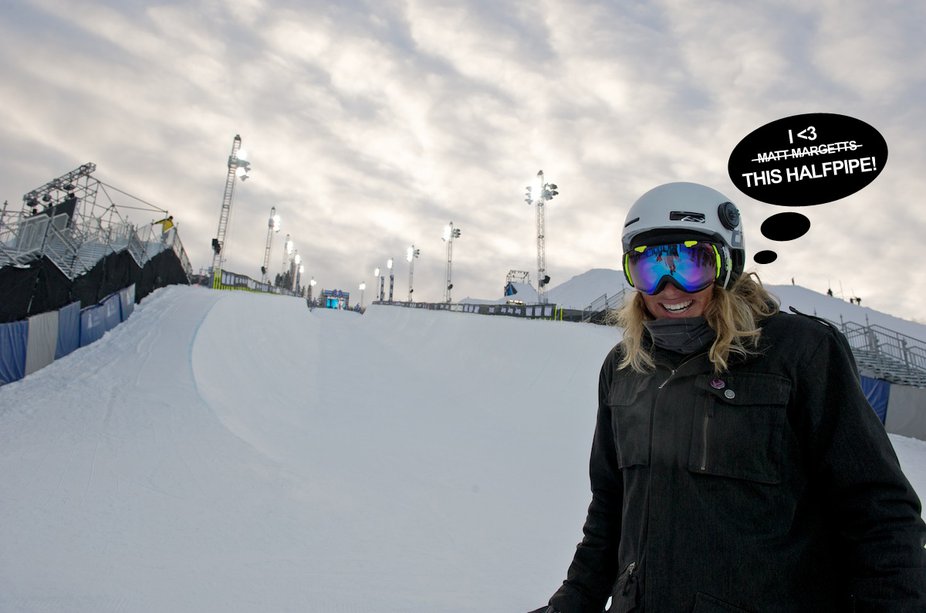 Banks Gilberti hoping that he can compete as an alternateMonday night was the first of six days of practice for ski superpipe.  Why so much practice? For starters, the walls are about 4' higher and 50' longer than what we've seen at the first two stops of the Winter Dew Tour. That translates into more transition, bigger airs, and extra hit(s) for comp time.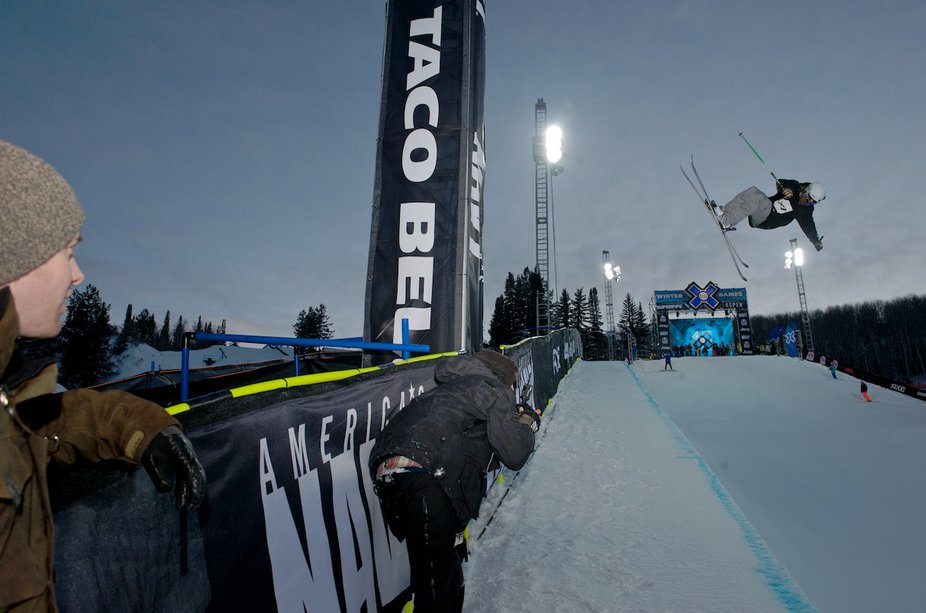 A taco joint sponsoring a halfpipe event? What a coincidence!Something else that's new from last year, skiing superpipe will be the grande finale of Winter X Games 14 closing out the event Sunday night live on ESPN.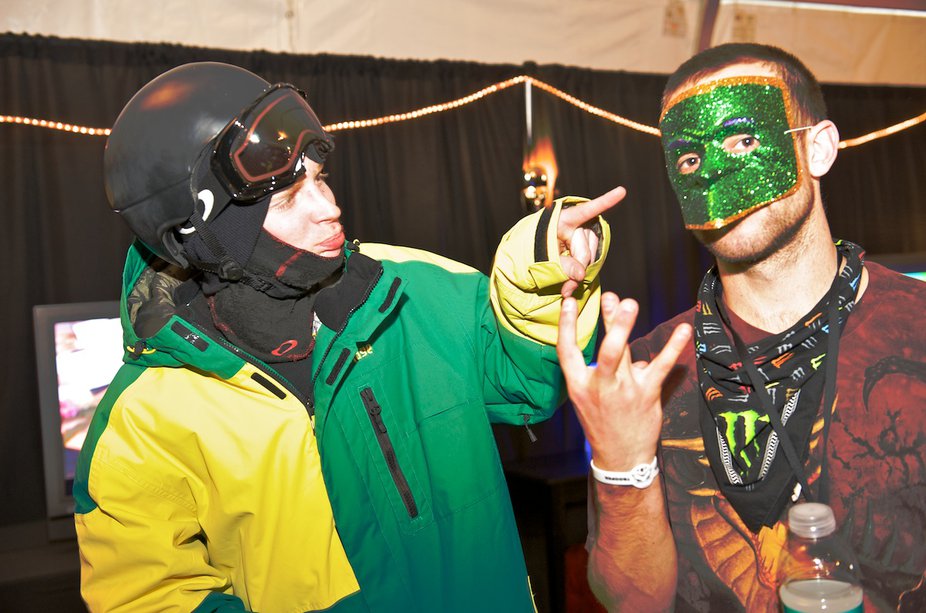 Colby West's new facemask. Monday nights practice session marked Taylor Seaton's return to halfpipe competition after an ankle injury that has kept him on the sidelines since last summer.  Like most of the riders, Taylor was just working on memorizing the transition and stringing together straight airs that were bigger and bigger the further he went down the pipe.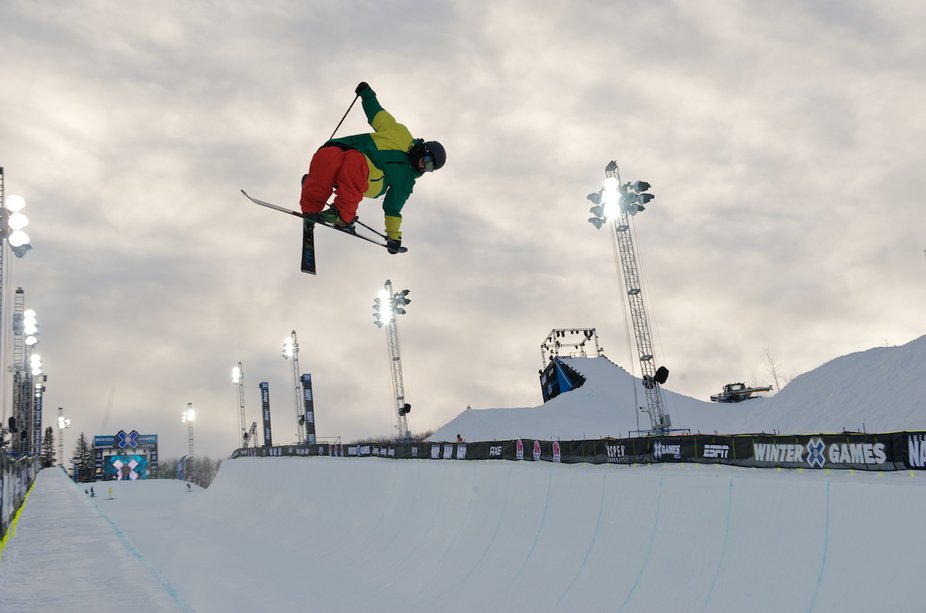 Welcome back Taylor Seaton!It's a pretty safe bet to say that the top three runs that make up the women's podium later this week will all have at least one 900 in them, and the ladies were already starting to step things up as the five hour practice session progressed.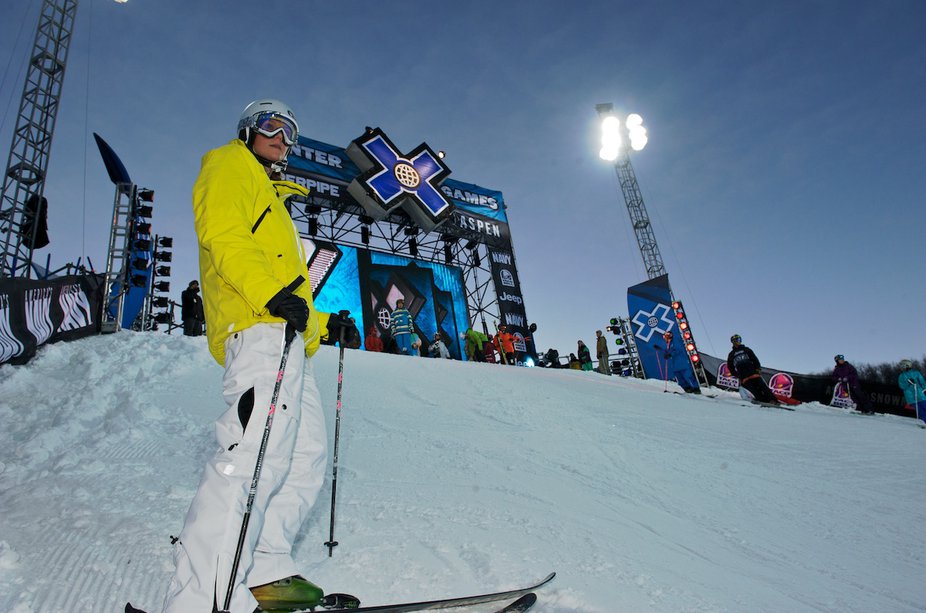 Jess Cumming getting ready to drop inQuick sled laps up the pipe meant the athletes were getting plenty of runs, and after dialing some 5's and 7's Jess started to throw some 9's.  Unfortunately, after a backseat landing Jess tweaked her knee and had to be taken to Vail for an MRI. We're still waiting for the results, but regardless of the verdict we wish her the best of luck and a speedy recovery with hopes that she can get back on her feet for the final stop of the Dew Tour at Mount Snow next week.
Banks' helmet also made the carnage list. Luckily his head was not in it when the snowmobile ran it over.TUESDAY: DAY -1Tuesday morning the pipe was open early. The riders were getting increasingly more comfortable in the 22 footer and we saw a lot more tricks thrown down than the test session the night before.
Xavier Bertoni mid flat-3Simon Dumont took one of the worst spills in the pipe that I've ever seen, decking out and hitting his head on a double.  After a catscan and a couple days of rest I think we can still count on seeing him back in the pipe for finals.Tuesday afternoon the athletes got to take their first runs on the slopestyle course, which for the Orage team means Phil Casabon and Kaya Turski who are coming off 5th and 3rd place finishes at last year's X Games.
Kaya TurskiThe course starts out with two sets of rail options followed by a south park Mammoth-esq bar/stall/rail that  Phil has been using as a launch pad for nose butters. Next up is the choice of either a cannon box remenescient of X Games 13 or a big gap to rainbow rail. A three pack of booters finish off the course, all of which are pretty big and close together, making stomped landings almost mandatory to finish a run.
Phil Casabon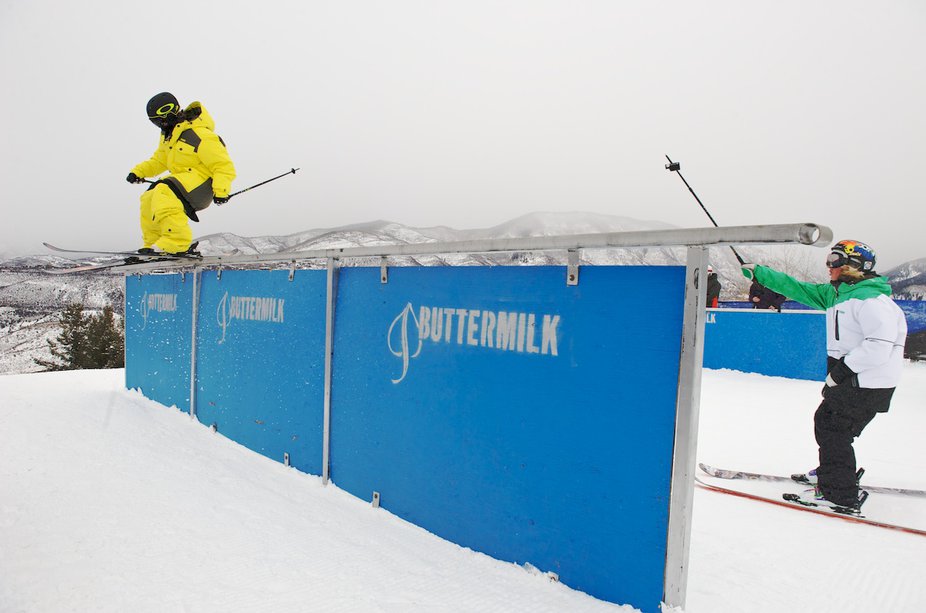 Here's the video from the ContourHD that Banks has mounted on his pole in that last photo:Fresh off the podium at Snowbasin (and not surprisingly) Tom Wallisch and Bobby Brown have been stand outs during practice, with Bobby's switch double misty 1260 being one of the most talked about tricks so far this week.Bobby Brown - Switch Double Misty 1260
Tom Wallisch rodeo off the canon boxSnow Park Technologies has been taking constant feedback from the riders has been adjusting the features accordingly each night. It's that kind of attention to detail that will really make this one of the best slopestyle courses this season.WEDNESDAY: DAY 0For the last day of training before X Games officially gets going the schedule was reversed and skiers got to session the slope course in the morning.
Casabon was throwing different tricks on the jumps each run, so this is probably left/right 5, 7, 9 or 10. Probably switch. For the eight ladies in slopestyle this was the last practice session before tomorrows final (no prelims). Kaya had the rail section consistently dialed ending it with a 450 off the canon box into a switch 7 on the first jump.We didn't see much action aside from straight airs off the last jump in practice, but if the weather (and speed) can hold out for tomorrow we're pretty stoked to see what the women will throw down.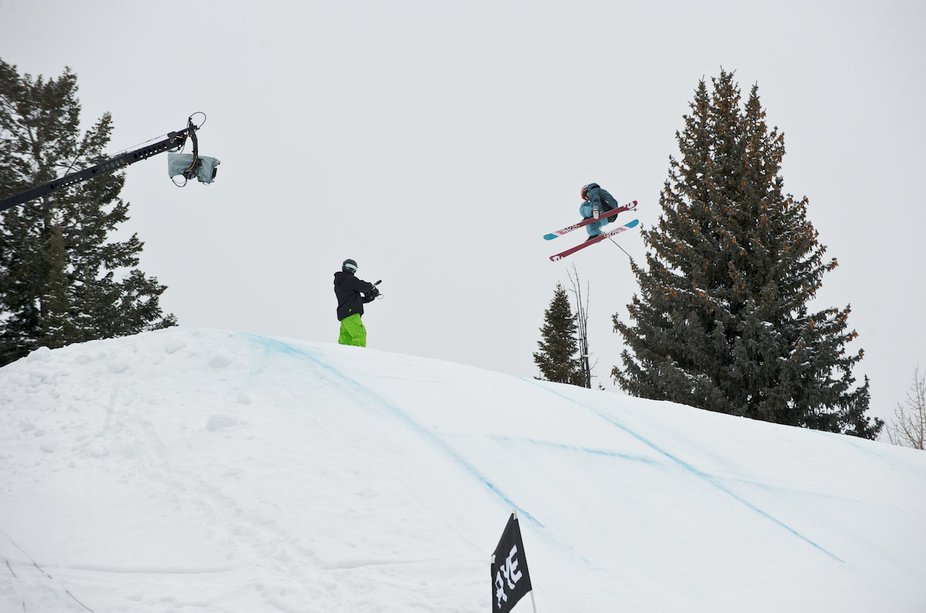 Kaya warming up with a switch 5Three hours, lunch, and a press conference later we were back at the pipe for a night practice session and women's superpipe elimination.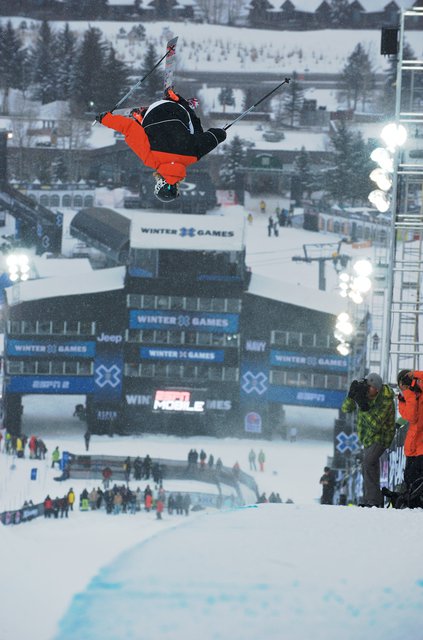 Marg worked this into a double later onFor the first time so far in practice Xavier Bertoni looked like he was on a serious mission (well, not that serious as you've probably seen from followus.tv) to defend his gold medal.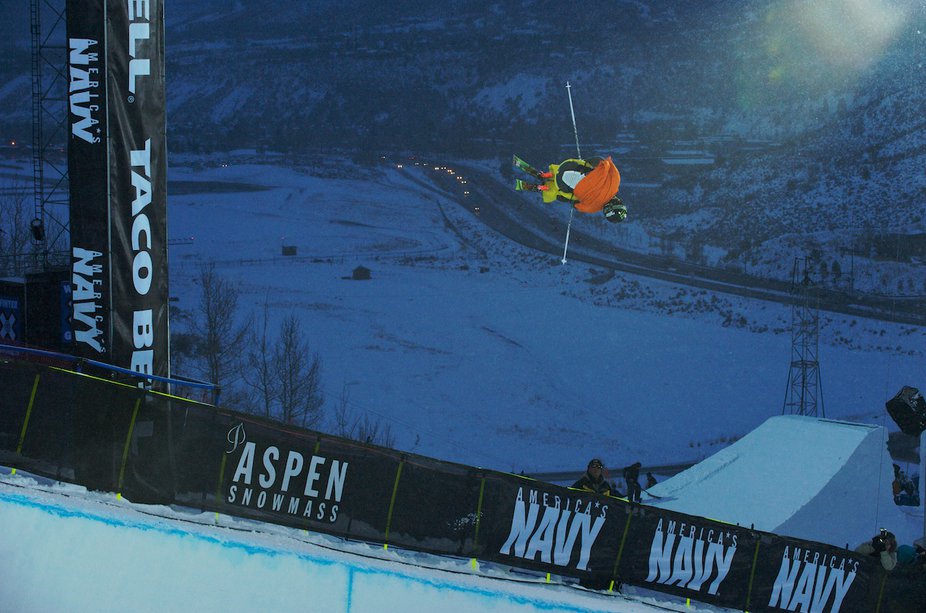 The Double Flip: great for points, not so great for photosNot seeming to care about the heavy snowfall Xavier sessioned in a tee shirt the whole time and consistently landed one of the biggest doubles in the field.  Dropping in half way down the pipe Xav added back to back left and right 1260's to his repertoire.  Now he just needs to put all that together into one run for Sunday's final, and he still has three more days of practice to make it happen.Taylor Seaton continued his comeback and threw 9's for the first time since his injury and also took the opportunity to drop in switch a few times.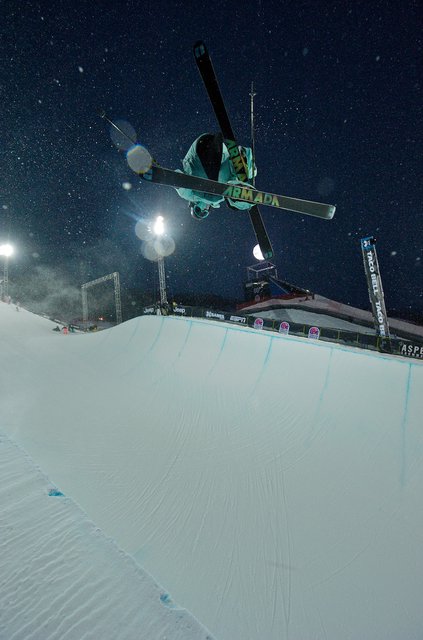 Taylor Seaton switch 7 on the first hitNerd alert: This year the riders are 'wired' with some kind of sensor so that their actual height from each hit is recorded, and tonights women's superpipe elimination was the first time we saw it in action. Roz G broke the invisible height meter twice with a 12' air on her first run and then topped her own record with a 14' air on the first hit of her second run.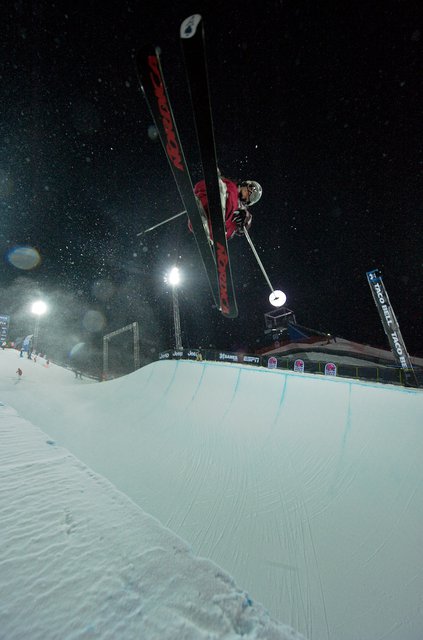 Anais spinning a 900 in practiceAmplitude alone was not enough to take the top spot heading into the women's final. Megan Gunning scored a 90.00 on her first run with an true inverted corked out 900, solid grabs in her 540s, and a 720 mute and switch 5 at the bottom of the pipe that made her untouchable for the rest of the comp.
C'est bon!Anais Caradeaux finished in forth with left and right 5's and a mixed bag of grabs and alleyoop straight airs. Jen Hudak, Mirjam Jaeger, and Sarah Burke filled the remainder of the 6 spots in finals with Grete Eliassen just barely getting bumped out by Burke in the last run of the night.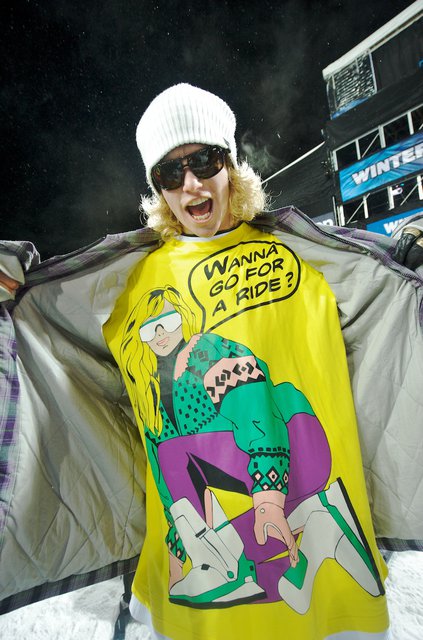 ...with Matt Margetts? Yes please!With three solid days of training under wraps we're ready to kick off day 1 of Winter X Games 14 tomorrow with men's slopestyle elimination and women's slopestyle finals. Stay tuned for an update on Phil and Kaya at orage.com, and for live streaming video and the full TV broadcast schedule visit xgames.com.Photos: Felix RiouxDisclaimer: This update was made possible by caffeinated beef jerky (yes, it does exist), Monster "coffee", Muscle Milk, and a partial case of Red Bull for keeping me awake until 6am.  The same ingredients are also responsible for any type-o's, grammatical errors, or anything else that doesn't make sense.