Words & photos courtesy of Red Bull
The competitors reviewed all their runs, the votes are tallied, and the athletes have spoken in the peer-judged competition. Dane Tudor and Rachael Burks have been named Best Overall Men's and Women's skiers respectively at Red Bull Cold Rush. Pep Fujas and Sage Cattabriga-Alosa were voted 2nd and 3rd in the Men's competition while Jackie Paaso and Michelle Parker came in 2nd and 3rd in the Women's competition.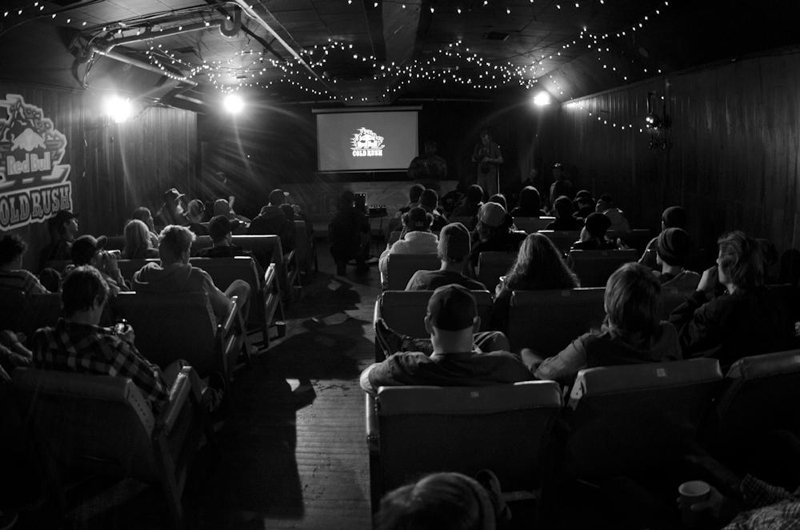 The voting begins at Red Bull Cold Rush. Photo by Ian Fohrman
Tudor owned the Big Mountain day as he dropped into the Pequeño chute, launching a quick air off a rock, blasting through the Hourglass section of the course before launching a huge 25+ foot rock chute dubbed the Broom Closet. Then on the Slopestyle day he threw down a super clean line with a tailgrab off the Mine Cart rail, a super stylie 720 and a switch 540 off the Castle jump to earn the respect of his fellow competitors. The third day of the event, the Cliffs portion, had to be unfortunately cancelled following an avalanche in the zone that ripped out the much needed snow pack for a safe competition.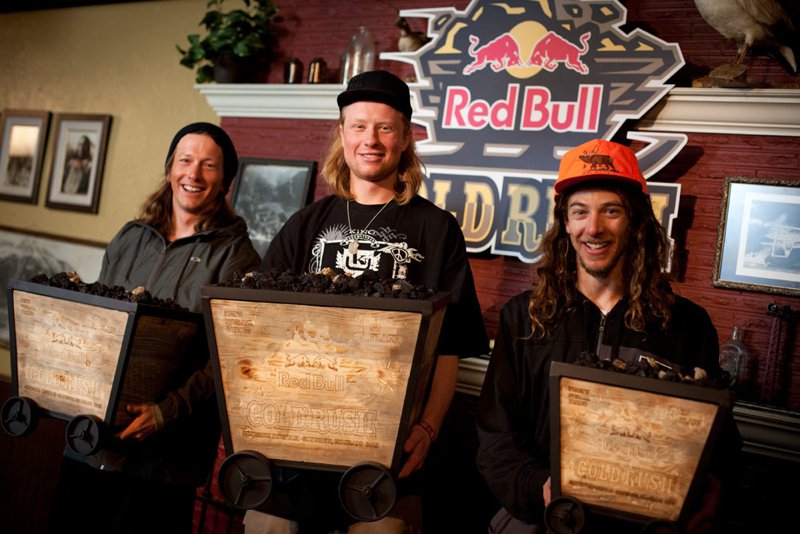 Pep Fujas (2nd), Dane Tudor (1st), Sage Cattabriga-Alosa (3rd)
"I'm just super stoked. Everyone out here just kills it, so to be on top at Red Bull Cold Rush is just awesome. I'm really hyped as I'm heading up to Alaska this week so carrying this win up there is gonna make it a great time," said Tudor following his win. Tudor added, "I said this to someone the other day. A lot of events are panel judged, and a lot of times you're like 'this person shouldn't have gotten this score or this person should have got that score', so when I heard we're judging ourselves I was hyped as the athletes we want there are making the decisions."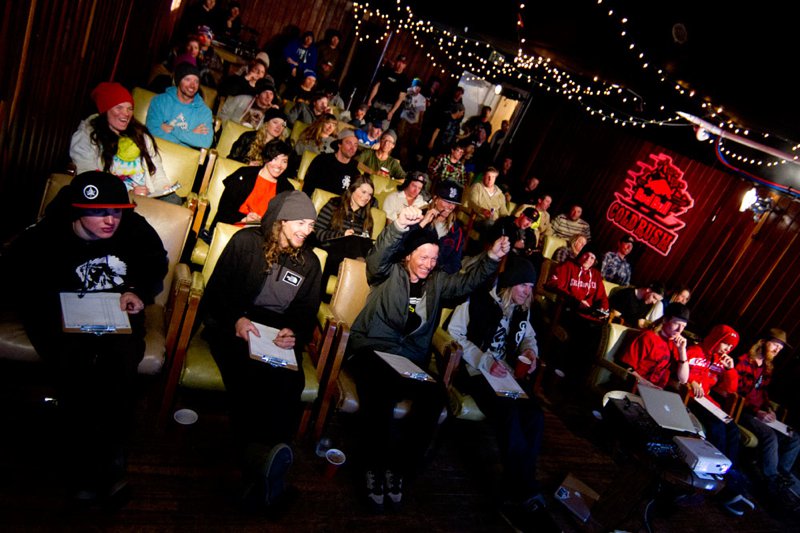 The athletes chant on their fellow competitors. Photo by Christian Pondella
On the Women's side, Rachael Burks stomped the biggest line of the Big Mountain day dropping into the Grande, dropping a rocky section before heading skiers right into an even bigger cliff drop. Then during the Slopestyle competition, Burks put together a clean line airing off the step-up and transferring over the knuckle before sending the biggest backflip of the day off the Castle jump.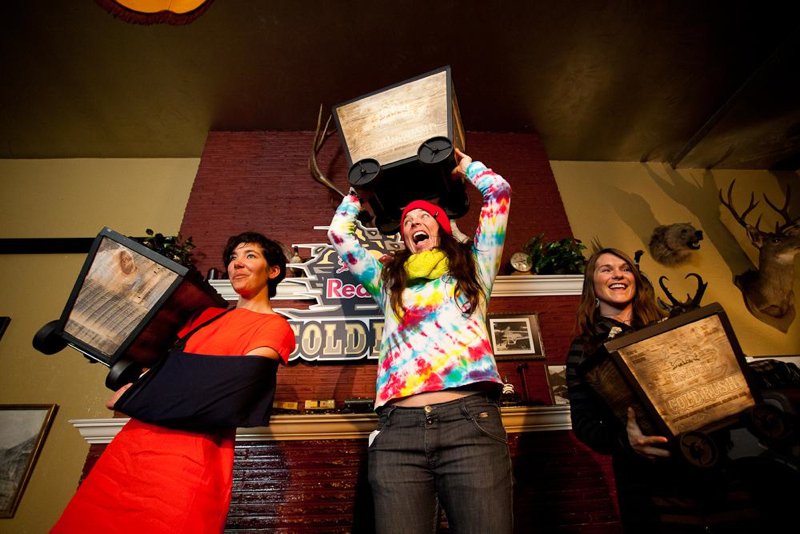 Jackie Paaso (2nd), Rachael Burks (1st), Michelle Parker (3rd)
"It's the biggest honor and I'm so stoked that I don't really have words. I've never been on a number one podium but to be on the podium at Red Bull Cold Rush is the biggest deal in the whole world and I'm just elated."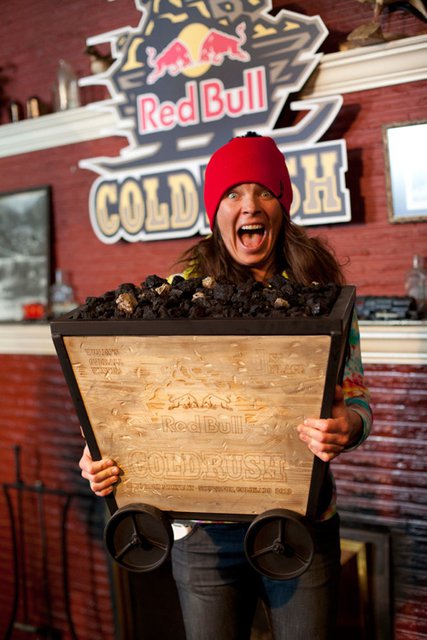 Rachael Burks is overwhelmed with excitement. Photo by Christian Pondella
Once the trophies were handed out, the cover band Metal Gods took the stage and about shook the walls off the 130-year old Grand Imperial Hotel. The after party went well into the night before the crowd said farewell until next year's Red Bull Cold Rush.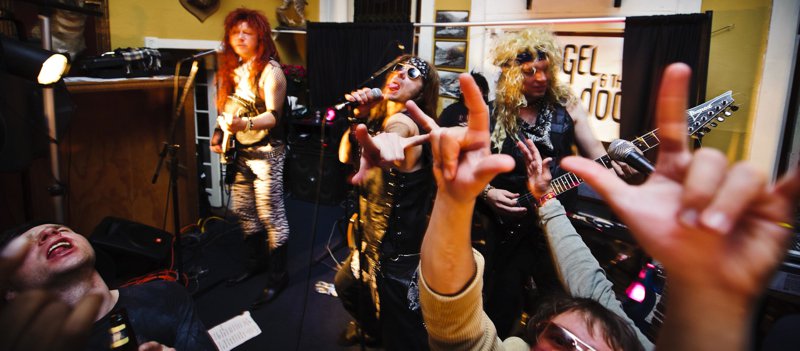 Metal Gods rocking the house. Photo by Mike Arzt
While the athletes completed voting for the Best Overall Men's and Women's skier tonight, fans can still vote for their favorite competitor. Go online at http://www.redbullusa.com/coldrush or tune-in March 24th to Red Bull Cold Rush airing nationally on NBC at 1pm EST/10am PST to vote for the athlete who laid down the sickest lines, threw the most bad ass tricks, and stomped the biggest landings during the competition. The winner of the People's Choice Award will win an additional $1000 thanks to your vote. Voting is open now through March 26th when the winner will be announced on the website.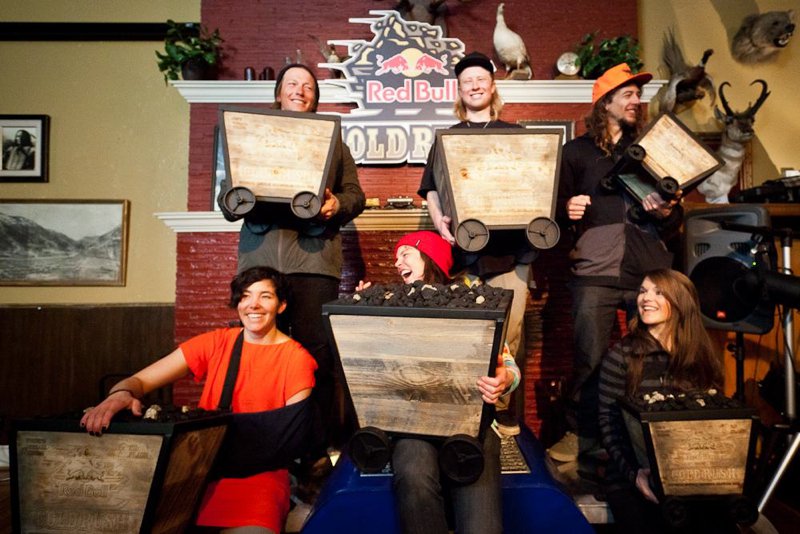 Photo by Erik Seo
Results
Men
1) Dane Tudor - 92.50
2) Pep Fujas - 88.58
3) Sage Cattabriga-Alosa - 85.92
4) Dash Longe - 84.00
5) Andy Mahre - 83.33
6) Logan Pehota - 81.25
7) Fabio Studer - 80.83
8) Wiley Miller - 79.50
9) Tim Durtschi - 77.58
10) Sean Pettit - 73.58
11) Dave Treadway - 73.25
12) Collin Collins - 72.42
13) Leo Ahrens - 67.92
14) Josh Bibby - 60.83
15) Callum Pettit - DNF
15) Richard Permin - DNF
15) Tobias Tritscher - DNF
15) Kye Petersen - DNF
Women
1) Rachael Burks - 95.83
2) Jackie Paaso - 91.75
3) Michelle Parker - 90.58
4) Lexi Dupont - 89.42
5) Anna Segal - 89.17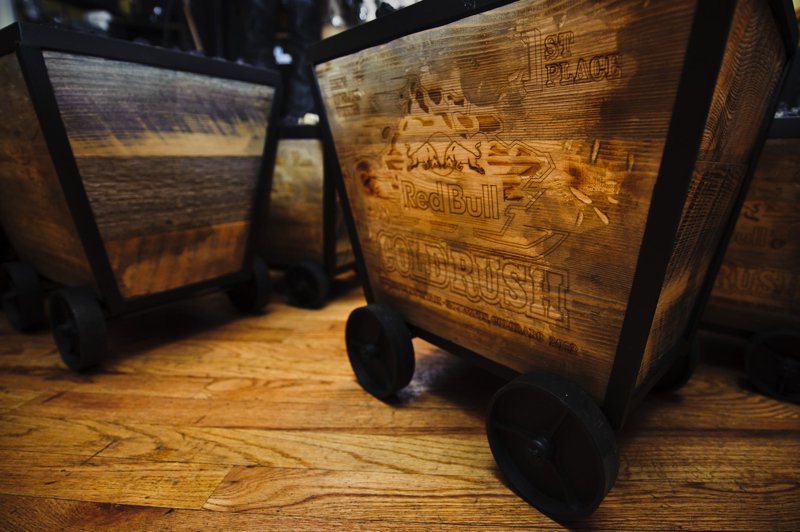 Photo by Mike Arzt
Stay tuned for more from Red Bull Cold Rush, including some
introspective and behind the scenes videos on the event, which will be
released right here on Newschoolers in the lead up to Red Bull Signature
Series' nationally televised program on Red Bull Cold Rush, which will
air on Saturday March 24th at 10am PST/1pm EST on NBC. For more
information, visit http://www.redbullsignatureseries.com.
brightcove.createExperiences();
Red Bull Cold Rush Big Mountain Highlights
brightcove.createExperiences();
Red Bull Cold Rush Slopestyle Highlights