PRESS RELEASE
Seeing Redd
DNA is pleased to announce that Travis Redd has moved from the DNA Larva Team, to become a full-fledged member of the DNA Pro Team. Team manager Trey Harris has observed the honing of Travis' talents over the last few months and has heard nothing but praise for his developing skills. At a recent rail session in Boulder for Level 1 Productions, Redd exhibited this talent on a 35-foot double-kink S, and again two days later on a 40-foot quad-kink with a 45-degree turn at the end. Some of the industry's best were just getting stomped – all except Travis. He mastered these meat grinders, and slid his way to the next level.
TravisÂ's road to pro sponsorship is a very unconventional one. His initial one-year amateur deal was won through a contest on SkiTV.
"In the winter of 2003 we produced the first reality show on snow called Snow Games,� said SkiTV Producer, Mike Billingsley. "Travis was one of our competitors and he shined throughout the entire event to take home the Grand Prize – a one-year clothing sponsorship with DNA and $1000 cash. Obviously he was very deserving of the contract as he has now proven himself to be so valuable to DNA that he is moving up to the A Team. Here's living proof that if you work hard and get some TV or mag exposure, you can earn pro contracts with solid companies.
Crichton—perfect Pipe run?
X-games, blah, bleep, blah. US Open blah, blah. BMW blah. WorldÂ's blah blah blah blah blah. Say what you want, bottom line is DCÂ's killinÂ' it.
VEGAS BABY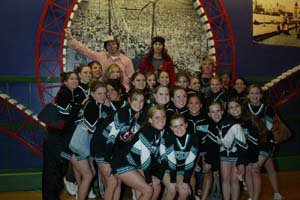 What happens in Vegas should stay in Vegas, but unfortunately for them there are pictures. After the World Superpipe Championships in Park City, winner Dave Crichton, Andy Woods, Scott Hibbert, Jon Reedy, Max Kuszaj, Jon Turkula, DNA Team Manager, Trey Harris and photographer Eric Seo headed out to Las Vegas for some celebratory debauchery. As luck would have it the National High School Cheerleading Convention just happened to coincide with the trip, so needless to say some of it needs to remain on the DFL.
Thanks to Andy Woods and Eric Seo for snapping the pics. (Third party reproduction granted courtesy of DNA, Andrew Woods and Eric Seo.)
Andy Woods gettin' some love.
Scott Hibbert.
Dave Crichton wins... again.