"DECLARATION"
A New Motion Picture Ski Film From Two Plank Productions
(Denver, CO) As a summer drives towards a close, Two Plank Productions is proud to release its 4th full-length feature ski film. Premiering all Fall 2009, we proudly present a film by Corey Tibljas and Executive Producer Josh Finbow.
DECLARATION (Skiing Magazine Film Award Winner) will host its DENVER Film Premiere on Sat, Oct 17th @ 7pm-2am: Denver, CO – Casselman's Bar and Venue - $8 + $2 prize entry – Food and Drinks available, after party immediately following with DJ Shares and prizes. CASSELMAN'S is at 2620 Walnut Downtown (Where Market St becomes Walnut N. of Coors Field). There will be an after party immediately following with promotional specials, additional prizes, live entertainment, and Denver's DJ Shares.
Tickets are available online in advance at http://www.casselmans.com or at the door. DECLARATION Movie Trailer and more is available for viewing at twoplank.com
"DECLARATION" is Two Plank's first one-year feature production which reaches all time new heights. Following 18 pro athletes through the deepest snow our cameras have seen and one-of-a-kind jib features; "DECLARATION" is a 35 minute long mix tape of established and upcoming athletes DECLAIRING their position in the sport. "DECLARATION" showcases the non-stop ski adventure entertainment through the performances and the drive, of the athletes and filmmakers alike.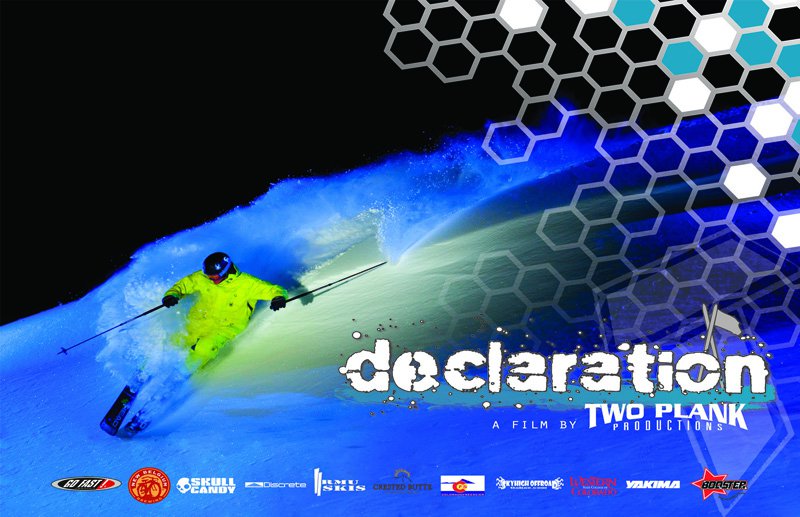 With the addition of a second unit film crew, Two Plank was able to expand the shot, athlete, and location diversity like never before. Complete with new secret zones and lines, to custom-built park features and superkickers, "DECLARATION" features the claim staking of the individuals, as well and the compelling entertainment of the crew united as one.
Featuring the talents of: Tyson Bolduc, Max Mancini, David Lesh, Christian Allen, Ben Furimsky, Alex Schlopy, Joss Christensen, Chris Laker, Adam "Earl" Crook, Wiley Miller, Luke Cutler, Tanner Rainville, Chris Tatsuno, Max Kuszaj, Jesse Hall, Karl Fostvedt, Liam Downey, Jonny "Scriz" Scott, Luke "Ocho" Allen, Alex Albers, Drew Van Gorder, Ted Davenport, Patric Hughes, and Many Friends…
Shot on location in Hi-Def: Crested Butte – Aspen/Snowmass – Vail – Copper – Breckenridge – Keystone – Silverton – St. Mary's – Denver – ECLIPSE (Colorado), Valdez (Alaska), Big and Little Cottonwood Canyons – Alta – Logan – Heber – Park City – Salt Lake City (Utah), Mt Hood – WINDELLS (Oregon), Red Mountain (BC), Grabunden (Switzerland), St. Anton – Flachawinkl (Austria), Stockholm (Sweden), and all the stops in between.
Presented By and tons of FREE gear from: Go Fast Sports, Skullcandy, ALLY Video, Crested Butte Mountain Resort, New Belgium Brewing, Rocky Mountain Underground Skis, Booster Strap, Colorado Freeskier.com, Western State College, Skyhigh Offroad, GoPro Cameras, Fly Low Outerwear, Discrete Headwear, and Yakima Racks & Accessories.