The DC BMX team will be performing a demo at the Layton 50/50 BMX store on Sunday May 29th. Be sure to come check out the best of the best BMXer's as well as local pro Rob Wise as they tear up the Layton Skatepark . Details on the flyer below.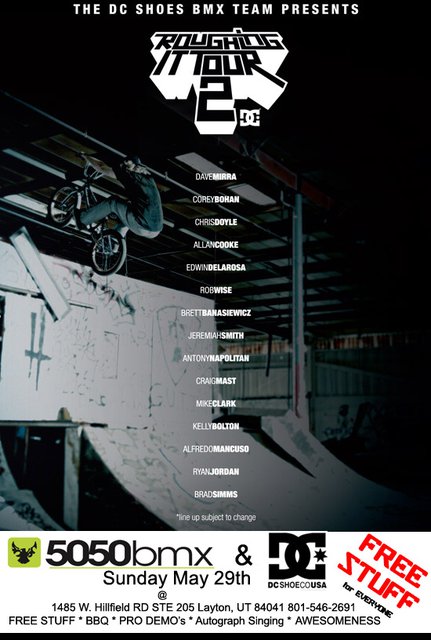 DC ANNOUNCES BMX ?ROUGHING IT TOUR 2?
May 16, 2011 ? HUNTINGTON BEACH, CA ? DC?s elite BMX team is hitting the road for the DC ?Roughing It Tour 2.? The tour kicked off this past weekend in Portland, OR with a demo and autograph signing andwill continue throughout the western United States before wrapping up in Denver, CO on June 4. Fans can follow the tour at DC?s new BMX blog at http://bmxblog.dcshoes.com.
Look for DC?s 2011 pro BMX riders Dave Mirra, Corey Bohan, Chris Doyle, Allan Cooke, Edwin De La Rosa, Rob Wise, Brett Banasiewicz, Anthony Napolitan, Craig Mast, Jeremiah Smith, Mike ?Hucker? Clark, Alfredo Mancuso, Kelly Bolton, Brad Simms, and Ryan ?Biz? Jordan to be a part of the tour.
?We are very excited to be out on tour again this year,? said Mike Aland, DC?s BMX Marketing Manager. ?We had such an amazing response last year that we expanded the tour to show even more fans the unmatched talent of our BMX team.?
Following the ?Roughing It Tour 2? the team will head to the East Coast for demos and a filming trip from August 24 to September 10 as a part of the all-new DC ?At Work Tour?.
For more information on DC?s entire BMX team visit: http://www.dcshoes.com/bmx and to keep up with all the latest news and events stay tuned to DC?s Facebook and Twitter (http://www.facebook.com/DCShoes and http://twitter.com/dcshoes).
DC ?Roughing It Tour 2?
May 13 ? Oregon Trail Rally, Portland International Raceway, Portland OR
May 15 ? Hillcrest Sports, Gresham, OR
May 18 ? Earth & Ocean Boardshop, San Francisco, CA
May 19 ? One Way Boardshop, Santa Maria, CA
May 21 ? WSS, Fontana, CA
May 27 ? Christensen?s, Cedar City, UT
May 28 ? Christensen?s, Richfield, UT
May 29 ? 50/50 Bike and Skate, Layton, UT
May 31 ? Al?s Sporting Goods, Logan, UT
June 2 ? Brown?s Shoe Fit, Fort Morgan, CO
June 4 ? Journey?s Backyard BBQ, Denver, CO