Words by Jamie Walter
Photos courtesy of D-Structure
Freeskiing was a lot different back in the year 2000. The Salomon Teneighty twin tip had only been out for two years, a young Candide Thovex had just cleared Chad's Gap for the first time, and the New Canadian Air Force was legitimizing a movement that had started as a rebellious uprising in the 90's.
While the sport was still very much in its infancy, Felix Rioux, Danny Laroche, and Serge Maheu felt there was a need for a ski shop dedicated to freeskiing. At the time, most stores around the US and Canada saw Newschool skiing as a "fad" and had reservations about carrying products or supporting skiers that were associated with the against-the-grain attitude that was invading hills around the world. But where others saw little potential, they saw an opportunity - especially in Québec. The trio decided to take a gamble and opened up the doors to a ski shop on Rue St-Denis in Montreal called D-Structure.
"Their goal is to stay as true as possible to the principles that guided the sport when it was originally created, even though freeskiing is changing a lot these days." - Jacob Bélanger
Québec was (and continues to be) a breeding ground for some of the biggest names in our sport. In building D-Structure, Rioux and Laroche prioritized supporting local talent - to them, it was critically important that they help showcase the sport they loved to the rest of the world in any way possible. With a little help from their friends - JP Auclair, Phil Larose, JF Cusson, Phil Dion, Thomas Rinfret, Phil Belanger, Vincent Dorion, Phil Poirier, Iannick B, Dave Crichton, Chris Turpin, Kaya Tursky, Kim Lamarre, JF Houle, Phil Casabon, and Charles Gagnier, to name a few - they built a team that would go on to help prove freeskiing was here to stay to the masses. In turn, D-Structure cemented itself as one of the first core shops to fully embrace the movement.
_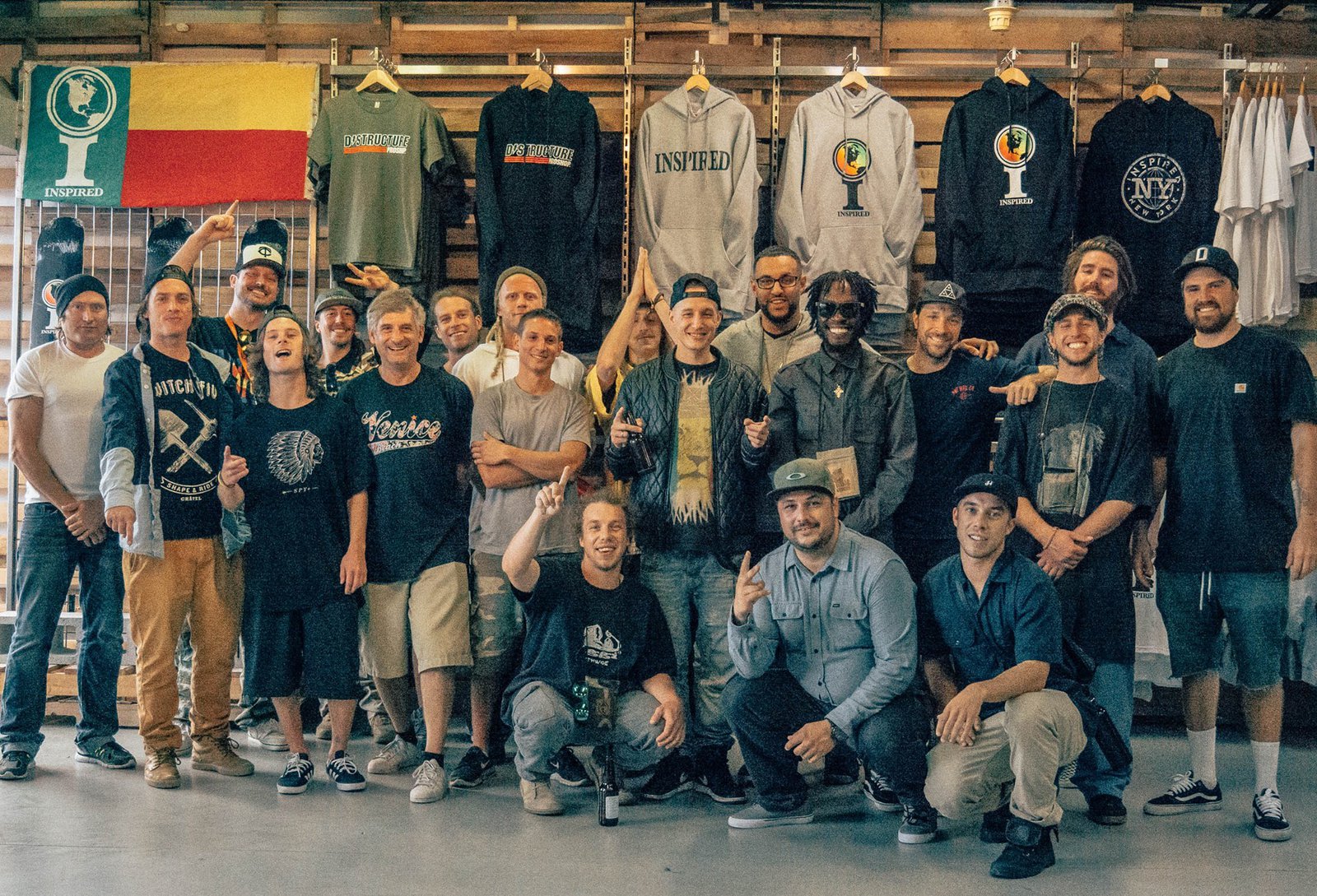 _
From Crew to Captain
The New Canadian Air Force were the crew pioneering 'new school' skiing at the turn of the century. Mike Douglas, Shane Szocs, Auclair, Dorion, and the "Three Phils" (Larose, Dion, and Belanger) were stomping new tricks faster than people could name them. More importantly, their philosophy that style mattered above all else still echoes among those that continue their legacy to this day. D-Structure supported nearly every big name skier from Québec that was part of the explosion of freeskiing in the early 2000's. And one of those skiers, Phil Belanger, was so excited about their mission that he wanted to be more than just a team rider. In 2003, Belanger helped D-Structure open a second location in Québec City, and by 2007, was in charge of the business.
Flash forward to 2018, and Belanger is still at the helm and as enthusiastic about skiing as he was 20 years ago. Beyond his skiing and work with D-Structure, Belanger has had a major impact on the sport. He's helped establish freeski programs and competition circuits in Québec to help pass the torch to the next generation of skiers. In 2015, he joined the AFP judging panel and was the head judge for Slopestyle at the 2018 PyeongChang Winter Olympics. And for many of the pro skiers who grew up in the area, Belanger has also been a mentor to them.
"Phil is one of the most humble people I know. He always is so stoked on my skiing and has supported my projects. He has a really good vision for freeskiing and knows a lot… I feel like he was one of my mentors if I can say so, even just in life in general. So much respect for Phil." - JF Houle
"The best thing he did for me was to give me the Pléhouse movie collection. I would never be the skier that I am today without these movies. Thanks Belan!" - Jacob Bélanger
Take Jacob Bélanger, for example. A member of the Les Khroniques du Québec crew, Jacob first met Phil B when he was 8 years old at Le Relais, the local ski hill frequented by the D-Structure staff. While he was still racing at the time, Jacob's interest in sliding rails and jumping grew thanks to Belanger's influence, along with a few parking lot rollerblading sessions on a rail he built for Jacob. Jacob went on to attend the D-Splash water ramp camp (also organized by Phil) and is now a five year veteran of the D-Structure team that he looked up to growing up.
Phil Belanger's contributions to freeskiing have been many and his dedication has arguably earned him the well-deserved success that has followed. But he insists that D-Structure wouldn't be around today if it wasn't for the team riders, and industry icons like Eric Iberg, that helped get the store off the ground.
_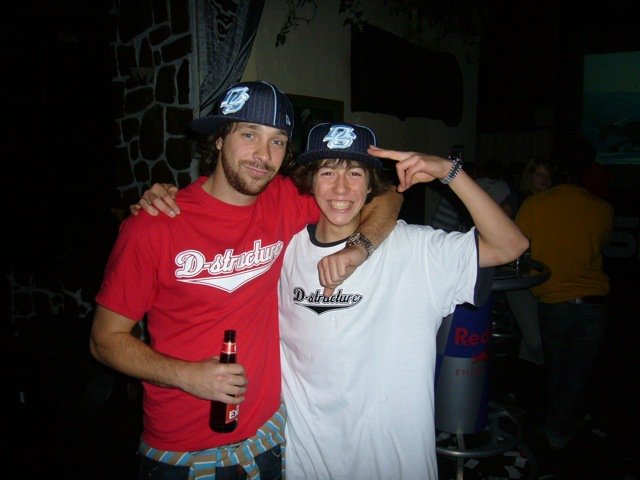 _
Impact
For any skier, getting sponsored is a major accomplishment; having a company provide financial support, connections, opportunities, and legitimacy can make all the difference for their career. JF Houle's first sponsor was D-Structure back in 2003 when he was bursting onto the scene.
"It was a huge honor to join the team at a young age. The best feeling! I mean to get that sponsor back in the day was just like putting you in the cool zone right away. Without the support of all the boys that were at the shop over the years, my career wouldn't have been the same. They helped me to know the right people and gave me many opportunities - from supporting me for my Houligan project, making a dope camp in the summer, a freeskiing school, some sick ski movies... I have to thank them for always having my back since day one. They are like family!" -JF Houle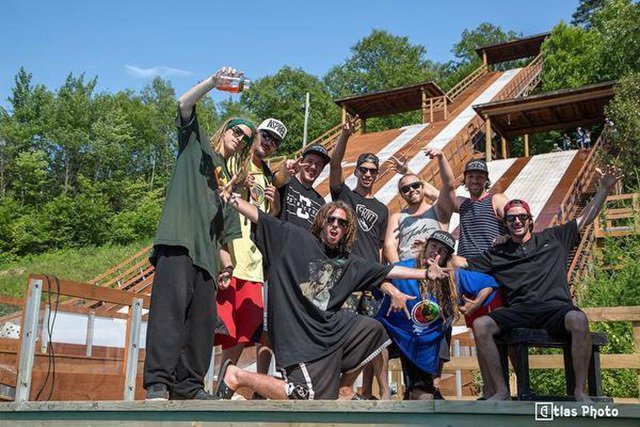 "The shop always got a lot of respect from the ski scene in Québec or even internationally. The boys behind it are 100% committed & straight coming from the ski industries. They have all the core brands and are about sharing their passion & knowledge with their customers. D-Structure has put a lot of us on the map for sure, if I think about Charles Gagnier, Alex Beaulieu-Marchand, Kim Lamarre... they all used the help of the boys at D-Structure to reach their goals." - JF Houle
Whether it's JF or one of the countless other skiers on their roster, D-Structure has a history of supporting athletes who represent the passion and attitude they've had towards skiing since the beginning. In Belanger's eyes, investing his time, money, and energy into D-Structure has paid off more than just financially. To him, it's all about the bigger picture - pushing freeskiing in the right direction.
"D-structure definitely had (and still has) an impact on the freeskiing market in the Québec ski industry. We gave a voice and a chance for our sport to be seen and recognized for the last 15 years. We threw so many events in so many cities that I can't even remember all of them. Nowadays if you go to any mountain around Québec you will see two to three freeskiers for one snowboarder. The impact we had in Canada, and the rest of the world, is because of how much we give back to the freeskiing community, either by throwing our own events such as the Step Up Freeski Tour, or by sponsoring other events or skiers." - Phil Belanger
D-Structure's Team continues to support athletes big and small: Tanner Hall, Henrik Harlaut, Kim Lamarre, Alex Beaulieu-Marchand, JF Houle, Paul, and Émile Bergeron, along with a medley of local up-and-comers that include Frank GP, Jacob Bélanger, and Yan Bussieres. These athletes have their careers supported by D-Structure because of Belanger's commitment to freeskiing and the shop's history.
_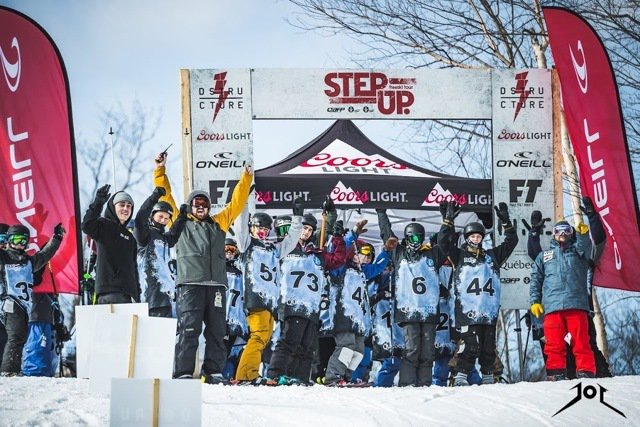 _
The Future
As we know, skiing has changed a lot since the early 2000's. The sport has become more commercialized, the rise of the internet, social media (and Newschoolers!) has changed the way we consume skiing, and the debate over FIS' involvement has once again returned to center stage. While some worry about freeskiing's future, Belanger is optimistic about what lies ahead for the sport.
"I think skiing will keep on growing. I think we will witness a big comeback of the movie scene. The Olympics gave us a big push but things will slow down eventually. One thing's for sure: our sport is doing good and will keep on doing good... D-Structure will always be there to help the new generations. We help them with a grassroots program and then make sure they choose the path that's best for them. It can be filming or contest, we don't care. We want them to achieve their goal and be happy because hey, skiing is supposed to be fun after all." - Phil Belanger
From passionate beginnings to their continued impact on the industry 18 years later, D-Structure's success can be attributed largely to their focus on staying true to the principles that have guided freeskiing from the start. To this day, they continue to support athletes, events, and brands that are core to the industry. They remain as one of the few independent shops in the world with their roots deep in freeskiing. And with a knowledgeable staff who quite literally helped started the movement, they can provide expert advice to anyone who walks through the doors of their current storefront in Québec City.
"The best part about running D-Structure is definitely having the chance interact with customers who I share the same passion with. Being able to educate younger kids about freeskiing is a blessing. I am really lucky to be able to make a living off my passion. The hardest part about running the store is all the bullshit within the industry. We work really hard to grow our sport in Québec and some culture vultures are piggybacking on all the hard work we have been doing. That's the way it is when you're a leader." - Phil Belanger
"Shopping online is a good option when you really know what you want and what you need, but if you've never had twin tip skis in your life, being able to go in and talk with someone that knows what will be good for you is something really valuable. D-structure is one of the only shops, if not the only one, that have always put 100% of their energy into freeskiing." - Jacob Bélanger
Of course, D-Structure has an online version of the shop as well so you don't need to make it to Québec to check them out. I'd argue that it's worth supporting a company who has this rich of a track record putting their money back into the athletes, groms, and the industry we are all so madly in love with. After all, they're just as stoked about freeskiing as we all are, and they have been for longer than most of us, too.
_
If you're reading this, that means that you read the whole article. Here's a discount code for 15% off on all 2019 products at d-structure.com. Code: NS
-Sponsored Content-