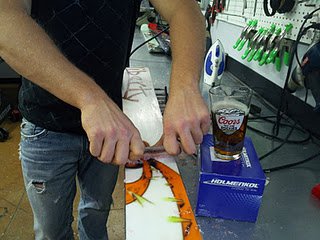 Liberty X-Factor Jay wraps up ski prep at Liberty World HQ
It's the eve of the Second Annual LBRT 2 RIDE Demo Tour, and we're happy to say that this weekend at Copper is going to be a big one. The van is almost packed, skis are scraped, and we've got a few more surprises in store for those of you joining us!
For starters our first contest begins tomorrow for a pair of Kicker headphones or ear buds. Just remember to play your favorite riding music for me to get a chance to win. We're keeping things lively throughout the day, thanks to Copper's own Sugar Lips Mini Doughnuts, who will be providing snacks to keep skiers fed, and me at a steady weekend-long sugar rush. To top off the fun, on Saturday, Coors will be hosting happy hour at Endo's Adrenaline Cafe where they'll be giving away a pair of our award-winning Double Helix!
What better way to start off the tour season than hooking you all up with some free stuff and some great turns aboard Liberty Skis! If you can't make Copper, look forward to the following stops with more to come!
Dec. 3rd: Winter Park, Colorado
Dec. 9th, 10th: Crested Butte, Colorado
Dec 17th: Mt. Bachelor, Oregon
Dec 18th: 49 Degrees North, Washington
Dec 21st: Schweitzer, Idaho
The Van is filling up!
Stay tuned for more dates and join Liberty, Kicker, GoPro, Clif Bar, Discrete, POC, Hestra and others as we travel the country spreading the good word of Liberty Skis!