Words and photos by: Darryl Hunt
If you missed part 1 of the series, follow this link: http://www.newschoolers.com/membernewsread/43823/Confessions-of-a-Ski-Bum--Part-1?c=latest&o=2 to check it out
Part 2:
Misconceptions/Reality of the financial state of a ski bum
Since I can remember, there has been a mentality among society that the ski bum is dead. With mega resorts taking over and small mom and pop operations shutting down, people don't think it's possible to be a ski bum in the modern skiing world. The idea of a skier living in his van in the parking lot, un-showered and alone is a romance written time and time again, yet, actually dedicating yourself to skiing and living a full life is looked at as no longer a viable option. This couldn't be further from the truth. Time and time again (especially on Newschoolers.com) I hear people saying how they want to 'ski bum' when they finish high school and dream of days where they eat ketchup packets, wear dirty clothes, and sleep with the dogs. In my last entry someone even commented that I didn't appear to actually be a 'ski bum' myself. I am going to break down the stereotype that is the poor ski bum and shed some light on what the modern day ski bums life really is.
After much thought on the subject (and years of living the life myself), I have come to a few realizations about the life of a ski bum and why 'we' are looked at as poor dirt bags who are parasites on society. Every time I think about it, I always come to the same conclusion. It's not ski bums that are poor, it's youth. Year after year I see a new batch of aspiring skiers fresh out of their home town travel west with intentions of 'bumming' it for a season. Just like with most romantic ideas, the majority don't make it more than a season or two before moving on and doing the normal society thing. Any time you take a 18-20 year old and remove him from the safety of his parents, planting them in the real world, they are going to be poor. Ski bum, college student, worker, it doesn't matter what they choose to do after high school, there is going to be an awkward period of their lives where they are pathetically poor without a proper grasp of how the world works - I myself was not exempt from this reality.
My office. From April until November I work in the silviculture industry planting trees, cutting them down, and even burning them. Spending time in the mountains in the summer is a great compliment to skiing them in the winter.
After I graduated high school I moved out of my parents house and moved in with some friends closer to the ski hill and got a job at my local hill in Ontario as a lifty. My career as a lifty didn't last long, ending after a month of employment when they fired me. There I was, with $900 to my name, no job and two and a half months of winter still ahead when "Mr. Bishop" twisted my arm and told me I shouldn't look for another job, but instead try to make the $900 last for the rest of the season and just ski every day. Throughout school I fantasied about being a ski bum, so it was only natural this decision point in my life happened 16 months after graduation. It was an interesting, eye opening, reality check on living on your own. For the most part, I survived without much stress, that is, until mid March. With only $10 left to my name and a halfpipe competition offering cash prizes for the top 3, naturally I spent that $10 on the entry fee and hoped for the best. By the end of the day I managed to get 3rd in the competition and won enough money to keep me fed (barely) until the end of the season. Hitch hiking everywhere, overstaying my welcome on all my friends couches, drinking their beer and eating the food in their fridge, I was the stereotype. Financially, things didn't fare any better for me when I made the move to Whistler the next year. Being a punk teenager I didn't get a job at the hill (or anywhere, really), sleeping illegally at staff housing, clipping tickets from tourists, sneaking on the lift, stealing cheese from the grocery store, and surviving off of basically nothing. At the time I just accepted living dirt poor as part of the lifestyle that is a ski bum. Looking back at it now, I see that it wasn't me being a ski bum that was the reason for having no money, it was the fact that I was a 19 year old with no concept of the world.
In the early days of my bumming I considered anyone who had a job of any kind in the winter not a true ski bum and looked down upon everyone who tried to claim ski bum status while doing such. That was a very ignorant, childish mentality which I now realize as false and unrealistic. One has to ask themselves: "what makes a ski bum?". Is it being broke? No. Is it being anti-conformist? Not really. The answer is simple in nature - organize your life to ski as much as possible. There are as many approaches to living the life of a ski bum as there are ways you can ski. The majority of the people that I currently surround myself with have been living the skiing lifestyle for over a decade and the poor dirt bag is the exception - not the rule. The big question, of course is how. How do you revolve your life around spending half the year skiing? The options are endless. One of the more popular approaches is summer industry work. Bush work, commercial fishing, sport fishing lodges, forest fire fighting, railway maintenance, road crew, golf course, hunting guide, rafting guide, and many, more. On top of that, the longer you live the ski bum lifestyle, more winter job opportunities open up, allowing you to work a job that allows you to ski at the same time. I have a friend who works as an engineer in the summer and a photographer at a cat ski operation in the winter. Ski patrol, working the restaurant/bar scene, and ski guides are just a few examples. (stay away from jobs like lifty, cafeteria work, ski instructor, etc - you get paid shit on average and you don't actually get to ski much). The longer you spend living the life of a skier, the more opportunities open up for higher paying jobs that still allow you the freedom to never miss a powder day. It helps to stay away from the mega resorts where living cost is always way too high, power days are a zoo, and competition for jobs is fierce. If you have a dream of going pro you'll need to live in these resorts to make a name for yourself, but if your goal is to ski and enjoy life, it is much easier and many would argue more fulfilling in the smaller towns scattered across western North America where the soul of skiing and ski bum life is still very much alive.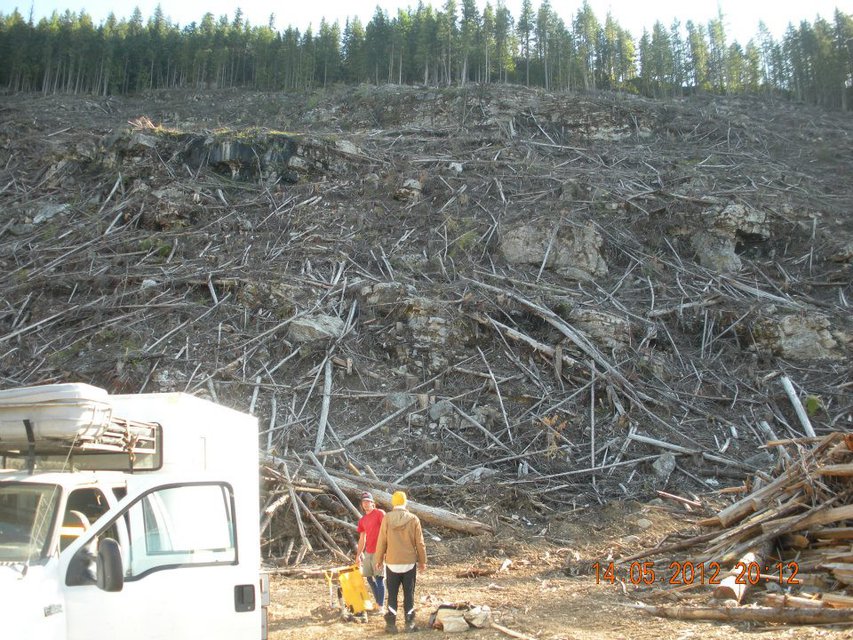 Co-workers Jesse Bartlett and Marco Sorbus below one of the tougher blocks we've come across in the Nakusp area. Dubbed the 'bluff block', it had more rock than dirt.
In the end, it makes sense though doesn't it? If you were to remain poor while chasing the dream of skiing, it wouldn't be worth it. Eating well, having a nice place to call home without having 10 room mates, owning and insuring a car with enough money to get around, plus enough left over for partying (more about the party scene later in the season). Not only will having more money allow you to have a more enjoyable life, but it will give you the freedom and opportunities to ski as much as possible and do so with top of the line gear. I'm not going to lie to you and say ski bums are able to make six digits a year, drive around in luxury cars, or buy a ski chalet in Whistler or Aspen - but if you are dedicated to skiing enough to spend more than a year or two bumming it, there are comforts involved that allow a life that is more than ramen noodles, sleeping in your friends closet and using outdated gear. We - the ski bum community - do fairly well for ourselves once we find our respective niche in the working world. Over the summer I tried to organize a series of interviews with fellow ski bums and the jobs they hold in the summer to support their skiing lifestyle. Unfortunately, trying to get a bunch of ski bums scattered across western Canada working all summer to actually do what they agree to (and with any kind of time constraint) proved impossible. In the end, only one friend actually finished the interview - not coincidently, he was the only one that required a post secondary education for his job. I myself spend most of my summer tree planting for my main income, but didn't really want to answer my own interview questions so I got my co-worker and fellow ski bum Jesse Bartlett to answer the questions. I handed him the questions in May and after much harassment he finally got them back to me last night.
Jesse Barlett: Ski Bum, Treeplanter, all around awesome guy.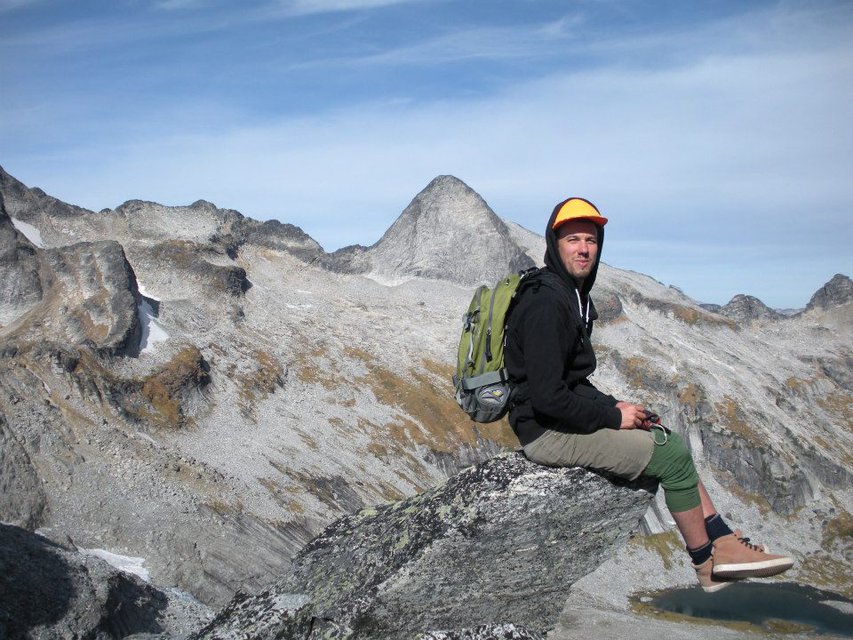 This is Jesse. We work together in the summer and he is one of my go to riding buddies in the winter. Last fall we went on a hike in the Valhalla's for a recon mission, looking for new skiing zones once the snow starts to fly.
1)How did you get into tree planting? Who do you currently work for and where are you located?
I got my first planting job from a friend who was running a crew. It was my first year in BC and I had just finished some schooling, I'd heard stories of big money and fun camp life so gave it a try. I work for a company called Greenpeaks Resource Management in Nakusp, BC.
2) What kind of experience did you need to get the job? How would one go abouts getting the job?
I had no experience, I just knew someone. I think if I had to look for a job now as a rookie I would check a site like http://www.replant.ca/. After a few years experience you can be more picky about who/where you work.
3) How long is your typical work season? Start/Finish dates? What kind of shifts do you work and what can you expect for days off?
Typically a season is late March to mid July, but there some hardcore pro planters that do spring and fall work on the coast of BC that can start as early as January and go to October. There is also some summer work for people who want to brave the heat and bugs of northern Alberta.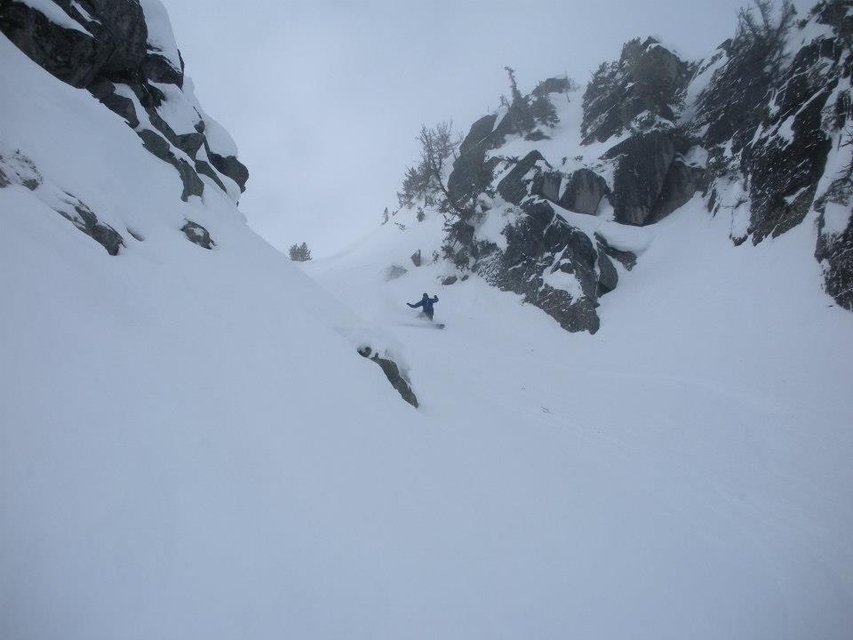 Jesse riding a small chute at Duffy Lake in the Coast Mountains north of Whistler
4) Is there a lot of travelling involved, or can/do you stay locally?
I'v seen parts of BC that I don't think I would have ever seen if I wasn't planting. In my experience the bigger the company the more moves you make in a year. I work mostly in one place now but have had years where I've criss crossed the province.
5) What kind of money can you expect to make over the season?
This is a tough question for planting because its piece work, so you get paid for every tree you put in the ground. The amount a planter makes can vary a lot between the "high baller" and "low baller" in camp and your first year there's a bit of a learning curve. For a second year planter I think 300$ a day is a good goal (average season is around 50 to 90 days).
6) Do you have a winter occupation? If so, what is it? Where is home in the winter?
I do a few odd jobs in the winter but mostly ski bumming consumes most of my time. I live in the powdery West Kootenays.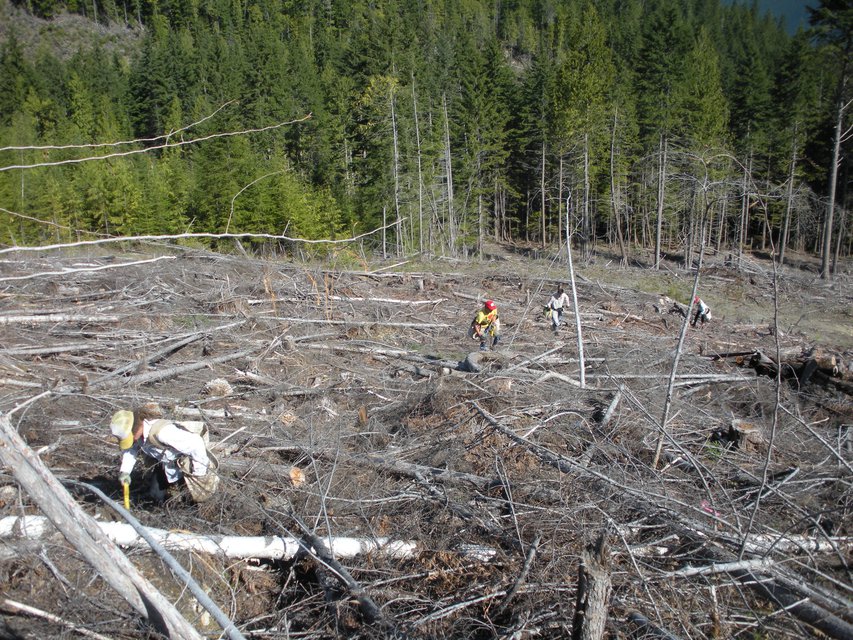 Jesse (red hat) and friends planting away near Revelstoke. If you can get over the cuts, bruises, and man eating bugs, treeplanting is a great way to make money for the ski season and stay in shape.
7) Take me through a typical day at work.
Wake up at 6am, eat breakfast, make lunch, in the truck by 7. Get to the job site around 8/9am and work all day. Back at camp for dinner at 6:30pm followed by a few
beers with the crew till bed time (typically 10pm). Planting is almost always in a bush camp environment so there's not a lot of societal distractions. Live, work, and sleep outside day in, day out.
8) What kind of people do you usually see as guests/and or co-workers? Is there a "party culture", or a more serious work ethic?
Serious work atmosphere during the day/shift and a big party culture on nights off. Lots of skiers, students, and travelers plant trees, so it's a younger, roudier crowd than
a lot of other industry work out there.
9) What is the "worst" and "best" part of your job?
Worst: bugs. If you've ever spent time in Northern Ontario you have an idea what I'm talking about. I've seen people go crazy and quit just because of the bugs alone.
Best: besides the parties? Seeing beautiful corners of the country that are normally left unseen. Isolated mountain ranges, deep wilderness - exploration of the unknown - very similar to why I love riding mountains in the winter.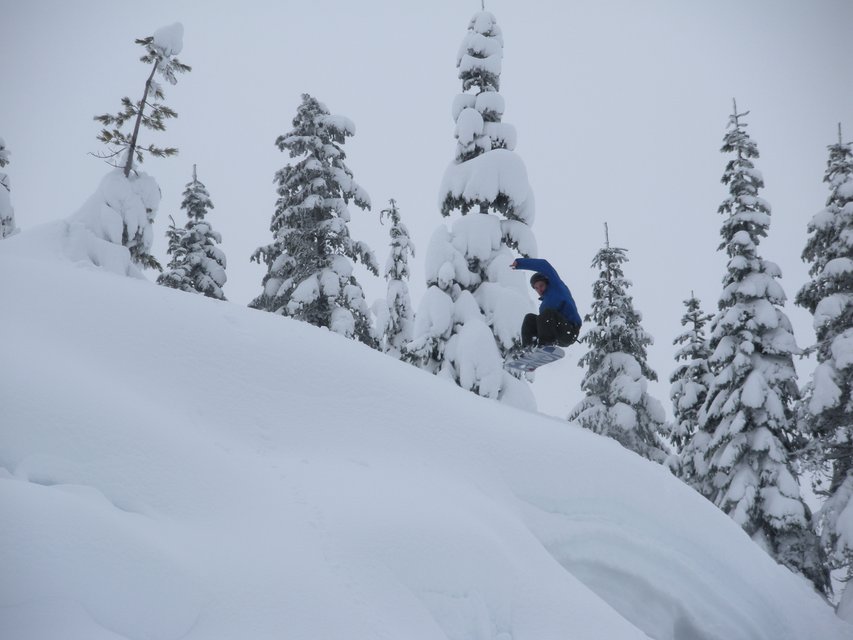 Jesse again. This time airing into a small pillow line in Vancouver Island.
10) Would you consider your job to have an element of danger? Is it tough manual labour or chill?
Danger? for the most part, no. You fall a lot, cut yourself a lot, but the odds of a serious injury are quite low in the grand scheme of things. It IS tough work though. You get used to it as the season goes on and after a few years experience it isn't as hard to get back in the swing every season, but it's piece work so you're always pushing yourself. If you're working 'easy' flat ground you're pushing to put as many trees in as possible. If you're on hard mountainous terrain, just moving from tree to tree is a challenge all on it's own.
11) Do you see your job as a sustainable "career"?
Yes and no. There is no cross over for the skills you learn tree planting. Sure, you can make enough money to keep going year after year, but there is no retirement at the end of the tunnel. There are people who have been planting for over 20 years and are still out there doing it in their 40's, but if you don't move to a management position, odds are you'll fade out and be left with nothing. Also, with all seasonal labour jobs, if you have a serious injury at the end of the ski season you are screwed and might be left without a job or source of income come work season.
12) Any advice for someone interested in this kind of work?
Be prepared to be mentally and physically challenged. If you don't mind being out in the elements, working hard, and get a feeling of satisfaction from being totally beat at the end of a work day, this job could be for you. Stay away from any companies that make you sign a 'discretionary bonus' contract, stay away from companies that don't tell you prices in the hiring process, and always keep your ears open for better contracts and companies. It compliments a ski bum lifestyle in an awesome way.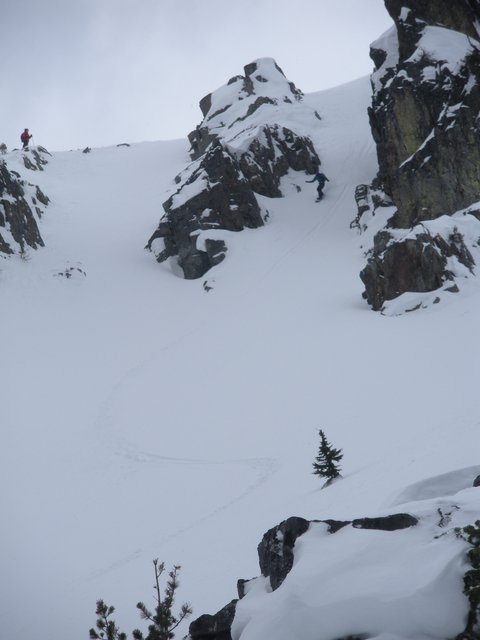 Jesse following my tracks down a small chute at Duffy Lake.
That concludes this instalment of the series. If you are seriously considering a stint at ski bum life, just know that there is more than being a low life dirt bag ahead. Your first, and maybe even second, year might be hurting, but as long as your concious of what is going on in the world around you and are willing to work hard, take advantage of what is presented, and have an open mind, a happy, fulfilling life is waiting for you.