Words by Ethan StonePhotos courtesy Shahn Hughes/Ally The offices of Ally Distribution are located inauspiciously in a quiet, unpretentious neighborhood in Portland, Oregon. An auto shop lies across the street and the local grocery store is around the corner, and by outward appearance alone, Ally might as well be a garage or a sleepy dentist's office. But it's not - it's the heart of an international distribution network for action sports videos.Having followed a telltale path of stickered cars to Ally's front door, I make my way inside. The office staff is chilling - it's a Friday afternoon and everyone's ready for the weekend. The offices are stickered and postered to excess, seemingly every corner hosts a TV and at least one recliner, and the garage serves as a makeshift theatre, although it's currently the temporary production center for the endlessly creative project called ir77, a snowboard DVD that comes with a book (or a snowboard book that comes with a DVD, depending on how you look at it). Lukas Huffman and friends have been hard at work here all summer hand-assembling each ir77 package.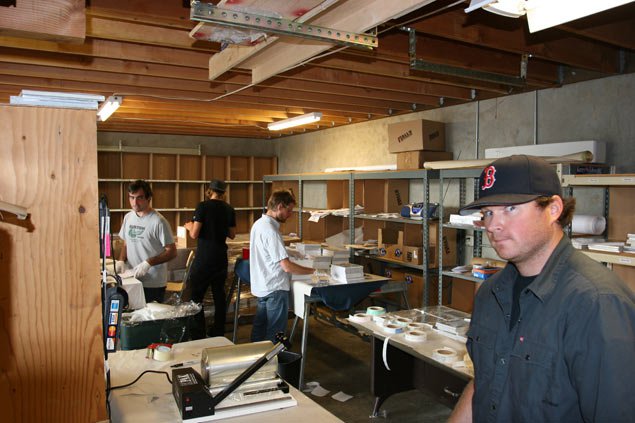 Hand-producing ir77. After working for a Fox Sports Net TV show called "Extreme 16," Matt Hellums started Ally with a friend in 2001. At "Extreme 16," Matt had helped re-edit action sports movies into half-hour TV spots, and the small filmmakers he worked with were constantly disappointed with their distribution. "They didn't feel like they trusted them," Matt says.So in the garage of his house in Clackamas, Oregon he founded Ally, a company built around supporting the small filmmakers who keep us stoked for the winter and other people stoked for summer. "The vision I had for a distribution company is kind of like a co-op," Matt says. "We all make DVDs, we all buy ads to advertise our movies-we all do a lot of the same things. If as a group we could come together as a group and get better pricing on all these services, it'd be fantastic."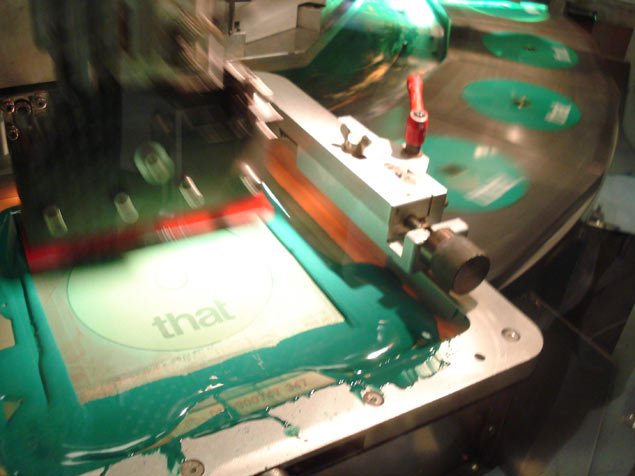 This photo is from a DVD reproduction facility Ally works with in California, and that is That. I thought that distribution companies only "distribute" movies – hawk them to shops, slash 'em online and whatnot. But they also often help film companies reproduce their DVDs or coordinate advertising.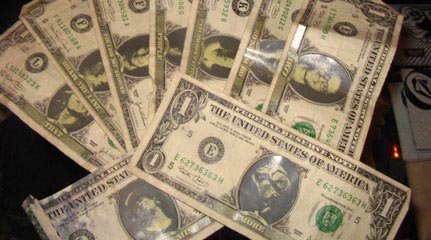 For the ASR show in San Diego last spring (like skiing's SIA in Vegas, but for surf and skate companies) Ally made these stickers promoting the films they distribute. Then they got a fat stack of one-dollar bills from the bank, applied the stickers, and handed them out at the show.The crew at Ally are all chill, and everyone has a background in one sport or another. "If we're going to hire someone, we're going to hire someone who we know and who've been around," Matt says. Ally's ski guy, Shahn Hughes, is a Mt. Hood local who filmed and skied with Sammy Carlson and Eric Pollard before they were ski-town household names under the moniker White Salmon Productions. If you ever come across one of these movies watch it, it's a classic.Ally's approach has helped the company dominate the snowboard film market for years, and after only two years in skiing they've amassed a sizable part of the ski market -Teton Gravity Research, Matchstick, Poor Boyz and Level 1 Productions are all Ally patrons. Long story short, whether you're a shop selling DVDs, a film company making them, or a skier buying them, Ally Distribution is on your side.