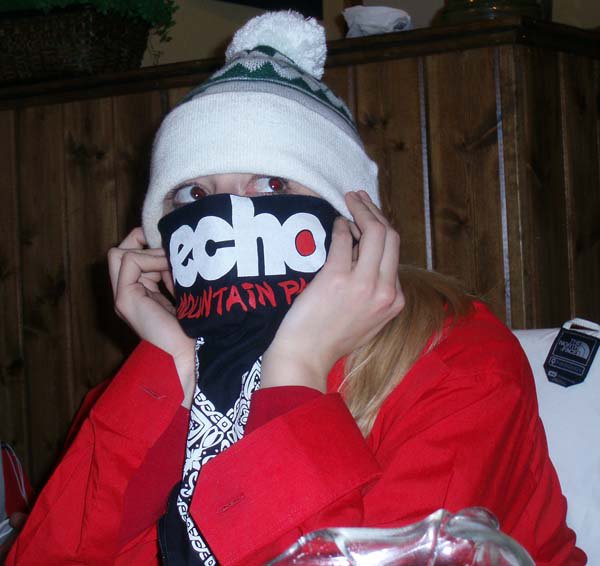 Words & photos: Julie Weinberger Thirty-plus skiers going at it for three spots in the upcoming U.S. Open followed by a gathering of Newschoolers.com members at Colorado's Echo Mountain Park: sounds like quite the weekend. And, it certainly did not disappoint. On Saturday, skiers took to Echo's slopestyle course to throw down for three spots in the U.S. Open. Since the Open filled up so quickly, leaving lots of kids without a chance to get in, Copper Mountain, Echo and Newschoolers teamed up to give a few riders a second opportunity. "It's great that an online community can provide such an opportunity for skiers," said Alex Albers. "We all thank you very much." While surrounding areas were feeling single digit temperatures, Echo was above that weather. Skiers were greeted with sunny skies and temps in the 20s. That was nice since the event saw skiers from as far away as Japan.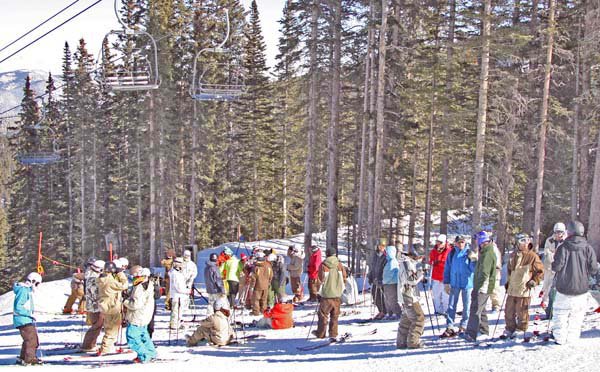 The competitors gather for Saturday's slopestyle.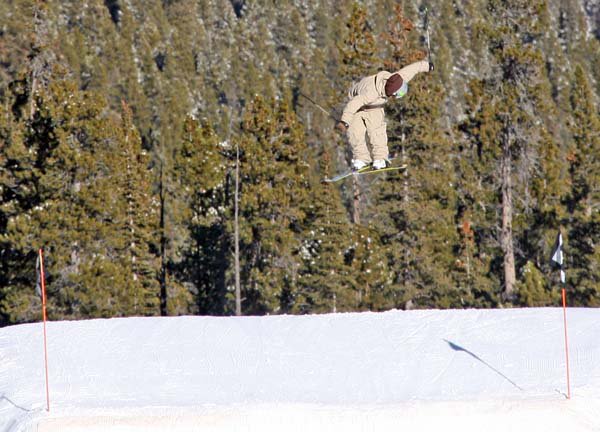 Lots of riders threw shifties in their tricks.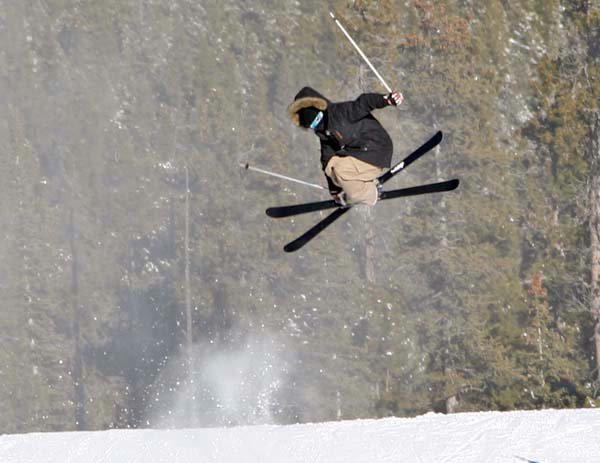 Sam Sam TarolliThe course consisted of three jumps and two rails. After the first two jumps and first rail—a long flat-up-flat—skiers got the option to hit another jump or to hit a flat rail. The course was set up nicely, with a good amount of room between features. If a rider washed out on something, he or she could still hit the following feature. "The course was a little fast a first," said Alex. "Getting used to it throughout the day was the name of the game. Once you figured out the speed, it was good." Witt Foster had control of the megaphone, making sure no competitor walked away without some sly remarks. Skiers jammed the course for two hours as judges Nevill Wilder, Josh Bryant and Doug Bishop intently looked on.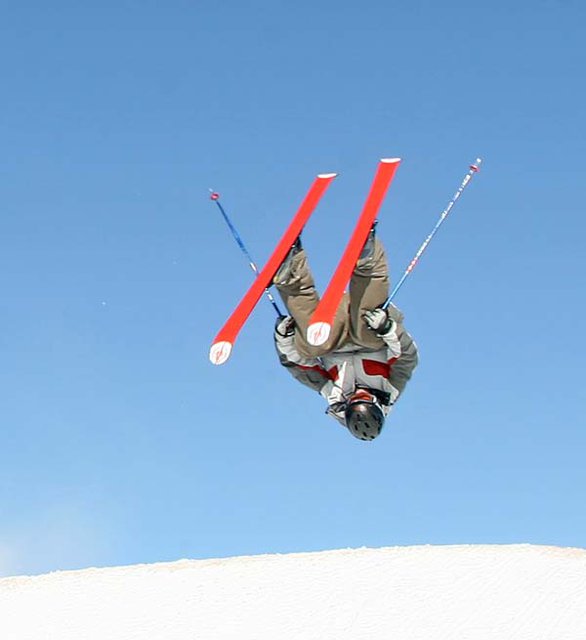 Front flips were not in short supply.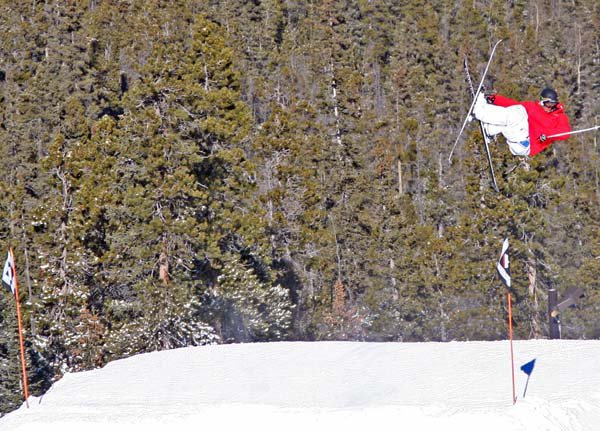 Pat Goodnough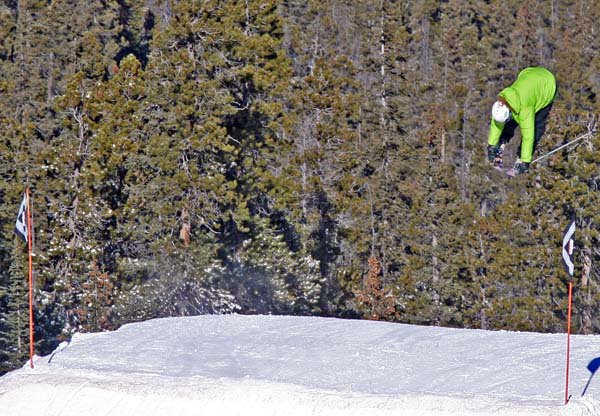 Alex Albers"We made our decisions based on who was throwing down the most overall," said Doug. "It was pretty clear since we had so many runs to watch. We had a good idea of who was going to move on." From there, the judges picked the top ten riders to go to finals. They gave the riders the choice for the format. Everyone was getting tired from the long jam session so they opted for a two-run final. The finalists were Drew Cziok, Sam Tarolli, Pat Goodnough, Max Hill, Tadashi Akutsu, Kentaro Tsuda, Jeff Kiesel, Alex Albers, Andrew McIver and Tony Gallina. Sam and Max tied for first place. The judges deliberated, unable to come up with a clear winner. Max had put down a run of 540 blunt - switch cork 7 truck - 270 gap onto the top of the f-u-f and cork 9 truck to finish. Sam busted switch right 7 - switch left 7 - 270 off f-u-f and carve cork 5 on the final table. The judging committee was split down the middle, and eventually just decided to award a tie. Sam and Max also got hooked up by Jibij who supplied a pair of 2007 Fujatives and a Siver Cartel suit. Drew locked it down in second place after the tie, securing the third spot into the Open.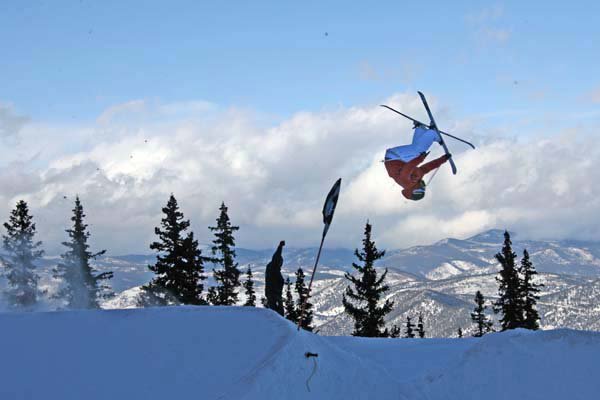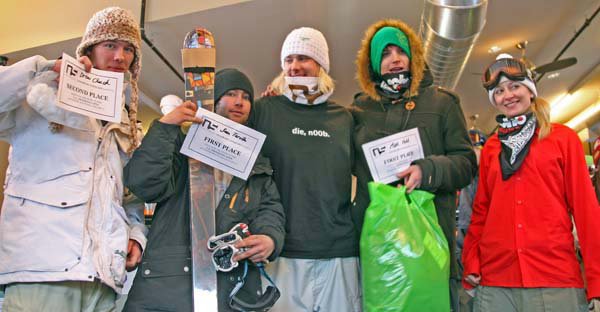 Yay, U.S. Open spots: Drew Cziok, Sam Tarolli, Doug, Max Hill and Charlotte Rayner-Brown While the top 10 separated themselves out from the pack, the quality of skiing impressed everyone. "The overall talent pool was pretty fuckin' good," said Doug. The jam format, with overall impression used to judge, allowed skiers to show their whole bag of tricks. Something like this could have easily been a 900 fest. Instead, all the riders mixed it up well with everything ranging from front flips to switch rodeos, all with a variety of grabs. Only one person threw a 10. Andrew's 360 transfer over the two top jumps definitely pleased onlookers. A couple of kids turned the clocks back and threw screamin' seamens, too. After that, a bunch of the riders, Doug, Echo's Charlotte Rayner-Brown and myself headed into Evergreen for a wonderful pizza dinner at Beau Jo's. Talk of the event encompassed much of the dinner conversation. The best comment of the evening came from someone who won a spot in the Open, but then decided to give it to another rider because he didn't want to compete: "I don't want to go against TJ," he said. "He pencils out his spins just to get 14 anyways pshhhh..."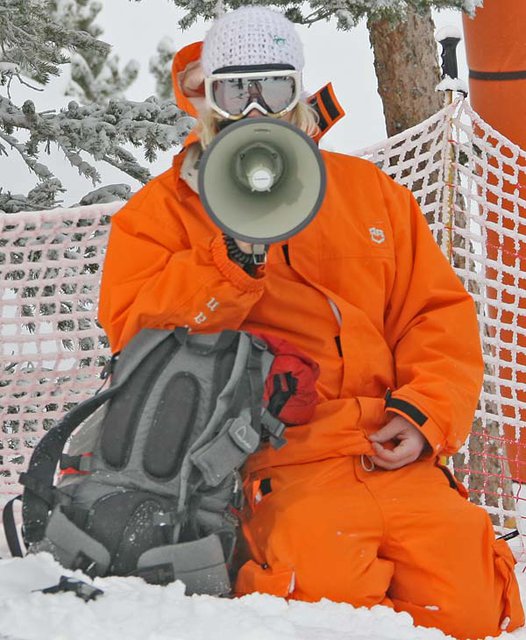 The next day—amidst a little fogginess from the evening—we made our way back up to Echo for a hostile takeover of the mountain. Sunny and 20-degrees again? No way. We were greeted with a whopping 2-degrees and snow. Luckily, by the afternoon, it warmed to about 10. Doug had a grand in $20 bills and a megaphone (and apparently had started ruining himself at 10am). Until around 2:30pm, the 30-plus NSers who showed up jammed on different features in hopes of winning some cash. From a Chinese downhill, to a shifty competition, to a butter contest to boot skiing, everyone certainly got his or her chance to win some dough. One kid even lay face down in the snow for 30 seconds in his boxers for 80 bucks. Doug stuck the megaphone in his face and counted every last second whilst kicking snow on his poor naked body.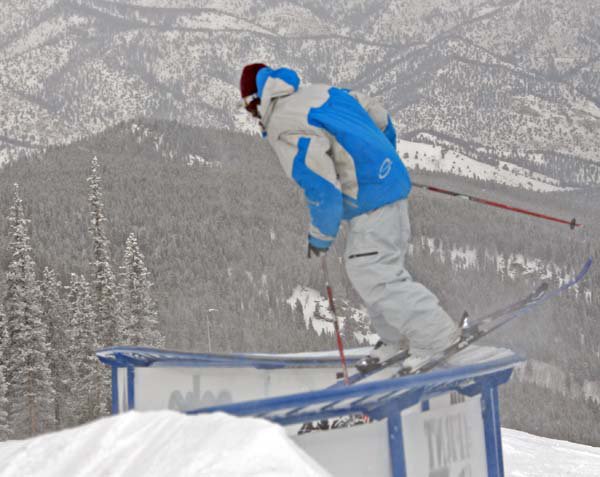 Andrew Still-Baxter came closest to switching-up this crazy box. But as the motto of the day was "Close only counts in horseshoes and handgrenades."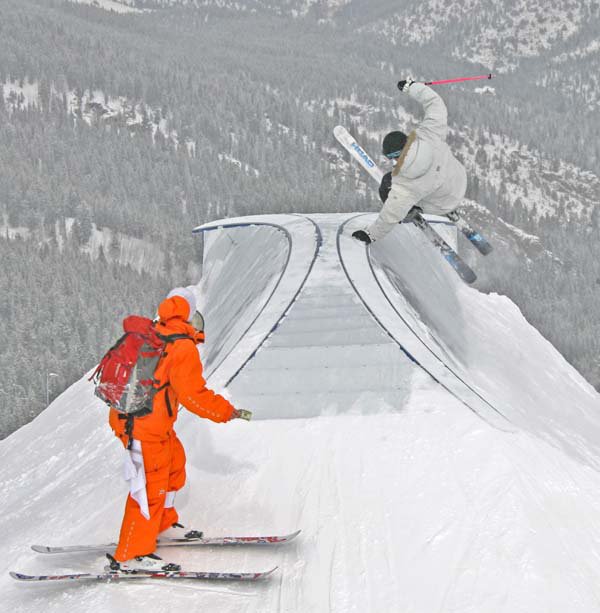 Andrew McIver wins the hand plant competition.

This was supposed to be a switch-up contest. No one got it. After a quick warm-up in the Echo's lodge, everyone pretty much decided to call it a day. Shortly thereafter, it became a hostile takeover of a bar in downtown Evergreen. That lasted until 8:30 p.m. when the crew was kicked out of the bar. Big ups to Copper and Echo for allowing Newschoolers to put on such an event and to the several injured kids who showed up anyway to share in the fun.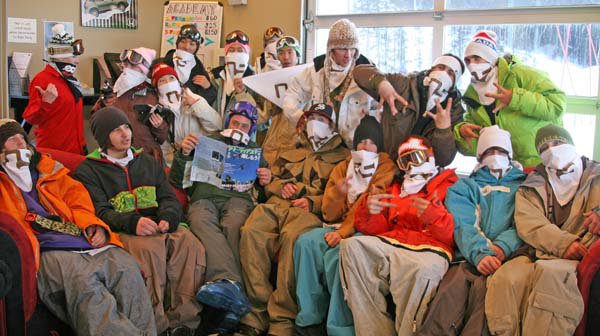 Yup, those are NS bandanas. Dope!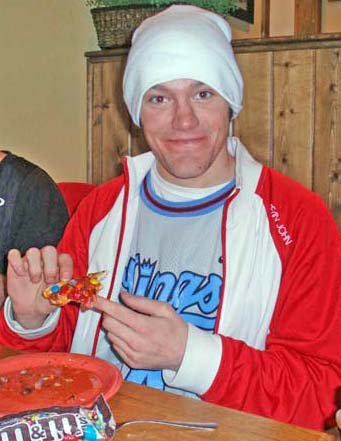 Pat Goodnough likes M & Ms on his pizza.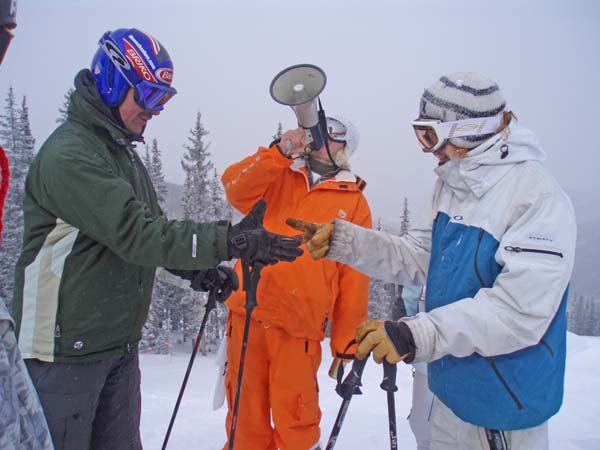 Stop the shifty contest. We need to play rock, paper, scissors.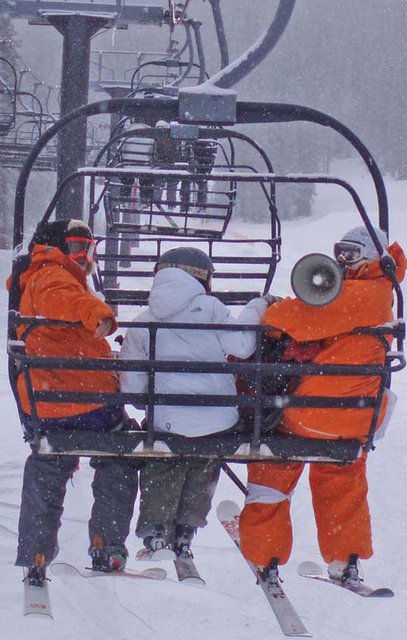 More megaphone madness.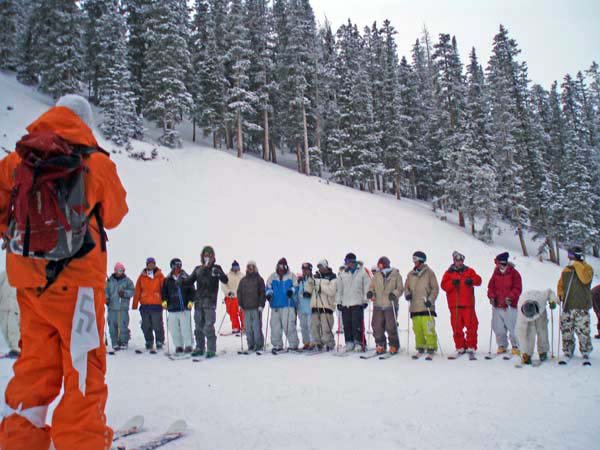 Line-up for the Chinese downhill.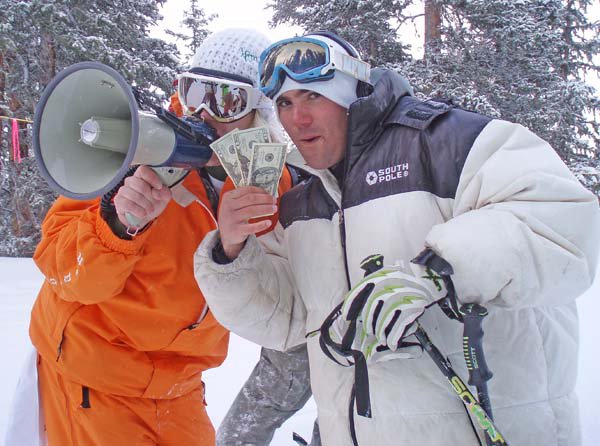 Brent Stickler and his $60 after winning the butter contest.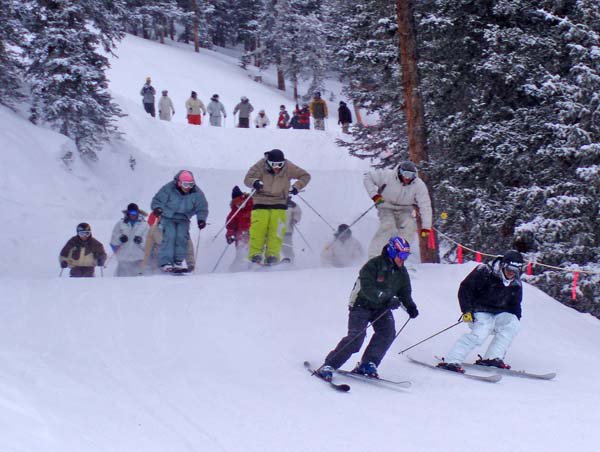 Chinese downhill!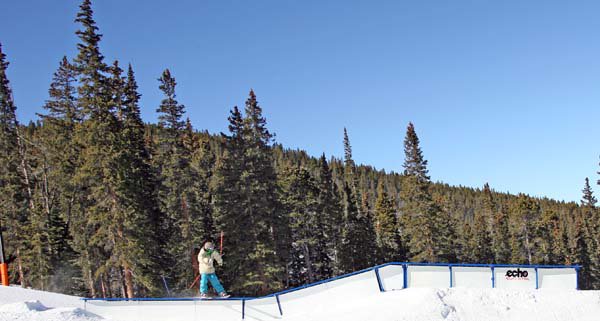 Flat-up-flat from Saturday's slopestyle.