So first things first, this review is based off an assignment that I was assigned in my college writing course, i was told to do an article or review on something that I am "passionate" about and after lots of discussion from my professor, I decided that I would do a review of the local ski resort: Brain Head. I had an interesting time interviewing people, skiing at the resort, and writing this review and I have narrowed down my entire thing down to as little as possible for NEWSCHOOLERS in the hope that someone may read it and understand my point of view and opinion of this small resort located in the southern part of Utah.
Skier ability of the reviewer: I grew up skiing at Snowbird and Alta throughout my entire life, I am by no means the best skier on the mountain, but I have given a lot of my life to this sport/lifestyle. I couldn't throw anything over maybe a 9 but I do enjoy skiing as much like Karl Fostvedt as possible: incredibly fast and pretty technical. I love to throw 3's and 5's all around the mountain with as many uncrossed tail grabs as possible but I am not one to go and throw down on rails or throw double backflips. I'm just a guy out there to impress his fiance and have a really good time. I do think that my youth at snowbird has tainted my ideas of how ski resorts should be as I am prone to set snowbird to the standard, so in this review, there will be many cases of connecting similarities and differences between Brian Head and many different resorts.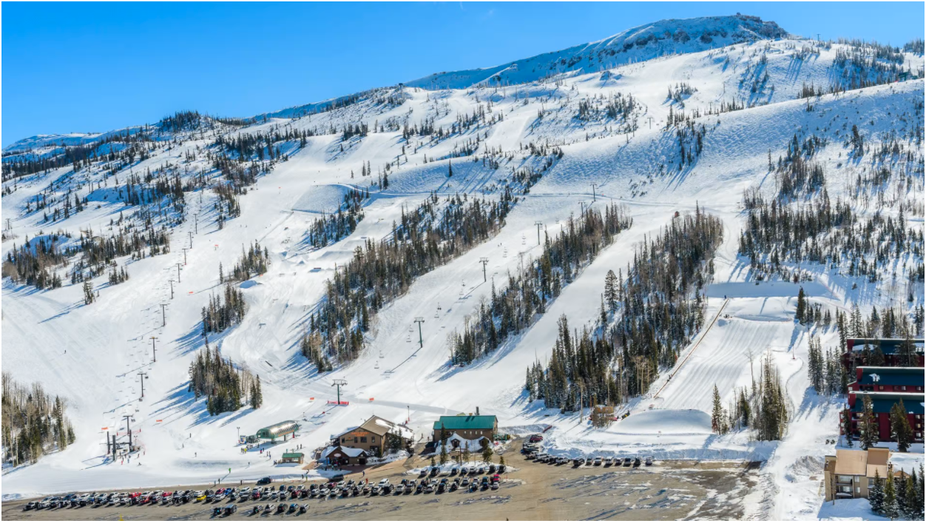 https://www.powder.com/stories/a-small-ski-area-reminded-me-that-skiers-dont-need-much/
TERRAIN
Brian Head sits high in the southern Utah mountains, boasting the highest base elevation of 9600 feet with the summit elevation of 10,970. The elevation definitely has its effect on the resort. The resort is more wide open and has few trees around the runs. In short, tree skiing does not exist here, and the only trails in the trees that you will find will be the trails made for the summer mountain biking that exists. The resort is not by any means a "hard" resort. This resort is extremely beginner friendly with very few runs that scare/intimidate people. Upon skiing here for the past 2 or 3 years, there does not exist a run that is very challenging or technical. There are little to no runs that require you to turn or pace down at all. That being said, there are some areas to test yourself with your speed over large areas with no surrounding trees. The resort lacks many natural features (such as cliffs, natural jumps, natural pipes, etc.) that other resorts have. You can occasionally come across a side-hit here and there, but they are quite rare. For someone looking to "go big", this does not seem like the place to do so. The resort itself is split up into two sides, essentially it seems to be a beginner side and a "more advanced" side. While I would feel comfortable taking new skiers to the advanced side as most of the lifts do not contain much, if any, steep terrain that would not be beneficial to them. The resort consists of only 650 acres of skiable terrain, (many of which are not accessible until the later month of February) and 8 lifts, none consisting of a high speed quad.
Brian Head is fairly unique in the fact that it is surrounded by the beautiful red rocks of southern Utah, the sight-lines of the resort are amazing and it is cool being able to look down towards Bryce Canyon as you ski. However, many people are not going to Brian Head just to look at some red rocks. They are coming to ski and snowboard.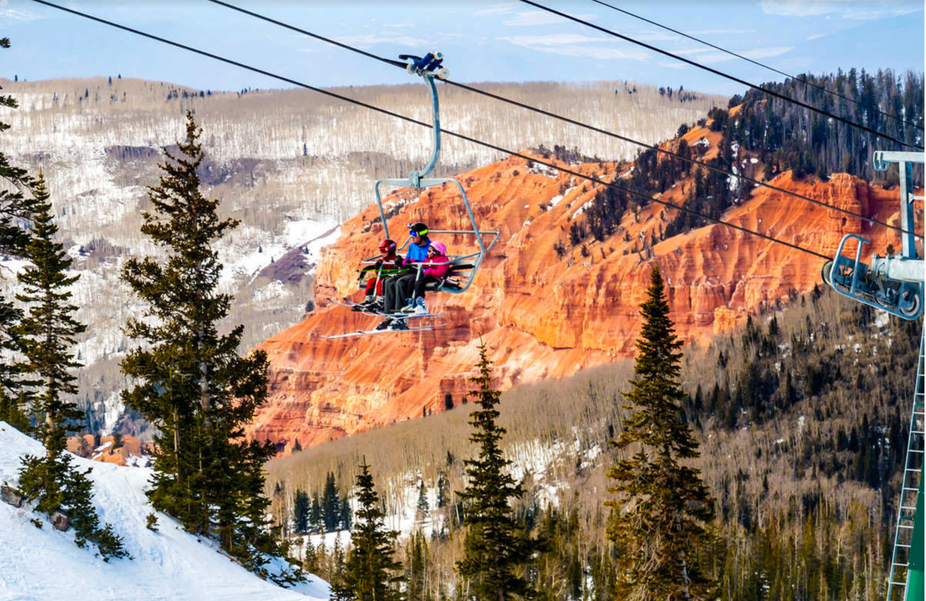 https://utah.com/ski/brian-head-ski-resort
The terrain of Brian Head could be likened to that of Gadzoom at Snowbird, minus any of the harder (double black diamond) runs that exist on it. It is a fairly easy way down and the runs last around 5 minutes long on the main/large lift. (Gadzoom at the bird contain a lot longer run for sure, the top to bottom run at Brian Head is about the size of the start of big emma -> all the way down…if that)
While the terrain is definitely not for those seeking a thrill, it seems like a good place to take beginners for them to learn the basics before taking them to a bigger/more challenging mountain.
TERRAIN PARK
I decided that this section needed one of its own, as I have many opinions about the terrain park and the crew that operates it, but I will try my best to be as objective as possible. The terrain park in years past has been great. Big, fun kickers with a large variety of boxes, tubes, and an oh so famous 50 ft long milly tube. It was a great place to begin your park "journey" or keep learning and evolving your bag of tricks. But like the classic saying goes, "all good things must come to an end." The terrain park today is a ghost of its former self. No jumps are to be found and the same 9 or 10 rails are used year to year. The length of the terrain park was also shortened, making it only possible to hit the rails further down if you keep your speed up on the very flat run where the park sits. It makes it difficult to hike rails that sit in the middle or end of the park due to the fact that there are no hills in order to gain speed for said rails.
The crew that operates the park have also dipped exponentially, with lips being groomed maybe once a day and having features in the same place for months on end. (I believe last year there were only 3/4 changes made to the park, other than that the features sat in their place the whole season) This makes the terrain park feel very repetitive as these lips get worse and worse as the week/day goes on and the workers who are in charge of managing it are nowhere to be found. For this review, I interviewed one of the better workers and asked for his opinion on how the terrain park was being handled. He told me that the manager of the park did not care much and was not willing to push snow with the cat because it needed to be done either in the early morning or late at night. This worker was basically fed up with how it was being run and he noted that this was his last season before he was going to attempt to join the diggers up at Brighton.
It is sad that many used to come to Brian Head due to the fact that their park was very good for a small resort, now it has been abandoned and if you are wishing for a better park experience, I would advise you to travel 30 minutes to the north and go to Eagle Point.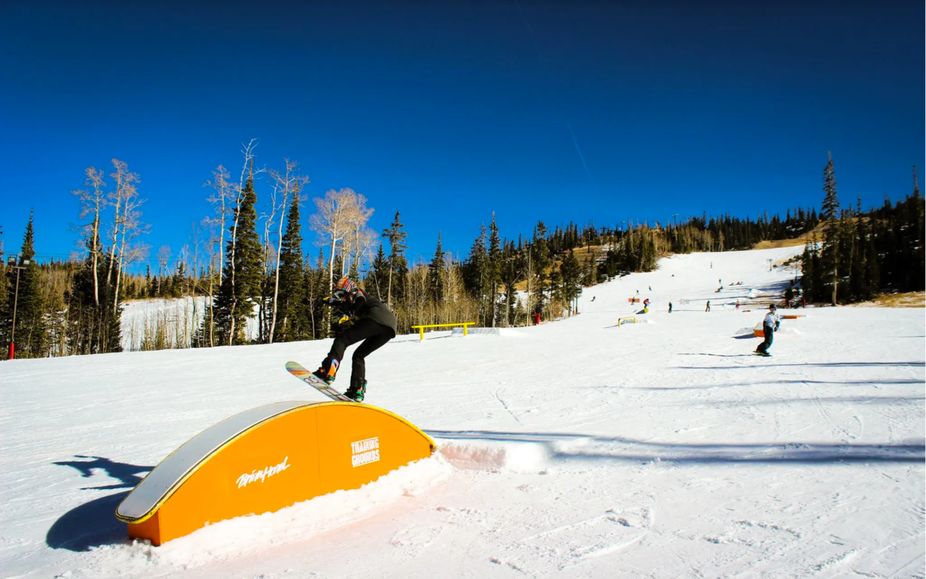 ​​https://unofficialnetworks.com/2017/12/14/brian-head-is-open-for-7-days-a-week-starting-tomorrow-heres-everything-you-need-to-know/
SNOW
Brian Head boasts that it, like many other Utah resorts, contains the "greatest snow on earth." Although Brian Head claims this, in my 2 or 3 years skiing here, I have yet to have a day with snow over 12 inches. The social media of the resort often increase the numbers of the snow they receive to promote the resort. For example, last year the resort claimed to have had around 23 inches of fresh snow, after my first run, I concluded that the snow received was maybe 10 or 11 inches (which is still great! Just not 23). This created a lot of distrust between the way their numbers are reported to many skiers. I have heard many complaints from people who have paid for days that they were expecting 10+ inches of snow to only show up to around 4 or 5 inches.
The snow is soft, and when it does snow it can be a lot of fun. But due to the terrain and the altitude of the resort, this snow is sometimes unskiable. Because of how flat the mountain is, it is very hard to keep up speed in order to float on the powder and feel the best part of the light Utah snow. But that snow is also another problem for the resort, the altitude makes it very windy…ALL THE TIME. Essentially, the majority of the snow gets blown into backcountry areas or into the parking lot. This can also be frustrating because upon suspecting a great snow day, you receive icy and windy conditions.
If you pick your day correctly, the snow can be great up at Brian Head, but if you are looking to come to Utah to ski the "greatest snow on earth", then I would advise you to drive 4 hours north and ski the mountains that are famous for that.
VIBE/FEEL
I know that this part of the review is a little bit more subjective but hear me out, this resort does not feel like a normal ski resort. Allow me to explain, the mountain has this vibe that almost seems as if it is a competition. Normally at a resort, the majority of the people are looking inward and having a good time. At Brian Head, I feel as if people care more about how others perceive them vs. how they perceive themselves. The terrain parks at other resorts are full of skiers and boarders who are pushing each other to try the new trick or assisting those who are learning. The terrain park at this mountain feels as if they are being judged by professionals and if you make any mistakes then you are losing your ski pass. There is very little camaraderie, a ski crew will stick to themselves and not combine with new crews or ski with others. I know this has nothing to do with the resort, but it has to be said, it is one of the worst things that I have noticed from this resort.
COST AND ACCESSIBILITY
Cost: it's expensive, just like all other ski resorts seem to be.
Resort sits far from any large airport and is around a 3 hour drive from Las Vegas. It is around 3 hours south of SLC. The main issue with the accessibility of the resort is the canyon in which you have to drive up to get to the resort. With a little bit of snow, the road turns into an ice skating rink (even with my 4x4 vehicle) and due to the fact that the resort sits in between 2 small towns, the service that is used to plow the roads does a very poor job. If you are planning on visiting this resort during a snowy period of time, be careful and I have seen countless accidents and people sliding off the road.
CONCLUSION
This resort is not up there with the best resorts in Utah, while this resort is more suited for beginners, for the more advanced, it is a very little challenge and seems as if the resort has the "just go at least once" factor. While I will consider skiing there, I would rather be in the cottonwood canyons enjoying some of the best resorts in Utah and the United States.
I apologize if this review seems jumpy or blocky in any way, it was quite long and frankly I didn't want to make people read all of it. I stand by my opinions shared in this article and hope that I did not come off as anyone entitled or anything. My professor enjoyed it so that counts for something right?
- TreyDudski