Just before the new year, Phunkshun wear athlete Cody Cirillo released his film project from last season titled Southwest Scramble, Presented by Picture. From the description of the film, "The ensuing journey takes him from Telluride, CO to the mountains near Moab, Utah. Through hundreds of miles of road, gale-force winds, and excruciating climbs, a journey westward isn't as easy as it once seemed." I had a chance to fire off a few questions to Cody about his project, here's what he had to say.
https://www.newschoolers.com/videos/watch/1029345/Southwest-Scramble---A-Bike-to-Ski-Journey---FULL-MOVIE
1. What's the hardest part about putting a project like this together? I'm sure you had your fair share of speedbumps along the way.
• Oh man, where to start. I originally planned on doing a Colorado focused project all winter. With difficult avalanche conditions most of the year, low snow, and a myriad other issues, that project started to feel like I wouldn't be able to do it the way I had envisioned.
I had the idea to do the bike trip during a long drive. I was over trying to force the original project, so I figured I'd do something completely different, with skiing becoming almost secondary. With conditions fleeting in the Southwest though, we had to move fast for it to work. From idea to the departure day, it was just over a week.
I'm a recreational mountain biker in the summer, but had never really been on a road bike. Come to think of it, my longest ride had probably been less than 30 miles. But I was ignorantly optimistic about it all haha.
I had to find a bike, plan the route, and get all my equipment together super quick. Luckily with the help of filmer/friend Colton Farrow, we were able to get the pieces together. We borrowed a gravel bike, had a rear tire rack from Walmart that swayed all over the place, and used about 20+ voile straps to tie gear on. Not the "months of planning" sponsored set-up, but it worked.
Back to the question more generally though, the hardest part is always just starting. It can always seem so daunting at first, but once you take the leap and decide to go for it, you'll figure it out.
2. Was there anything left out of the final cut you were sad to have to omit?
• My Go Pro got stolen while on the trip, which was a real bummer (keep an eye out for a dark minivan with a red kayak on top). So I lost all of the biking footage. The main highway near Moab was the most gripped I've ever been - no shoulder, with semis passing by at 70mph. So it's unfortunate to not have any of those moments in the story, but c'est la vie.
Regardless, if this trip was filmed or not, it was truly groundbreaking for myself and it really helped me overcome some of the anxieties I'd been feeling throughout the entire season. You can get quite introspective when you spend hundreds of miles by yourself just pedaling.
I'm very grateful for my friends and sponsors who helped get this little project together. Thank you endlessly to them.
3. If you could team up with any crew or individual for your next project, who would it be.
• I've been stoked on what CK9 has been up to the last few years. Sammy's projects, Kuch's, etc. have just been done so well. And some incredible skiing in them no doubt too. But on the other hand, I've been starting to become more interested in expedition-style projects, where the story unfolds as the adventure does.
Maybe not always the best skiing, but made with intention, not just ski porn.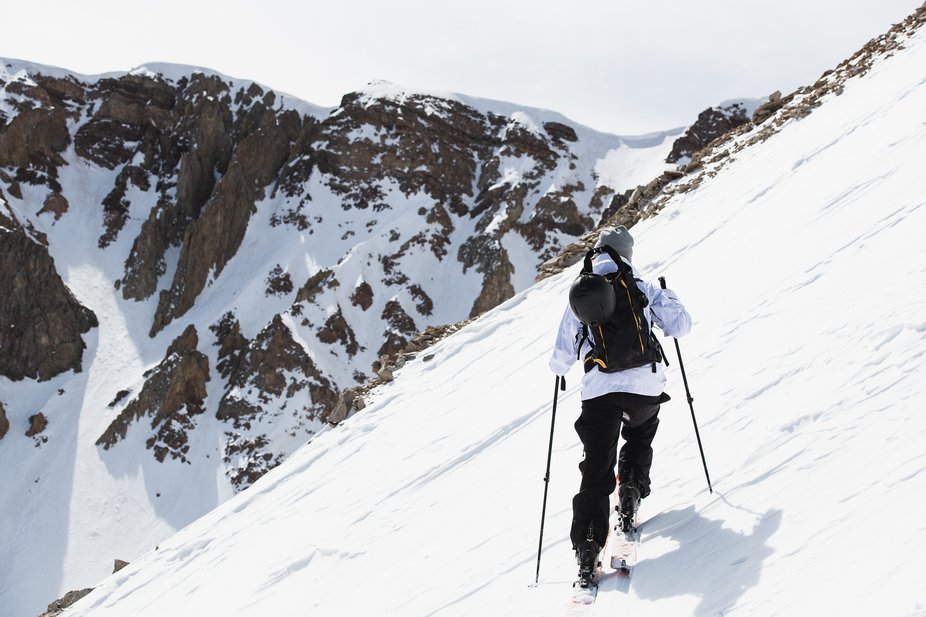 4. You mentioned to me earlier that you were starting film work on a new project, is there anything you can tell us about that?
• I am! Hoping to make a small series this winter, following some adventures in different places. I'm up in Canada right now, and will be shooting for the next couple weeks. Just some foot-powered skiing, good friends, and flowing creative juices. Hanging up the bike for a little bit. Haha.
---
I want to take the time to thank Cody so much for chatting with me, and the rest of the guys @PhunkshunWear for putting the bug in my ear regarding this project. I can't wait to see and hear more about this new project. If you want to keep up with Cody, he's been posting a ton to his Instagram (@codycir) story from Canada, and it's pretty awesome stuff.