It's time for our first installment of the season of Choices presented by evo, a member-inclusive series comprised of gear reviews by the Newschoolers community and staff.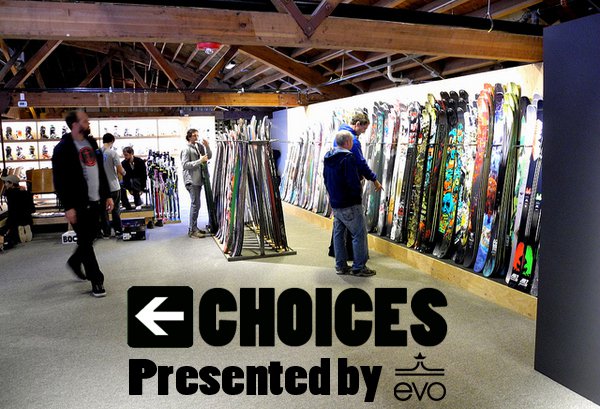 In case you didn't know, writing reviews on your gear and posting them right here on Newschoolers increases your Karma rating, which will greatly help your chances of becoming Member of the Month and winning a monthly prize from evo. So like everyone did below, be sure to get on it and tell the rest of the biggest and best online community in skiing how your gear is holding up this winter!

Armada AR7, reviewed by TheyCallMeJR
Rating: 10 out of 10
Overall, I absolutely love the AR7s and recommend it for anyone who wants to go park and rip the groomers. They're very buttery and playful, but they still rip down the groomers. Little tough to deal with in powder, but that's because they are not meant for that. They are actually really stiff too. This may be a product of me only having been out on them for a few days, but they seem really stiff. Durability-wise, they seem to be holding up real well. Scratches do tend to be more noticeable on the black part of the ski, but that doesn't affect anything. The edges are kind of shredding, but that is because of how I get snow off my skis and nothing else. All in all, these are the best skis I've ever owned!
Buy the Armada AR7 at evo.com or shop for all Armada gear.

Line Traveling Circus, reviewed by Nieds
Rating: 9 out of 10
I'm really impressed with the quality of this ski. I love riding it and it looks really good on the mountain. I've only used these skis for a few weeks so far but so far it's holding up extremely well. I've been riding them pretty hard and I haven't even noticed a chip or a scratch. The sidewalls are really durable and the bases are nice and thick. The edges are holding really well also. It's a really durable ski. They are a bit heavy but not too heavy. It's super sick on rails but it also is really good for jumps. I love how buttery and playful this ski is. You can really notice the butter zones when you're hitting rails or just fooling around on the mountain. It's a symmetrical ski and it feels really good to ski on. I would recommend this ski to anyone looking for a good ski that's fun to ski on, and I would definitely purchase them again.
Buy the Line Traveling Circus at evo.com or shop for all Line gear.

Atomic Blog, reviewed by cydwhit
Rating: 9 out of 10
The Blog is a great one ski quiver for my area, the Northwest. These skis are preforming admirably, so far I have skied groomers, ice, 21 in of fresh, and a lot of chopped up crud. they carve well on groomers although obviously they slip on ice like any other ski. In the deep stuff they float well and are fun to surf around. In the park they preform well on jumps, I have not done any grinding on them. In crud you can either plow through or bounce around more playfully. I prefer the second method and although these skis can charge they are much more fun to bounce around and air off of every available bump. Flex is soft and predictable, soft tips and tails make for easy presses and a playful feel, however the ski never feels noodly or too soft. It has plenty of pop and is very forgiving. Because these are a sidewall ski durability does suffer some, the edges of the topsheet do chip pretty easily, however these are all cosmetic issues. The bases do seem a bit soft and prone to scratching, however that could just be my poor line choice. Overall, if you want a ski that can play in the powder, drop cliffs with ease, slay the crud, and still shred the groomers you might want to give the Blogs a look.
Buy the Atomic Blog at evo.com or shop for all Atomic gear.

Nordica El Paco, reviewed by zac_v
Rating: 10 out of 10
The Nordica El Paco is my favorite park/all mountain ski of all time. The design is dope, and the ski feels awesome and is super poppy. It's got terrific flex patterns, and butters nicely, but is still stiff enough to hit big jumps. Durability-wise, it's still holding up perfectly, and I got mine for $500 brand new, which was a total steal. It's the best ski I've had so far.
Shop for Nordica gear at evo.com.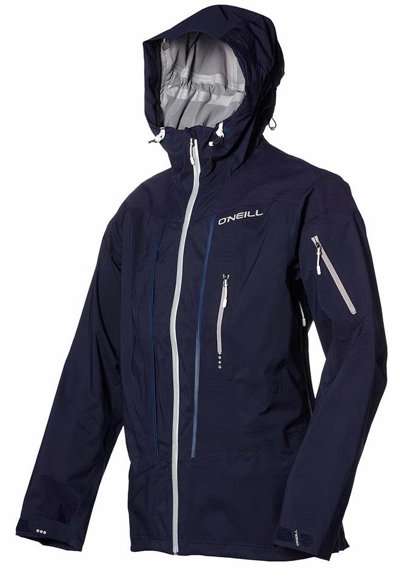 O'Neill Jones 3L Shell, reviewed by anto
Rating: 8 out of 10
I love this jacket! It's of course not going to keep you cozy on those -30ºC days, but it's going to keep you warm and dry through all the normal weather and survive to do it another day. It's also surprisingly water and wind resistant, as it kept out the melting snow and high winds with ease. There are quite a few useful design elements; starting with two large front pockets on either side of the main zipper which can easily hold a pair or two of goggles each. No hip pockets to clutter up your waist and the side vents are large enough, and double-zippered, to allow you access to your hoodie pockets underneath without unzipping more than a few inches. There are also inside pockets and one on the arm. The snow skirt attaches to the matching pants for a perfect continuous seal. Overall, it's definitely one of the better jackets I've ever seen and I'm super stoked to use it.
Shop for O'Neill gear at evo.com.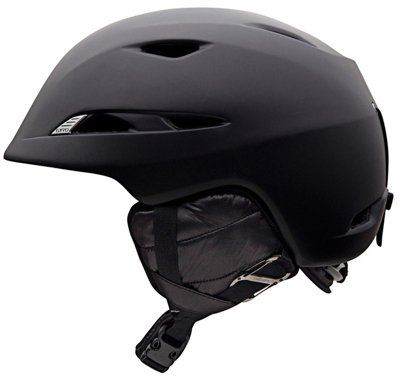 Giro Montane, reviewed by tylerw1211
Rating: 10 out of 10
Overall this helmet is great. It's very comfortable, light and durable. I like the look and feel of the product. It isn't very bulky like other helmets, and it fits very comfortably. The stack vent is a nice feature, and the helmet is very aerodynamic so high speeds aren't a problem. Fit-wise, it fits me very well and is very comfortable, keeps my head warm, and is super light! I would recommend this to anybody who is looking for a great helmet, which should be everyone, because always remember to wear a helmet!
Buy the Giro Montane at evo.com or shop for all Giro gear.
Douchebag 2.0, reviewed by anto
Rating: 9 out of 10
I love this bag, and would definitely recommend it to anyone who's looking for this type of flexibility. It's certainly a great option and is worth the money. It's solidly built and damn well designed, and it shows off some very unique concepts. It's got a huge width allowing both skis and snowboards, wheels to make it easy to transport, an epic adjustable-length system, shoulder straps to make it follow you around on while on wheels, and enough room for your entire collection of skiing and snowboarding gear. It even has the ability to attach to "The Hugger" bag instead of using the built-in shoulder strap system. This bag is totally worth it if you need the flexibility offered, but if you're looking for just a "ski" bag, then keep looking.
To see more product reviews or write one of your own, head on over to the Reviews section by clicking here.