Pants: Planks x Woodsy Yeah Baby
Reviewer height/weight: 5'9 / 180
Pant weight:
Length skied: XL
Actual length (with straight tape): 40 inches
Dimensions: 39-44-31
Mounted: sagged -2 inches from waist
Bindings: Shoe Laces and some camo suspenders from Wal-Mart.
Locations: East Coast
Conditions skied: Hardpack, ice, slush, parking lots, shitty trees and a few farts
Days Skied:
Welcome to Litterbox Reviews, the slightly worse, underfunded and definitely less professional take on The Roofbox Reviews (please don't sue me Newschoolers). Planks was looking for some professional reviewers to review their latest pants, so they did what any company would do and told a bunch of NS kids to write the most vulgar things they could in the comments.
Out of the Box Impressions:
The pants arrived quickly after one of the @PlanksClothing employees messaged me for some info. Out of excitement I did not read the return address but I am assuming they all come from the UK because all the prices on the receipt were in euros. Definitely impressed with the shipping speeds.
I opted for the British DPM camo color way in an XL. I normally wear an L or an XL with lots of room to spare. These fit kind of strange because the fact the waist band is elastic like a pair of sweat pants. They also have a built in waist gaiter so you can sag without getting snow in your ass. According to the size chart length does not change between L and XL. These are definitely long but in true sweat pants fashion they have elastic around the ankles. It is super wide so its not hugging your ski boots tight but it does keep them out of your bindings or from getting stepped on.
There is one massive oversight I noticed immediately, there is no fly. How am I supposed to take a leak in the woods or in my designated pee corner in the park shack without a fly? Its already hard enough to get the little fella out in 10 degree weather with a few layers on and now I gotta pull my pants down like a kindergartener to take a leak.
Other than that my initial impressions are great. Everything feels quality especially in a pair of sub $200 pants. They are insulated and feel pretty warm but we will get to that in the on snow portion. Pockets are huge (strangely mine had a teabag in one pocket? Bloody Brits I guess) and cargo pockets are massive.
Another thing you might notice looking at the pants is the shoe string suspenders. In the golden days I had many of shoe string suspenders and belts. Now it just feels awkward and uncomfortable, but it is optional and they have a draw string on the waist which is awesome.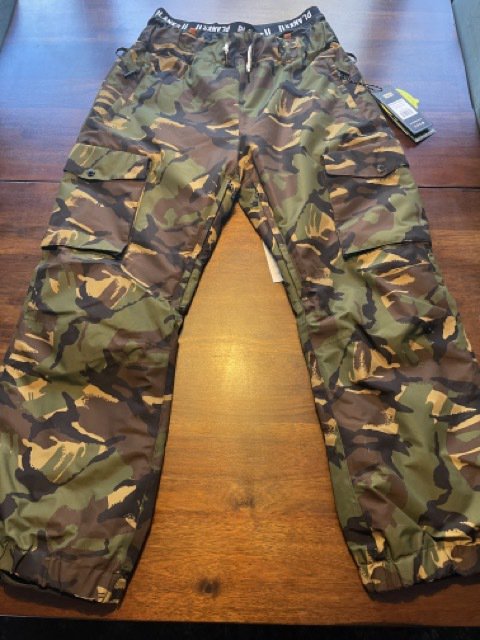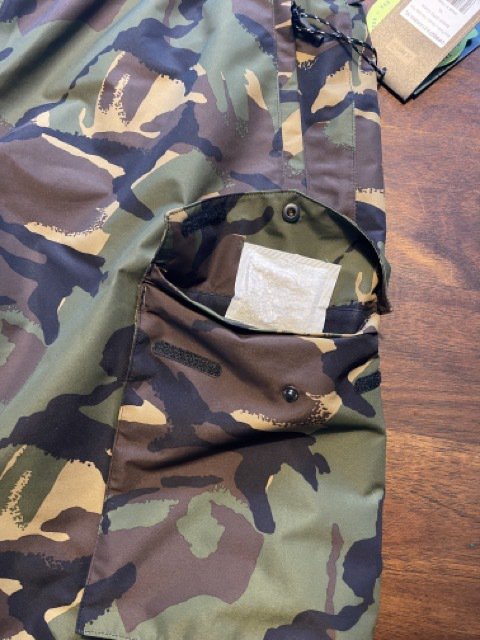 Brits and their tea....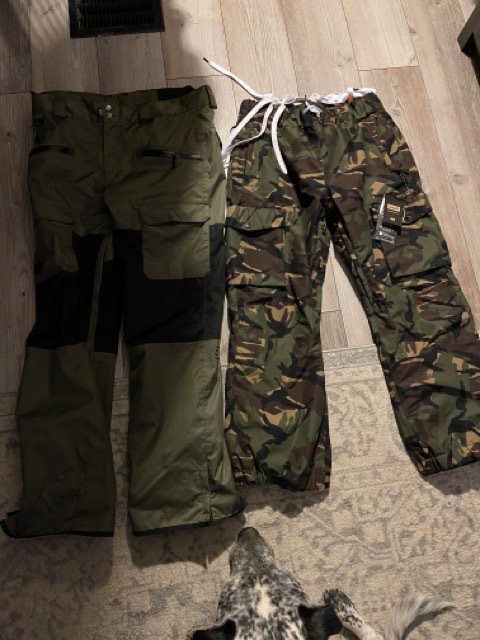 Size comparison to XL Saga (RIP) Anomie
Parking Lot Performance:
Broke these out on a 50 degree bluebird day to start with. About a foot of snow had melted and make the parking lot of the hill a Shrek inspired swamp. After initially thinking the elastic around the ankles was useless and a weird design choice, I realized how nice it is for walking through the swamp. It is wide enough to not look like joggers and just holds your pants out of the mud and your bindings.
The big ass cargo pockets can hold 3 beers a piece easily which is an absolute essential on a slushy bluebird day. But the down side to that is they are pants and will fall down with 6 beers loaded. I thought I could remedy the situation with a belt, and that is where I found another strange design choice. 1 fucking belt loop. Why? I feel like belt loops are cheap and easy to add to pants, hell even all my bibs have belt loops. A draw string can only do so much. I am not sure why you would only but one belt loop on the pants too. I guess it is for something else but damn.
On Snow Performance:
Sadly in true East coast fashion my season was cut shorter than normal due to weather and starting a new job. I managed to get 8 days in with the pants. Ranging from 20 degree bluebird days to some 50 degree with some rain and a day or 2 of 60 degree spring days. The pants perform great in these conditions the insulation was a little warm on the spring slush days but kept me pretty warm with just a base layer in 20 degree days,
I thought the elastic waist was a little weird but after adding normal suspenders I realized how nice it actually is. The pants are extremely comfortable and never feel too heavy. The elastic keeps the cuffs out of your bindings which is nice to not have to worry about getting them stuck. They are 10k/10k and kept me dry sitting at the top of the park hammering back can sandwiches and when it did rain they stayed dry as well.
Durability:
I have not noticed any damage to the pants in the time I have rode them. Cuffs stayed damage free thanks to the elastic. No seams ripping or pockets tearing. If I come across any major issues I will report back.
The Bottom Line:
They are pants. They are not super tech. They are cheap. At $180 its pretty hard not to recommend a pair of these. Especially if you are riding park and tend to destroy a pair of pants pretty quick and don't care about tech stats. The price point alone should be a major selling point. After being this impressed with these pants I am considering checking out more of Planks line to replace my aging Saga 3L (RIP Saga). Gotta say I am impressed.
8 cat turds in the litter box for these pants.
(Cat turds is a scientific measurement of my enjoyment of a products 1 being the lowest with 10 being the highest).
Whats next in the Litterbox? Glade Adapt Photo Chromatic Googles