Photos by: Charlie Cazalet // @charliecazalet
While out at the High Five Festival in Annecy I sat down with Ski Boss himself to catch up on the progress of his rehab, talk about his new outerwear sponsor, Mont Gele Gear®, and get an insight into his post-rehab plans. Perhaps inevitably, we ended up discussing his thoughts on the state of skiing as a whole too. This was an insightful chat with Tanner who seems to have grown and matured in a lot of ways; though the fire in his eyes still burns as brightly as ever and his laser focus on his rehab and the future was clear to see.
To kick things off I wanted to hear Tanner's thoughts on the films we'd seen over the weekend and how he'd enjoyed the experience of High Five's 10th anniversary.
My favorite film was Marcus Eder's project. That edit gave me a feeling I've never had before. To me that's one of the best things ever made in any sport; it gave me a lot to think about. That edit right there alone made this whole trip worth it. It's hard to see an edit like that and not want to keep pursuing shit. That's sick, he did his job, he made a lot of people want to go skiing. That's the point of all these films.
Aside from that, it's just nice being back on my feet, walking around, and being able to travel. I even jumped on the tramp yesterday and was doing tricks on my feet for the first time, doing some backflips and mistys some mellow stuff. It's been a really good trip man.
_
Back in January Tanner had surgery for a snapped Achilles tendon, which happened whilst filming for his X-Games Real Ski part. Tanner has been working hard with Jess Tidwell of the University of Utah, to get back to what he loves most.
She's traveled with me a lot and helps put my confidence in my brain where it's needed. It's a long process. At 6 months with the ACL, you're almost ready to go out there and start doing shit again. This is like 9-12 months, 12 for most people. It's slow after the surgery and it needs all that time to lengthen back out. It's not like broken bones that heal stronger, I've just got to take my time. A lot of time off just makes you even hungrier and with more time off you're in a better position to execute your plans.
Tanner has hurt himself so many times and has been through this process of recovery over and over. It means that now, he's the best at rehab he's ever been. While he's laid up off-snow, he's been trying to use his position in the industry to give back to the younger generation of freeskiers. Creating things that give up-and-comers a space for self-expression is clearly something Tanner is passionate about; wanting to be involved with the organization and promotion of these events is an evident priority.
I never set out to be the best rehabber but I know the process so I can see my physio only like 3 times a month because she knows what she gives me I'm actually going to go and apply. You have to be patient because at some point you're gonna feel really good but not actually be ready and that's hard to navigate, especially at 37 when you don't want to take time off.
Back in the day, we had so many events; Line Catcher, Cold Rush, that one in Silverton, Colorado, Red Bull Playstreets, and Huckfest all these events that were once there and are now gone. Now you do the FWT or you've got a USSA membership, that's it. It's hard to see the in-between. It's up to us, the older generation. If we want more contests we gotta do it ourselves. I'd be stoked to see Candide bring back his event, me doing my own or if Henrik had one. Then we can break away from that FIS vibe; it's not necessarily bad, it's just weird. That's where my brain has been this whole time off.
I hope they [the young generation] get that space to create and it's not just Red Bull camp to the World Cup to the Olympics and press conferences. Like that Nendaz Freeride contest, that Backcountry Invitational that Remco won really caught my eye. It was a breath of fresh air and I knew I wanted to partner up with them and try to keep that going. All it takes is a little stoke and a little bit of direction and help; some organization and building features. We want to come in with a crew to do that three weeks before the event, not five days. It's been my kind of dream to do something like that regardless of whether or not I can compete.
_
https://www.newschoolers.com/videos/watch/1013431/Nendaz-Freeride-Backcountry-Invitational-2021---highlights
Nendaz Backcountry Invitational 2021 Recap Video
As someone who's inspired me and countless others in skiing, I wanted to get an idea of who's on the Ski Boss's radar at the moment, as well his views on the state of skiing more generally. It's no surprise that the first name out of his mouth is Dollo, still pushing boundaries and still competing at the highest level at 30 years old and set to be in the start gate at The Olympics next year.
There's so many kids man, for the first time ever 16/17-year-olds are coming into our sport doing bananas shit; like you've got Mac Forehand, Dani Bacher, and Matej Svacner, they're all super sick. They've got man strength you know and it's all style. They hop on a rail and they're doing shit straight up. I'm still in the mindset to get to the end of it a couple of times then do my thing, these kids have a different mentality these days. Dani Bacher's on Armada now too, that gets me stoked too because hopefully, I get a chance to link up with him somewhere so I can see it with my own eyes.
It's kind of tough to be in The States right now with the state of skiing, Europe is really making a push to bring up the culture. In the US it's like, fuck; with the prices of lift tickets and private companies who control everything. It's like skiing's almost turned into golf. If you're not a part of the country club don't even bother coming to play. We gotta figure something out quickly.
That's another reason I want to come out to Verbier and join up with the Nendaz Freeride crew. There's a lot more room to grow out here in Europe as a skier and for the industry as a whole. Also back home we've got so many lawyers just waiting for somebody to sue. Insurance policies make it hard to get stuff done. Unless you're a Red Bull or Monster that can put those $10 million dollars liability policies together.
It's amazing being out here. Seeing how many people are in and out of the theatres and at the signings with Armada. You just don't see that back home, people are really stoked on skiing and it gets you stoked. The last couple of months in The States I really felt like I needed to be around like-minded people before my brain takes a shit on itself. Then you get out here and see all the homies at this festival or speak to the Nendaz Freeride dudes about their vision and it's like, "okay, yeah, people are stoked."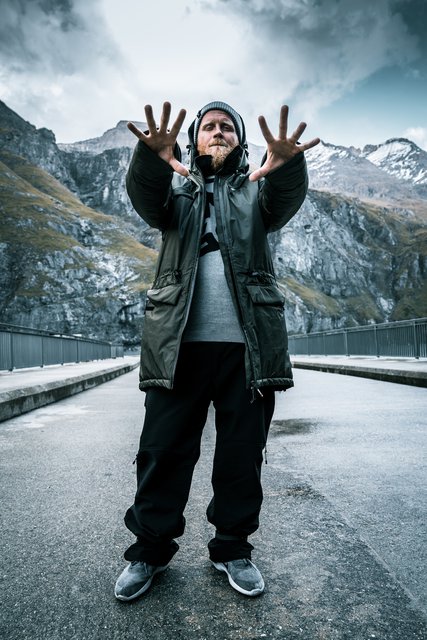 Tanner Hall in the Mont Gele Gear® Kodiak Crossover Jacket
Tanner has recently signed with Mont Gele Gear® ("MGG") as his new outerwear sponsorship, a brand started in 2019 and unknown to many in the industry. We talked a little bit about how he got into contact with the guys at MGG, what excites him about the partnership, and some of the future plans he has with the new company.
I met Rohit (co-founder of MGG) while out on the FWT. The dude has got a good vibe and was easy to talk to so we connected pretty quickly. Through the last couple of years, he's had this vision, and right before I got hurt he approached me, knowing I didn't have a clothing sponsor, and showed me what they have going on. It's more high-end stuff, but made with really good materials and a big emphasis on transparency. They've got that side taken care of and I can bring a little bit more price-point clothing with a little more funk and style. Then we'll have something for the mountain lover and something for the park lover as well; you've got to have a broader spectrum. That's the whole plan. We've worked on a jacket and pants which we'll be getting samples of soon.
There's a lot of room to grow with a new company. Rohit, along with his co-founders Tom and Charlie, are really motivated. What they say they're going to do, they do. They want to help me with my legacy, get the contest going in Nendaz. To hear people like that who want to support my vision and help me go where I'm going, that's priceless man and I'm blessed to have this opportunity.
The Hakuba stop of the Freeride World Tour, Tanner's original post-injury goal, has been canned due to the pandemic. We talked about his goals to do the Kicking Horse stop as well as setting his sights for the start gate in Andorra 2023. We all know Tanner can't take an unforced break from skiing and I was interested to hear his other ski-related goals and plans.
I want to do some filming in Montana with a couple of the 'kids'. Wiley Miller lives up there and Taylor Seaton's gonna join. There's just a small group of us and we're gonna go round Montana filming. Cooke City and up to Seeley Lake. Quinn Wolferman is on board and I've been talking to Ferdi as well; it would be sick to see him up in Montana coz that kid is one of the most stylin' riders we have right now. I want to have a fun season without putting too much pressure on myself. I'm not very good at getting on my skis and taking it mellow, so that's another goal.
_
Before his injury - a fall that would have broken the youngest and most supple of skiers - Tanner had said he was feeling the strongest he'd been in ages and so was willing to take on Real Ski at 37. I wanted to hear his advice on being in the best place to avoid injury with a focus on longevity.
Nobody really likes going there but if you can connect with the gym at a young age that's key. The more you can get used to exercising as a lifestyle the better. It's stretching, it's strengthening and it's food; it's a big equation. If kids can figure that out in the early part of the process the more longevity they're gonna have. It's cool to be healthy and in shape and strong. I think back in the day I was even making fun of people going to the gym because that's kind of where it was.
The level is so high now that if you're at the top level of skiing you have to be strong. Do all that stuff every day and drink a lot of water. It's not a hard formula, it's just hard to wake up with that motivation. If you can get to a place where it's like brushing your teeth, that's the best way to implement health into your life. It just makes your skiing that much better and skiing is the fun part. It doesn't mean you can't party or have a doobie or whatever every now and then but be smart about it.
These closing words resonate with me as I feel the slow creep of age and the growing need to focus on my own longevity. After all these years, Tanner's inexorable determination is infectious; it's impossible to not be inspired by the man. I'm impressed, but not surprised, to see him still carving a path in the industry with his focus firmly on the next generation and the future. It's hard to imagine the world of freeskiing without Tanner Hall but I don't think we have to just yet... Thanks, Ski Boss!
_
Click here to read more about the Mont Gele Gear® story and their mission.
Mont Gele Gear® 2021-22 Gear Guide
The team at Mont Gele Gear® have provided a discount code for the Newschoolers community; use MGGNS15 at the checkout for 15% off!
_
This article was produced in partnership with Mont Gele Gear®