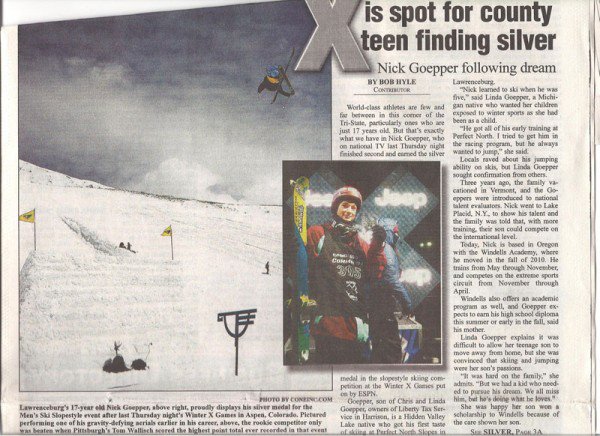 Nick was featured in a recent article in his local newspaper.
Nick Goepper is a rising you am on the freeskiing scene. Since last season, Nick has been showing up on podiums at major slopestyle events, turning heads with his style and large bag of tricks. More than that, Nick is only getting better. He's a student at Windells Academy and a pretty awesome guy, too. He let us in on what he felt like, winning silver at Winter X Games 2012.
CONGRATULATIONS ON THE SILVER MEDAL AT WINTER X GAMES 2012! WHAT WAS IT LIKE STANDING ON THE PODIUM?
It was amazing! Definitely a dream come true. It was hard to take it all in at once.
WHAT WAS THE MOST CHALLENGING PART ABOUT THE SLOPESTYLE COURSE AT WINTER X? WHAT WAS THE MOST FUN PART?
The most challenging part of the slope course was either the technical rails or the four consecutive jumps. The most fun part was definitely the first wall ride feature.
YOU HAVE BEEN STANDING ON A LOT OF PODIUMS AT BIG EVENTS LATELY, WHAT'S THE SECRET TO YOUR SUCCESS?
Lots and lots of PROTEINNNNNNNN SHAKES. Just kidding, but I have been training a lot on trampolines and perfecting my double corks.
HOW DOES TRAINING AT WINDELLS ACADEMY HELP YOUR SKIING?
Training at Windells Academy helps my skiing immensely. They have every facility imaginable to progress your skiing along with accommodating coaches to help.
WHAT CONTEST HAS BEEN YOUR FAVORITE TO SKI IN SO FAR?
X Games for sure. The amount of hype and attention that surrounds it is more than any other contest.
 
 
Windells - BMX. Skiing. Skateboarding. Snowboarding.