Photos by: Chris Lawson // Columbia Sportswear
Alex Ferreira is known for his highly energetic and fiercely competitive nature. With an array of halfpipe medals to his name, including Olympic silver and X Games gold, Alex leads a fast-paced lifestyle. I managed to catch up with him recently to chat about the current Olympic cycle, mental and physical health, and soul skiing. Having recently recovered from a neck injury Alex has been enjoying the summer and getting back on the skis doing what he loves most.
My summer's been great thanks for asking! I had neck surgery at the beginning of the summer, so right around April 26th and since then I've been rehabbing and getting strong. We did get on snow, we got out to Mt Hood; it was such a blast. The vibes are high, everybody's skiing in the slush, in their t-shirts, and throwing down. It was a good way to get back into skiing for myself.
Injuries are never fun. They're also part and parcel of the sport we know and love, so everyone picks them up here and there. Alex's recent surgery comes off the back of a fall that he never fully recovered from.
It was originally from Audi Nines in 2019, I did a big 5 and ended up going huge on the jump. Overshot it by like 20 or 30 feet and got this super bad whiplash. I didn't really take care of it and I was doing a bunch of stuff while it didn't hurt so much. It kind of crept up on me and it got to the point where whatever I did, whether it was rest all day or go to the gym, it hurt really bad. Just crazy intense burning in my traps, tingling in my fingers. The nerve was basically being compressed to death and they went in there and did what's called a foraminotomy. They basically shave out the root of that nerve ending to give it a bit more space to breathe. It healed really well and I'm doing way better and pain-free which is super nice.
_
The last 18 months have been super tough on everybody, our worlds have shrunk massively and the phrase "the new normal" is driving us a bit insane. I've heard Alex talk openly about his mental well-being, as well as the physical side, and what goes into staying mentally tough - not just as a top-level athlete but as a human being - through hard times.
Everybody goes through hard times, that's inevitable. To get through that I like to work out to release those endorphins. I'm a big believer in sauna and cold therapy, not only does it change your physical appearance but you get out of there and your mental state is completely different.
So I do it every day, I'm usually ripping the steam room for 20 minutes and then the sauna for 40 minutes later. I just got an ice bath actually, on the back deck so I'm jumping in there. When COVID hit and all the steam rooms, saunas, and wellness centers were basically shut down, I had to buy one.
I think that really helps with the whole mental health thing. I know it's physical change but also if this helps me be 1% better, or if it helps me smile a little bit more, then whatever it is, if it works and I'm a full believer in it. Anyone who's going through hard times or struggles, don't hesitate to reach out to people, and if you need more professional help, talk to a therapist. I have no shame in doing that. I've talked to a few and it's definitely helped me out. But also don't hesitate to do your own bit of research into bettering yourself.
Alex capping a blunt high out of the stunt ditch and staying comfortable rocking the Aerial Ascender Interchange Jacket
_
The summer games in Tokyo are still so fresh in our minds it felt kind of strange to be talking about the winter Olympic Games but they're coming and Alex is ready.
For sure it's kind of crazy that it's right around the corner. Every time people ask me if I'm going to the Olympics they're like "wait, it's this February?", they're confused and I am as well because Tokyo was backed up so close to it with the pandemic.
I did get to watch a lot of the summer games. I'm a huge racket sports fan so I was watching badminton, ping pong, tennis, and all that stuff, but I thought the main attraction was skateboarding. I was really pulling for Nyjah, but it didn't happen. I thought the stars aligned for Yuto and it was meant to be that way.
I thought they did a great job, but it was a little weird with no fans. I assume the Beijing Olympics will be kind of similar to that but I'm excited about it. I'll give it my absolute all and do my best to make the team and totally win that thing!
_
The qualification period for this year's Olympics has been compressed due to the pandemic. An already stressful time for athletes has been made even more so. Alex's competitive side is fierce. Yet it's clear Alex has a passion for all things skiing, especially the people he shares the sport with. From the qualification set up to the lack of crowds, this winter's Olympics are going to look very different.
I think it's going to be very different from the last games. The last one, the qualification process was pretty simple and I squeaked in there which was great. This one's a little different, based on both FIS rankings and qualification events. To be completely honest I don't fully understand it and what I tell myself is that it really doesn't matter. What matters is skiing, ski your absolute best and do you. I'm not here for the fame or the dollars. I'm doing this because I love it.
The discipline of halfpipe has seen its fair share of superstars. I wanted to know who Alex loves to compete against.
I have the utmost respect for Kevin Rolland, I think he's a savage through and through. That guy has no shortage of sending it, I really appreciate that; his intensity. I'm also a huge fan of Noah Bowman, he's one of the most stylish riders of all time. I'd say he makes the hard tricks look effortless and I really appreciate his style. Nico Porteous is really pushing the sport, he's doing both ways 1620s no-one has ever done that before. So, to be able to watch that and for him to raise the bar and kind of have everybody having to catch up is pretty cool to watch.
_
I'd also heard Alex talk about his coach coming through in clutch moments with some sage advice for both himself and Torin Yater-Wallace. The pair grew up together, and I wanted to hear a little bit more about those key relationships as he carved out a spot for himself in skiing's gnarliest discipline.
I've been working with my coach, Elana Chase, since I was 10 years old. She was one of the coaches on the ski team at Aspen Valley Ski & Snowboard Club, where I skied with Torin. Elana knew that we had so much love for skiing and she recognized it at a young age. Looking back, it's so crazy that we both made it the way we did and we share that relationship with Elana.
There have been so many intense moments at the top of the pipe and she read the room perfectly. She's an amazing strategist and an overall wonderful person. I always like to talk about how she was teaching me to do dub-12s on the hill and then we'd come off and she was teaching me about credit scores and the stock market. A life coach and a wonderful, wonderful human. I wouldn't be where I am today without her.
When I was younger and Torin was really blowing up and I was kind of a couple of steps behind, I remember asking him in the car, "Yo, how do you just handle everything?" and he was like, "Dude, we have been doing this since we were 8 years old, I tell myself I know what I'm doing, stay calm and be confident" … something along those lines. It was so potent at the time. He was so mature, especially for his age - still is - I was like damn, that hit different. I started doing just that and it worked out. He was right.
_
Alex is known for his competition prowess but he has been spending more and more time in the backcountry, his shots in DEVIATE - a Jossi Wells and Torin Yater-Wallace backcountry film - are all hammers. I asked Alex if he had any plans to do more filming or if he was going to take things day-by-day.
I take everything day-by-day. I love competing. I love the pressure. I'm going to try and do it for as long as I can. Two years ago, I bought a sled so I've been getting in the backcountry, kind of dabbling, dipping my toes in and I love it! I have so much more respect for the movies that I watch now, especially Henrik. You know, he's in the contest scene and then goes in the backcountry and slays it, just throws down so hard and that is not easy to do.
I learned from a trip earlier in the season with Torin for his movie, Good Luck, the amount of shoveling, the number of times you get stuck on your snowmobile, and how many times you have to try a trick just to land it, it's astronomical; the amount of work you have to put in. So I have the utmost respect and I definitely want to get into it more. So I definitely want to do both, both for as long as I can.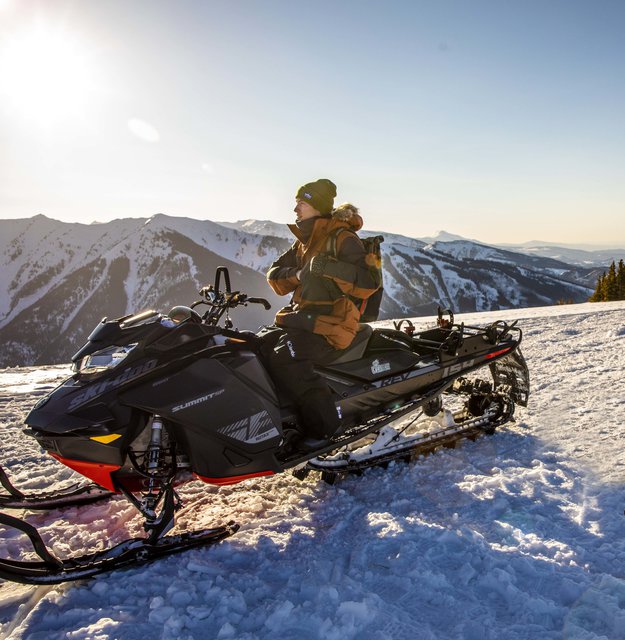 Alex Ferreira out on his sled in the backcountry of Aspen, staying warm in the Marquam Peak Fusion Parka & Lost Lager II Beanie
_
I can really see the fire in his eyes and hear the passion in his voice as he tells me he's gonna be doing both comp and film for as long as possible. I also wanted to know what Alex's "soul skiing" looks like when he isn't competing, filming, or dressing up as an old guy…
I live at the base of Aspen Highlands and it's this kind of hidden gem; it's steep and when it's deep it's deep. My best friend Kyler and I, we've been skiing it together since we were like 8 or 10 years old. So any day with Kyler on the mountain on Highlands is such a win. I really don't know how much better life can get than when I'm shredding Highlands, having a great day whether it's groomers, pow, or whatever, it's right at my fingertips and holds a special place in my heart.
The Olympics are at the forefront of so many people's thinking right now. And it's clearly an important goal for Alex too. But chatting to him, it's been incredible to see his stoke for all kinds of skiing. There's a new episode of Hotdog Hans coming around Christmas time and we can't wait for that. I asked Alex' alter ego if he had any words of advice for the younger generation, and they are pretty easy to remember:
"Keep the style baby, keep the style and always have fun!"
_
This article was produced in partnership with Columbia Sportswear