Words by Dani Baker. Cover Photo: Simon D'Artois.
There are a few things to note about Cassie Sharpe besides her impressive trophy shelf and bringing fun wherever she goes; she is hilariously competitive, a meticulous planner, and thrives when surrounded by people. Good news: these are qualities that have proved to be beneficial as an athlete of her caliber. Bad news: these qualities could also almost guarantee a bad time navigating a world where access to her sport, travel schedule, and people, is denied. Enter 2020.
As per usual, Sharpe has taken the necessary time to let herself feel, blow off steam, and get right back to making the most of whatever she is facing. She is always candid about, well, everything, which made catching up with her about the past nine months so damn refreshing. She spoke transparently about how this bittersweet downtime has helped rekindle her relationship with skiing for fun, how she keeps it real with her sponsors when it comes to giving feedback, and how having drinks with friends is an important part of her athletic process.
Sharpe's short 2019/20 season was sandwiched between concussions. She suffered two, back-to-back throughout pre-season training in New Zealand, and topped it off with another courtesy of a nasty crash on a left 10 at Dew Tour. Naturally, she worked with the window she had and still finished with podiums at X-Games, Mammoth World Cup, and Dew Tour.
https://www.newschoolers.com/videos/watch/984983/Cassie-Sharpe-wins-Women-s-Ski-SuperPipe-gold---X-Games-Aspen-2019
Cassie's dominant winning run at X Games 2019
_
To take a much-needed breather after the season, Sharpe and her mother flew down to Mexico for a week of R&R. She returned to Vancouver shocked by a new normal filled with restrictions, sourdough and social media challenges that nobody asked to be tagged in. Sharpe was transparent in explaining the headspace she entered early-on as life halted and uncertainty arose.
I kind of went into this 'poor me' scenario and I don't think I'm alone in that. I was there for a while and then came to the conclusion that 'yes, this sucks, but you've let yourself be sad, this is out of your control and now it's time to deal with it.' I realized there was nothing that we could do about the circumstances, and nothing I did was going to change when I got to ski next. So, I just put it out of my mind and tried to focus on what I could control.
While "going with the flow" is not something that comes to Sharpe naturally, she hunkered down with fiancé and former teammate, Justin Dorey, and tried her best to take advantage of her slowing schedule.
I think I spent more time at home than I have in the past 8 years. Probably the most consecutive time with Justin that I ever have. Being forced to get creative while exploring your immediate surroundings was really cool. We camped a ton, hiked, biked, jetskiied, had beach drinks at a distance with friends. It was nice to be home, which I think maybe wasn't the case for everyone, but I was very lucky to have that be my reality.
As well as leaning on her friends, family, team, and tequila to keep spirits high throughout the past year, Sharpe has had constant support from her roster of sponsors, including Portland-based Columbia. Although she partnered up with them 3 years ago, post-Olympic win, she tells me that her curiosity about the brand was sparked by an Olympic uniform input-session held beforehand.
I was asked to go and help with the prototype for the Olympic uniform. It was interesting being there with a group of athletes; we obviously all wanted and valued different things. It's crazy to see what brands go through all the time trying to please everyone.
The brand's open-mindedness regarding their athletes' feedback is palpable in their innovative technologies and thoughtful design, and Sharpe does not shy away from giving her two cents to help them continually evolve.
In one of my first meetings after signing with the company, we sat down in a boardroom and I started by telling them about what I thought was missing. They were super receptive and collaborative; it was so nice to feel heard.
Sharpe's main priorities are bold style, moisture-wicking properties, and warmth tech and she states that Columbia has worked hard to be progressive in all three.
The biggest thing for me as a halfpipe athlete is we have 30-second spurts of hard work and the rest of the time we're riding the chair or hitting groomers to and from the pipe, so you get super warm for 30 seconds and then you cool right down. The reflective omni-heat tech in the jackets and pants keep me more regulated than any outerwear I've tried.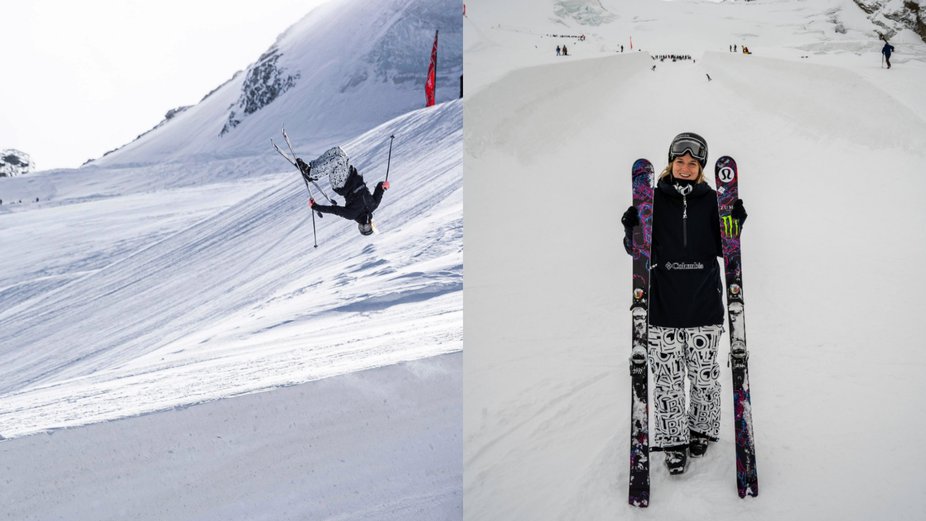 Cassie rocking her new kit, the Dust-on-Crust Jacket and Kick Turner Pants, in Saas-Fee's halfpipe. Credit: Simon D'Artois
_
A sleek anorak jacket and bold, Columbia word-marked pants were rocked proudly on Sharpe's recent trip to Switzerland where she first got back on snow post-concussion and isolation. Team Canada's concussion protocol is rightfully no joke, and although it had been 7 months since Dew Tour, she was still required to follow it. The process consists of passing several steps of vigorous off-hill concentration, memory, reaction, balance, and endurance testing. Fortunately, Sharpe had completed these before lockdowns began in early Spring, and so proceeded straight to the on-hill portion in Saas-Fee.
Once you've passed all the tests, you have to do two days of groomers, one day of straight airs, another day of your easiest tricks and then on your fifth day, you can continue with your chosen tricks and your life. Doing back to back 9s my first day is not something I would do regardless, so luckily it was the same program I would have been on regardless. Once I got through that, it all came back pretty quick and I was doing top to bottom contest runs on the fifth or sixth day. It was a bit intimidating but once I got back into it, it was good. I feel good.
https://www.newschoolers.com/videos/watch/985391/CassieVid-mov
9s on 9s in Saas-Fee. Credit: Trennon Paynter
_
Just when she was easing back into her element, the team's flights home were rebooked about a week before schedule, due to a surge in Swiss cases. Once back on Canadian soil, Sharpe joined teammates Noah, Simon, and their trainer Andrew deep in the Squamish Valley for a mandatory 14-day quarantine; although she swears it was more like being on vacation with three of her best buds.
It was surprisingly very fun. We had a full gym set up in the garage and Andrew to hold us accountable but otherwise, we just had a good time cooking food, hanging out, maybe had a few drinks. It was the world's best quarantine.
The promise of resorts opening has continued to act as a beacon of hope for the BC ski community as the winter season approached and provincial restrictions tightened. And although Sharpe has had trouble navigating a lack of motivation to ski just for fun in the past few years, she found herself atop Mount Seymour on their opening day getting back to basics; cruising groomers and hunting down sidehits.
I think after the Olympics it was challenging for me to go out and ski for fun because I had dedicated so much of myself to it. It was very physically demanding but also became difficult mentally to turn the competition and training switch off. I hit a bit of a wall and honestly just didn't want to. I think after not having access to it for however many months, it reminded me of how fun it can be and really has reignited my appreciation for it.
Although Sharpe sees her reconnection to skiing outside of the pipe as one of many silver linings gained from this year, it's safe to say that getting back to contributing to and witnessing the overall progression of her sport is what really fuels her fire.
Other than the lack of halfpipes themselves, I think it's on a pretty good trajectory. In the past few years, it's taken a positive turn away from becoming a bit stale. With X-Games prioritizing variety by changing their format to a jam session and seeing creative people like Noah finally win and podium a bunch last year, I think the sport is making a shift for the better.
The impact of this year has left a lot of us hesitant to set any expectations going forward, but X-Games sent out their initial invites this week and Sharpe has been putting in a ton of work preparing for the season.
I've been staying strong and maintaining myself enough that if there was an opportunity to compete tomorrow, I'd be able to. I feel ready to go at any moment.
Some may be skeptical about the upcoming season, but one thing we can rest assured in knowing is that we don't have to worry about Cassie Sharpe; we can count on her to come out swinging whenever the world is ready for her to do so.
_
This article was produced in partnership with Columbia Sportswear.