Words & Photos: Julien Heon Mont Avila, Quebec was the host of the Axis Slopestyle this past Saturday. The hill that welcomed a stop of the Young Gun Open just a few weeks ago made the event a real production with not only ski and snowboard comps, but also Moto-X jumps and a Bikini contest. It was a perfect day to be out, and pretty much what any athlete or event organizer could hope for.. Although cloudy in the morning, it soon became a super sunny day with a temperature of about 10 degrees Celsius. Wow, spring skiing! This year more than ever Coors Light was the standout sponsor of the event with heavy local advertising campaigns on radio and tv. They had set up a stage, not for any music show, but for the Bikini Contest and the prize ceremony afterward. As if that weren't enough, a huge tent was erected in which the VIP and athletes were welcome to get spoiled with everything from beer and food to massages, compliments of ladies in nurse outfits. You can ask JD Zicat about his fake injury and the nurses.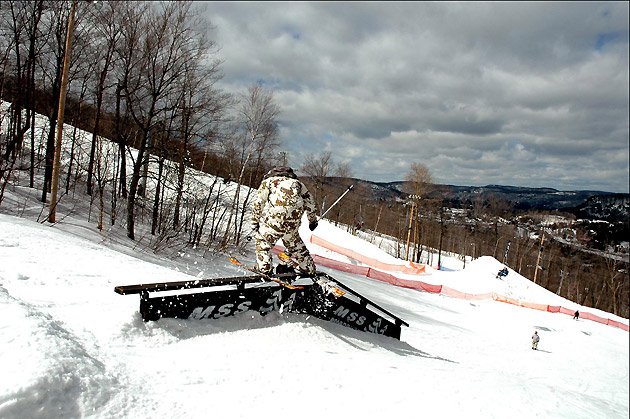 Dom Legare Back to the task at hand, the skiing. Qualifications went down in two rounds, one earlier in the morning and then a second in the afternoon. Only five athletes would move on to the finals to compete along side 10 invited skiers, which included the likes of Dom Legaré, JD Zicat, and Frank Raymond back from Lebanon (check Plehouse updates), Phil Casabon, Andrew Bredt and more. The 15 finalist would then fight for nothing less than $9500, with a breakdown that goes as follows: $5000 to the winner, $3000 for second place, $1000 for third place, $1000 for best trick at the jib session and an extra $500 for the best trick on the kickers during the final. Right after the finals of the bikini contest, of which the participants were not all that great, the big final went down. Riders had two runs to show their stuff with the best run taking the prize. The course consisted of a down rail, a flat down, then 3 kickers and a final staircase with 3 sliding options, all accessed by an up rail. Most people did not have a very good first run and it all came down to their second. Starting with the 5 qualified, followed by the invited, highlights of the finals certainly were JD Zicat's run, very solid rails up top, followed by 3 very solid jumps, of which the last one was one of the two cab 10s performed the whole evening (Alex Lallier did the other one) and a very clean performance on the final jib showcase. JD's run was very tight with Phil Casabon's which was very solid as well but ended with a clean cab 900. Let's also mention Frank Raymond's backflip on the last kicker, which was epic. Right after the final was a Jib session on the final showcase that Andrew Bredt totally owned. For those of you that have not yet heard of Andrew, he is one of the most solid jibbers I have ever seen. The guy is sooo smooth on rails, he looks like he's asleep.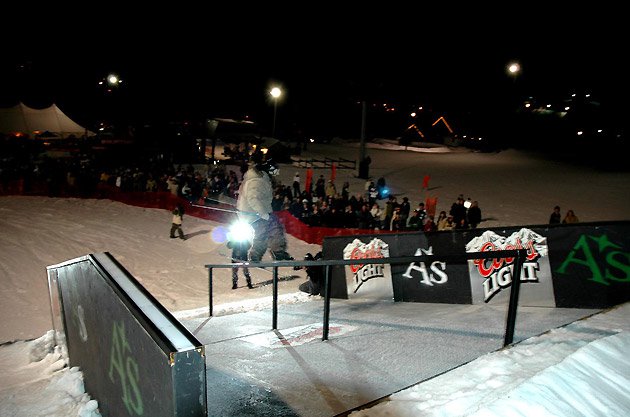 No one really knew who would go up on stage and grab the big cash, or at least, no one really knew who would grab how much. Most people in the place were thinking that JD Zicat's run would own it, but a judged sport being what it is, and how tight 3-4 riders were, it was hard to tell. Anyhow, all started by naming the best trick on the jib, which with no surprise was taken by Andrew Bredt. Followed by best trick on jumps, going to JD Zicat for his Cab 1080. Third position went to Alex Lallier, At that point, people were certainly confused as to who would go first and second, but JD took second place and a $3000 check for a total of $3500, while Phil Casabon made it happen again, 7 days after the Cote obscure winning $5000 to make a grand total of $8500 in a week. The young Casabon is certainly showing mad skills and style, but also consistency, establishing himself as a dangerous competitor for the years to come and showing he is ready for the major leagues, by winning both the biggest slopestyle and big air comps in eastern Canada this season.