The moment you've all been waiting for is finally upon us...The new and improved NS store is now online at http://www.newschoolers.com/web/content/store/ and stocked with all kinds of goodies for you and your boys to rep hard on and off the ski hill. Right now we are offering limited edition newschoolers scarves and t-shirts, along with a wide variety of sticker designs, colors and sizes. We only have 300 scarves and 300 t-shirts, so it's imperative that you buy as many as you can as soon as possible before the stock runs out and you spend the rest of the year kicking yourself in the ass.
Wanna be as dope as Kaya? Buy a scarf.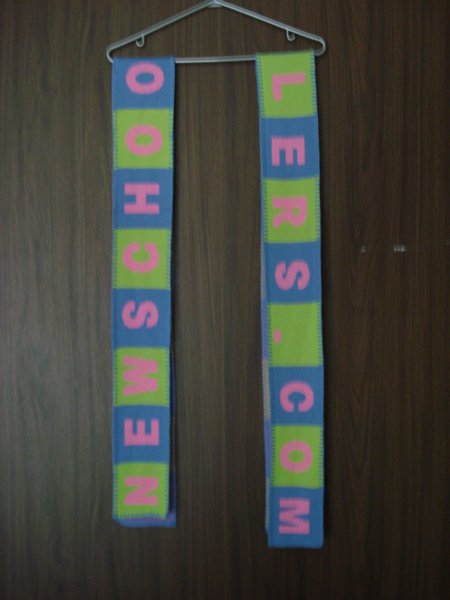 The end goal of this run of limited edition swag is to prove that it makes sense to produce newschoolers apparel and gear, and once we start turning a profit we will have a wider variety of much sicker gear such as headphones, hoodies, bandanas, New Era caps, hats, and much much more. If you guys really eat it up, there might even be the possibility of a Newschoolers collaboration to produce hardgoods and outerwear.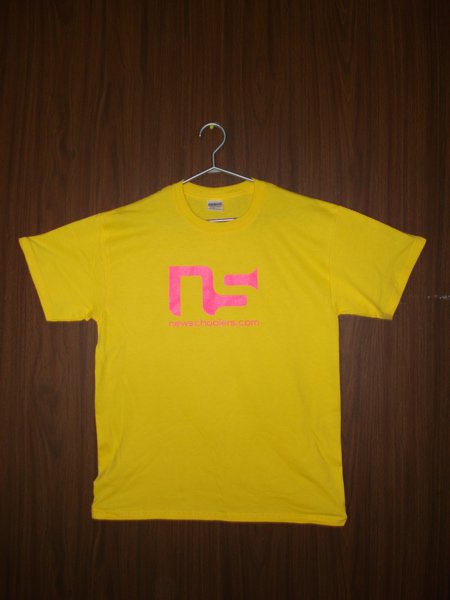 Newschoolers.com t-shirts, perfect for any sunny summer day!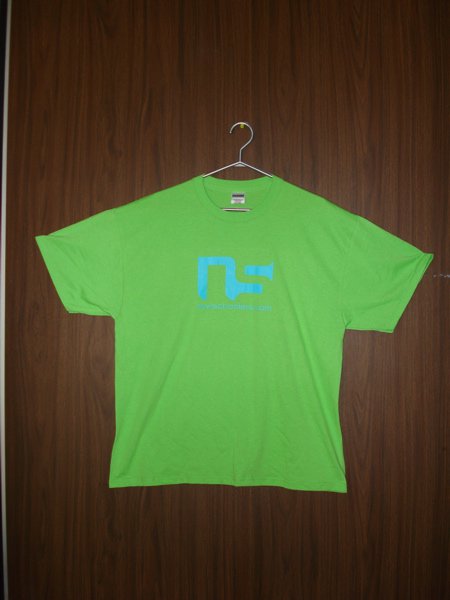 We recently acquired a brand new vinyl cutter, which allows us to design and produce any type of sticker your mind can think of. So we figured why not ante up and create a huge arsenal of dope NS stickers, and that's what we did. The colors we have at the moment are; ozone blue, purple, gold chrome, chrome, white, black, neon, pink, neon yellow, neon green, rasta green, rasta red, rasta yellow, navy blue and red. We will be selling random sticker packs for 5$ a pop, which will include 10 random stickers, or if you are a true baller you can purchase the deluxe sticker pack. The deluxe sticker packs will contain 15 stickers of your choice, whether you want to rep the bright neon colors, the blinging chrome, chill rasta colors or just want some massive stickers to throw on your car or skis, we got it all.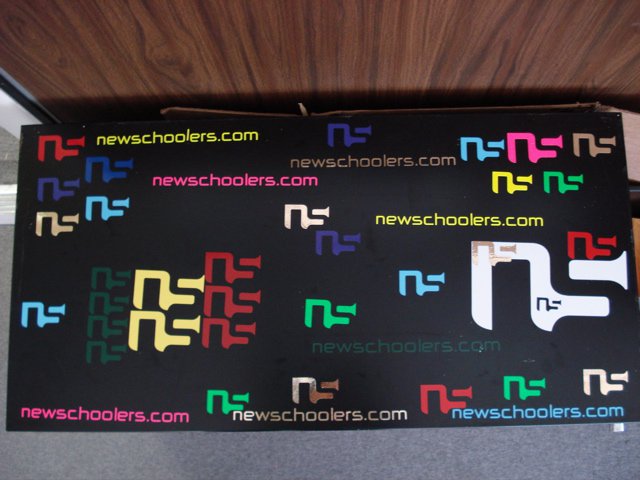 These are perfect for covering up those ugly Freeskier stickers you regret putting on your skis.Before you get your panties in a bunch, know that we will still accept S.A.S.E and will always do so. We just figured this way is simpler and easier for both you guys and us, and it'll allow everyone to customize the type of stickers you want without the hassle of going to the post office and waiting a couple weeks to get them.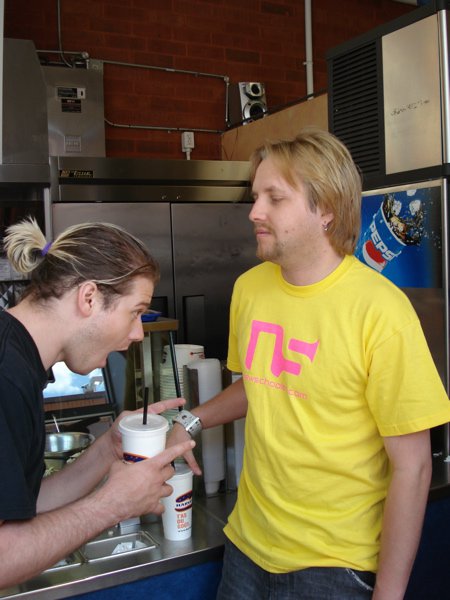 Since this is our first crack at running an online store (and since I'm the only guy running it), shipping might be a gong show for the first couple of weeks. Don't worry though, if you buy something you'll get it, it's just a matter of when since one man can only process and ship so many orders at a time. The same goes for stickers, as we will be offering the neon deluxe pack for the first week, and add the other deluxe packs as time goes on. If you got any questions feel free to email me at store@corp.newschoolers.com or check out the Newschoolers Store Cult. Thanks! - Jason MousseauItemPrice T-Shirt$20Scarf$15Sticker Pack$5Deluxe Sticker Pack$10Deluxe OptionsDescriptionRastaGreen, Yellow, RedBlingChrome, Gold ChromeFluorescentFluroescent Pink, Yellow, GreenXXLBIG Stickershttp://www.newschoolers.com/web/content/store/