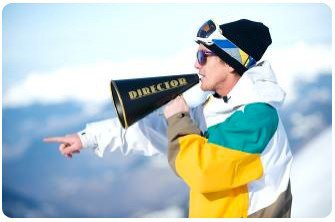 Candide Thovex embarks on a movie project
Candide Thovex is without doubt the most gifted and versatile skier of his generation. Not only is he a three-time winner at the Winter X Games (big air, slopestyle and superpipe), but in 2010 he became the World Freeride Champion, conquering the discipline in his very first season! Now, in 2011 and 2012, Candide is preparing to realize one of his childhood dreams, by making his very own movie. And as always, his faithful sponsor Quiksilver will be accompanying him on this latest adventure. After spending 14 years competing on tours in every corner of the world and winning just about everything there is to win, Candide is about to add a whole new dimension to his illustrious sporting career, focusing all his efforts on the feature-length production he's been dreaming of all this time.
The sporting artist is now set to swap snow for celluloid, and will be drawing on a prodigious pool of technical and human resources to make a top quality film, co-produced with Quiksilver with plans for a world tour.
Throughout his career, Candide has shown his passion for beautiful pictures and scene making. Unusual, aesthetic, spectacular and carefully honed, his films have always been an important medium for telling the story of his skiing exploits. The episodes of Rastafaride and later Candide Kaméra were milestones in his career, heralding a unique talent for capturing the perfect image.
"I've always been passionate about directing, and I've been waiting for this opportunity for a long time. This film project follows on from my experience with Candide Kamera. It wasn't an easy decision to take time out from competition and particularly the Freeride World Tour, especially after I had such a good season in 2010. But Quiksilver is offering me the chance to realize a dream…and it's just too good to refuse! I'll be concentrating on the film for two seasons, but I haven't ruled out returning to competition when it's finished".
Candide Thovex: the freestyle pioneer
Candide Thovex's career has been nothing less than meteoric. After strapping on a pair of skis for the first time in La Clusaz at the tender age of 2 years old, he later got into mogul skiing in a big way and became French Champion, following in the footsteps of the big star of the time, Edgar Grospiron. After that, it wasn't long before Candide was mastering the new school disciplines that were then emerging. Inspired by the snowboard, he was to become one of the pioneers of freestyle skiing, travelling all over the world and finishing 4th at the Winter X Games aged just 16! The winter sports world quickly realized it had a phenomenon on its hands, and movie producers were lining up to film him.
In 2000, Candide earned his first gold medal at the Winter X Games (Big Air), the one to win for any self-respecting freestyler. From that point on, he started racking up the titles: best rider, best jib, best skier…But Candide wasn't content just to dominate the snowparks. He went for the mega back country jumps, like the incredible 40 metre clearance of Chad's Gap with a d-spin 720, in Alta, USA. And so a legend was born. Propelled to superstar status, Candide created his own Invitational in La Clusaz, featuring runs of a size and originality never before seen anywhere in the world. Two more Winter X Games followed, in the SuperPipe in 2003 and the Slopestyle in 2007.
After a lengthy break due to an injury sustained in 2008/2009 that could have ended his career, Candide made a sensational return to competition in January 2010 with victory in the Red Bull Line Catcher in Vars, a prestigious hybrid event that blends freestyle and freeride. That success signalled a triumphant switch to freeride. After winning just about every freestyle competition worth winning, Candide now turned his sights on unspoiled and unforgiving back country faces. A few weeks later, Candide won the Chamonix stage of the Freeride World Tour, despite it being his first ever competition in the discipline. Open mouths all round. The freestyle genius immediately carved a place for himself in freeride folklore.
Within weeks, on the awesome face of the Bec des Rosses in Verbier (Switzerland), in the final of the FWT, Candide produced his third podium finish in four events and in doing so clinched the title of World Freeride Champion. The scale of the achievement sent shockwaves around the world.
At just 28 years of age, Candide Thovex has a truly unique record. Always quiet and unassuming in spite of his fame, the legend from La Clusaz is a role model for a whole generation and an inspiration to young people everywhere.