Red Mountain hosted the 10th Annual Canadian Open Freeskiing Championships Senior event this past weekend. With a flurry of walk-in registrations the competition had a healthy group of competitors vying for top spot in the Senior Open.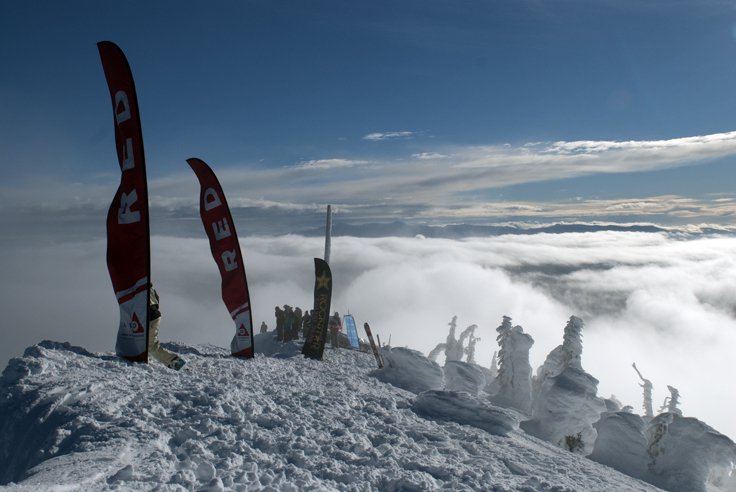 Mount Roberts summit.
With variable cloudiness, fresh snow and mild temperatures, the finals for the senior portion of the event concluded on Saturday, January 15th. With all of the athletes descending down the slopes of Mount Roberts, typically known as a backcountry enthusiast slope, the championship saw a tough pool of competitors showing top caliber skiing. Prize money was issued for the top five athletes in the men's and women's categories.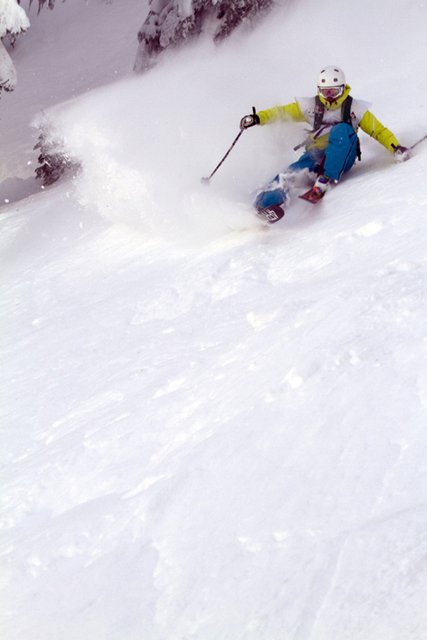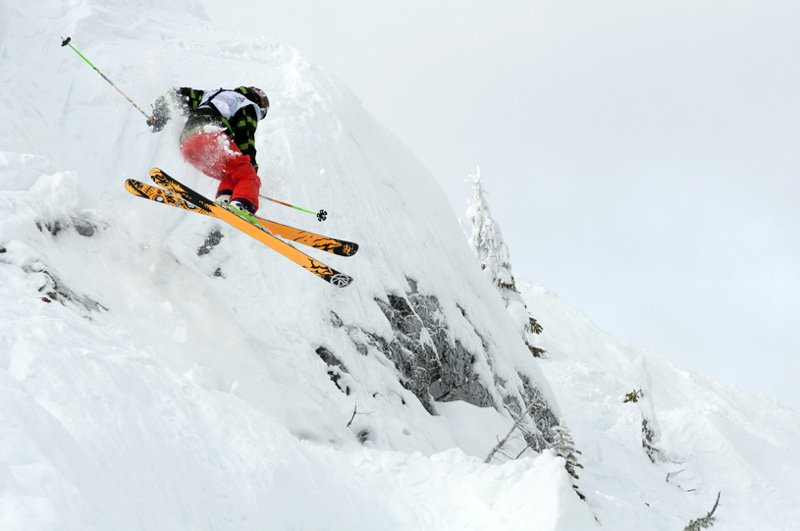 Top athletes CJ Wright and Kasie Stroshin took the top spots in the senior men's and women's categories respectively, while local Red athletes Colston Beatson placed 4th in the men's category and Leah Evans placed 5th in the women's category.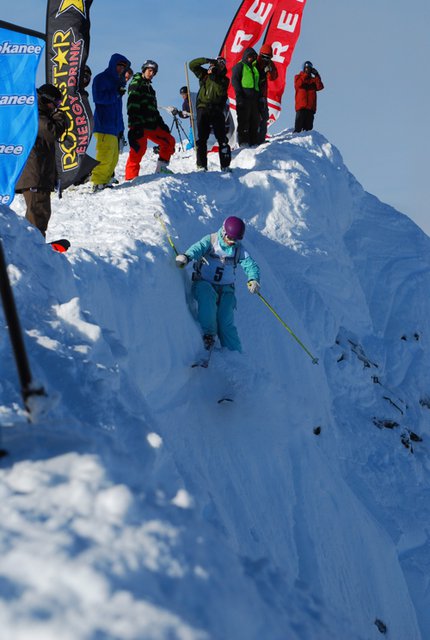 Kasie Stroshin dropping into 1st place.
Rafters Bar, Red's newly renovated bar, played host to the Kokanee Afterparty, which rounded out the celebration in style.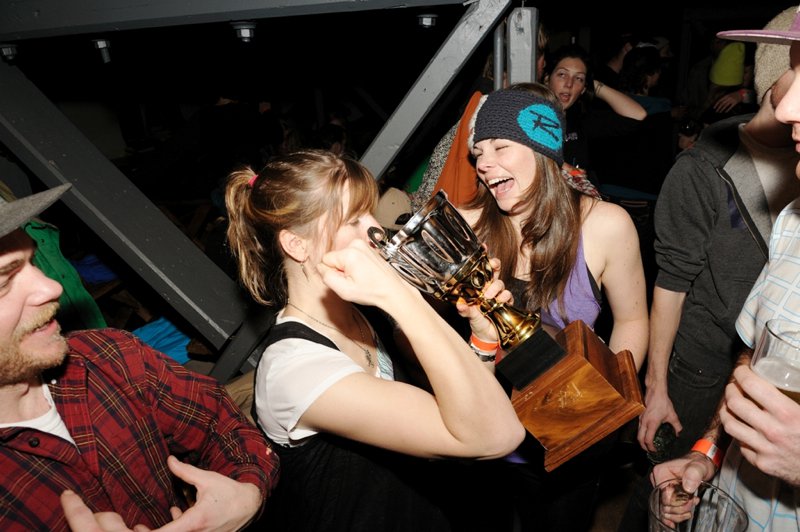 Women's Canadian Open Freeskiing Champion Kasie Stroshin.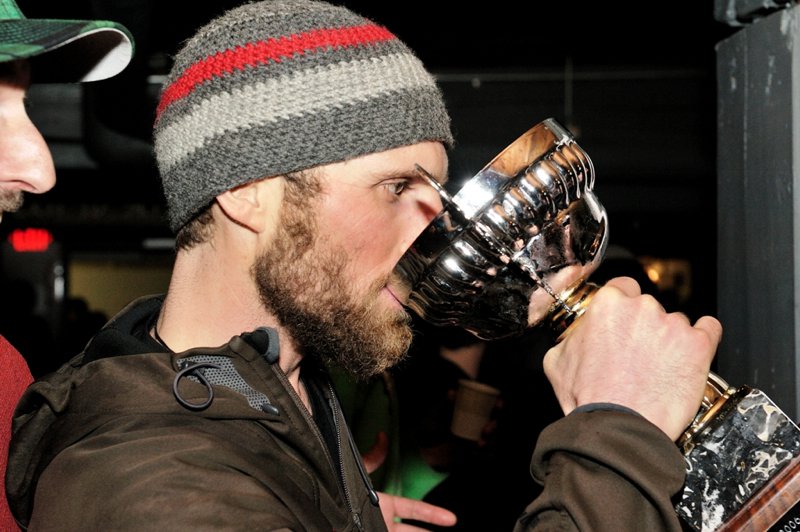 Men's Canadian Open Freeskiing Champion CJ Wright.
Final Results
Women
1) Kasie Stroshin - 52.77
2) Julie Thomas - 51.68
3) Rachel Findler - 51.33
4) Tatum Monod - 50.97
5) Leah Evans - 50.67
6) Laura Sliva - 48.47
7) Sonja Lercher - 44.86
8) Chelsea Sullivan - 44.56
9) Nicole Derksen - 43.77
10) McKenna Peterson - 42.51
11) Martha Burley - 41.62
12) Bergljot Stoer - 41.17
1) Meagan Klassen - 40.79
14) Alex Riedman - 38.06
15) Caley Mulholland - 36.40
16) Jaclyn Galbraith - 33.98
Men
1) CJ Wright - 61.23
2) Alex Wall - 59.85
3) Lars Chickering-Ayers - 58.95
4) Colston VB - 58.70
5) Michael Legare - 56.88
6) Carter McMillan - 56.43
7) Silas Chickering-Ayers - 55.10
8) Thomas Wilson - 54.73
9) Nick Leboe - 54.18
10) Luke Nelson - 54.13
11) Laurent Gauthier 2- 53.47
12) Troy Erickson - 53.07
13) Eric Young - 52.50
14) Dillon Crossman - 52.08
15) Ross Jansen - 52.02
16) Chuck Mumford - 51.48
17) Matt Francisty - 51.25
18) Andrew Draper - 51.13
19) Cody Erwin - 50.58
20) Jesse Montandon - 49.75
21) Nathan Heintz - 49.32
22) Rasmus Ekman - 49.30
23) Ben Ogilvie - 49.13
24) Yu Sasaki - 48.60
25) Leif Coughlin - 47.07
26) Ryan Hawks - 47.03
27) George Ezard - 46.82
28) Vincent Martin - 46.80
29) Marshall Dempster - 44.68
30) Shikaichi Ueki - 43.28
31) Jason Johnston - 42.97
32) Graeme Bell - 41.58
33) Guillaume Vassas - 35.62
34) Adam Siltanen - 19.13
The Junior portion of the Canadian Open Freeskiing Championships takes place January 20 – 22, 2011. Athlete check-in takes place on Thursday and qualifiers/finals take place on Friday/Saturday. Stay tuned to Newschoolers for full coverage, and for more information on the event be sure to check out http://www.canadianfreeskiing.com