Photos: Darcy Bacha (for the full photo gallery click HERE!)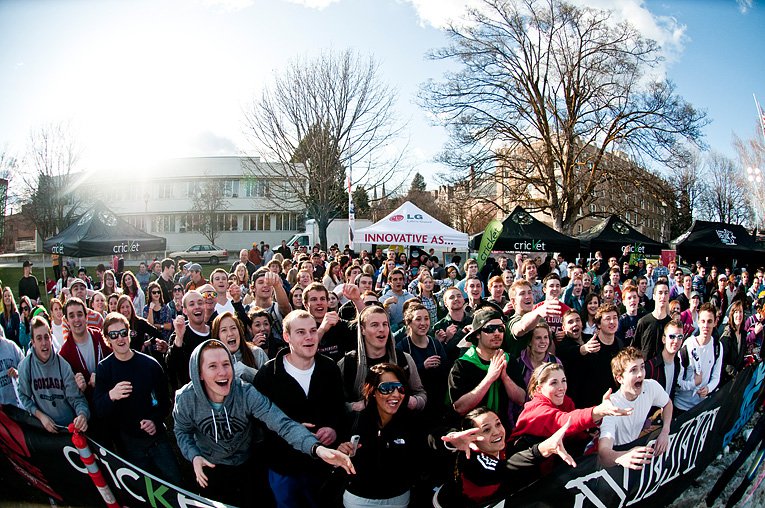 To a bus full of college-bred shredheads, the city of Compton doesn't sound like a pleasant place to hold an inner-city rail jam. Sure, we all enjoy a little Eazy E or N.W.A. every now and again, but let's face it, a shred-mob wearing tall-tees and tight pants probably wouldn't be welcomed with open arms by the local homies. So naturally, when the Campus Rail Jam Tour crew began to head to a little city in Washington dubbed "Spo-Compton" everyone was a little skeptical. However, this ghetto-fabulous stereotype couldn't have been further from the truth. Not only did Spokane welcome the Campus Rail Jam Tour with open-arms, but the event laid-claim to the best skiing and snowboarding of the entire tour. Spo-compton represent!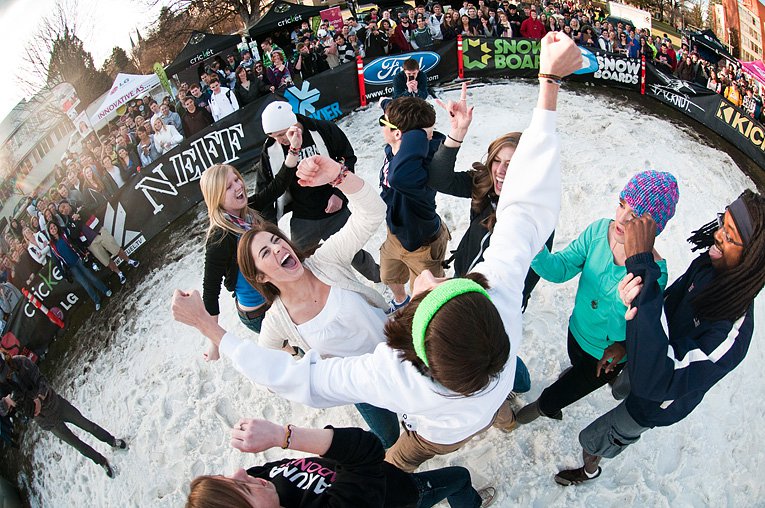 Before the comp kicked-off, Tour emcee "Uncle Moo" hyped the riders and laid down the judging criteria as anxious competitors slapped high-fives and got ready to throw down. People already formed a line in front of the Cricket Wireless booth in hopes of scoring a free custom-made t-shirt. Once the DJ fired up the tables and dropped the first beat, all 20 riders in the first heat dropped with a bang and laid down some hammers. No need for warm-up tricks with this crowd, the Spokie shreds came out swinging for the fences. By the time the finals began, all the kids had shaken off their contest jitters and warmed up for the final showdown. After taking a beating all day, the skiers were determined to show Gonzaga what they could do. Third place finisher, Essex Prescott put down some killer moves on the metal and walked away with some cash money and a CRJT x Neff collabo hat. Noah Wallace nailed second place after spinning 450 degrees onto the gap box and got hooked up with some fresh Bonfire outerwear. Landing in first and claiming the cash and Coreupt skis was Ian Hamilton, killing the competition with a super clean 450 off the kink.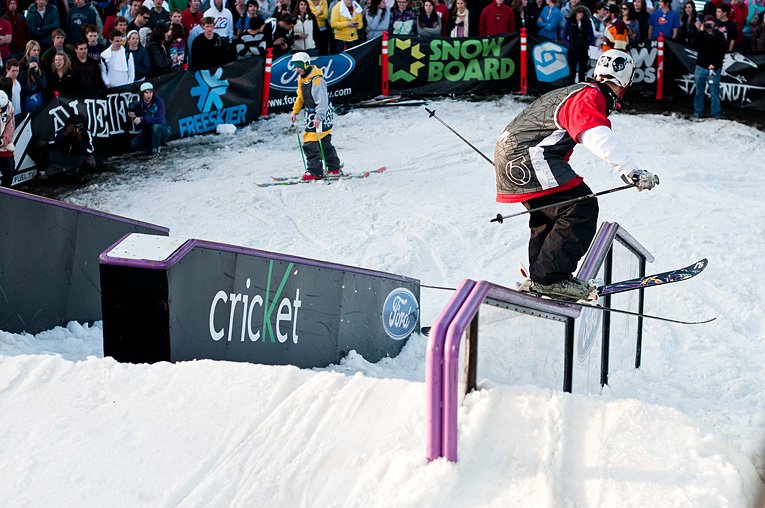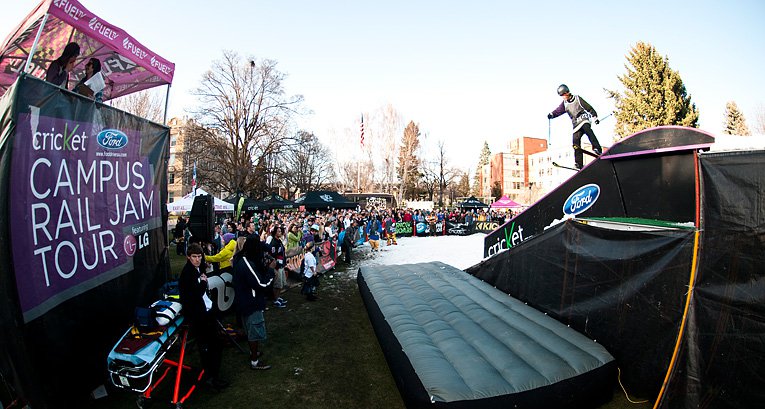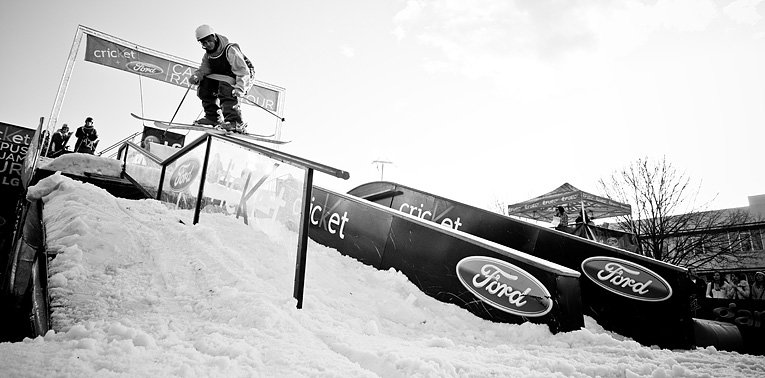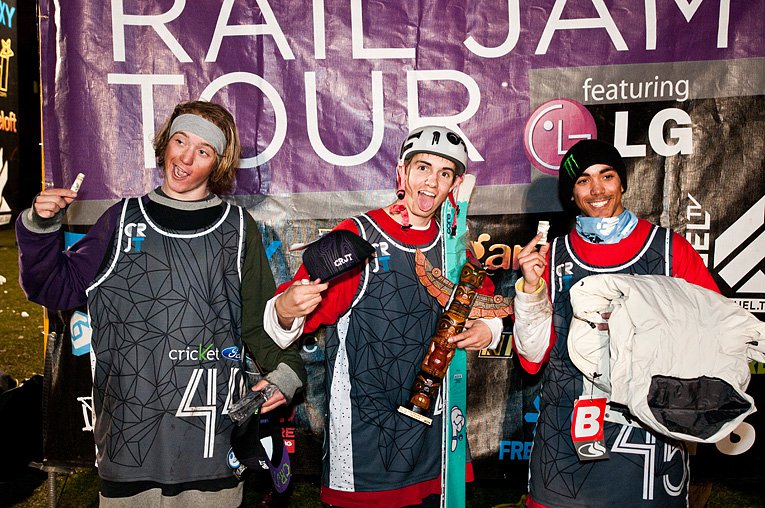 Essex Prescott (3rd), Ian Hamilton (1st), Noah Wallace (2nd)
As for the ski ladies, only one dared to take on the beast. Mt. Hood local, Amanda Darnell showed up, conquered all three rails, and walked away unscathed. The lack of competition didn't stop Amanda from throwing down. Way to kill it!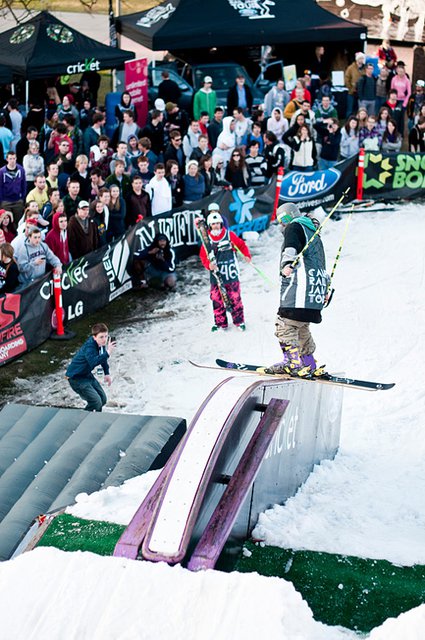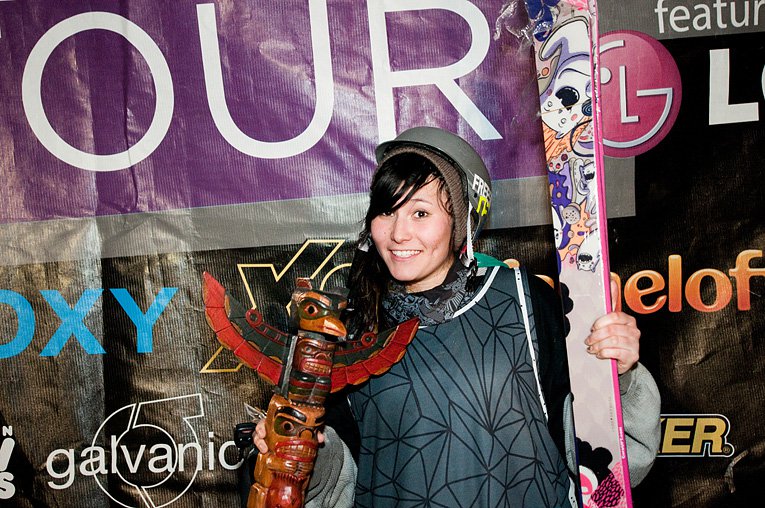 Amanda Darnell takes 1st place.
After the smoked had cleared and the winners had been crowned, the Galvanic crew packed up shop and valiantly traveled off into the horizon back towards their home base of Portland, Oregon. Be sure to check back for updates on the next event at Oregon State University on May 21st!