Cam Riley is known for his skiing with Stept, but upon their decision to not make a film this year, what's the rail slayer up to?
Cam, this year you joined the 4FRNT Global Team. Can you tell us a bit about your decision to move to them?
FRNT has been a ski company that I have respected for a long time and it has been sick to watch them grow as a brand from the start. They have acquired such a sick team as of late and I am stoked to be a part of the program.
You tend to fly under the radar, with a new ski sponsor do you plan on putting out more edits?
Skiing street is definitely a time consuming endeavor and each season I find myself skiing in cities for months straight just trying to get a video part done, so it can be difficult to capture any skiing in addition to that. But it's certainly my plan this year to put out some behind the scenes based stuff and, if i find myself at a ski area, a park edit or two.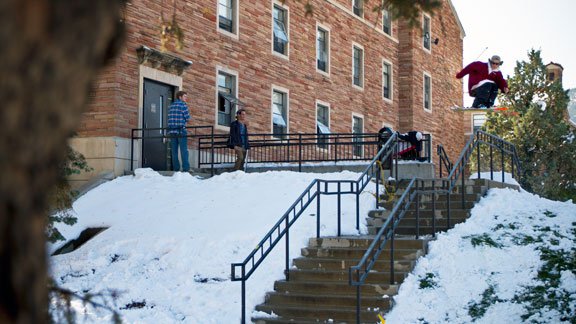 Where do you feel the ski movie industry is heading?
It's obvious that there is this desire for mass amounts of shorter, online based content. Everyone wants to see everything instantly and at all times, which is cool, but there is a lot to be said for projects that people invest entire seasons if not more into production. My hope is that the public's interests circle back to the full length films.
Similarly, what are your feelings on Stept's decision to not produce a movie this year?
Our decision not to produce a film this year was mutual throughout the crew. We decided it's time to switch things up a bit. Everyone in the crew is using the opportunity to do something new in terms of filming. I think it will be a fresh look for everyone, Stept included, as we continue to produce content in different form.
Does this decision affect your views on directing, editing, and filming a film?
This has not changed much for me on the production side of things for skiing. Clayton Vila, Sean Jordan and myself have teamed up this season to work on a project. We have brought in cinematographer Jameson Walter who shot with us all last season. We will be producing and full length film, and I am pretty happy with the concept we have going. Clayton and I will be sharing the directing and editing roles for the project. It will be a pretty similar program for me in terms of production.
What are your short term goals for this season?
Last year was one of the more successful seasons of my career. My goal is to improve on that and stay healthy. Maybe, also put out a park edit. It's been a while since anyone has seen me ski in the park, I think most people assume I don't.
To follow up with that,what's in the future for your skiing career?
I hope to put out solid street parts for as long as my body lets me. My hope is to have an influence on the sport down the line and inspire future generations to continue pushing street.
Any tips for younger skiers getting into urban?
Get out and start doing it... A lot. It takes a lot of experience to work out all the logistics of it. Start small and just be confident in whatever your stepping to
https://www.newschoolers.com/videos/watch/742346/CAM-RILEY----quot-TEN-AND-TWO-quot----FULL-PART
Pictures via Powder and Freeskier