Hey NS! You might recall a thread about a month ago regarding a mental health x skiing video project. Well, after lots of planning, phone calls, and late nights, the film is actually happening! To fundraise, we are hosting a raffle for skis, outerwear, and accessories over at www.jackstrong17.com
The Mountain in My Mind is a unique ski film designed to elevate the conversation around mental health in the ski industry. Under JackStrong17, a teen-suicide prevention non-profit, we will be travelling all over the North American Rocky Mountain regions to interview professional skiers, industry leaders, brand owners, and up-and-coming skiers on their mental health stories. Their stories, told in their own words, will be beautifully intertwined into on-location shots of their skiing. The film will be just about 50% males and 50% females as well.
Myself and Kyle Dudgeon, an award winning photographer, decided to start this project after seeing the continued increases in suicide rates in ski towns. I also lost my little brother, Jack, to suicide in Feb. 2019 when he was just 15 years old. Our goal is to make mental health be something skiers are known for being open about and to encourage the next generation of skiers to prioritize mental wellness.
We have assembled a whole team of production and post-production experts to ensure the project comes out polished. We plan to premiere the movie in 8-10 different ski towns next Fall. LINE Skis has generously offered a pair of skis to give away at each premiere. FlyLow Outerwear, our title sponsor, will also be generously helping us out with post-production expenses and travel.
Over the past month I have reached out to just about every brand in the industry; the support for bringing awareness to the mental health of skiers has been massive and unanimous! We hope to hold this momentum into the ski season using NS and Instagram to share clips, stats, and information to bring additional awareness to mental health. We will also be announcing interviewees throughout the month on our Instagram page, @themountaininmymind .
If you have a mental health story you would like us to share, kindly send us a DM on Instagram @themountaininmymind ! Requests to remain anonymous will of course be honored and we accept both video, written, and art submissions. Additionally, we would love if you could share the raffle page around with your friends and family.
By purchasing a raffle ticket, you are directly supporting our efforts to destigmatize mental health in the ski industry through JackStrong17! After PayPal fees, all ticket sales are going towards travel and post-production expenses and the remaining balance will be donated to JackStrong17 and other suicide prevention non-profits.
We have over $10,000 worth of prizes that we are stoked to give away, including 6 pairs of skis, 5 outerwear kits, and more!
Prize Details from www.jackstrong17.com:
Flylow Outerwear:
1 Men's Full Outerwear Kit of choice (MSRP $840)
1 Women's Full Outerwear Kit of choice (MSRP $840)
1 Vision Collection ski of choice (MSRP $700-800)
1 Blade Ski of Choice (MSRP $700-749)
@4FRNT Skis
1 Pair of Hoji 191cm Skis (MSRP $719)
1 Pair of Switch 177cm Skis (MSRP $649)
1 Pair of Zero Series ARV 116 JJ UL in the size of your choice (MSRP $875)
1 Full Outerwear Kit with Grands 3L Jacket (Khaki) and Emmons 3L Bib Pant (Olive) in the size of your choice (MSRP $680)
1 Pair of The Friend "Hornet" 183cm Skis (MSRP $749)
@686 Technical Apparel
1 $500 Men's E-Gift Card
1 $500 Women's E-Gift Card
3x Prize Packs with a Hoodieclava, T-shirt, Double Tube, and Beanie in each (MSRP $95, each)
2x "2000s" Shades (MSRP $119-139, each)
7x "Originals" Shades (MSRP $69-99, each)
3 Prize Packs (MSRP $150, each)
Big thank you to all the brands who donated gear for the raffle and for the project itself and to @Dr.Zorko and @JLev for your help! And an extra big thank you to @Liam_j10 for the beautiful artwork!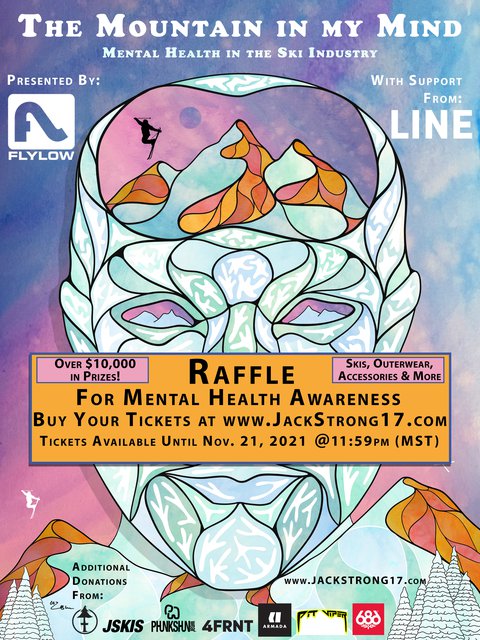 And finally, thank you to NS for being an awesome community, let's continue to have each other's backs! Go get some tickets over on my non-profit's homepage, www.jackstrong17.com .
Much love,
John Padilla