Cover photo courtesy of FIS
The past week saw two big events for athlete's Olympic ambitions go down at COP in Calgary this past week. For the first event it was properly Canada cold, to the point where many Albertan resorts had to close, but the freezing condtions mellowed for the second event, with Calgary's famous wind playing causing issues instead.
The differing conditions for the two events did nothing to change who stood on top of the podium, however, with China's Eileen Gu taking the top spot in both women's events and Brendan Mackay going back to back on the men's side. Double podiums for Hanna Faulhaber and Alex Ferreira have all but guaranteed their spots on the US team traveling to Beijing, and we're stoked to see Hanna's high flying approach to the pipe getting its just rewards.
_
First event:
Women: Results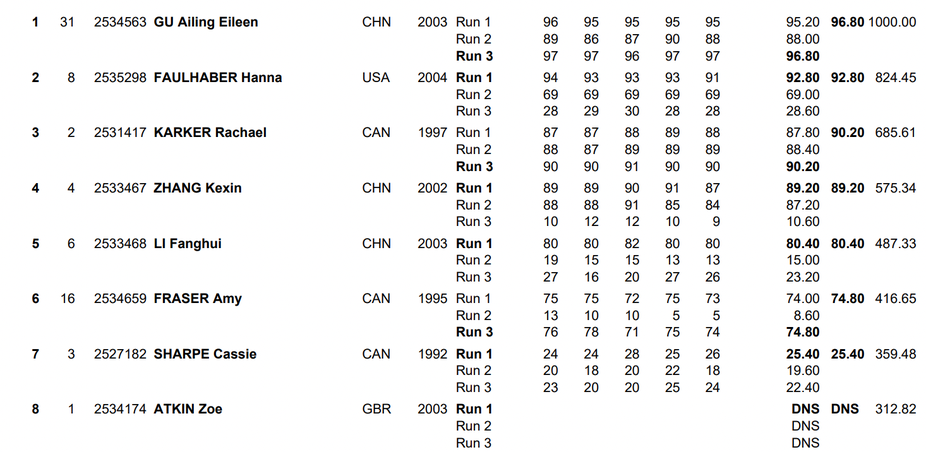 _
Podium runs:
1) Eileen Gu
https://www.newschoolers.com/videos/watch/1024862/Gu-Ailing-Eileen--CHN----Winner---Women-s-Halfpipe---Calgary---FIS-Freestyle
2) Hanna Faulhaber
https://www.newschoolers.com/videos/watch/1024863/Hanna-Faulhaber--USA----2nd-place---Women-s-Halfpipe---Calgary---FIS-Freestyle
3) Rachel Karker
https://www.newschoolers.com/videos/watch/1024864/Rachael-Karker--CAN----3rd-place---Women-s-Halfpipe---Calgary---FIS-Freestyle
_
Men's Results:
_
Podium Runs:
1) Brendan Mackay
https://www.newschoolers.com/videos/watch/1024865/Brendan-Mackay--CAN----Winner---Men-s-Halfpipe---Calgary---FIS-Freestyle
2) Alex Ferreira
https://www.newschoolers.com/videos/watch/1024866/Alex-Ferreira--USA-----2nd-place---Men-s-Halfpipe---Calgary---FIS-Freestyle
3) Simon D'Artois
https://www.newschoolers.com/videos/watch/1024867/Simon-D-Artois--CAN----3rd-place---Men-s-Halfpipe---Calgary---FIS-Freestyle
_
Second Comp:
Women's Results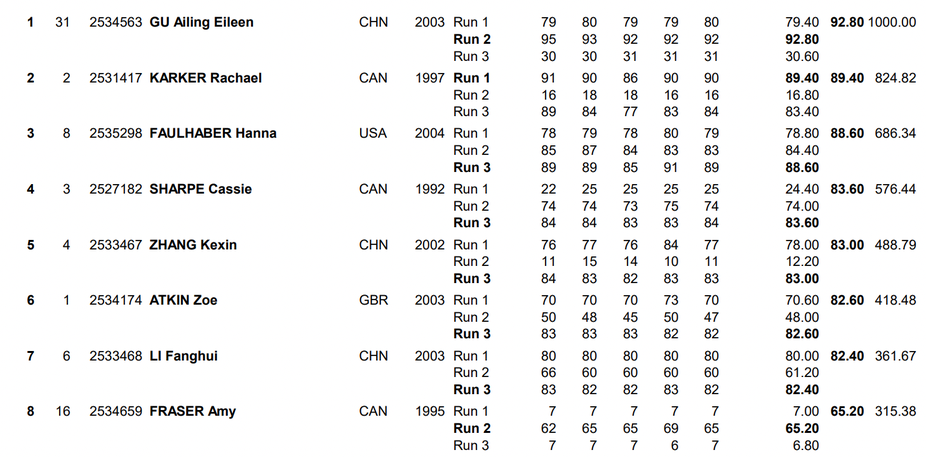 _
Podium Runs:
1) Eileen Gu
https://www.newschoolers.com/videos/watch/1024868/Gu-Ailing-Eileen--CHN----Winner---Women-s-Halfpipe---Calgary---FIS-Freestyle
2) Rachel Karker
https://www.newschoolers.com/videos/watch/1024869/Rachael-Karker--CAN----2nd-place---Women-s-Halfpipe---Calgary---FIS-Freestyle
3) Hanna Faulhaber
https://www.newschoolers.com/videos/watch/1024870/Hanna-Faulhaber--USA----3rd-place---Women-s-Halfpipe---Calgary---FIS-Freestyle
_
Men's Results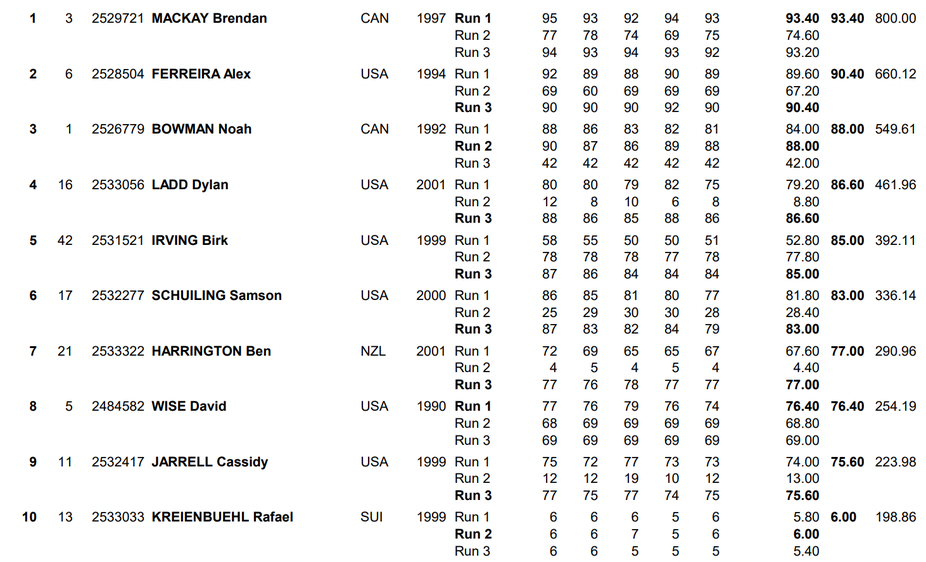 Podium Runs:
1) Brendan Mackay
https://www.newschoolers.com/videos/watch/1024871/Brendan-Mackay--CAN----Winner---Men-s-Halfpipe---Calgary---FIS-Freestyle
2) Alex Ferreira
https://www.newschoolers.com/videos/watch/1024872/Alex-Ferreira--USA----2nd-place---Women-s-Halfpipe---Calgary---FIS-Freestyle
3) Noah Bowmann
https://www.newschoolers.com/videos/watch/1024873/Noah-Bowman--CAN----3rd-place---Women-s-Halfpipe---Calgary---FIS-Freestyle